Published by admin on 04 Jun 2013
SPRINGTIME ARCHERY FUN
Once again it's that time of year for everyone to get out, enjoy the wonderful spring weather and all the outdoors has to offer. Unlike in Old England, when archers could not shoot less than 100 yards while practicing and preparing for war, we can shoot just to enjoy the sport. It's important to keep your main objectives in mind when making plans to go out and fling some arrows. First and foremost, don't be too serious. Keep it simple, and keep it fun!
Today, when you hear the term "stump shooting" it refers to going out and practice shooting at random targets, but the term originated back when archers would shoot at stumps to practice judging distance. This was a great business for the people making and selling arrows but very costly for archers whose arrows ended up lost, bent or totally broken.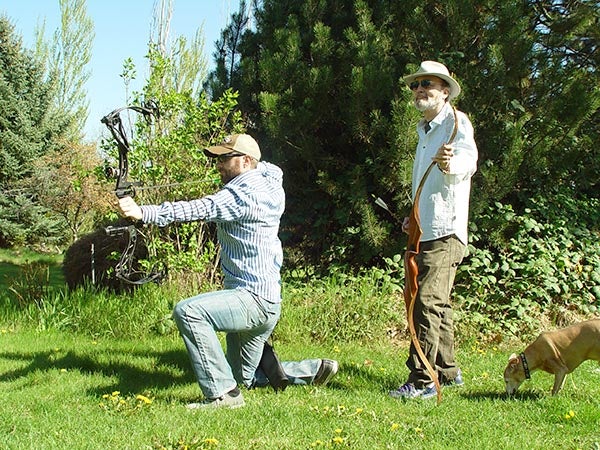 In addition to practicing for accuracy it is also very important to learn how to judge yardage. It doesn't matter how straight you shoot if your arrow doesn't reach your target! Judging yardage in itself is a scientific skill all archers need to master. You will want to practice in different environments and weather. Wind, flat areas, water, and hills (uphill verses downhill) can all be a challenge when judging yardage.
Foam technology has made it possible to create so many fun targets and 3D shoots. The foam is significantly lighter than the large, heavy old Indian grass mats used in the past. Now companies are able to create targets of limitless types and sizes. You can get 3D cubes and a long list of life-sized animals including deer, elk, turkey, bear, wild boar, snakes, carp, beaver, coyote and alligator. Some companies have created 3D targets for the fun, adventurous archer like dinosaurs, zombies, and even Big Foot that can be added to the local archery club's course. Although these make fun targets, I feel if you ever see a real Big Foot it would be better to save it for science, not shoot it with a bow & arrow! We will probably find Big Foot right after we find a jackalope. Yes they also make a 3D jackalope target!!!
Our area has a vast amount of archery shoots & events you can attend. Local groups offer a wide variety of archery events such as Field Shoots, Golf Archery, Clout Shooting, 3D archery, Flight Shooting, Olympic Shooting, and Bow Fishing. 3D is currently the most popular, it simulates the real life hunting of many types of realistic animals. Some courses encourage additional challenges like moving targets or shooting under a branch on one knee. Spring archery tournaments are a lot of fun for the whole family. Check out the Walla Walla Blue Mountain Archers website for upcoming local events at www.bluemountainarchers.com
Club shoots usually offer a variety of group classifications to separate traditional, compound and release-aid shooters, and some offer additional classification for different age groups or skill level. Archery is a sport everyone can enjoy so current tournaments and events offer all archers a chance to participate. The U.S.A. has seen a large increase of archers with disabilities, especially shooters in wheelchairs. The archery community has also welcomed one-armed shooters. These amazing athletes draw back the bow by pulling a piece of leather attached to the string with their teeth. A few years ago an archer with only one arm won the bow hunting division at the Vegas Shoot!
You can even create fun shoots of your own. The choices are endless. You can use balloons, clay pigeons, target Tic Tac Toe, or poker deck targets. You can even rig up an old bicycle wheel to create a moving target. Create different challenges for judging distance but DO NOT try to shoot an apple off anyone's head! Although shooting and judging yardage out in the wild is more difficult, these games can still be great practice. You can use these events to test your equipment and pre-shooting bow inspection is critical for safety and to avoid malfunction during a shoot or while hunting. It may seem obvious, but NEVER shoot straight up in the air ~ what goes up must come down!
Remember keep it fun!
Archery is also a great way to meet new people and make new friends. Don't hesitate to check out local shoots, clubs, or events. Archers are known for their kindness and willingness to help new archers. Like all hobbies, if you do well you are more likely to continue practicing and enjoying the sport. Increase your odds by joining up with other archers who can help you improve your skills. Your local archery shop can also be a valuable resource, getting a bow that fits you and your needs can make a huge difference.
I remember several years ago when a local gentleman bought a brand new recurve bow. Soon after he called me to complain that the bow did not shoot right. My first question is always "Is the bow set up correctly?"
He replied that he installed the string as directed, stuck on the sight that came in the box and started shooting.
I explained that the bow did not come with a sight. It turned out that he put the arrow rest on the top of the site window instead of the arrow rest shelf on the bottom. As the saying goes "When all else fails, read the directions." This is a perfect example of when the friendly members of your local archery club can be very helpful.
You can also access unlimited information and how-to videos on www.ArcheryTalk.com
Membership is always free!
ArcheryTalk.com is always creating new sections and the newest is an area for members to submit their ideas and print out free archery targets.
The time spent with family, friends, and other members of the archery community will create life long memories. It's also a great way to get out enjoy the spring weather, get some fresh air, exercise, and improve your health. As with most sports, put safety first and just have fun!
Terry grew up in the family archery business building arrows, accessories, and shooting in tournaments from the age six. In the early seventies he began designing and patenting the first Martin compound bows. Many of the features are used throughout the industry today.
In 1997 he started ArcheryTalk.com, the worlds largest online archery community.