Published by archerchick on 17 Feb 2011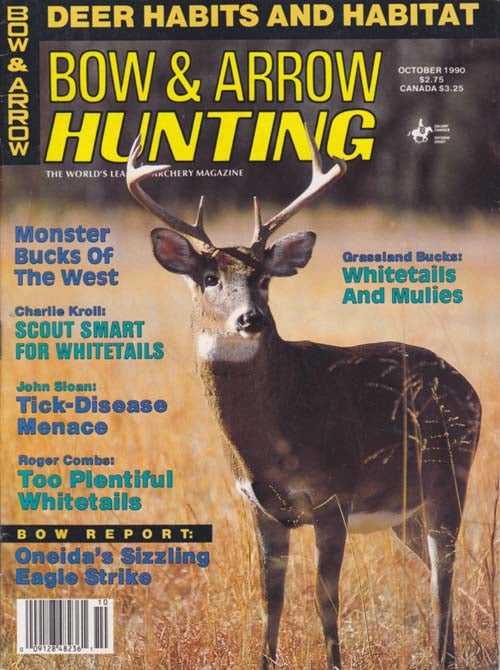 Bow And Arrow Hunting
October 1990
GRASSLAND BUCKS ~By Ralph Quinn
WHEN bowhunters think of wild, game-filled territory, they
often think of the rugged Rocky Mountains. Yet, some of the our most pristine
and productive big—game country lies in a corridor of grasslands occupying
landscapes west of the Mississippi river.
It begins in eastern Minnesota, with outliers in Iowa and Missouri, the
grasslands stretch westward to the Rockies, plunging south from Alberta to
the Texas Panhandle. Within this geographic zone, there's a variety of
habitats from high desert plateaus, sagebrush flats to lowland savannas with
marvelously rich soils. Unlike the mountains, grasslands are subtle in nature —
as are the animals that inhabit these unique biomes.
Life here is compressed into a shallow zone between the soil and the tallest
trees. This is a land of arroyos and coulees, cottonwoods, yucca, bunch
grass, prickly pear, wild plum and wild roses. At first glance, this stark, wind-
swept country seems devoid of wildlife; but on second glance, the grasslands
come alive. In the vegetative understory sharptail grouse, rabbit, fox, coyote and
badger scamper about. On nearby prairies and sagebrush flats, sleek prong-
horns roam freely. And somewhere in the rolling flower—specked hills and
cedar edges, if we glass long enough, are deer — both whitetails and mulies.
My first encounter with grassland bucks came in 1985 during an antelope
hunt in the cattle, sheep and coyote country west of Faith, South Dakota.
Duane Bemstein, animal control specialist with the Game, Fish and Parks
Department, had invited Bill Epeards and me to sample the hunting on the prairies in
his jurisdiction. It was here I gained full appreciation of how numerous and how
cagey flatland bucks can be.
During the first three days of our scheduled seven—day outing, we concentrated on decoying
pronghorns, but it was the deer that grabbed my attention. During early—morning and late-evening
stalks, a mix of both whitetail and mulie bucks showed here and there in the dry
creeks and brushy draws that laced the country together. Amazed to find deer in
such open country, I ask our host what we were seeing.
"These whitetail bucks are habitat specific, preferring to mix open spaces
in August and September with the seclusion of cedars, breaks and bottoms in
October and November," Bernstein explained. "I guess they want privacy
early on and nighttime forays into the grasslands provide it. With browse,
water and bedding cover readily available, the deer stick in this kind of country,
especially the whitetails. They`re highly adaptable and to hunt them successfully
with bow and arrow you have to do the same." This is an important
lesson for hunters wishing to pursue grassland bucks for the first time.
The following season — 1986 — I traveled is the mixed prairie and sage
country of Wyoming`s Area 24 near Ranchester and bowhunted the Tongue
Creek region adjacent to the Montana border. Leo Dube. of Trophy Connections.
runs an elk and mule deer camp out of Sheridan. but it was the whitetails
that really interested me.
"We have more than a few good bucks roaming the river and creek bottoms near
here." said Dube. "I've collected my share of P&Y specimens.
Why don't you pack your tree stand and climbers and sample the hunting?"
To make a long tale short, I saw some excellent whitetails along the Tongue
River and Clear Creek around Arvada, but settled for a 3×3 on the final day of
my hunt.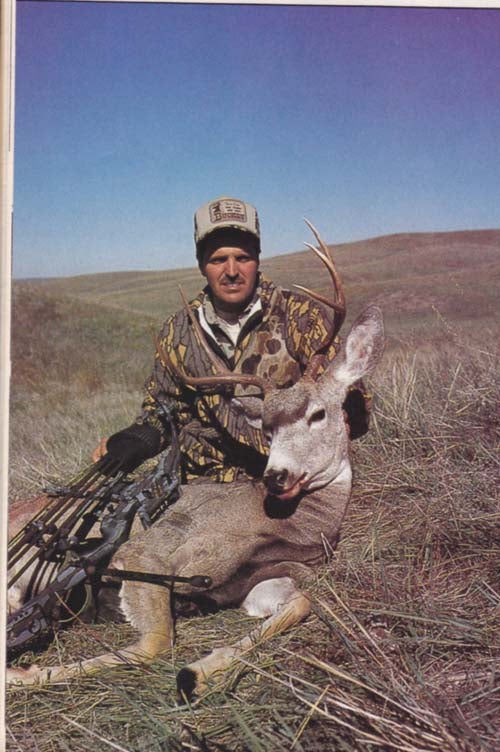 Twenty-five or thirty years ago, this section of Wyoming would have been been
considered mule deer country and still is, yet in the last decade, whitetails have
made a strong showing in the bottomlands. From all indications, they're there to stay.
According to Roger Wilson, wildlife biologist with Wyoming Fish and
Game, based in the Tongue office, whitetails make up twenty—live percent
of the kill in Area 24, and…"the population is high compared to the previous
eight years."
Neighboring Montana is experiencing a similar pattern, with whitetails making
up a larger segment of the total herd, with many areas expanding at record
rates.
Other grassland states -— Iowa, Kansas, Nebraska, eastern Colorado — are
showing similar mini booms in whitetail numbers, in spite of near record kills.
"What we have," comments Kari Menzel, big—game specialist with Nebraska
Game and Fish, "'is an edge animal that's adapatable and gets along well in
the eastern prairies. Where we have large blocks of agriculture going on,
he`s at his best, thriving on a number of grain crops, from milo to wheat. Not so
with the mule deer. The more we disturb his nomadic nature, the more we limit
his reproductive potential."
Another factor directly related to increased whitetail populations is the
food base adjacent to the grasslands. In place of seasonal browse and grasses,
deer have a virtual cornucopia of energy·rich foods to draw on, even during the
roughest winter. As the arms of center~pivot irrigation sweep across the
plains states, the whitetail isn't far behind, vacuuming surplus grains such
as milo, wheat, beans and corn, plus lush forage like alfalfa, spelts and cane.


A healthy herd translates into increased reproductive potential. The net results
are some pretty heavy—bodied and horned bucks that now roam the
grasslands. If you're a first—timer at pursuing grassland bucks, I advise, particularly in
new, unfamiliar territory, setting up a 20X spotting scope or tripod-mounted
binocular — 10X — on a high point, then pick the countryside apart. I like to call
this style of bowhunting "bucks by the seat of your pants," and that's a pretty
accurate description of the tactic. Watch for activity early and late, keeping in
mind that grassland whitetails prefer to bed low along creek bottoms and feed
high, returning shortly before daybreak.
Mark those points where bucks/deer appear and disappear.
The ideal strategy is to arrive two or three days ahead of your hunt and pinpoint
crossings. traveling, feed plots, etcetera. lf you're after any deer, set a A
tree stand a minimum of fifteen feet on or near a creek—crossing or grain crop
area and hate at it. But if you are looking for something special, take your
search one step further.
In many grasslands states, both mule deer and whitetail habitats overlap, so
you may have to go with the flow. On private ranch Operations, where access
and harvest are tightly controlled, mulies survive quite nicely, as do whitetails,
in the open prairies and grasslands. Being a habitat generalist, he is comfortable
with foothills, prairie and river bottoms, but prefers open country.
Again, if mulies dominate, set up your glassing operation on a high point and
look for deer movement from 9 or 10 a.m., then concentrate on stationary
objects from 11 to 2 p.m. Mulies usually bed then and, although not entirely
motionless, they're tough to see. From 3 p.m. on, watch for movement again.
Mule deer like to bed high for visibility, then feed down in evening. Grassland
bucks, whitetails and mulies, have excellent long-range vision, similar to
antelope. So once the game is in sight, it`s still hunting with the emphasis on
"slow."
If theres one thing trophy bucks have in common, it`s their love of solitude.
Only seldom will a P&Y animal hang around an area where human scent is
present. In searching out these bailiwicks, look along secondary coulees or washes
feeding a creek/river bottom, away from foot traffic. During the rut in late
October or November, bucks hang out around these points creating scrape
lines.


In 1987, 1 returned to Faith, South Dakota, for an either/or mulie—whitetail
hunt in the brushy creeks north of town. On the fourth day of my five—day stay, I
discovered such a hot spot. The area was a strong iifty—minute hike from the
nearest access gate. From scrape and rub activity, I guessed several bucks
were using the same staging area. That evening, I got a glance at one of the
participants. Then, on the last day, I took a chance on a forty—yard shot and tagged a
good 5×5. My ticket then was a brief grunt session using a Quaker Boy tube.
Periodically, you`ll discover a creek bottom that provides whitetails with a
natural corridor to food plots without their being seen. Usually these areas are
jungled with dense undergrowth consisting of plum thickets, waist-high grasses
or willow. With few trees to support a tree stand, the bowhunter must still—hunt
the fringes, slowly and deliberately.
With luck and perseverance, you may score.
If you work the rut exclusively — November 8-30, depending on locale —
when trees and brush are bare, camo should be combinations of grays and
browns. And don`t ignore the face and hands. In many grassland states, the
ratio of success usually is measured in how well the bowhunter is camoed.
Again, flatland bucks have eyesight second to none.
About a decade ago, overdraws hit the market with a whimper, but today
they are big business. And, if there's a place where these devices shine, it`s in
the grasslands. Using an overdraw with cam—powered bows, a 2013 shaft
pushed by seventy pounds drops very little at fifty yards. Thus, accurate sixty-
plus—yard shots are possible. If you don't own an overdraw, use the lightest-
spined arrow for your draw length poundage. A few grains plus or minus
make a big difference in trajectory at distances beyond thirty-five yards. By
fletching your arrows with four three-inch plastic vanes, you can stabilize
low—profile blades, even in windy conditions.
Another piece of equipment I feel grassland bowhunters shouldn't be
without is a hand-held rangefinder. They`re light, portable and accurate. By
arriving early, you can "range" and mark a number of points and be ready
for all comers. In dim bottoms and bleak grasslands, it's tough to estimate
distance, so a large animal usually causes shots to be short. Even though
most bucks are taken within forty yards. there are times when grassland bucks
make their own way.
During my 1988 hunt on the North Fork of the Moreau River at Usta,
South Dakota, I played the odds, placing my stand on a trail leading from a
bedding area. Much to my dismay, an "elevator" buck showed on a path
directly behind me. The rangefinder said fifty—plus yards. Within seconds, the
2013 X—7 was on its way. It was an easy mark and the buck traveled thirty
yards before piling up. If you miss an opportunity, chances are the buck will
avoid the area completely for a time.
Even with overdraws, rangefinders and cam—powered bows, the hunter
needs every advantage to get a leg up on these flag—tailed wizards. Even then,
nothing is sure until the last minute of the hunt. Last season, Wyoming expert
Leo Dube used rattling exclusively and had trouble keeping the small bucks out
of his setup. Duane Bernstein used a bleat call with some success in 1988.
My best performance came from using a combination of grunts and rattling. The
innate curiosity of the whitetail is legend and making it work is a matter of
experimenting.
For readers interested in hunting grassland bucks, the opportunities are
almost endless. Beginning in South Dakota`s Badlands near Belvidere and
continuing west through northeastern Wyoming near Hulett, whitetails roam
wide and free. To the south, central Nebraska's Platte River region west of
Grand Island is great. Eastern Colorado`s plains south of Sterling is another prime
habitat worthy of consideration. So is northwestern Kansas, west of Hill City.
And so the story goes. <—<<<