Published by archerchick on 05 Dec 2011

Archery World April, 1989
Bad Weather Whitetails – By Rick Sapp
My cotton camo gloves were soggy and cold. Rain dripped persistently
from the white arc of string-tracking line attached to my broadhead. Thunder was followed immediately by lightning. As I left my stand, the pine forest murmured, alive with wind. That night, the thermometer dropped off the wall. Sleet and a whirling northwest gale ripped at the oak-red and poplar-yellow fall colors, blowing their remains by the windows of the hunting lodge. Morning dawned gray and understated. Sleet gave way to snow. The morose bowhunters took a second helping of buckwheat pancakes.
?
I was a guest at Foulkrod's Archery Camp, deep in the Endless Mountains of Pennsylvania. Deer were plentiful, owner Bob Foulkrod had written months before, and in early October the fall colors would be at their peak. I expected to spend several days in a comfortable hunting lodge, making friends and swapping stories by a fire in the evenings.
What I did not expect was a week of "character-building" weather.
?
Bowhunting Weather
Bob Foulkrod is the kind of man who can bowhunt comfortably and effectively in almost any kind of weather. Self-assured, but not cocky, the raven-haired Pennsylvanian has hunted deer in swamps along the Gulf of Mexico and polar bear on windswept ice packs north of the Arctic Circle. To Foulkrod, good bowhunting weather is almost any weather at all.
When I helped myself to a second cup of coffee, looked wistfully out the window at the blowing snow and then settled down in front of the huge field stone fireplace, he just laughed. "Well, that's fine with the deer. They don't care of course, weather does affect deer movement just like it affects the movement of hunters. The trick is to match your activity to that of the deer. To do that, you must first be comfortable and confident in the deer woods— a tall order in poor weather.
?
Perfect combinations of temperature, humidity, wind strength and direction and all the other ingredients that must be considered when you hunt are rare. According to Murphy 's Law, any warm, sunny day during hunting season will be a Monday and any drizzly, freezing, flag-snapper will be a Saturday. Consequently, a hunter who prepares for"character building" weather will dramatically increase his odds of scoring.
?
Staying comfortable on a bluebird day isn't a problem. When sunshine and 70 degree weather are forecast, the problem will be staying alert, maintaining that keen edge of attention and excitement which allow you to locate deer before they locate you. Some bowhunters take camo-covered paperback books to read on stand. Others listen through earphones to battery powered radios stuffed inside their jackets. A few people have incredible powers of endurance and concentration, an ability to sit or stand motionless and quiet for hours.
When it's miserable outside, the bowhunting problem is just the opposite. You'll be alert – perhaps too alert – shivering, brushing snow flakes off your nose, continually moving your head and shoulders to try and stem the trickle of rain leaking down your neck. In bad weather, the problem is bowhunting comfortably, because when you're comfortable,
you're not only alert, but you can be effective, too.

So, how do you bowhunt successfully in bad weather? "It all depends on what you mean by bad weather," Bob Foulkrod says, reducing the question first to definitions. Bad weather for one bowhunter, for instance, who despises hunting in the cold, may not be a bad weather situation for another who has greater tolerance for freezing temperatures. And obviously, a cold, overcast day requires different preparations than a drizzly, foggy day.
?
Rain
"If it's raining out," Foulkrod says, "you want rain gear that's as quiet as possible. If it isn't quiet, when you move to draw a bow or turn your head, a nearby deer will spook Pull a garment over it if it isn't quiet, like a cotton camo jump suit. Most of the deer stands at my camp are set up for 10 to 15 yard shots. If you're rustling around in a tree, believe me, deer know the difference between you and a squirrel.
"I try to set up for this distance at my bear camp in Canada, too – and for my own bow-hunting. In bad weather, a 20- to 25-yard shot is a long shot.
"If it's a warm, gentle rain late in the day, deer will move without paying much attention to it. They'll get up in a light rain and do their basic routine – get up from their bedding ground, go feed and come back again. "If the wind is blowing and it's raining, though, deer lose one of their senses. Their ears are always flicking back and forth, listening. If they can't hear, they get nervous.
?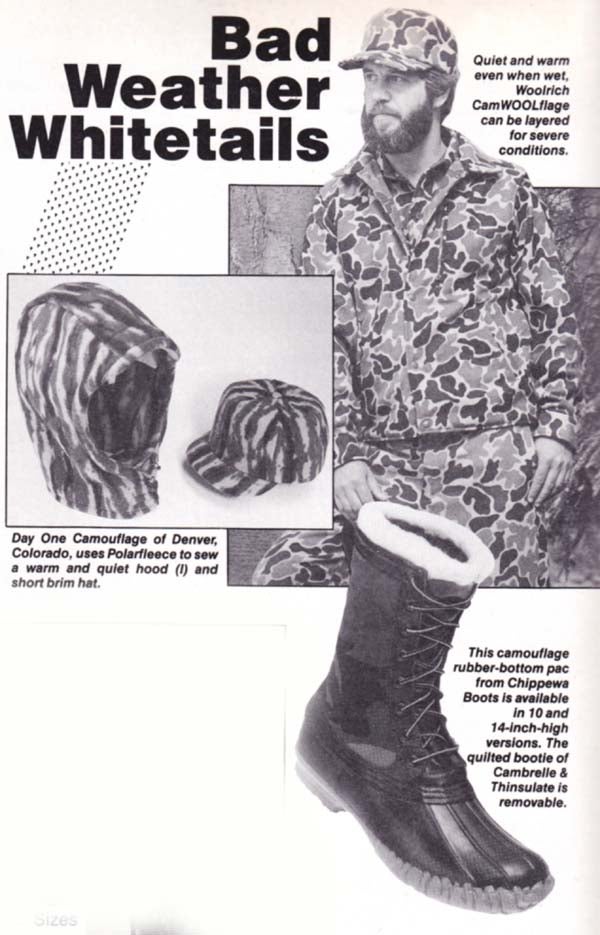 In heavy rain or snow or wind, they'll bed down and wait it out. If a bowhunter likes to do some slow, quiet stalking, this is an ideal time. "If you're going to hunt in the rain, I'd recommend you use a Game Tracker string tracking unit. If you hit a deer and it's pouring rain, and you're not using one, you're going to lose the deer. A lot of guys go out whatever the weather because, like here in Pennsylvania, they only have four Saturdays to hunt.
"So, if it's raining and you want to bowhunt, you've got to consider whether it's best to use feathers or vanes. It's a matter of personal preference. Remember, you're only going to shoot that arrow one time. Personally, I shoot right wing helical feathers and a 90 – pound Golden Eagle Turbo bow." Unless chemically treated, feathers absorb moisture; vanes repel it.

Whether there will be a significant difference in flight characteristics between vanes and wet feathers on a shot of 10 to 20 yards is a matter of speculation. Foulkrod, who has taken dozens of whitetails with a bow puts his faith in the forgiving characteristics of feathers,
While many will argue that Foulkrod is mightily over-bowed for whitetails, he believes in shooting the heaviest bow he can shoot comfortably.
"My bow is adequate for anything. I've never seen anything it hasn't put down," he says. "You should be able to pull your bow not just over your head, but out in front of you. You should be able to stand in a treestand, feet no more farther apart than your shoulders, point your bow at the ground and pull it to full draw in that position. Most hunters can't do that, but in bad weather you want to punch through what you're shooting You want a blood trail out both sides of an animal.
?
When bowhunting in the rain, you should consider:
• Wearing a short-billed cap with a 360-degree
brim to keep rain away from ears, nose
and neck.
• Folding collars tight to prevent water from
trickling down your back. Remember that
if the weather is wet and cold, you must
guard against hypothermia, the rapid loss
of body heat, a killer of the careless.
• Rolling a hood outside-in so that if you decide
to use it after it has rained for a while,
it will unroll dry. If you roll it inside-out or
pay no attention to it during a drizzle,
you'll pull it over your head surprisingly
wet, just what you wanted to avoid. And a
hood can hold up to a pint of water!
• That if it works to repel rain, your rain gear
is probably noisy. Just twisting your head
from side to side inside a hood or raising
your bow arm will sound loud enough to
alert deer. Pulling a shirt and trousers or a
cotton jump suit over rain gear will muffle
its crinkling but will not eliminate it.
• Wearing wool garments, which will shed
water for hours or unless immersed completely.
Even wet, wool acts as an insulator
and helps prevent heat loss.
• That your rain gear will block the wind, but
if you go for a walk to limber up stiff muscles,
or if you scout a different section of
woods or try a long stalk, you should take it
off. Most rain gear will just as effectively
trap your perspiration inside as it keeps
rain outside.
• That rubber boots will help you stay comfortably
dry and will also serve to minimize
the scent you carry to stand. Uninsulated,
however, they are dangerous in cold
weather because your body will try to
warm them to body temperature – an impossible
task for the feet which, on a cold
day, get less than their share of body heat,
anyway.
• That many of the new, insulated Cordura
and rubber hunting boots are designed specifically
for use in inclement weather.
• That your shooting glove or tab, when wet,
will tend to "grab" the string, thus throwing your
shot off target as surely as an uneven release. Try to keep your shooting hand
as dry as possible. A bow holder helps immensely.
• That you can avoid sluggish performance at
a critical moment if you wax your bow-
string. A well-waxed string sheds water.
• Drying equipment immediately upon your
return home can prevent problems such as
rusting, dulled broadheads or wooden-handle bows which swell and crack from absorbed moisture.
• Never bowhunting in more than a light
drizzle and even then, taking extreme care
with any bow shot. Remember. Murphy
was right and, it is said, he was also an
optimist. ~
Frigid Temperatures
"If it's freezing, you're only going to be able to sit on stand comfortably and right – and by right, I mean, you can't be fidgeting – for a short time," Bob Foulkrod says, stressing that a bowhunter should know his limitations. "If an hour is your limit of patience or
endurance in cold weather, pick out the best hour for deer movement – just before it gets dark or just before the sun comes up.
"When it's extremely cold, like it can be in late fall, as a rule I take my hunters out after the frost starts to burn off. We hunt from semi-permanent stands over apple trees in the state forests around my camp. Even when hunters are assured of seeing deer if they can be patient, it's hard for them to sit well when deer activity doesn't seem to be great. When there's a real heavy frost, deer will normally start to move after the sun is up and is burning the frost off the apples. I want hunters on stand then. On days like that, they can sit longer than if they go out real early.
"Now, anything can make you a liar, but if you can't sit there quietly and comfortably, if you're fidgeting around, you're giving up your location. If you give up your location, you're not going to be able to take deer." Foulkrod believes complete camouflage is as essential when it's cold and miserable as when it's warm and comfortable. Because the
trunk of the body will normally be bundled in several layers of bulky clothing, clothing which holds body heat in but wicks perspiration away from the skin, special attention must be paid to the extremities – head, hands and feet.

Finger shooters must have their hands free to take the bowstring deep into the first crease of their fingers, draw and make a smooth release. Some bowhunters simply wear light gloves and stuff their hands in their pockets or wear a mitten on the bow hand and a light glove on their shooting hand – imperfect solutions at best, for if a deer "hangs up" or is shy to approach a shooting lane, your shooting fingers will shake with cold (and adrenaline) within a short period of time.
A better solution for cold hands and stiff fingers is to use mittens specially adapted for bowhunters like The Fingermit from Tempo Glove in Milwaukee, Wisconsin. One hundred percent wool, The Fingermit's thumb and finger sleeves are attached to the rest of the mitten, including leather palm and thumb pads, by a knitted "hinge." This hinge allows
the bowhunter to easily slip his fingers out for fast and accurate bowstring control.
Stuffing inexpensive Hot Pad hand warmers from The Game Tracker in each pocket isn't a bad idea, either. Hot Pads are activated when they are removed from the package and come in contact with air. They are non-toxic odorless and disposable.
Estimates of body heat lost from the top of the head in cold weather range from 60 to 80 percent. If you can control heat loss there, you will go a long way to staying comfortable while you're outside. For the bad weather bowhunt at Foulkrod's Archery Camp, I was fortunate to have included in my duffel bag a heavy pull-over cap which incorporates a
wool outer shell with an inner polypropylene lining.
The pull-over leaves the oval of my face open to the wind, but barring some high-tech solution, I find that bearable if my head, hands and feet are warm. I consequently add heavy blotches of camo paint to my nose and cheeks. The pull-over protects my forehead, neck and chin, but does not inhibit my breathing by covering my mouth and nose. A typical face mask, with holes only for the eyes, traps the moisture from your breath and soon you have a wet or icy mask and fogged glasses, too.
?
Cold weather is a special challenge for feet which, in the North, are typically confined inside multiple layers of wool socks, Thinsulate boot liners and rubber/ leather boots with thick, removable felt liners. The problem is that feet sweat and, if you walk any distance with your feet swaddled in all these layers. they sweat profusely. The sweat chills and
your feet freeze.
Although there are numerous fine boots on today's market which incorporate aerospace materials, for me the best solution to cold weather hunting is the combination mentioned above: thick wool socks, a Thinsulate boot liner and Sorel-style boots with rubber bottoms and leather tops incorporating removable felt liners. I change the sock/liner combination to a fresh set at mid-day. That way, I start the morning and the afternoon with warm, dry feet.
?
Once I'm home from a day bowhunting in cold weather, I want to throw everything – bow, fanny pack, boots, clothes – into a corner, gulp a cup of hot chocolate and crawl immediately under an electric blanket. It's a temptation I face after each hunt and I have to force myself to take care of my gear and clothing right away. The felt boot liners and pull-
over should be machine washed on gentle cycle in baking soda or an odorless soap like Tink's Non Scent Camo Soap and then hung to air dry. Machine drying shrinks wool and destroys many synthetic fibers. When you remove your boots to change socks and inserts, you'1l notice that the boot shells are thoroughly wet inside, too. While it isn't necessary or practical to try to clean and dry them in the field, once you're home you should wipe them out with a dry cloth, spray them generously with a human odor-eliminating spray like Scent Shield, and then leave them out to dry before you wear them again. Usually, they will dry overnight.
When hunting in cold weather, the archer will also want to consider:
• That a thermos of hot coffee or soup may
emit odors a deer can detect, but the psychological
value of the added warmth on a
cold day is tremendous.
• That metal handle bows feel significantly
colder to the hand than wood handle bows
when the temperature falls below freezing.
• Screwing a bow hanger into the tree (where
legal) or attaching one to your stand will
help you keep your hands warm and reduce
your movement on stand.
• Layering your clothing, beginning with a
heavy polypropylene or insulated long underwear
and proceeding through — as necessary — wool shirt and trousers, down
vest, a nylon jacket to prevent the wind
from penetrating to your body, an insulated
coverall and so on.
• Wearing suspenders rather than a belt. A
belt constricts blood (and heat) flow below
the waist.
• Warm-up exercises like drawing and holding
your bow several times on your way to
or immediately after you arrive on stand to
help prevent muscle fatigue and strain. In
cold weather, the tendency is for the muscles
to knot. You can feel it usually as you
hunch your shoulders and draw your arms
tightly against your side.
The Camp
Bob Foulkrod describes himself as a deer hunter rather than a trophy hunter. "I have no qualms taking a nice doe, if I'm hunting a state that allows me to take a doe — and a lot of states are doing that, such as Michigan where you can take a doe or buck. I think of the shot.
I had a deer come in the other night in Michigan. It was very fidgety. Silent. I mean, if anything moved it was edgy. It was a nice doe, a mature doe and I made the shot on it. It was a good shot and I feel good about it because I had to be doing my part. In other words, if I had moved too quick or if my bow hadn't been quieted down or I hadn't cleaned the bark off the tree behind me or if I made just the slightest little noise, I wouldn't have gotten that deer.
"You've got a job to do when you get in a treestand and that's to take the deer down, take it out. That's what you're up there for. I have no qualms shooting a doe. If a buck comes out — and it doesn't have to be a Pope & Young class buck for me to take it — I'll shoot at it, any nice deer: spike, four-point, six- point. But if a nice buck comes out, I'm
going to take it, too.
"That's really the philosophy of my deer camp. Have a time. Most of the people come there to get away from the telephones. They want the companionship of other hunters. They want to hear how they did. If someone gets a deer down, we take the whole camp out and we look for the deer as a team. It's almost like a basketball team. The whole camp is a team. They want to know how you did, they get excited about it. No arguing, no disagreements. Everyone comes in and has a good time and when they go home, whether they got a deer or not, they still had a good time with a nice bunch of guys hunting whitetails."
Despite the rotten weather the week I hunted at Foulkrod's Archery Camp, both Rex Blankenship of McLean, Virginia, and Ed Moore, Carleton Place, Ontario, took deer. Rex, shooting a 70-pound Golden Eagle Cam Hunter took his deer at four yards with a heart/lung shot at 4:30 p.m. Ed's deer fell to a double lung hit from his 60 pound Martin Cougar Magnum at 8:15 a.m.
Ed Martin, camp manager for Foulkrod's Archery Camp in 1988, said the fully modern lodge (which doubles as Bob Fou1krod's home) has accommodated bowhunters for a decade. Inside the lodge is a complete bar and wide-screen television. Dozens of hunting videos, including many that Foulkrod himself has appeared in, are available. The lodge, in-
side and out, is stunningly decorated with trophies of Fou1krod's bowhunting adventures: bear skins, whitetail racks, life-size caribou mounts, wild hogs and much more. The lodge feels like a hunting lodge — a place you really can get away from it all.
A week of hunting costs $500 and includes home-cooked meals by Bob Fou1krod's mother, Prudence Foulkrod, whom everyone calls "mom." It also includes linens in the downstairs bunkhouse, transportation to and from your hunting stands, and transportation to a nearby butcher when you take a deer. In 1988, that butcher charged $15 to cut, wrap and freeze a deer, a bargain in any state.
For further information about deer hunting at Fou1krod's Archery Camp, write: Bob Foulkrod, Foulkrod's Archery Camp, Dept. AW, R.D. 1, Box 140, Troy, PA 16947.
Authors Note: A 1988 Pennsylvania bowhunting license cost $12.75, resident, and
$80.75, non-resident; bowhunters must also purchase a $5.50 archery stamp. The deer archery season, statewide, opened October 1 in 1988 and closed October 28. It was open again from December 26 through January 7, 1989.
For information about bowhunting Pennsylvania, write: Pennsylvania Game Commission, 2001 Elmerton Ave., Harrisburg, PA 17110-9797. 4
Archived By
www.Archerytalk.com
All Rights Reserved