Published by archerchick on 11 Apr 2012
Northeastern Bowhunting -By Charles J Alshelmer

Archery World's Bowhunting Guide '88 – February 28, 1989

The slate-gray eastern sky was turning  to a pale amber as I headed across the frost covered hay field. Like many times before, the final two hundred yards to my treestand were relatively uneventful. What followed was anything but uneventful. From fifteen feet high in my favorite stand I could see the November forest come to life as it started to get light. First the chickadees began to buzz from branch to branch. Intermingled with this came the rustle of leaves to my left. Almost out of nowhere, a yearling six-point slowly made his way to the scrape thirty yards from me. After pausing for a few brief moments he started to work the over- hanging branch. For the next two minutes, the buck treated me to a sight I've never been able to get enough of — that of the scraping ritual. Once done working the branch, the buck urinated in the scrape, then finally walked off as silently as he had come. Though I was tempted, I never picked my bow off its rest next to me. Throughout the autumn months, thorough scouting had revealed the area contained a real trophy buck, one I had seen on several occasions. I was determined to hold out for him, regardless of the temptation lesser bucks might offer. Little did I know while watching that first buck that temptation would strike fast and furious. Almost as if on cue, a succession of five more yearling bucks visited the scrape before 9 a.m. Though the rut was in full swing, I knew this parade wouldn't go on much longer as the sun started to warm the air.
The woods had been silent for nearly twenty minutes when I heard a twig snap to my right. Another deer was approaching. At first only muted patches of fur were visible, then the glint of an antler caught my eye. From fifty yards, I could see it was the buck I'd been scouting all fall. Ever-so-gently, I lifted my bow from its hanger and got ready. However, unlike the yearling bucks, the big nine-pointer started to swing downwind. It was obvious that he was going to scent-check the scrape rather than walk into it in broad daylight. I thought to myself, the jig is up, as he walked behind me. In an instant, the slight breeze carried my scent into his path and he exploded out through the woods and out of sight. At ten, I climbed out of the treestand and headed for home. Even though I had nothing tangible to show for the morning, I had a quiver full of memories from the four-plus hours I'd spent high in a tree. Whoever would have thought that seven bucks would visit the same primary scrape in one morning? Undoubtedly, avid hunters would envision this taking place in the more exotic places whitetails are found — places like Montana, Alberta or America's heartland. Actually, it took place in the heart of New York's Finger Lake region.
Northeastern Bounty
Though the Northeastern portion of the United States isn't considered in the same breath as those places mentioned above, its popularity as a bowhunting mecca has been known for a long time to those living there. Within this group of states is found more whitetails than nearly any place else on earth. Scientifically, the whitetails found there are the northern woodland subspecies, the biggest of all whitetails. This area also has the distinction of being one of the most populated areas in America. As a result, confusion abounds when it comes to trying to figure out how to bowhunt Northeastern whitetails. In the block of states from Pennsylvania to Maine can be found a variety of terrain and habitats in which to hunt. Here a hunter can find farm country, remote regions and urban whitetail hunting within a reasonable drive of his home.
Non-resident hunters, on the other hand, can easily find accommodations close to the prime hunting grounds.
The Northeast offers every conceivable type of hunting and hunting  at its best.
Determining where t0 hunt, how to hunt and when to hunt is more difficult than getting there if y0u're a non-resident bowhunter. One needs t0 determine such things as whether he wants to hunt during the rut and in what types 0f terrain he prefers t0 hunt.
The popularity of bowhunting has been phenomenal in this region during the past few years due to a host of factors. For the most part, deer numbers are stable or increasing in nearly every area from Pennsylvania to Maine. Also, due to extreme hnting pressure during gun seasons, more and more deer hnters are taking up bowhnting in order to hnt whitetails before the pressure-packed gun season begins.
Nearly all the states offer exellent bowhunting opportunites during the whitetail's rut, which. in the Northeast, peaks around November 15 each year. One notable exception is Pennsylvania; the bow season runs through the month of October and usually closes just prior to the rut's peak. On the other hand, New York, perhaps the best Northeastern bowhunting state, runs its early bow season from October 15 to mid-November. For bowhunters interested in pursuing farm country whitetails, the entire region, with the exception of the northern reaches of New York. Vermont, New Hampshire and Maine, is excellent. For the most part, bow- hunting the farm country woodlots is the most productive way to hunt in the Northeast. When hunting the pre-rut (or prior to November 1), it's been my experience that hunting a whitetail's food source is the most productive. Pennsylvania is known for its oak trees and many bowhunters thrive where the oak mast is heaviest. New York not only has an abundance of oak and beech mast, but also is a big milk-producing state. As a result, alfalfa and corn are found in abundance. Though farming is found in New Jersey, Connecticut, Massachusetts, Rhode Island, Vermont, New Hampshire and Maine, it isn't as big as in Pennsylvania and New York. So, these latter states offer more urban and remote bowhunting opportunities. Whenever bowhunting in farm country, it is important to know the lay of the land as well as where various crops, orchards and mast stands are found. Though this sounds a bit basic, it can be the most important ingredient in being successful. Due to crop rotation and inconsistent mast and orchard production, the whitetails' movement patterns change from year to year. Knowing this is vital in preparation for the hunt.
Whitetails are also creatures of habit;  their food source is fairly consistent from year to year, their movement throughout their territory is predictable. They'll invariably bed the thickest cover nearest to their food source.
This may mean that they'll bed in a corn field and seldom come out. However, they will usually travel to and from their bedding and food source along a given route. My experience has found hedge rows, diversion ditches, small connecting patches of woods, natural benches on hillsides and any other natural funnel or passageway to be preferred by whitetails as they move throughout their territory. Only proper scouting will reveal where the most heavily used funnels are. Once the natural passageway between the bedding and feeding area is located, it is important to make the proper blind setup. I do not hunt over a trail that often. However, when I do, I try not to set up on a curve in the trail or place the treestand too close to the trail. Doing either makes it too easy for a buck to spot you. Also, I put up two treestands in the area I want to hunt, one up wind and one down wind. By doing this, I am able to hunt the area even if the wind shifts from day to day.
Trophy Hot Spots
One of the beauties of bowhunting most Northeastern states is being able to hunt relatively undisturbed whitetails during the rut. Without question, the bucks are most active during the ten-day period just prior to the rut's peak in mid-November. Rubbing and scraping activity are a fever pitch and it is at this time I hunt my favorite way – over scrapes. I scout for the scrapes in areas between the bedding and feeding areas, trying to locate a good primary scrape as close to the bedding area as possible. How do I determine a bedding area? Experience has shown me that the best way is to scout an area during mid-day; when I consistantly jump deer, it's a good indication of a whitetail's bedroom.
When hunting over scrapes, I usually erect my two portable stands 40-60 yards from the primary scrape. I also try rattling in bucks from my stand. The most successful rattling comes when there is no more than three or four does for every antlered buck.
Unfortunately, in some area of the Northeast the doe to buck ratio can run as high as nine to one. Ratios like this result in poor rattling success because there is little competition among the bucks. Another problem frequently encountered in this region is posting. Though this can be discouraging, it is a problem that can be over-come with a little tact on the hunter's part. As a landowner, I've seen all kinds of techniques used to receive hunting permission. If p0ssible, the best approach is to contact the land-owner in the off-season rather than on the eve or middle of the season. The landowner will usually be more receptive then. Also, for the most part, those who post are often more willing to allow bowhunters than gun hunters. So, the proper approach will gain you permission most of the time. Though the Northeast is generally recognized for its high deer and people populations, few tend to view parts of this region as trophy whitetail producers. Any northeastern state can produce 140-plus Pope & Young whitetails, but three states, Maine, New York and Pennsylvania, are the best. For decades, Maine has been known as a hot spot for trophy whitetails. However, most of the whitetails harvested there have been taken with rifles.
But this is changing. During the last ten years. archers have been taking more and more whitetails in the trophy category. For anyone thinking about bowhunting Maine, the
bigger-racked bucks are found on land where the elevation is under 1,000 feet above sea level.
Maine has harsh winters and the lower elevation (counties along the Atlantic Ocean) produce bigger bucks on average. Maine has a very active big buck club and thorough information about the state's trophy-producing potential can be obtained by writing The
Maine Antler and Skull Trophy Club, c/o Richard Arsenault, R.R. 5, Box 190 Gorham, ME 04038.
For years, New York has been known for its trophy class bucks. Though 140-plus Pope and Young heads can and are taken throughout the state, some areas remain the best. Interstate 81 cuts the state nearly in half, east and west. The counties lying west of this line are true trophy whitetail producers, with Monroe, Niagra, Livingston, Sneca, Steuben, Genesee, and Orleans being the better ones if a Pope and Young buck is desired.
New York has one of the most active and copied big buck clubs in the United States. Formed by dairy farmer Bob Estes of Caledonia in 1971, the club has over 1,000 Boone and
Crockett registered in its most recent record book. To date, there are over 200 archery bucks that exceed the minimum Pope & Young score of 125 typical. The biggest Northeastern archery buck was taken by New Yorker Jeff Morris in 1984. Arrowed in Niagara County, Morris' typical 11-pointer scores 175 Pope & Young. Each year, New York's Big Buck Club has a banquet at which are displayed bucks harvested from the previous year. Further information can be obtained by sending a postage-paid envelope to New York State Big Buck Club, 90 Maxwell Rd., Caledonia, NY 14423.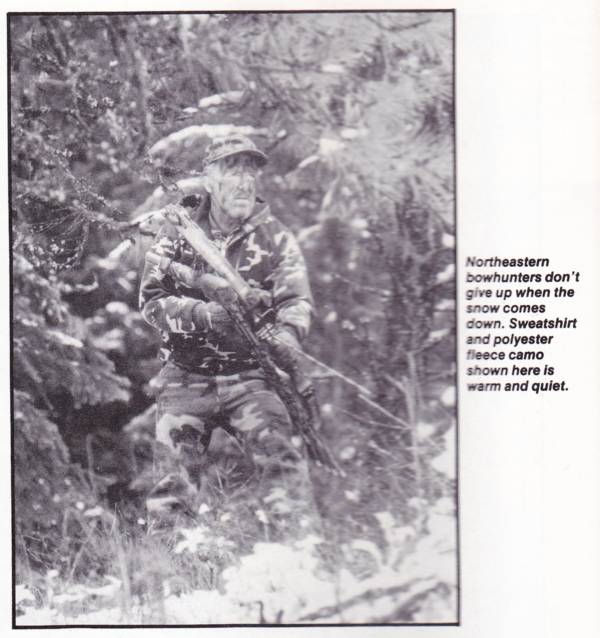 When it comes to trophy whitetails, Pennsylvania is not far behind New York as a place in which to bow-kill a big buck. The chain of counties south of Interstate 80 have consistently produced big-racked whitetails. It is in this area that much of Pennsylvania's fertile farm land lies. No doubt this state would produce more trophy archery deer if bowhunters there were allowed to hunt during the peak of the rut. But even with this limitation, bow-hunters do very well in the Keystone State. Perhaps the northeastern portion of the United States will never gain the notoriety of the exotic whitetail locations being popularized today. But for the serious bowhunter not wanting to travel great distances, this area offers every conceivable type of hunting — and hunting at its best. If one wants remote hunting, the region has plenty of it.
If farmland bowhunting better suits the archer, one would be hard pressed to find anything better. The possibility of arrowing a trophy woodland whitetail is enough to tempt any bowhunter, regardless of where he lives.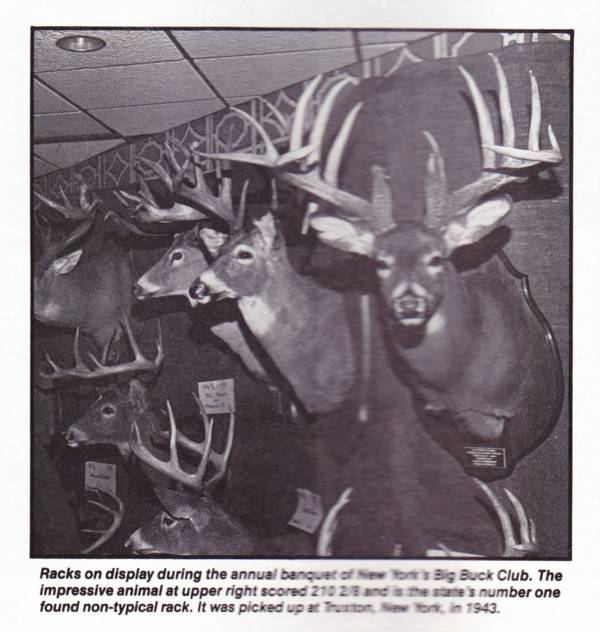 Archived By
www.Archerytalk.com
All Rights Reserved