Published by archerchick on 06 Sep 2010 at 03:18 pm

BOW AND ARROW HUNTING – AUGUST 1990
Wyoming Mule Deer – By Stan Chiras
MY HUNTING partner,
Wayne Buff, had just
given me a smug look.
He was hiding something and it was pretty
obvious that he was about to spill the beans.
He made me painfully wrench the
story from him, as if to rub it in even
more. We had told each other that
tonight was the night; that one of us had
better get a whitetail or tum in our
credentials as deer hunters at dusk. My
hunt had ended when two youngsters, a
basset hound, a cocker spaniel and a
pellet gun broke the stillness of the September evening,
deep in the foothills of
the Rockies that abound with lunker
whitetails. Buff apparently hadn't had
the pleasure of meeting these same
rascals.
"Well, did you get one?" I asked.
"Yes," he replied in his southem
drawl — he's a displaced North
Carolinian.
"Was it a buck?" I pleaded. I was
getting the usual hard treatment that
hunting buddies like to dole out to one
another, being made to practically beg
for the story.
"Where is he?" I asked before he
could answer.
"Still up there," was the reply.
The buck had taken the "curse of
bowhunting's" step at the instant of the
shot, leaving Buff with an unpleasant
paunch shot to contend with in the
morning. Since we had planned to hunt
elk the next day, our plans were
changed. He told me to go anyway, as
he could recover the deer with the aid of
his pointer if the need arose.
How I would have fared with the elk
is a matter of conjecture, for I decided
to hunt mule deer instead. I'd been
chasing some nice mulies for twelve
days and had suffered all sorts of
humiliation along the way. The big
bucks proved to be every bit as spooky A
as whitetails and the open foothills they
occupied made matters even more
difficult.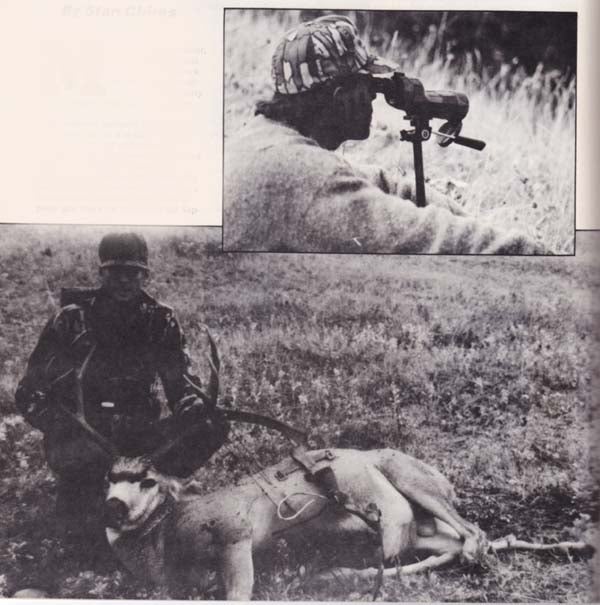 To add to my frustration, the thermals
were constantly in favor of the deer.
Evenings were out altogether, for they
wouldn't budge from their hiding places
until it was dark. It didn't matter any-
way, because the winds were rising to
them then and there was no top
approach. I had to work and didn't have
the time to hunt in the afternoon any-
way. That left me with 4 a.m. treks up
the mountain to get ahead of them,
usually to have the wind force me to re-
treat even higher to avoid detection.
Getting a young buck would have
been simple, for they often cross·cut the
currents as they wander up to higher
grounds. But the older bucks gave me no
slack. They would come up early, with
the wind strongly in their faces, then
duck into the smaller canyons at day-
break to bed in the dense, thorny brush.
They would wait until there was just
enough light for me to see how nice they
really were, adding to my sense of frus-
tration. Just because you can see them
in their open habitat doesn't mean
they're going to let you into bow range!
There were a couple "almosts" in the
previous twelve days that kept my blood
surging and my hopes high enough to
endure the early wake-ups. One magnificent
five-by-five spotted me a few days
earlier, just as I was about to shoot. I
had stalked to within twenty—five yards
and decided to take one more step —
like a fool! Still another, a fantastic non-
typical buck that had been giving me the
slip for the last two seasons, had also
managed to elude me on a daily basis.
I had been waiting for a storm front to
slide in from the north and overpower
the prevailing southern morning thermals.
I stopped my Jeep and got out to test the
wind as I had done on the previous twelve
mornings and was treated
to a pleasant surprise: North! It was a
brisk ten to twenty mile-per-hour breeze
and, although it was spiced with the roar
of distant thunder and a thirty—degree
temperature, it was as welcome as a
tropical vacation. My spirits sky-rocketed.
It would take an hour to reach
the canyons, but for once, I wouldn't get
there ahead of my scent. More importantly,
the abundant whitetails, elk and
mule deer wouldn't know there was an
intruder in their midst. I donned my
wool clothing in anticipation of rain and
began a steady climb to the peaks.
It was going to be at least an hour
before light, especially with the dark
clouds covering the sky. The mountains
cracked with lightning and thunder,
making me awfully glad I wasn't up
there hunting elk. I nestled into a small
patch of brush to keep warm, keeping
myself invigorated with anticipation
enough to avoid sleep.

Finally, useable light arrived and I
began to scour the countryside below for
bucks making their last rounds of the
night. I was in the heart of their travel
corridor and hoped either to intercept
one enroute or effect a stalk with the
variables in my favor.
My first visitors were elk. Four cows
and a spike bull crossed thirty yards
from me. The bull I wanted was up the
mountain by now. He would have to
wait for another day to get chased by
me. I was after mulies on this most perfect
of days. The rain and wind were is
match for my wool as I sat and enjoyed
the elk.
Twelve small three—by—three and four-
by-four bucks made their way up the
slope to my right, but none was what I
wanted. My attention turned to another
dozen or so elk milling around a half-
mile below me. A good bull would be
tempting, so I glassed the herd carefully.
In a way, I was relieved that it had nothing but spikes,
one rag-horn and some
cows. It's not a good thing to vary from
your course of action when the con-
ditions so rarely let you get into it, the
way I could today. It's a wonderful predicament to have and that's why I
moved to Wyoming!

The elk milled all over the valley and
seemed uneasy with the wind at their
backs. Finally, they had to give in and head directly to my site. Meanwhile,
two race whitetails were converging
from the left side ofthe canyon — which
was about three hundred yards wide —
and lugs were beginning toget
interesing. The larger buck would score
135 points and mule deer or not, I was
going to try for him.
Four hundred yards out, elk and
whitetails veered off to my left and gave
me no option but to belly—crawl over to
that side of the canyon as fast as I
could. Suddenly. halfway there, I saw
him. A mule buck was bedded in the
shallow draw I was crawling into! His
tines stood distinctly above the grass,
causing my pulse to quicken and
thoughts of elk and whitetails to
diminish.
The problem was: to sneak the mulie
would mean being exposed to the elk
and whitetails. That wou1dn't work, as
these foothdll deer take each others'
warnings seriously. In so doing, they
manage to protect themselves quite well.
I had to retreat from what would have
been a fairly stalkable deer. I crawled
back to my brush-hide and waited to see
what would materialize.
There, in a space of no more than two
acres, were a dozen elk, two magnificent
whitetails and what turned out to be
three mule deer. I couldn't believe my
eyes!
Living in Wyoming has it's drawbacks.
There is almost no form of commercial
entertainment and the options
are few in many endeavors. The array of
people, places and things to amuse you
in the city — my last one was Atlanta
— add a lot to life. But you couldn't tell
me that on the 18th day of September,
1988l
The animals began to feed on some
shrubbery along the canyon wall. I was
about 125 yards away and trying desperately
to come up with some kind of approach. But there was none. Approaching or retreating would surely have
attracted dozens of sharp eyes to my Treebark-clad form. There was no option
but to wait.


The black clouds became denser and
soon the ceiling dropped enough to
shroud the canyon and its inhabitants in
a wonderful fog. This was my break, so
I backed up and trotted up the canyon
several hundred yards, well downwind
of my quarry. After crossing and slipping
ever-so-carefully down toward the
pack of antlers and hooves, I settled in
behind a couple shrubs that looked to be
about one hundred yards from my
buck's last location. It would be dumb
to try and get any closer.
I nocked an arrow, for soon it would
be time to do something. I expected the
elk to take a path next to me and head
for higher country. The whitetails could
either pass and get an arrow, or follow
the elk. Nobody would cut my wind.
The mulies could do whatever they wanted,
as long as they did it within forty-
five yards! The nock made a subtle
"snap" as it locked down on the string
of my High Country Trophy Hunter, a
bow that had taken me to the Grand
Slam of wild turkeys last spring and was
fast becoming an extension of my arm
and mind. Just then the smallest mulie
materialized ten yards from me.
The fork-hom looked at me with
curiosity and disbelief, much the same
sentiments that I was feeling! He crank-
ed his neck first one way, then the other,
trying to figure out what this bark-
patterned thing was. He approached
slowly, for a closer look, apparently
thinking it would become clear to him
what I was and allow him to get on with
his feeding. Rather than let the little ras-
cal come any closer and suffer the shock
of his young life, I moved a little to
spook him. He took the cue and began
to circle downwind of me. Suddenly, he
broke into the comical mule deer bound
and set off a racket that would surely
alarm any nearby animals.
The clouds were lifting and I could
see twenty—four elk eyes staring directly
at my hiding spot. The whitetails left
without any need to see what all the fuss
was about; they were just being
whitetails! Within minutes, the elk
began to wander off, passing within fif-
teen yards of my former hide.
I began to wonder where the two
other mulies had gone. Had they some-
how slipped by me as I crept down? No,
they had to be there, in the shrubbery,
along the canyon wall. I headed up the
ridge for a better look.
I wear glasses and, if you do, you'll
know what I mean when I say that I'd
sacrifice an awful lot to be free of them.
I've tried the obvious alternatives to lit-
tle avail and have accepted this curse.
Rainy days, with howling wind, can
drive you bonkers. When sitting still,
you can control water on the lenses with
your hat's visor. But when huffing up a
canyon wall, the heat generated by your
body and raindrops assaulting your face
do two things: You fog up and then blur
entirely as the water cascades across
your glasses.

The top of the ridge revealed nothing.
Actually, that was rather difficult to
determine, as I could barely see! Since
all my clothes were soaked and my dry
spots of clothing had long since been
used up, clearing the lenses was next to
impossible. I practically slid back to the
bottom, a victim of the mud and poor
vision.
I decided to stalk along the lower
edge of the brush and peer inside, hop-
ing to locate the missing bucks. It was
wetland windy, which made for quiet
going. I had every chance of seeing them
before they saw me, if I went slowly
enough.
Every step revealed something new,
but no deer. The water was getting into
my mouth and eyes when suddenly the
taste of soap struck. I was dumbfound-
ed! Was it coming from my hat; or had
there been some shampoo left in my hair
that was filtering down! Soon it made
it's way into my eyes. You know the
feeling? Soap in your eyes? I laid my
bow down and began rubbing my eyes
gingerly. My glasses were hopelessly
streaked with runoff and I felt like total
you~know-what! At that moment, I
almost gave in and headed back.
One step more had me looking at the
same dark recesses in the brush I had
been seeing all along, but the next one
materialized two large gray shapes
about thirty yards up the hill.
It happened in a split second. I tried
to see better and yet instinctively knew I
had to get the bow drawn. The shapes
rose and they were deer. Through the
blurry lenses, I could make out the rear
animal as a small buck and the front one
was most certainly the one I wanted. He
was pretty well shrouded in brush, but
his larger body was all the clue I
needed. Experience had taught me that I
could penetrate down-range brush if it
was close to the target. I was at full
draw and anchored just as the deer
finished rising. The pin came to rest on
his chest in one smooth, rapid motion.
My bow was so easy to draw and aim
with it's sixty-five percent let-off that the
process was almost automatic. Before I
knew it and before the buck had a
chance to bolt, the arrow was on its
way.
A satisfying plunk made its way back
to my ears. Although I didn't see the
arrow in flight or see it hit, it sounded
right. The bucks bolted and disappeared
from sight.
It took me a minute to compose my
thoughts and reconfirm what my senses
told me were the signs of a vital hit. I
paced off twenty-eight yards to the place
where the bucks had been standing and
looked for my arrow.
The arrow either had gone into the
brush or raced over the hillside into the
next valley. I chose to go over and soon
found six inches of my arrow with frothy
red blood all over the shaft. It was a
lung hit! I topped the rise and there,
within the panorama of the Bighorn
Mountains, lay my buck. He was not
the best I had seen that year, but at that
moment there was no disputing he was
the most welcome.
Not only was his body huge, but his
rack was to green score 166 2/8 Pope &
Young Club points. The 130-grain
Muzzy broadhead had penetrated his
massive shoulders completely, skewering
both lungs in the process. He had
made it an amazing 125 yards uphill
after the hit
Wayne Buff persisted until eleven
o'clock that morning and found his
buck, way down the trail where he had
shot it. It had followed a straight line for
about half a mile before expiring. <—-<<
Leave a Reply
You must be logged in to post a comment.