Published by Gear Junky on 14 Apr 2008 at 04:27 pm
I love hunting. I love hunting like Jared loves Subway, like Mannings love endorsements, like Hillary loves taxes. I love hunting so much that I require a weekly hunting fix. That's problematic, however, since fall refuses to come more than once a year. Other guys are able to scratch that itch with weekend fishing trips, but fishing strikes me as being kind of like the PGA tour – it's available every weekend and usually keeps you entertained, but never builds to a yearly crescendo. Hunting progresses more like the NFL, the "Superbowl" of all outdoor activities. Like the Superbowl, my yearly big-game hunting adventure usually doesn't live up to my expectations. But even when it's bad, it's still awfully good.
So naturally, I spend eleven months out of the year obsessing over the details of hunting season. I've become a gear junky, much to the chagrin of my wife, who tries her best to resist the temptation to tally up the piles of receipts from Sportsman's Warehouse, Cabela's, and Paypal that accumulate in my not-so-secret Danner boots box on the top shelf in the hunting closet. You may be thinking, "Hold on, aren't you in like your eighth year of college? How can you possibly afford long hunting trips, let alone the latest gear?" Well, I'd like to say that I have a profitable side-business or online revenue stream, but the truth is, I just got lucky and found a sugar momma. Until I finish school and they call me Doctor, it's my wife's hard-earned cash I'm spending. Suffice it to say, I'm required to be as budget-minded as possible. So my recommendations are targeted towards people like myself who want the best gear for the best value. The Archery Talk community is a natural fit.
Before I get to my first set of hardcore hunter must-owns, here's a few things to keep in mind when reading my recommendations:
1) These are recommendations, not reviews…and there's a big difference. I can't stand the way gear is reviewed in outdoor magazines. Inevitably, the magazine editor's are given a new product by an eager manufacturer for review, and the editors either try it out for a few weeks, or (worse yet) give it to a subscriber to evaluate. What sort of credibility does that leave the review? Nobody wants to knock a product they received for free, and very few products are given a realistic amount of abuse before the review goes to print. Also, a review of the latest 2008 backpack by a specific manufacturer isn't very valuable in and of itself. When I'm in the market for a backpack, I don't care about one specific model of one specific brand in one specific year. Instead, I want to find the best backpack from any manufacturer from any year, in my given price range for my specific needs. A gear recommendation can do just that, if the author's criteria and price range are comparable to the shopper's. That's what I'll do here; instead of reviewing the latest gear, I'll identify the best gear.
2) I am not brand loyal. I want the best gear for my hard-earned dollar (um, my wife's hard-earned dollar) and I'll go with whomever best meets that need. Loyalty is great in other realms of life, but not for consumers. Manufacturers need to know that if they slip and lose their competitive edge at all, we'll take our business elsewhere. It's good for the manufacturer and the consumer when competition thrives, and too much brand loyalty takes a company's focus off of innovation and places it on achieving name-brand recognition. Fanboys have become too common and don't give unbiased recommendations, so I'll try my darndest to avoid being a fanboy…unless we happen to discuss Major League Baseball, in which case, Go Mariners! and Die, Redsox Nation, die flopping in the dirt like a gut-shot ground squirrel!
Only joking. Sort of.
3) I'm open to other great ideas. If you know about something that beats the heck out of one my must-haves, let me know and I'll give it a chance. I'm always looking to improve my own gear, and I'd love to provide the best recommendations around, even if one of my favorite products gets the bump. Use the comments to our mutual benefit (for a better description of Mutual Benefit, please google "Supermodel weds Texas Billionaire").
4) My focus is on light-weight, durable, cost-effective, useful, and innovative gear for the backcountry. What meets that criteria? The supermodel mentioned above would rate fairly well in all categories except cost-effective, but close is no cigar, so supermodels do not receive my recommendation. I live and hunt out West, and when you're chasing mountain mulies or rutting bulls out of a one-man camp, your life depends on your equipment. Hunting whitetails deep in the forest is a similar game, I assume…but if you walk from your front door to your tree stand, some of what I'll blog about won't apply. Also, there are thousands of great posts around here about archery equipment, so my focus will be on other gear for bowhunting.
With all that said, here's my first installment of Must-Own recommendations for other Archery Talk gear junkies. Hope you find this helpful…or entertaining, if nothing else.
Must-Own Camp Stove:

The

Jetboil
Lightweight/Compact: 9
Durability: 8
Cost-Effectiveness: 8 ($75 online)
Usefulness: 9
Innovation: 10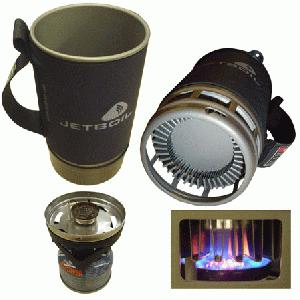 Like most of us, I often don't return to camp until an hour or more after dark, and only two things are on my mind: food and sleep, the sooner the better. About ten years ago, dehydrated food manufacturers finally responded to consumer demand and began producing one-step freeze-dried meals that were actually tasty. I understand your reluctance to accept tasty and freeze-dried in the same sentence, since they sound about as compatible as Jessica Simpson and Harvard graduate. But believe me, some of the best meals I've had on the road were prepared in those little zippered pouches. The product only requires that you add boiling water, then re-seal and let stand for a few minutes while it cooks your dinner for you. I eat the meal right out of the package, so the only dinnerware needed is a fork. When done, I just seal the empty pouch back up, with no mess and no smell to attract bears or wandering mountain hippies.
How much does a full stomach and all that peace of mind cost? About six bucks for most brands. Mountain House is available everywhere, and has some great varieties. The desserts are fantastic, by the way, and although they aren't cheap (around $4), they sure beat another lousy candy bar.
Where does the Jetboil enter the picture, you ask? The Jetboil, as Matlock would deduce just before the final commercial break, is the one responsible for the boiling. And how! I've clocked it firing sixteen ounces of glacier run-off to a boil in less than ninety seconds. And it wasn't even trying. My kitchen stove can't come close to matching that speed, and the story just begins there. As you can see in the photo, the Jetboil utilizes a specialized coil that maximizes heat transfer between the stove and attachable cup while reducing fuel demand. It's lightning fast and efficient…two or three small isobutane cannisters (a few bucks each, available everywhere) will get you through most hunting seasons. And the stove and cannister fit inside the 1.0 liter companion cup, so the entire system (stove, cup, sipper lid, measuring cup, fuel cannister) takes up only slightly more space than a Gatorade bottle while weighing only 19 oz. That's pretty impressive for a unit that can serve as a mug, pot, bowl (top ramen lovers can pour their $0.14 packages right in), and even coffee maker (with optional coffee press for those who don't mind the less-than-stealthy breath). And the best part? The cup is wrapped in a neoprene sleeve so you can hold it firmly, no matter how hot it gets (even while the stove is on). No more metal pot grabber! Combine all of this with a slick little ignitor that works every time at the push of a button, and you have a great piece of gear, all for $75. No matter how light I want my pack to be, the Jetboil always makes the trip.
Must-Own Hunting Shelter:

Outdoor Research "Alpine" Bivy
Lightweight/Compact: 8
Durability: 8
Cost-Effectiveness: 6 ($199 online)
Usefulness: 10
Innovation: 8
If you are anything like me (and you have my wife's deepest sympathies if you are), you've spent a fair amount of time wondering what in Sam Hill a bivy sack is, but you have been too afraid to ask. Well, ever since Al Gore invented the internet (tee hee!) we curious types now have a venue for seeking answers without having to ask questions, which spares our fragile egos. Bivy sacks, I have since discovered, are one-man shelters that the mountaineering community developed to surpass the shortcomings of the good ol' one-man tent. Those of you who have set up camp in a storm already know that a tent can turn into a liability; they blow over, collapse, don't keep out ground water, and take time to set up. A bivy, on the other hand, succeeds where tents fail.
September bowhunting usually provides good weather, so I prefer to sleep under the stars wearing nothing but my crusty, er, trusty long john's and a sleeping bag. I own an outstanding two-man tent, but I like to pack as light as possible in the backcountry, and late summer weather usually doesn't pin you down for more than a day at a time, so a tent really isn't necessary. But if a thunderstorm or blizzard strikes, a bivy is a life saver. And Outdoor Research's Alpine Bivy is the best of the bunch for a hunter's needs.
The Alpine is made out of triple-layer GORE-TEX so it's waterproof, lightweight and breathable. It fits over your sleeping bag and sleeping pad like a sock, keeping your bedding safe from rain, ground water, and dew. What really sets it apart is one cleverly placed tent pole that arches above the shoulder area. The design lifts the fabric just enough to ditch that claustrophobic feeling that other models are known for, and it allows you to do a little reading or change your clothes without restriction. I slip my bedding into the Alpine even when there's no chance of rain, because it's mesh bug shield allows me to see the stars without giving blood. When hunting in the rain, there's just enough room inside to stuff your pack and wet clothes to dry via body heat overnight. That scenario may be less than ideal, but it's good option to have if you need it. If a prolonged storm does pin you down, a lightweight tarp (like the kind most of us already own to place under our tents) can be strung a couple feet above for a makeshift camp (thanks to Cameron Hanes for that tip). And the most unexpected benefit I've had is on early hunts when my sleeping bag is just too warm – instead of baking inside my bedding, I lay on top of it, and the bivy provides just enough insulation to keep the chill off while my sore muscles enjoy the extra padding beneath me. Because the Alpine is breathable, my wretched mountain-breath doesn't turn to condensation overnight, so the interior stays fresh and dry.
It ain't cheap, but very few products that compress to the size of a small loaf of bread can offer so many advantages to the backcountry archer.
Must Have Backpack:

Jim Horn Signature Series "Canadian" by Blacks Creek



Lightweight/Compact: 7
Durability: 9
Cost-Effectiveness: 8 ($169)
Usefulness: 8
Innovation: 8
Yes, there are bigger and costlier packs out there, but if you want bang for your buck, this bad boy has it all. I met the designers at a trade show and was thoroughly impressed with their knowledge…they understand how the human body bears weight, and they have created a pack that partners perfectly with biomechanics. The entire line of Jim Horn signature series packs are outstanding, but I feel that the Canadian is the best for all-around hunting and backpacking purposes. Here are some pics and specs from their website:
Specifications:
Weight: 6.8 lbs
Dimensions: 22″H x 12″W x 11″D
Capacity: 2200 cubic inches (expands to 3850)
H20 compabitle
Carries bow and rifle
Spotting scope pocket
Orange safety flap
Adjustable torso (XS-XL)
Mossy Oak Breakup or Realtree Max 1
All heavy stress areas reinforced and bar tacked
Breathable mesh back
13 pockets
Internal frame: high-tech H-frame
Now, that list may look pretty typical, but don't be fooled. To begin, the concept that motivated the design was the internal H-frame, a lightweight innovation that provides the perfect balance of comfort and strength (the same features that I look for in a truck, hiking boot, and toilet seat). Basically, this pack can haul your meat with the best of them, replacing that annoying prerequisite trip back to the rig to retrieve an external frame once your game is down. The H-frame is surprisingly strong, and the pack is surprisingly expandable. It may not be ideal for elk, but I don't care – I'd rather have a pack that is great for hiking and hunting elk (and spend a little more time boning and quartering) than have a pack that is perfect for hauling elk but less proficient at helping me kill one.
And man, does it have features – the spotting scope compartment, the integrated bow carrier, the integrated rifle carrier, the fantastic pocket design, the hydration pouch, the durable, quiet fabric and zippers…Santa must have read my list. Don't get me wrong, most other high-end packs include those features, but none will fit you any better, and none will beat the price. The belt and shoulder harness are fully adjustable for most sizes, and they sell an expansion kit for guys over 6'3″ and 220lbs. (I'm 6'2″/205, and the pack fit great once I set it on the "top rung" on the standard shoulder harness).
I should take a moment to soapbox about two common misconceptions about backpacks. First, the weight of the load doesn't matter nearly as much as how the weight of the load is distributed, despite what we've all heard. There are people out there who tell us that a day pack should be small and light. Not true. A pack that weighs seven pounds empty, yet fits the length and width of your torso perfectly between the hips and shoulders, will feel much lighter than a so-called "day pack" that weighs two or three pounds but isn't long enough. The second misconception, one that I once believed, is that "a perfect pack should not touch your back, but instead should be an inch or two away for ventilation." It's true that none of us enjoy the feeling you get when you take off your pack to find that your back is soaked and ready to freeze with the slightest wind. But the reality is that you're going to sweat one way or another, and it's better to purchase quality clothing that wicks moisture away from the skin rather than rely on your pack to ventilate your back. Why? Because every inch that your pack moves away from your spine increases the load exponentially. You want the weight as close to you as possible (this can be demonstrated by placing a dumbbell in the main compartment of your backpack next to your body: note the perceived weight, then remove it, stuff a couple of inflated balloons into the main compartment, and place the dumbbell in an outer pocket with the balloons between your back and the dumbbell. The actual weight in the pack doesn't change, but the difference in load on your spine is unbelievable). So avoid the manufacturers whose packs are too small or those that include ventilation systems. Like getting a wet kiss from your thickly-mustached great aunt, they mean well, but aren't doing you any favors.
The Canadian pack distributes weight perfectly. And perhaps its best feature is its endless supply of compression straps, which maintain a solid, close-in load. The pack comes with a free DVD demonstrating how to use all of its features, with extra emphasis on utilizing compression straps. You can tell from the video that these guys will take care of their customers and stand by their product…buy with confidence knowing that the Canadian will handle six days worth of supplies and haul out your game, and still serve as the perfect day-pack to boot.
Leave a Reply
You must be logged in to post a comment.