Published by archerchick on 25 Jul 2012 at 10:53 pm
Archery World – October 1987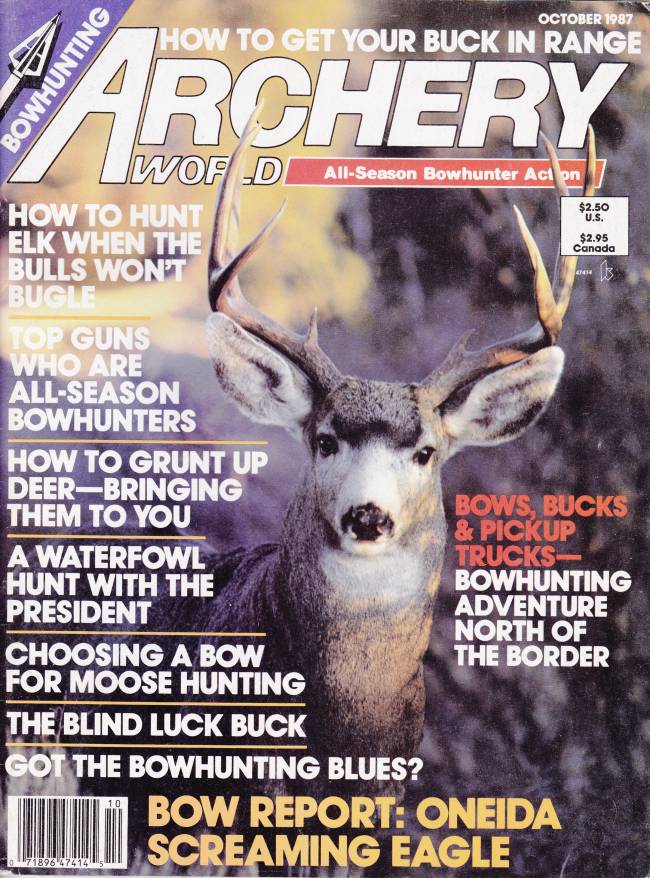 Watching The Woods Change
By Randall Schwalbach
The freedom of exploring wild places is one of the joys of hunting. There's nothing like the anticipation of going out of state on the big hunt. New country, new faces, new challenges — that's what turns on bowhunters like you and me. At the same time, however, many of us enjoy returning to a favorite hunting spot year after year. I enjoy roaming a woodlot in central Wisconsin where I started bowhunting whitetail deer 15 years ago. It has become sort of an annual pilgrimage, and come mid-September my thoughts converge on this chunk of heaven I call the Big Hoods.
The Big Woods
What I find most amazing about the Big Woods is that it is in a state of constant change. Not only does habitat evolution/ alteration affect deer movement on a year to year basis, but also new generations of deer acquire new patterns and survival techniques. In order for you to enjoy continuous success at your own "old faithful ," I'm going to share some of my experiences with this evolution at my own tried and true Big Woods. Did you ever marvel at how fast a tree grows? Just look out your window at that maple you planted in the backyard when your irst son or daughter was born. Amazing, isn't it! Now, consider that a tree is useful to deer for different reasons during the course of its life, and you'll see why no woods can ever stay the same. When it is small, a tree is likely to be either (1) eaten or (2) used as cover – or quite possibly both. Toward the end of its sapling status, it serves as a good place to polish antlers and test brute strength. Between this and the fruit bearing stage, say, if it is an oak, the tree as an individual is not highly useful. The point is, the woods are a collection of many trees, either in a process of growth or death, and as a unit the woods are indeed constantly changing – right before your eyes.
When I first started hunting the Big Woods, the northern edge was well defined. It butted up against a 20 acre farm field that lay fallow and consisted of thick canary grass and tall goldenrod, with a few small aspen and birch scattered through. In the past 15 years, however, the oaks and maples of the Big Woods have grown out into the field, producing a "zone" rather than a strict delineation or "edge." The deer used to cross the 20 acre field rather quickly to go between cornfields and the woods. They entered the woods at the corners and at a few select points along the edge. The sign they left was concentrated at these entrances. Now the deer actually "live" in the field and in the "zone" created by the advance of the Big Woods. The cover is much thicker and there are many more lanes of safe travel for deer. Individual trails, however, are not as prominent, and the sign is less concentrated. I think there are more deer now, but they make less impact.
How has my hunting strategy changed? For starters, I alarm too many deer if I walk
 through the zone between woods and field, which is where my old walking trail is. I now enter the woods from a different side. Because the deer come into the woods from any point along the north boundary, I now have better luck hunting farther into the woods itself, where main trails are still in use and sign is concentrated. For nostalgic reasons, I sometimes sit in my old stands along the "edge," but my luck there is seldom good. It is important to understand that the Big Woods itself is used primarily for three things: (1) acorns, (2) a rutting area and (3) a lane for quick travel to a major swamp/bedding ground to the south. As the only major highland in the area, the Big Woods is strategic for the hunter with a discerning eye.
There is an annual adjustment in deer movement directly related to farm crop rotation. Although my woods are not bordered by any tilled land, there are fields in three different directions. The field to the west is 100 yards distant and is always planted in corn. Encompassing a half section of land, the corn planted there often becomes primary escape cover as well as a food lot. In alternate years, roughly, there is corn to the north and to the east, within a quarter to half mile of my woods. Because deer seem to enjoy variety just as much as we like to try out different restaurants, they will travel the extra distance between these fields and my woods. This is in favor of the deer, from a biologist's point of view, for it decreases social pressure and interaction. From a hunter's standpoint, deer sign spreads out and hot-spots become less of a factor. The deer are everywhere, and they approach the woods from all sides, complicating the matter of placing a stand, particularly in relation to wind direction.
The availability of natural food supplies also changes from year to year. During the fall, one of the most important deer foods to look for is the acorn, fruit of the oak tree Since one species of oak may produce more acorns than another in a given year, pay attention to the different groves of oak in any one woods. Furthermore, mast producing capabilities of individual trees within a species also vary. (See my article, "Acorn Time 's the Time" in Archery World August, 1986, for the complete lowdown on oaks and acorns. Differences in food supply, remember, affect not only where the deer eat, but also where they bed and from which direction they approach the woods.
Natural events such as a violent windstorm can change deer patterns dramatically. Several summers ago one storm took more than 100 of our big oaks. The deer had formerly been accustomed to a clear view in the mature timber, which they traveled through at a quick walk. When the trees came down, it gave predators (like me) good places to hide. so the deer had to slow down and move through the area with greater caution. ln effect, this gave them more time to detect my presence.
In many instances, downed trees also obscured my vision, making it harder for me to spot deer approaching favorite stands. My father and I used to love one open glade in the late afternoon as the deer approached through the slanting rays of sunshine. This perennial stand suddenly became a poor hunting locale. It remained that way until we got in there with a chain saw and restored some order to the area. Shortly the deer returned to using their old trails with confidence. A further outcome of the windstorm was the creation of a new hunting strategy for me – the pit blind. In a nutshells, the upturned root end of a windblown oak created a natural hole for a hunter to crawl into. A little improvement with a spade, and I had a first-class blind that put me as close as I've ever been to wild deer. For example, six inches between my face and the antlered end of one whitetail buck was CLOSE!
Another kind of evolution that can force a hunter to revise his strategy is a change of land ownership. When my father first purchased the Big Woods in the early 60's, all the adjacent lands were owned by farmers. As they subsequently sold off of small parcels (split off the big farms) to non-farmers, the result was a loss of hunting grounds for us and a decline in the hunting potential on our own land. One person put an old mobile home smack dab on the edge of our property, ruining one area totally. Another routinely invites more people to hunt his land than he actually has room for, producing the added headache of a trespass problem for us. We have made the necessary adjustments for these changes, however, and fortunately we still have excellent hunting at the Big Woods.
Possibly you are contemplating buying your own land for hunting. The best advice I
have for you is to locate an available parcel adjacent to a large tract of land that is least likely to be split up and sold off in small parcels. By the same token, don't purchase hunting land with the idea that it will provide instant and easy access to other peoples' lands. Neighbors may be willing to grant you hunting rights on their land, but don't assume this. Acquire enough land of your own to provide for your sporting needs.
In addition to habitat evolution, food availability and change of land ownership, there is the possibility of new generations of deer acquiring new habits – that is, adapting new ways to avoid you. I believe that due to wide-spread use, the overall effectiveness of the tree stand has diminished significantly over the past 10 years. When I first started hunting out of trees for deer, the results were fabulous. Most of the stands I used were no more than 10 feet off the ground, and deer were always walking right underneath me. Rare indeed were the occasions the deer looked up out of natural curiosity, even after detecting a strange odor or hearing a sound that was out of place. I used one tree in particular over and over, year after year, with excellent success. Gradually, however, the deer became wise to my strategy, forcing me to become more of a specialist at the arboreal ambush. Indeed, trees were still good places to hide, but the deer were starting to check out the various trees as they went about their business. I learned to pay more attention to camouflaging myself with natural materials and shadows, whereas before I had relied upon sheer elevation.
Also, once the deer spotted me in a tree stand, it seemed to make a larger impact on their memory, and the effectiveness of any given tree stand diminished through usage. Today, I still use tree stands, but I change their locations more frequently, and I generally go much higher – 22 feet is about average. For all purposes, I have abandoned the permanent, wooden platform made of 2×4 lumber in favor of the portable, aluminum stand which I can backpack in and out of the woods. The latter are more effective as they can be put in almost any tree. They also create less of an eyesore when I leave, for I take them with me.
In addition to tree stands, I spend more time these days still-hunting and waiting in ground blinds. The end result of all this is a continuous, intensive scouting program to keep abreast of the natural changes in the woods as well as man-made-alterations. We always think to ourselves, "Wouldn't it be nice if some things would just stay the same forever?" But the truth is, that old hunting spot of yours is bound to change; it changes a little bit every day. Spend some time revising your bowhunting strategies to suit the new conditions and it will pay you off with the one thing that doesn't change – the satisfaction of making a kill with the bow and arrow.
Archived By
www.Archerytalk.com
All Rights Reserved
Leave a Reply
You must be logged in to post a comment.