Published by archerchick on 25 Jul 2012 at 10:03 pm
Archery World October 1987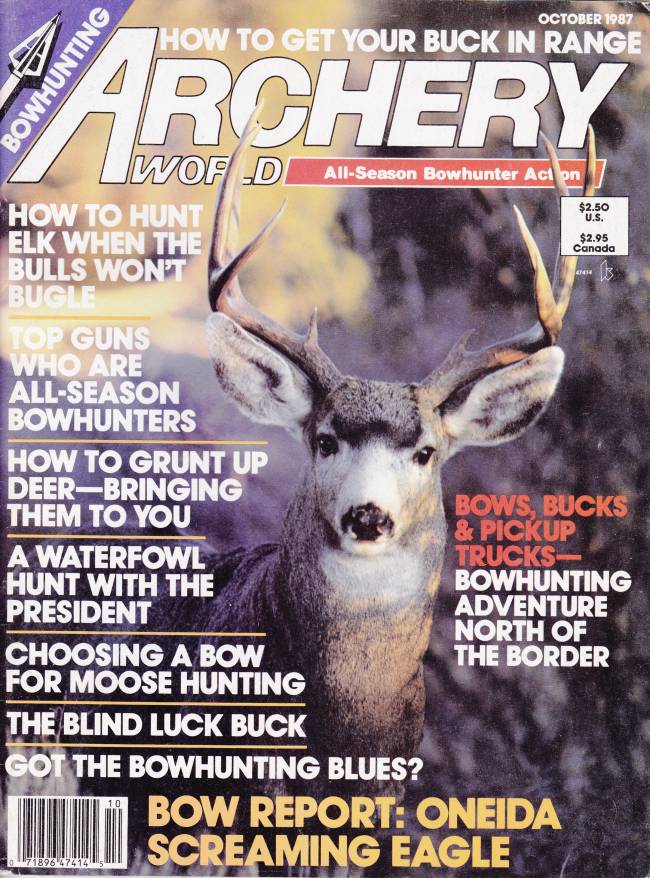 When the Bulls Won't Bugle
By Wayne Van Zwoll
The chase led down a rocky wash, then into the dark timber at the head of
a deep draw.  The draw became a canyon farther down, beyond where he
could see.  If they went there he wouldn't follow.
The sun was up now, and he was warm.  They would be, too, and he'd not see
them in the open anymore.  He hurried down, sliding, grappling with the buckbrush,
snatching at the trunks of the trees to slow his descent.  He wasn't being quiet, but they
wouldn't wait for quiet people.
Meanwhile the elk were being democratic about things.  Milling about at a cut in the canyon
side, they drank from a small spring in turn, scrambled up onto the rock trail that hung
like a crooked string along a point that divided the forks of the drainage.  They were lower
than he was, and the canyon gaped beneath them.   There were six of them, all bulls, Bachelors,
they'd spent the dawn hours nibbling in a meadow on top, jousting with each other.  Velvet hung
in tattered strips, but the animals were fat.  They'd wandered off the hill into the head of the draw
when the sun got yellow.
He'd like to have got into them then, but they were too far.  He'd watched them with his glasses, his belly
pressed into the grass.  When they went over the lip he'd follow.  But then things had gone wrong.  Another
hunter had moved in from the west, and they'd smelled him just at the wrong time.  He was 20 steps
from one when this other fellow moved in, 20 steps and the last inch of draw.  The elk left.
Then he'd bumped them once himself, run too hard to catch up and got caught in the open.  They were
patient because they hadn't been bothered much this summer and didn't know about arrows, or didn't
remember.
Now, thought, thye were moving out, Enough was enough.  Besides, the sun was up.  The end came at the
spring, after most of the bulls had left and were strung out on the trail around the point, headed for the bowels
of the canyon.  A yearling bull was waiting his turn and a five-point was standing over the water thinking that
maybe he didn't want to leave just yet.  That's when the first arrow hit the rocks.
He didn't pay it much mind because he didn't know what it was.  Then the next arrow rushed at him and it
was deflected.  It went deep and he ran and he got up into the sun on the rocks above the trail.  Then
everything went askew and he lost control and fell over and was dead.
THE RIGHT PLACES
It took me quite awhile to find that elk in the thick gut of that draw.  He'd tumbled a long way.  But it hadn't
taken me much time at all to find him in the first place, in that meadow on top with the other bulls.  I was
thankful for that, because when the elk aren't bugling finding them can be a real chore.  To spend more time
hunting and less time looking for elk, it's important that you look in the right places in the right way.
Here are some things to keep in mind when you are trying to find those silent bulls,
First, know whey they're silent.  If you're hunting before rut, before bulls are interested in cows and are
still bachelor groups, don't expect them to bugle.  They don't do it for the fun.
When the rut is over and the bulls are tired, they seperate from the cows, but this time they're more apt
to go off alone and just rest in a thicket near lots of food.  Solitary and secluded, often in heavy timber and
moving very little, such elk can be very hard to find.  If they bugle at all it will be at random.  They won't move and
they're unlikely to pull you in with a string of answers to your elk whistle.
Sometimes elk can be silent during the rut.  In areas where the hunting pressure is extreme, bulls hear enough fake
challenges and run into enough bugling hunters to know what is real and what isn't.
Sometimes they don't even care to find out, but pack their cows off to some steep, jungly corner of the mountains as
soon as they hear the first note.  Outrider bulls that have been kicked around a little learn it's best to approach a harem
silently, to find out something about the bull doing the screaming, if not to make sure it's really a bull in the first place.
During rut- and even out of rut – elk don't always need a reason to act as they do, and it may seem a waste of time
to find out why elk are silent when they probably haven't reasoned that through themselves.  Still,
knowing why, or at least postulating why,
rnakes a difference in how you hunt. If you are
to End elk consistently it must.
If you're going to be hunting early, before
rut, remember that you're as likely to find
several bulls together as to find a single bull.
l`ve taken two bulls in August. Both were in
bachelor groups. Of those shot during September, most were alone.
Bulls in groups are tough to find early because one group may hold all the bulls from
many square miles of rugged country. If you
don`t find that group you can do a lot of hiking
for little reward. It's imperative, then, that
you know how to read sign and know enough
about elk habit to at least make a good guess
as  to where the elk will be. Being familiar
with the country is certainly helpful; barring
large-scale disturbance, the same late summer
range will be favored year after year.
When you go early, spend at least a day
just covering ground. Look for fresh elk droppings; disregard sign you think is over a
couple of weeks old. Anything moist is fresh,
of course. Black droppings are older than
brown, but in hot, dry country elk pellets turn
black very quickly. Really old sign will be
leached to a tan color and cracked on the surface,
Concentrate on areas where elk forage:
grassy hillsides, small mountain basins,
openings in the timber where the light can
spur grass growth. Most elk droppings will be
when where the animals eat, albeit they chew
their cud in their beds. Remember, too, that
elk have night-time as well as day-time beds,
and that they may spend half their hours
lounging in a feeding area. They don't use the
rims and canyon bottoms too much in summer,
because then there isn't much reason to
seek security cover. You'll find lots of old
droppings in some pretty inhospitable places,
but don't look long there for fresh sign.
Tracks will be hard to find in the rims,
even if the bulls are using them, so look in the
meadows, where the elk are likely to feed and
wallow. Look for muddied water in the prints
in wallows. Examine grass and sedge stalks
that are bent (not broken) and have not sprung
back. Fresh rubs on small trees will be white,
often running with sap. Any velvet you see
will likely be very fresh. Use your nose, too,
to sniff beds and trails. Elk have a strong
smell even when they aren't rutting and if you
can sniff them you can be sure they're close.
Listen, as you go, for branches snapping in
canyons and thickets, for the whine of calves.
Though the bigger bulls will likely be in their
own group, they may travel or lounge near a
herd of cows, and some mature bulls will be in
the cow—calf bunches.
Last season I saw a big herd of elk on one
of my favorite August ridges. In fact, it was
the biggest herd I've yet seen in summer.
There were over 250 animals. Of the 23 bulls
in the group, though, only two were not year-
lings. The big bulls were off by themselves
playing cards, somewhere. I didn't find them
till later in the season.
It's very hard to hunt a bull in a big group
of cows like that. Too many eyes are watching
for you, too many ears listening. The wind, it
seems, is always blowing to some animal, even
if the one you want is in the perfect spot for a
stalk. Hunting the harems later is tough, but
pre-rut bulls are more sensible, and they take
their cues readily from the lead cow. Harems
tend to be smaller than late-summer herds of
cows, too. For these reasons it's a good idea to
try to find a small bunch of bulls, or perhaps a
fragment of cow herd that holds an acceptable
bull.
You can break these big elk herds into
more manageable ones, all right, and it's a
tempting thought. Still, if you frighten more
than a few animals or give your scent to the
herd you're apt to move all the elk into
tougher country. That happened to some
friends recently. They broke a big group of elk
on opening day. The animals had been using
some rolling ridges that were halt timoereu
and quite easy to hunt. After a few arrows had
been shot the big herd split into several
smaller ones — and all went down into steep,
thick canyons. Thereafter the elk bedded in
those canyons and foraged on very steep, open
hillsides, always in a place that had a commanding
view and good wind coverage.
It`s better not to split such herds or even
hunt them. Nibble at the fringes, if you must.
But when a big herd vacates an area it will
likely take with it any chance you have of finding
a small group of elk and will alert any
resident bachelor bulls.
When you go early, take your bugle. but
don't use it a lot. A blast or two from ridgetop
at dawn and dusk won't alarm elk, and it may
bring an answer from a bull that doesn't have
anything better to do. Be aware, though, that
anytime you bugle you tell the elk where you
are. If they investigate and find out what you
are they will be much harder to approach
later, and harder to talk to.

Even when the rut is on, it's a good idea to
be conservative with your bugling. Lots of
hunters bugle better that I do, and there are a
lot of different views on how best to whistle a
bull. But in areas where bulls have heard
hunters before you must be careful you don`t
say something you'll regret later.
For example: One of my hunting partners
is quite handy with a bugle. Last year he was
working some shrubby cover at timberline in
a favorite elk basin. He decided to bugle.
lmmediately he was answered. The bull came in
so fast my friend had no time to set up or move
to better his wind coverage. The bull got well
within shooting range, but presented no good
shot and left when he winded my partner.
Bugling bulls are unpredictable. Setting
up takes time. It may be that the stand you so
painstakingly search for and prepare will be
of no use if the bull that answers decides to
stay where he is. Nonetheless, if you aren't
prepared to receive a bull, it's better not to
invite him.
Once in a while you can find a ridgetop
viewpoint that will serve as a launchpad when
you bugle to locate a bull. If you don't think
the bulls will come to you or even answer you
more than once or twice, bugling from the top
can put you into elk. A bull that answers
should be stalked immediately, and if you run
the first half you'll just get there quicker.
Don't bugle after you get an answer, and don't
stay on the ridge to see if he will talk to you
unless you are set up to receive him or intend
to come to him as another bull.
Remember that elk cover ground quickly
at a walk, and if the bull that answers you is
moving you may have little time to home-in
before he moves into oblivion. One bull that
bugled at me from 400 yards was about a mile
farther down the ridge when he finally took
my arrow. I had run as much as I dared, and
the footing was good. He was just walking.
Fortunately, he bugled a couple more times
and gave me a line to follow.
If the bulls have become call-shy in the
area you hunt during the rut, try using your
bugle more sparingly, moving into the elk as
you would stalk a deer. You might see more
lone bulls, and you'll almost surely boost
your chances of penetrating a harem to get to
the herd bull. Bugling just enough to locate
the animals is especially useful if you, like
me, do not sound as much like an elk as an
elk.
Hunting after the rut is particularly tough.
By late October even the most garrulous bulls
are silent, and they're tired. The bigger the
bull, in fact, the more tired he is. He's spent
from two to three weeks gathering his harem,
servicing it and keeping other bulls at bay. He
hasn't eaten much, has drawn his strength
largely from stored lipids in his liver. He's
ready to lie down and eat. He doesn't want to
play games with hunters, and he'll go wher-
ever he thinks hunters won't. He knows lots of
places.
You know the kind of places he 's thinking
of: the lodgepole jungles, spruce thickets, al-
der tangles. If there were just a few of these
pockets you could hunt them all and eventu—
ally find him. But there are many square miles
of good security cover, and you have to admit
that if they were vulnerable the rifle hunters
would kill a lot more elk and you wouldn't see
as many bulls as you do. So the thick stuff is
good for both you and the elk. Still, how do
you hunt it?
There's really no secret here. Unless
you're blessed with a tracking snow, you must
just work your way to a bull. Think first of all
the places you'd want to be if all you wanted to
do was eat and sleep and not be bothered.
That will eliminate a lot of country. Next,
don't hunt that country you've eliminated —
no matter how pretty it is or how far you can
see or how many elk used it in August. You
can't spare the time, frankly, to hunt easy
places. Not if you want to kill elk.
Using the elevation to advantage, either si-
dehilling or hunting up half a day and down
half a day, work the mean stuff. Be extremely
conscious of the wind. Be quiet, too. Lone
bulls are a lot more alert to snapping twigs
than were those herded elk you stalked in Sep-
tember. You won't see many elk now, and the
going won'_t be easy; but this is hunting at its
best. Any bull you arrow this way will be a
trophy. It is a challenge few hunters accept,
Whenever you hunt the silent elk, recog-
nize that you'll see fewer animals than when
they're vocal. A positive outlook is crucial,
and you won't have it if you're thinking about
all the elk you should be seeing or the latest
magazine article that described a small band
of archers fighting off hordes of screaming
bulls. Face reality. Hunt harder. Smile. Shoot
a grouse for supper. Remember that the elk
are close. Your scouting and knowledge of elk
habit and the country have confirmed that. All
you need to do is find out exactly where they
are.
A P.S.
A post—script: There are some things that
all elk hunters should know and successful
hunters do know. They're simple, logical
things and easy to remember. Oddly, a lot of
hunters act as if they never heard of them.
They're basic things, the kind of things you
never talk about with other hunters because
you think they'll think you're talking beneath
them.
The truth is, elk are very basic creatures,
and they survive by doing a few basic things
very well. A lot of hunters are much too so-
phisticated to kill elk regularly. If you want to,
though, review these things:
Buy good binoculars and use them like
you'd use your eyes. This is especially impor-
tant when the elk don't bugle because you
can't locate them with your ears. Those bulls
don't switch off their senses, ever. Make the
most of yours. Give yourself lots of time to
glass from ridges, particularly at dawn and
dusk, and glass the heavy cover around you
when you work the thickets. You could spot
the antler tine of the biggest bull you'll ever
see.
Get yourself in shape. In the off-season
keep exercising regularly. It should hurt a lit-
tle and should be a real nuisance. If it isn't you
aren't doing enough. Often I've been just too
late to catch a bull passing through an open-
ing, too tired to get around a feeding herd in
time to beat the thermals. Had I been a little
harder, I might have taken more elk. Some of
the bulls I have shot, certainly, would have
escaped had I not been as fit as I was. Many
times your physical condition will decide the
climax of your elk hunt. It's different than
stand-hunting whitetails.
Shoot well. If you miss you might as well
not have hunted. Missing or crippling is
worse than not shooting. If you pass up a shot,
you`re making a judgement. The hunt is be-
hind you, and though the climax might not be
what you had hoped, you have come that far.
To miss is to fail. True, it is to fail in only a
small part of the hunt. But it is a crucial part.
Once a brakeline ruptured on the pickup I was
driving. I was going quite fast. It was a little
failure, but it carried big implications. Prac-
tice as much as you possibly can, know your
range limits and stick to them. Most of the
time you can get closer if you really try, any-
way.
If you hunt early, be prepared to take good
care of your elk. Elk cool slowly and they
must be skinned and quartered as quickly as
possible to avoid unpleasant flavor in the
meat. I've shot bulls when the night air cooled
only to 60 and day-time temperatures reached
80. Frankly, the meat wasn't the best I've had;
but it was edible because I worked quickly,
hung the quarters in the shade, kept them
clean and covered with cheesecloth. Washing
in cold water doesn't hurt as long as the meat
dries soon. It could help in cooling, and it
might well be necessary to remove hair and
offal and other matter that would surely taint
the meat. If you pack your animal out on a
horse or your back, keep it away from sweat.
dirty clothes, camp fuel.
Your elk hunting gear should be in top
shape at least a week before you go, and it's a
good idea to have spares of everything you
could imagine breaking or losing. Throw in a
rubber blunt or two if the grouse season is on.
Shooting a grouse with a rifle can scuttle an
elk hunt, but taking one with an arrow won`t
disturb other game and is a good way to keep
your distance eye and shooting muscles in
shape during the hunt. Don't forget basic first
aid items, fire-starting kit, compass. Carry
them with you and accept the extra weight as
necessary insurance. <—<
Archived By
www.ArcheryTalk.com
All Rights Reserved
Leave a Reply
You must be logged in to post a comment.