Published by archerchick on 25 Jul 2012 at 10:31 pm
Archery World – October 1987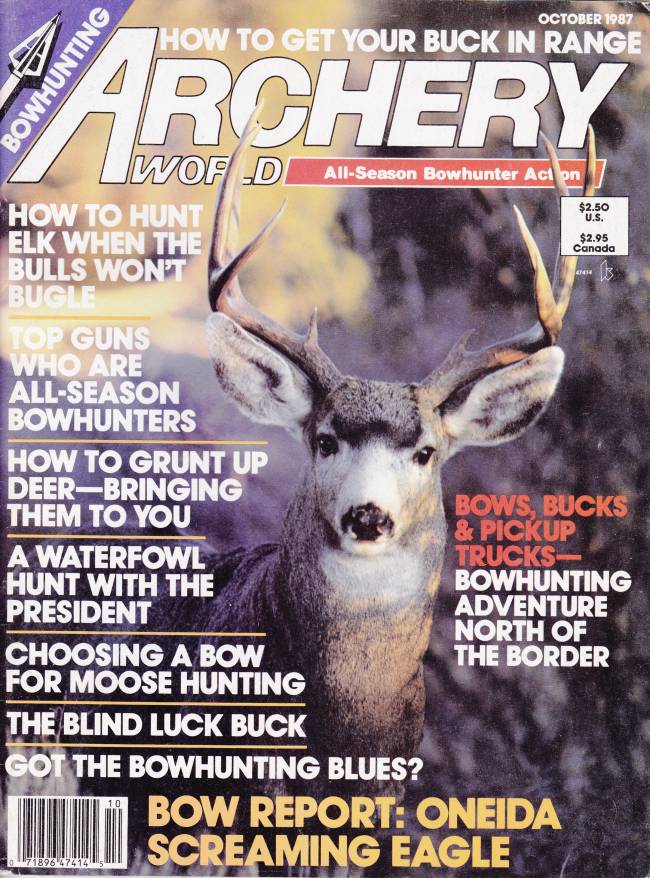 My "Dream" Buck by – Michael Henson
Well concealed and silent, the westerner stalked his trophy steadily for more than three hours; like a magnet, it attracted more and more deer. Suddenly, his bowhunting partner appeared and spotted the deer, pulled his bow out of the truck and loosed the perfect arrow.
I refocused my rangefinder and looked at  the yardage indicator once again.   "Sixty-two yards. I don't dare move any closer," I said to myself. Glancing at my watch, I realized that three hours had gone by since I first spotted this record book mulie. My thoughts quickly faded though as my eyes again were drawn to the bedded-buck's wide 5×5 rack, still in velvet. It moved periodically as he nibbled at the grass around him and methodically chewed his cud.
"He's gotta be Pope and Young material ," I thought. Feeding below this buck was a respectable 4×4, approximately 40 to 50 yards away. He was nice, but definitely not the quality of the bedded, larger one. Occasionally, I would also catch glimpses of a 3×3 and a doe who were also browsing a little further downhill. No matter what else was going on, my attention went quickly back to the big 5×5. What a nice animal! In 20 years of hunting deer, with both rifle and bow, I had never been this close to such a fine buck. This truly was a deer hunter's "dream come true." But could it come true for me?
Fallen Log?
This whole dream began in the fall of 1985 after I had moved to Aztec, New Mexico, which is located in the northwestern corner of the state. I relocated there on a job transfer from Minnesota, knowing full well I was leaving excellent whitetail country. However, I knew that I was headed for superb mule deer and elk hunting just north of Aztec, in the San Juan National Forest of southern Colorado. After moving there, it didn't take long for me to meet the person responsible for my being on this particular mountain — his name — Peter Akins. It seems like the good Lord planned our introduction, so when Peter and I met we found out we talked the same language: archery hunting, specifically, the deer and elk dialect.
Peter himself, has never shot a big-game animal with a rifle. I don't think he even owns one. However, with bow and arrow it's a different story. He rarely fails to fill his elk and deer tags. I think he felt sorry for this Minnesota boy, subsequently inviting me to join him and his brothers, Russell and Mark, for the 1986 hunting season in Colorado. I was able to squeeze in my brother Jim, from back in Silver Bay, Minnesota, who ultimately plays a major role in this story. So now here I am, a little over 30 yards from a bedded-down, big 5×5 mulie.
Every time he moves a muscle or turns his head, my pulse quickens. Who would ever think a deer chewing it's cud could get you so excited! I thought to myself, "Couldn't I sneak my arrow by those broken trees, partially obscuring his body? This might be my best chance. The wind might change, or simply quit due to an approaching thunderstorm." But a wee small voice said, "Patience. Just wait — let's don't blow it ." So I again relaxed, resting my 65 pound Golden Eagle compound in a small loop on my camouflaged pant leg.
Blow it?
I almost had already. Earlier, around 11:00 a.m. I was still hunting back toward camp, where I was to meet Jim for lunch at noon. It was a perfect day. A slight breeze in my face from below, and the aspen leaves overhead making a slight rustling noise in the background. During the preceding night a much needed rain shower made the walking almost noiseless. I had just moved out of some dense, dark spruce and pine trees into an area of open, mature aspen. I was slowly working my way down to a gravel road, where I would quickly walk back to camp. So far, this morning had been unproductive. I had seen neither elk nor deer, so when I looked downhill and saw a horizontal form approximately 100 yards away, I didn't think too much about it. My first impression was that it was just another fallen log, but was it? There he was. Moving ever so slightly as he browsed on the lush green foliage. What a magnificent rack! My first thought was, "How in the world am I gonna get close enough in this open aspen for a decent shot?"
My problem compounded immediately when I noticed a 4×4 mulie bedded down a short distance away from this big one. He was a little closer and it was much more open for a possible shot. Then the 5×5 decided he wanted to lay down. "Great," I thought, "two sets of eyes, open cover and considerable distance to make up. Tough odds." Somehow though, step by step, using my small 8×35 binoculars, watching closely and keeping as many trees between us as possible, I closed to within about 60 yards. That was as close as I could go, and the only shot possible was at the 4×4. Instead of being patient, I attempted a shot, my arrow hitting a tree on the way. WHAM! I just new I had blown it. The deer jumped up, and trotted away. Then they stopped, looked around for what seemed forever and started feeding again. "I can't believe it! Just be cool, Mike" , I told myself. Both bucks moved slowly away and got almost out of eye contact. Moving slowly in their direction about 40 yards, I realized there were now four deer. Here's where they apparently picked up the 3×3 and the doe. Now four sets of eyes.
Moving ever so quietly, one step at a time, I was able once more close to about 60 yards. Then it happened again. First the big 5×5, then the 4×4 – they both lay down. By this time I had lost sight of the 3×3 and doe. Apparently, they both moved downhill toward the gravel road about 100 yards below me. After about 10 to 15 minutes, the 4×4 got up and began feeding away from me with the 5×5 still bedded down. This turned out to be the best thing that could have happened. With the 5×5 looking downhill at the other deer's activity, I was able to move behind the big boy. I continuously checked the distance with my rangefinder just in case I needed a quick shot.
 Two broken trees, bent over almost touching each other, made it difficult to try a shot. I told myself, "Patience, Mike – just wait." By now a little over three hours had elapsed. Jim, I knew, would be wondering where I was since I hadn't made it to camp for lunch. What a surprise and shock when the sound of a diesel engine coming, turned out to be Jim driving my truck on the road below. "He must be looking for me," I thought. "Now what's he doing?" I couldn't believe it, but my truck stopped. "There's no way he can see me up here, and for all he knows, I could be six miles away."
 I didn't find out until later but here's what took place…Driving around the corner, Jim saw the 3×3 buck standing about 10 yards off the mountain road about 75 yards away. Jim stopped the truck, slid over to the passenger side, got out and walked to the back of the truck, opened the topper and got out his Golden Eagle compound. Peeking around the corner of the truck, he couldn't believe what he saw! The buck was still there trying to figure out what was going on. Guessing the distance at around 75 yards, and knowing he couldn't get any closer without spooking him, Jim drew back. Releasing his 2117, XX75 arrow, the 140-grain, 4-blade Rocky Mountain broadhead flew perfectly, hitting behind the 3×3 buck's front shoulder.
He ran 50 yards and then piled up. Now remember, I had no idea what was going on. I couldn't hear or see anything except my truck way down there. The only thought in my mind was about my deer getting spooked – for both buck's ears were up, as they looked downhill. Then it happened! Apparently when Jim's deer took off after being solidly hit, the big 5×5 stood up. Still not knowing what just took place down below, I reacted instinctively and came to full draw. The 5×5 and 4×4 were now standing together, butl still didn't have a shot because of four aspen. "Come on, make a move. I can't hold it much longer," I thought. Then, just as I was about to relax, the 5×5 moved just enough to give me a shot. Shaking as I released my arrow, it went just underneath him! But he didn't move, and he was still looking downhill. I couldn't believe it! In one motion I nocked another arrow; came to full draw, and sent my Rocky Mountain broadhead on its way. This time it was perfect.
The arrow hit him solidly behind the front leg, he barely moved. He managed to walk slowly though about 20 yards; then stopped; wobbled and fell; rolling over twice. I couldn't believe it! But there he was – a trophy of a lifetime. Saying a quick prayer of thanks, I hurried down the mountain to see what Jim was up to. Was he surprised to see me coming! Each of us had quite a story. No way could either of us easily comprehend what had just happened. I didn't know what he was doing, and he didn't know what I was doing, nor even where I was. Unbelievable as it was, we both filled our deer tags within about 60 seconds of each other. Somehow, we each helped the other without even realizing it.
Archived By
www.Archerytalk.com
All Rights Reserved
Leave a Reply
You must be logged in to post a comment.