Published by archerchick on 11 Apr 2012 at 11:56 pm
Eyes of A Champion – By Dean Phillips
Bowhunting World June 1990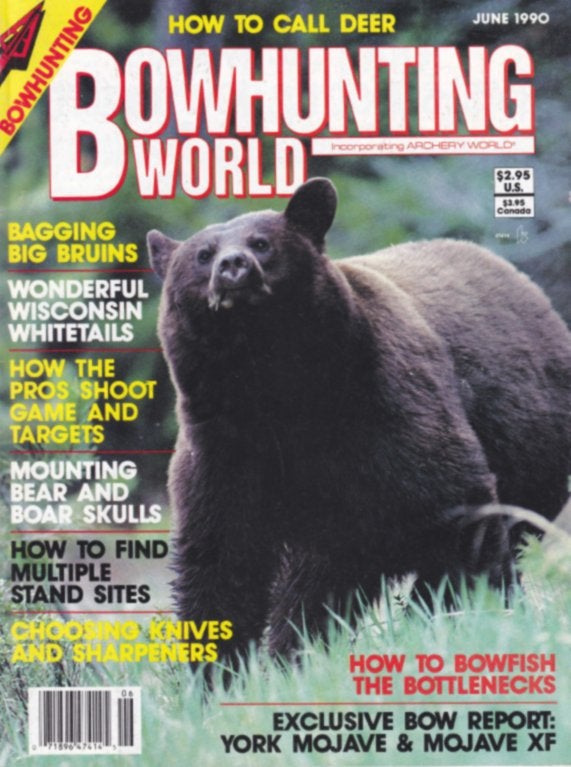 I only had about 5 minutes of light left, but I knew
the deer was there. Then, he stepped out of the
shadows, broadside at 15 yards. I drew my bow, but when I tried to see
the deer through my sights, all I could see was
a blur and my lighted sight pins. I held the bow
at full draw and pulled my head out to the side
to make sure the deer hadn't moved. I could see
the deer clearly as he stood in the same spot.
Once again I took aim through my peep and
again couldn't see the target. I tried to relax my
draw and when the cams rolled over, my arrow
fell off the rest and clanked against the bow
riser . .
Does this conversation sound familiar to
you? Have you ever experienced the frustrations
of this situation yourself? If you have,
don't feel bad. My research shows that for
many bowhunters, all too often this moment
of truth ends in disappointment and frustration
because their shooting style renders them
helplessly inaccurate in low-light conditions.
Now that we're in between bow seasons, this
is a good time to work on the mechanics of
shooting that can make you as accurate with
your bow in low-light conditions as you are in
bright sunlight.
To correct the situation, we must go
straight to the root of the problem: your vi-
sion. You can have 20/20 vision and still be a
terrible shot in low-light conditions. The
physiological process of shooting a bow accurately in dim
light obviously requires some
degree of quality in your vision. But more importantly
it requires quantity! That's right.
Quantity! A vast number of bowhunters today
are learning to shoot their bows with one eye
closed and thereby reducing the quantity of
their visual process by 50 percent.
I was intrigued with this problem when I
became aware that so many of us were
plagued with this habit. I say habit because in
most instances a person can leam to shoot
with both eyes open and improve their low-
light accuracy to a large degree.
Of all the bowhunters in our society, there
are those who reach plateaus and realms of
greatness that lift them out to us as symbols of
excellence. I wanted to talk to a few of these
"champions" to get their ideas on shooting in
low-light conditions and let them offer advice .
on improving your abilities in these situations.
Learning Eye Dominance
A year or so ago, my wife Marilyn and I
were watching The Johnny Carson Show one
evening and he had this cute little blonde-
headed girl on the show with a bow in her
hand. Her name was Denise Parker. "Boy," I
thought. "I bet she's gonna pop some balloons or
something? Was I in for a shock!
E This "little" girl was shooting her target arrows
through the center of tiny Lifesavers
candy. Johnny said, "Denise, I see that you're
left-handed? "No, I'm right-handed but I'm
left-eye dominant, so I shoot left-handed," replied Denise.
Denise Parker has taken the archery world
by storm. She was the youngest member of the
U.S. Olympic team in Seoul in the summer
I games of 1988 and came home with a team
bronze medal. She is the youngest person to
ever win a gold medal in any sport at the Pan
American Games and she won the individual
I and team gold there at the age of 13 in 1987.


Denise held the world record, which she
broke again in the Indoor Nationals in Salt
Lake City during 1989. She also holds many
national records for indoor and outdoor distances
for both juniors and women. In 1989,
she also won the bronze medal at the World
Championships in Lausanne, Switzerland. In
July of the same year, Denise returned from
the Olympic Festival held in Oklahoma City
with the gold medals from both team and
individual competition.
To realize that Denise accomplished all
this by age 15 is unbelievable, but adding the
fact that she is actually right-handed but
shoots left-handed, puts Denise in a world all
her own. Through my conversations with her,
I came to realize just how important it is for a
bowhunter to know which of his or her eyes is
the dominant one. Denise tells how her archery career
started at age 10. "I started shooting because
my dad had just taken up bow-
hunting and it was something we could do
together. I had only been shooting about a
week when we realized something was
wrong. I was having a terrible time with left
and right misses. With help from my dad and
a local archery shop, we discovered that I was
left-eye dominant? Denise switched to a left-
hand bow and the rest is history.
Denise pointed out that she could have
continued to shoot right-handed. "I could
shoot right-handed if l wanted to, but I would
have to wear a patch over my left eye to keep it
from taking over while aiming." She said that
there were toumament-level archers out there
that were wearing patches over their eyes to
prevent this from happening. Obviously,
Denise, her dad and the pro at the archery
shop thought that being able to shoot with
both eyes open was very important. Important
enough to learn to shoot opposite-handed.
Looking at Denise's past, and looking at her
future, it was a wise decision.
She's Hunter, Too
Although a champion target archer,
Denise is no longer just a "paper puncher".
Having had a desire to bowhunt with her dad
from the very beginning, Denise drew her
bow on her first deer in the fall of 1988. "I
was hunting with my dad and some of his
friends when we spotted this nice 2-by-2 mu-
lie on a hillside. My arrow struck the deer's
spine and he immediately rolled down the hill
and into the same path our vehicle was on.
From the time we spotted the buck, it was all
over in about 5 minutes."
With target shooting and hunting alike,
Denise feels shooting with both eyes is very
important. "Although I see my sights with
my left eye, I am also looking at the target
with my right eye."
After my discussions with Denise, I real-
ized that just as the toumament archer who
wears a patch over his dominant eye, many
bowhunters could be closing one eye because
they are not pulling the bowstring to their
dominant eye. Should a person who has this
problem, and who has been shooting a bow
for several seasons, now switch to an oppo-
site-handed bow? Denise had only been
shooting for a week when she made her
change, so the switch for her was not that
drastic, but for someone who has been bow-
hunting for sometime, this could seem an
overwhelming task.
Just how important is shooting with both
eyes open? Could someone who is left-eye
dominant and shoots right-handed leam to
shoot accurately with both eyes open, any-
way? At age 14, an accident left the nerves in
Alan Altizer's left hand severely damaged.
He started shooting a bow at age 3 and was
shooting left-handed at the time of the acci-
dent. This incident left him unable to draw a
bowstring with his left hand so he promptly
started shooting right-handed. Even though
he is left-eye dominant, he continued to shoot
with both eyes open. Sixteen years later, Alan
Altizer is now one of America's premier bow-
hunters. With nine Pope And Young class
whitetails on his wall at age 30, Alan has al-
ready accomplished what most could never
do in a lifetime. His shooting success has led
him to be co-founder and president of a video
company that specializes in bowhunting videos.

Alan's success as a bowhunter is not some-
thing that just happened. "I shoot my bows all
the time. Sometimes I'm up 'til 2 or 3 o'clock
in the morning sh00ting," says Alan. He believes
that shooting with both eyes open is as
important to bowhunting as breathing is to living.
Alan cites two important reasons. "First
of all, it's almost impossible to judge distances
with one eye. I believe all your senses
are feeding your brain information when you
are hunting. You're hearing, smelling, and
most importantly seeing what is around you.
When you draw your bow, these senses continue
to work and your sight is the most important at the
moment. Why would anyone I
want to reduce his visual perception by 50
percent at a time when you need all l00 per-
cent of it? "
Alan continues, "Secondly, although I
shoot a Browning Mirage compound bow on
my videos, I also enjoy shooting a Black
Widow recurve bow instinctively. There is re-
ally no way I could shoot instinctively with
one eye closed." Alan uses sight pins and a
peep on his Mirage, but he shoots it with both
eyes open just like his recurve.
Start Without Sights
On giving advice to a bowhunter who
wants to learn to shoot with both eyes, Alan
states, "I would recommend starting with no
sights or peep. Take a small piece of paper
and lay it in the lawn and start shooting at it
from about 15 yards. When you draw your
bow, don't look at your arrow, don 't look at
your bow. Just focus on the target with both
eyes and keep shooting at it. Once you be-
come comfortable doing this, it will be easy to
use your sights and keep both eyes open."
Alan agrees that being proficient in low-
light conditions is important. "I've killed
some of my nicest deer very early and very
late. In each instance, I don't believe I could
have done it with one eye closed ." In addition
to urging you to use both eyes, he has some
other tips for hunting in low light. "Early
morning and late afternoon, the horizon often
will be very bright compared to the shaded
woodlot that you may be hunting. Try to avoid
looking into this bright light which would
constrict your pupils and thereby reduce your
eyes' light-gathering ability. Wearing a hat
with a brim that shades your eyes from this
light will help also, and just like the gunfighters
of yesteryear, try to position your stand so
that the rising or setting sun will be at your
back."
Alan has some common sense advice
about low-light shooting. "When you're
hunting early or late, always be familiar with
the area immediately around your stand, be-
cause small saplings, brush, limbs and other
arrow deflectors disappear quickly as the
light starts to fade." He continues. "If you
know that you will be hunting in low—light
conditions, then you must practice shooting in
similar light. At night, the light from a street-
light or utility light is perfect simulation of
low-light conditions. This way you can practice
for hours instead of being restricted to the
15 minutes or so of dawn or dusk."
Alan closes with some words of caution,
"When hunting late, always have a good light
with you. A good tracking aid like a spool of
Gametracker thread can help you track your
deer and it can also keep you from getting
lost! And whatever you do, don't take
chancey shots. If you don't have confidence
that you can make a good, clean killing shot,
don't take it."

Alan has gathered from his experience a
wealth of knowledge concerning hunting in
low-light conditions, and now would be a
good time to point out that when I speak of
low-light conditions, I 'm talking only about
legal shooting hours. These legal shooting
hours vary from state to state. In many states,
the hours run from 1/2 hour before sunrise to
1/2 hour after sunset. A general concensus
among bowhunters is that those two, half-
hour periods will provide the most opportunity.
But some states require you to quit at
sunset. If you live in a state with this law, then
your only real bout with low—light conditions
will come in that 30 minutes immediately
preceeding sunrise.
; Hunting Big Bucks
I One such state is Minnesota, and residing
I there is a man who loves to bowhunt that first
I half-hour before sunrise. "Of the 23 Pope
And Young whitetails I've taken, over half of
them were killed in the pink light minutes be-
fore sunrise," states Myles Keller. Since
Myles hunts exclusively for big bucks, patterning
a big deer's movements has a lot to do
with the clock. "I've been bowhunting for
over 20 years now, and I 've seen a definite
change in the behavioral patterns of big bucks
in the last few years. Just like most bowhunters,
I really enjoyed hunting the edges of
fields in the late afternoon. But times have
changed, and so have the big bucks," says
Myles. He feels the increasing hunting pres-
sure is changing the way a person should bow-
hunt. "For a buck to grow huge antlers, he
needs to reach at least 3 years of age. In order
to do this today, he must become almost exclusively
noctumal. If you're hunting for this
kind of buck, your best chance to catch him is
very early in the morning as he tries to slip
into his bedding cover. If you've calculated
things right, and are at the right place at the
right time, you better be able to shoot your
bow accurately in these low-light conditions ."
Having started bowhunting at age 15 with
a recurve, Myles just naturally started shoot-
ing with both eyes open. "Although I 've been
shooting all these years, now that I 'm shoot-
ing a compound, I find myself tempted to
close my left eye sometimes when I'm practicing.
For some reason, I feel this is more of a
temptation for someone who shoots a com-
pound bow with sights. I think that they feel
they will be more accurate with one eye
closed, but this is not true, especially in low-
light conditions ."
Myles sums up what he feels is the key to
shooting accurately with both eyes in three
words, "practice, practice, practice." He
adds, "If a person wants to learn to shoot his
bow with both eyes open, then he should practice
that way all the time. Not just in low-
light, but in the middle of the day also." He
also feels many hunters overlook the help they
can receive from their local archery shop.
"Most of the pros at your local archery shop
really know what they're doing. They can
help in areas such as bow tuning, equipment
selection and shooting problems."
Myles believes the hunting instinct is natu-
ral for man. "Man is considered a predator
because he has both eyes in front. It is also a
proven fact that each eye has a separate and
specific function at all times. That alone
should be enough to encourage bowhunters to
learn to shoot with both eyes."
Myles Keller is considered, by most, the
greatest whitetail bowhunter alive today. And
for good reason, too. His 23 Pope And Young
whitetails is a feat never accomplished before.
Of those 23 monster bucks, some provide
special memories. Myles remembers the
Christmas holidays of 1977, when "hunting
in Wisconsin, I had this enormous buck was
trying to cross paths with. After patterning
him for about 10 days, I thought for sure my
stand was situated perfectly to get him early
the next morning. As dawn broke on Christ-
mas Eve, the increasing light revealed the
buck slipping down a ridge on the other side
of the slough from where I was positioned.
Feeling the pressure to get home for
Christmas, at 10:30 I decided to move my
stand to the other side of the slough to try to
catch him if he moved back up the same ridge.
As I approached the area, I spotted a deer
through the hardwoods about 40 yards away. I
could tell it was a big deer, and it seemed very
busy with the job of digging acorns from underneath the fresh snow."
"Slipping from tree to tree, I was able to
close the distance to 30 yards. From there, I
recognized the buck as the one I was after.
Momentarily awestruck by the massive ant-
lers, I paused behind a tree to warm my
hands, check my bow, and make sure there
was no snow or ice in my arrow nocks. I then
slowly eased to within 20 yards for a clear
shot at the still unsuspecting trophy. After a
deep breath, I released my arrow, which took
out both lungs. A few minutes later and 50
yards down the hill, I stood over the largest
racked Whitetail ever killed in the state of
Wisconsin."
That state record still stands today, and the
buck scored as one of the largest eight-
pointers ever recorded by both Boone and
Crockett and Pope And Young. Myles continues,
"Although I was ready for him very
early, he forced me to change my strategv. I
don't want anyone to think that early and late
are the 'on1y' times to take big deer. Having
patience for an all-day hunt and the willingness
to change your game plan are important
factors, also."
After bow season, Myles Keller is a very
busy man. As the advisory staff director for
XI Bows, he spends many hours traveling to
hunting shows, operating a booth for XI and
setting up the display of his Pope And Young
trophies. "My most memorable deer did not
qualify for the record book," states Myles.
"My most memorable deer only scored 92
Pope And Young points, but he was my 'first'
deer. I know there are a lot of bowhunters going
after that first deer, and I believe that
shooting their bow with both eyes open will
help make it happen."
After talking with Myles, Alan and
Denise, I wanted a professional medical opin-
ion from someone who understands the pro-
cess of aiming a bow. Dr. Phil Walters is an
ophthalmologist at The Johnson City Eye
Clinic in Johnson City, Tennessee.
Having competed on his high school rifle
team, Dr. Walters knows the importance of
understanding the functions of the eyes during
the aiming process. "First and most importantly,
a bowhunter should know which of his
eyes is the dominant one and then pull the
bowstring to that eye. As far as I know, there is
no correlation between eye dominance and a
person being right or left-handed. A bow-
hunter can't assume that he or she is right-eye
dominant just because they're right-handed."
Which Eye Dominates?
Dr. Walters explains how to detemiine
your dominant eye. "Take a piece of notebook
paper and cut a small hole in the center about
the size of a dime. Then, hold the paper at
arms' length in front of you. With both eyes
open, aim through the hole at a small target
across the room such as a door knob. While
doing this, cover your left eye. If you still see
the target through the hole with your right
eye, then you're right-eye dominant. The opposite
would happen if you are left-eye dominant.
"By drawing the bowstring to the dominant eye,
this will allow the hunter to shoot
with both eyes open, and medically speaking,
provide him with 'binocular vision' ." Dr.
Walters says that binocular vision, or seeing
with both eyes, will not only improve a bow-
hunter's accuracy in low-light conditions, but
improve his accuracy at all times. "Opposed
to 'monocular vision' , or seeing with one eye,
binocular vision helps in several ways. First,
with binocular vision, you have a wider visual
field and you have depth perception. But,
more importantly to the bowhunter, binocular
vision allows your brain to perform the act of
'visual fusion'. This is the physical act of fus-
ing the two separate pictures that each eye
sees into one single picture. This is very im-
portant in the actual aiming process, espe-
cially if you use a peep and sights ," states Dr.
Walters.
Continuing, Dr. Walters explains, "When
you draw the bowstring and peep to your dominant eye,
you should focus on the target. Your
dominant eye will see the sights through the
peep and also the target. But, you must under-
stand, that with the peep, the sights, and the
deer or target, this is quite a confused picture
for just one eye to see. That's where the im-
portance of the non-dominant eye comes in.
With the non-dominant eye open, it has no
objects interposed between it and the target as
the dominant eye does with the peep and
sights. It can, therefore, focus clearly on the
target. Your brain then fuses these two pic-
tures together to produce a single picture of
the target with the sights aligned over it. If a
bowhunter will trust this visual process, he
will be amazed at how his accuracy will improve."
Using Both Eyes
Dr. Walters believes that most bowhunters
who shoot with one eye closed do so because
they learned to shoot that way and not because
they have to. He adds, "Some bowhunters
may complain that aiming with both eyes is
confusing. But once they become comfortable
with fusing the different pictures seen by the
two eyes, the hunter will begin to enjoy the
advantages of binocular aiming." As far as
low-light conditions go, Dr. Walters adds,
"No one's visual acuity is as sharp in dim
light as it is in bright light. Obviously, two
eyes will be better in these conditions than one
eye alone
Dr. Walters' medical explanation confirms
what many bowhunters have known all along;
that two eyes work better than one. In my own
experience, I have found that a sight light or
lighted pins like those in my Sight Master bow
sight improve my accuracy in these situa-
tions. The reason for this is that the bright-
ened sights, seen through my dominant eye,
enhances the fusion process. I can see the
deer clearly with my non-dominant eye and
the lighted pins are more clearly seen over the
target.
How does all this relate to the general bow-
hunting public'? I conducted a written survey
through several archery shops in my area.
More than 500 bowhunters participated, answering
a questionnaire concerning this subject.
Over 53 percent of these bowhunters
said that they shoot their bows with one eye
completely closed. Of that 53 percent, 87 per-
cent said that they had missed a deer in low-
light conditions because they couldn't see the
target clearly when they drew their bow.
Overall, more than 95 percent said that
they saw more deer early in the morning and
late in the afternoon than any other time of
day, emphasizing the need to be accurate in
low-light conditions.
I hope this information is something that
will make you a better bowhunter. Considering Denise Parker, Alan Altizer, Myles Keller
and their accomplishments, there should be
something you can draw from them to help
you, and the way you shoot your bow. By understanding and trusting your visual process,
and with some determination and hard practice, you too can develop "the eyes of a champion."  >>—>
Archived By
www.Archerytalk.com
All Rights Reserved
Leave a Reply
You must be logged in to post a comment.