Published by archerchick on 12 Apr 2012 at 12:03 am
Bowhunting the Southwest-By Mike Lowry
Archery World's Bowhunting Guide '88
I was just finishing winding up my winch cable as the old gentleman stepped onto the jeep trail. As I walked over to say hello, he set the lower limb of his bow on the toe of his boot, pushed back his sweat-stained cowboy hat and rested his arms on the top of the bow. After a friendly hello and a handshake, we talked for almost an hour about the bowhunting around Ely, Nevada, and how dry it was hunting here. "Here" was up in the cooler, greener, and generally higher and more forested area of the mountains that sat northeast of Ely.
The old bowhunter then told me that, because I looked like a nice "young fella," he'd let me in on a little secret. " I've lived in this country all my life," he said, "and if ya want big trophy deer, get the hell out of these mountains and hunt the high desert ." He then went on to tell me of an area southeast of Ely that, though it didn't look it, held some real wall hangers. "Most people just don't believe those deer are down there, or if they do, won't hunt them there. But I tell you what, if you want to work for a big one, that's the place ." If there's one thing I have learned over my bowhunting years, it's to listen to people  especially older, more experienced people. The next day found me driving along a very dusty road leading into low, sage-covered hills that looked better suited for hunting jack rabbits or horny toads than big mule deer. As I eased along, looking for a good camp and hunting spot, I was reminded of the Jicarilla Apache Reservation of New Mexico, where I'd grown up. Some of the best mule deer hunting in the world was on that reservation; as old memories surfaced, my excitement about the hunt grew. Noticing some green growth in the bottom of one of the side canyons, I turned onto the little-used ruts of an old road, parked about 150 yards from the green and walked over for a look. The Bureau of Land Management had put in a stock trough that was full of clean water. The mud at the lower end of the trough, where the water had overflowed, told the story; deer tracks, lots of deer tracks, some very big, covered the bottom of the draw.
My partner, Mike Sagers, and I smiled at each other as we headed up the side of the draw for a better look at the surrounding country. Half-way up, Mike pointed out a deer standing by a little clump of grease wood. As we watched, it took off up the hill, followed by six others — all bucks. We sat down and watched in wonder as they skylined going over the top. I hurriedly picked my chin up off the ground and closed my mouth before a dozen or so blow flies could buzz in. Three of those bucks could have easily gone into the top of the Pope & Young listings and the rest were mighty respectable.
Giggling with glee like two school kids, we hurried back to the truck and took off to find a place to camp. Not for the last time I thought io myself, Thank the Lord for the 0ld f0lks!
Lessons Learned
 Memories of those big bucks and all the near misses hurried me along a year later as Mike and I picked our way up the hill in my old Suburban. We were far better prepared for the high desert hunt this year and ready to capitalize on last year's learning period. The spot we had spent over an hour leveling for a tent last year was there just as we had left it, as was the fireplace next to the rock face and our pile of powder-dry firewood, still stacked as if it had only been an hour since we cut it. No wonder the deserts hold so many secrets of ancient times; change comes very slowly, We quickly put up my tent, one with large screened openings on all four sides. Next to it, we put a 12 x 12 sun shade to protect ourselves from the heat of the day. There was very little natural shade here — one of the lessons learned from the year before. After storing most of our gear away, we brought out the coolers — one with our food, one full of ice. Then came the water; this year we brought a ten-gallon Gott cooler filled with crushed ice and then water, and a 30- gallon plastic barrel for washing and cooking. In this country, you would be wise to saturate yourself with water. In other words, before you go out in the morning, drink all you can, then take another drink. I also carry a bota bag with me, which is a lot quieter than a canteen.
With camp set and a quick meal under our belts, Mike and I set off on foot to do some poking around before the next day's hunt. The year before, we had learned some of the movement patterns of the deer. In most instances they started to hit the water hole about 5- 5 :30 p.m. You could almost set your watch by it, in fact.
The deer are thirsty by then and, unlike other places I've hunted, when these deer decide to come for a drink, they literally run up to the water, stick their head in and suck up a belly full. The trick is to be on the water well before they come in; failing that, you should be on a good approach lane. I say "lane" because these deer won't really use any set trails, but are liable to come in from any direction.
Finding a good vantage point in the shade of a small bush, we sat down and began to glass. The area we were watching was where three good draws came together about 600 yards above the water. Brush covered the northern faces of the draws, and grew thick and twice as tall as a man in the bottom. Trying to glass every square foot of cover, I began searching the terrain for bedded deer. The 7 x 35 Browning binoculars were well suited for this kind of glassing, offering enough magnification to see everything, yet not so much as to cause objects to bounce around at every little movement I'd make. I'd tried other compact glasses and also stronger, larger glasses, but for me, after a half hour or so my eyes began to protest the harsh and unusual punishment. I agree with Dwight Schuh, who said that good quality optics are probably more important than the most expensive bow.
Gridding the area off, I slowly began to search the draw back and forth, looking at everything in the optical picture, then moving just enough to pick up a new area next to the one I had just looked at. Twenty minutes later on the third pass over the same bush, I thought I saw an antler. Intensely focusing in on a shadow under the bush, I saw a large set of antlers slowly turn and then return to the original position, blending perfectly with the larger stems of the bush behind them.
I put down my glasses, gently eased the 2OX spotting scope into position and zeroed in on the brush. Either this deer had some very large antlers or a tiny head because the main beams were at least six to eight inches out past his ears on both sides and somewhere around 24 inches tall. As I looked him over, I became aware of a pounding noise and found it hard to sit still. My breaths began to come faster — and all I was doing was looking at him from 500 yards away!
After everything I'd taken with my bow, these really big bucks still get to me the most. To be honest, I hope it never changes. Mike and I watched the buck for a while and then began to spot other deer getting up and stretching, relieving themselves and starting to feed. Before long, it seemed the whole draw began to move.
At last, the big boy stood up. I was surprised, though not disappointed, to learn that he was a monster three-point with about six-inch eye guards. What was more surprising, however, was the four-point that appeared just behind him. This buck was almost a carbon copy, with one more tine but a few inches shorter in height. Both had unusually long tines and heavy mass. They stretched and turned down the draw toward the water. As if waiting for this signal, all the other deer began to head in the same direction, the last ones hurrying to catch the others.
Looking at Mike's watch, I saw it was 5:20; these deer hadn't yet been disturbed out of their routine. As they went out of our sight line, we picked up the spotting scope and carefully backed out so as not to disturb them now.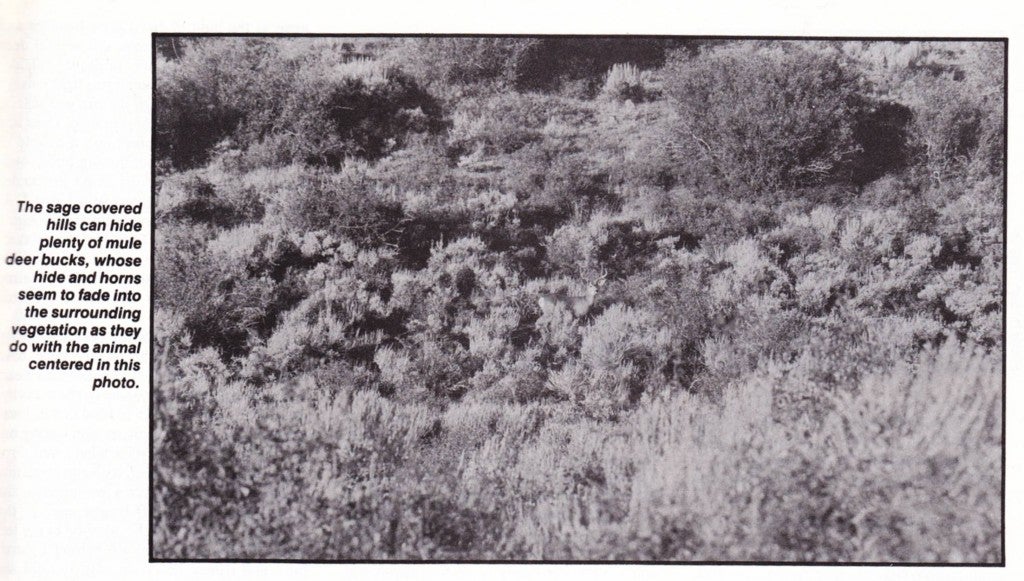 Hunting The Draws
Two anxious bowhunters walked out of camp an hour before sunrise the next day. Mike
took off toward a water hole and I went over the saddle above him to see if I could make a stalk on the other side of the hill. The birds soon began to noisily announce the brightening eastern sky. Down the saddle, I could hear sounds of movement. Something coughed and I strained to see what was there through my binoculars. Gradually, the dark spots below me began to take on depth and form as the light of dawn grew brighter and brighter. I could now make out several  browsing around on the opposite hills. Where was Mr. Big? Soon it was light enough to see everything, though the sun was still minutes from its grand appearance. Does and fawns, small two-by-threes and a couple of larger bucks, though not the big boys, wandered below me. Sneaking along just under the skyline like the Indians in a Louis Lamour novel, I backed over the ridge through a small stand of brush so I wouldn't be spotted.
A morning breeze blew against the right side of my face as I eased along, carefully feeling for anything underfoot that would give me away. Suddenly, a loud snort and the heavy "thump thump" of what surely must hare been the world's record buck caused my heart to do 14 quick laps around my chest cavity.
Peeking through the bush in front of me, I was startled to see a very ordinary doe staring my  way as if trying to determine what I was. Frozen in position, I watched, trying to avoid any eye-to-eye contact. Within a few minutes, she turned and walked stiff-legged over to the ridge line and out of sight. Moving to my left about 20 yards, I snuck up behind a small bush and slowly raised up until I could see through the top of it.
Fifty yards below stood five bucks and a doe. They were alertly looking at the spot where the doe had just come in. If I had merely followed her over the ridge line, they would have had me pegged. As it was, they were alert but not yet spooked. A couple of the bucks were tempting, in the 140- 150 point range, but this was the first day of the hunt and I knew there were much larger deer around. Not knowing what was over the hill, the deer finally decided to leave rather than take a chance.
A loud snort and pounding hooves signaled Mr.  Big. I sat watching them walk single file down the hill to where Mike should be sitting. As they reached the bottom of the draw, they stopped for a quick drink within 25 yards of where I figured Mike had set up. It was exciting to see the drama unfold, and as I glassed the deer,  I kept waiting to see an arrow nail one of them. Nothing. I wondered what he was waiting for. Soon, they filed away and up the other side into the thick stands of mountain Mahogany to bed for the day.
Where was Mike? Later I found out that at the last minute, Mike had decided to move up the draw 100 yards, where he had to sit and watch the bucks walk directly past the spot I thought he had been in. That's deer hunting; almost always in the wrong place at the right time. Working my way down the ridge, I glassed a tremendous buck already bedded down under one of only five or six bushes in the whole bowl. He had chosen his spot well; there was nothing within 300 yards that was more than knee high — and not much of that, either.
I watched him for quite a while and then backed over the ridge and hunted my way over to Mike. When I finally found him, he was pretty disgusted about not being in position for a shot at the group of bucks, so I asked if he wanted to see a really good one. Ten minutes later we were glassing the bedded buck. We didn't think he was one of the two we had seen the night before, but he was in the same class. Since I had found him, and because stalking is my favorite way to hunt, Mike encouraged me to go for him.
Courting Mr. Big
By now, the sun was up and its heat was steadily pulling the wind up the draw to the deer. Dropping back over the ridge, I hurried around and well above the deer's bedded position and into the bowl above him. Being sure to keep the bush between us, I started down into the bowl. Every move had to be painstakingly slow because there was no room for error. A broken twig, the crunch of gravel or carelessly dragging a branch across a pant leg could end the stalk prematurely.
 I took two or three slow steps at a time, feeling for anything that might make noise, stopping and glassing for other deer who might mess things up. I moved again, so slow and easy that I was sure I melted into the surroundings. Constantly checking the wind with the little feather glued to the fine thread on the upper limb of my bow, I was aware of everything around me. I tried to imagine being a cougar stalking his prey and wished I had his sense of smell and padded feet.
Finally, 30 yards from the bush, I nocked an arrow and eased closer. The pounding heart rate started again, for I knew he was there, not 15 yards in front of me. Closing my eyes for only an instant, I told myself to stay in control and pick a spot. I took two more steps to the right and still couldn't see him. Doubt began to creep into my mind; is he still there? I glassed the bush and then up the ridge to Mike, only to see him frantically giving me the "stay where you are" signal. I waited, worrying that the wind might change and give my position away. My bow got heavier as I held it out, ready to draw and shoot at the slightest movement. I decided to wave Mike down toward the deer, hoping it would stand up and look at Mike. He started noisily down into the bowl in plain sight. This is brilliant, I told myself. The buck will see 0r hear Mike, stand up and I 'll have an easy shot. Wrong! The buck didn't move at all as Mike moved closer and closer. Suddenly, the bush exploded as the buck hit his feet at a dead run, right around the bush and straight at me. I had drawn my bow at the first movement, but what the heck would I shoot at on a deer running straight at me with his head down and closing fast? Our eyes met and I saw recognition_ in his eye as he veered off to my left. Swinging with him, I released as he ran by at the speed of light. . .squared.
As I watched him run over the saddle at the top of the bowl, I knew he wasn't to be mine. Mike walked toward me. We just couldn't believe the buck had let him get that close before leaving cover. Why hadn't it stood up as he came down the hillside? The only thing we could think of was that the buck had been asleep and hadn't known Mike was there until he was in the critical zone, and that's why he took out at a dead run. What a let down!
That afternoon found me over the ridge and down the other side looking for the buck. As I tracked along, I kept scanning the small growth of cedar and mahogany that stood halfway down the hillside. It was much hotter and even the light, long-sleeved camo t-shirt felt like too much, but the memory of that big buck fueled my enthusiasm. Looking through an opening in the trees, I spotted a doe feeding and another lying down above her. As she turned away, I moved forward a couple of steps and then froze as I saw the buck with
them. He was between the doe and me — about 60 yards out — sitting on his butt like a big dog. I'd never seen a deer do that before and since he was looking the other way. I eased forward, hoping he would stay there I hadn't taken two steps before he stood up and started feeding away from me. Since the wind was calm, I dropped back and below  planning to use the trees as cover.
If all went well, I would get within 40 yards. No sooner had I reached the trees than a doe and fawn went busting out the other side spooking the whole bunch over the little saddle and into the next draw. I ran uphill 100 yards or so and peeked over the ridge. Nine deer were crossing the next ridge and walking up the far draw. As I watched with the binoculars, they walked for a bit, then stopped to look back to see if anything was following Satisfied they had gotten away, the buck stopped to feed near the top and soon the big guy and a couple of others lay down under the only cedar on the hillside.
Seeing my chance, I backed off the ridge and ran up the hill, circling around above the deer. Gulping in great gasps of air, I began to wonder if I wasn't too old for this, but then smiled , for I knew it wasn't true. . .yet. After catching my breath, I crept over  the saddle and then crawled up to some small clumps of sage, looking down to the cedar tree. I could just see the tips of antlers, so I sat back and waited. Soon, I thought, they'd be up and would probably feed right through the saddle just below me. Some 30 to 45 minutes ater Mr. Big stood up and started feeding my say.
Here we go again, I thought. Just as he was coming into range, I heard a motor and turned to see a pickup come down the ridge behind me. This can 't be happening, l thought. The driver stopped as he came even with me and saw the deer standing below him, looking up. He started to open his door, saw me and, to his credit, waved a "sorry" and went on down the ridge.
Turning back to the deer, I looked at the place the buck should have been. He wasn't there. Hoping he hadn't left the country, I crawled down to the next clump of sage and peeked over the top. There he was, feeding about 60 yards below me. I drew back, eased up, put the 60-yard pin right behind his shoulder and released. The arrow zipped over his back. Nocking another arrow, I drew back, eased up again and saw him looking downhill to where the first arrow had hit. He never knew what happened as the 2216 passed clean through him and off down the hill. The buck bolted down the hill, only to lay down within 100 yards.
A short time later he got up and moved around the hill out of sight. As I tracked him, my respect for this deer grew more and more. He'd used every trick in the book to lose me and even had me stuck for a while until I found where he had back-tracked and lay dead in the sage. This old boy was tough right to the end. While I took his picture and admired my trophy,. I thought back to the old man I had met on the worn jeep trail. His advice had been right — Thank the Lord for old folks.
Leave a Reply
You must be logged in to post a comment.