Published by archerchick on 04 Apr 2012 at 07:17 pm
OUTSMARTING TROPHY BRUINS ~By Dr. Ken Nordberg
Bowhunting World June 1990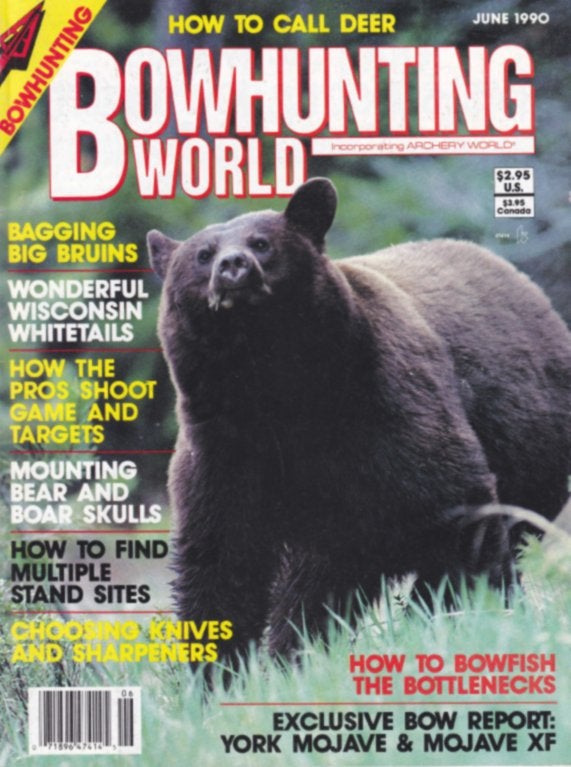 Hunters Never See Most Of The Really Big Black Bears
Urr-AUGH!" The throaty roar came from almost directly beneath our tree stand. Hair standing on end (an universal affliction among all smaller bears and humans present), the twin yearlings immediately dropped their beef bones and sprinted south, appearing from behind like a pair of rapidly bouncing, black rubber balls.
Seconds later, a scarfaced, chocolate-colored brute charged malevolently into the small opening before us. Normally, the mere appearance of a mature black bear is enough to start one's heart thumping and knees trembling, but this one — some 250 pounds of fulminating inferno — cast an added complexion on matters. Even though black bears, as a rule, are extremely unlikely to vent rage on humans, at this particular moment, a couple of Nordbergs, mouths agape, could not shake the feeling there are exceptions to this rule.
"There's your bear," I croaked softly to my youngest son.
After several tense and agonizing minutes of waiting for the
bruin to present a perfect shot angle, the tranquility of the
dripping forest was suddenly shattered by Ken's shot, Six notable events followed immediately there-after. The heart-shot,
chocolate-brown bruin barreled into rain-soaked hazels on our
right; a bolt of lightning stabbed through the crown of a nearby
pine, showering the forest floor with sparks, and one of the
yearlings reappeared, streaking directly toward our stand.
Lurching to our feet, we found my portion of our years-old,
treestand platform cracking, the unseen (obviously near) chocolate-brown bear beginning to roar and me dangling from my armpits, camera equipment askew. I was inordinately concerned over the realization that my legs were within an easy chomp of least two crazed (and perhaps vengeful) beasts with
large and powerful fangs. Happily, the oncoming yearling
spooked at the sight of my flailing legs, rapidly opening a new
path in yet another direction, and the chocolate-brown bruin succumbed during its third roar.
This somewhat extraordinary, yet somehow typical, bear
hunting episode was the Nordberg family's introduction to unguided, do-it-yourself black bear hunting. Being a veteran of several guided bear hunts during earlier decades, at least half of which were unsuccessful, I was not only pleasantly surprised by the relative ease with which the chocolate-colored bruin was taken, but flabbergasted by the number of unsuspecting bears we had observed within 30 yards of our stand. We'd seen  in only two days of hunting. Suddenly, we were struck with the realization that rarely-seen black bears — one of world's largest, most powerful and most cunning land carnivores — are not only much more abundant than thought possible, but very obtainable by the do-it-yourself hunter. During the following decade, drawing l-to-3 Minnesota hunting permits in all but one year, my adventure-loving sons, Ken, Dave and John, my son-in-law Kevin Stone, and I hunted black bears with a passion.
Though 100 percent successful, we began to realize early
on, not all black bears are easy. The bears that proved to be
fairly vulnerable to our baiting techniques during legal shooting hours
were small-to-medium in size, sows and younger
boars up to 250 pounds. Most hunters would not call a 250-
pound black bear merely '"medium." In the wilds, they not
only appear to be very large, but when taken by a hunter they
even feel very large, being much more difficult to move than a
whitetail deer of the same weight. Compared to "average"
bears taken by hunters, weighing significantly less than 200
pounds, they "are" large.


But we knew we had much bigger bears in our favorite
hunting area — monsters that would go 300-500 pounds, One
might even weigh substantially more than 500 pounds. Such
bears were proving to be frustratingly difficult, if not impossible,
to attract to bait during legal shooting hours. Thus, we began to experiment, knowing it would take something "special." We knew these bears were largely nocturnal, astonishingly cunning and wary, very determined to avoid short-range encounters with humans. We knew they had excellent noses,
and we were fast becoming aware of the black bear's extraordinary sense of hearing.
Then, it began to happen. Adding big-buck-effective know-how to our thinking, we at last began to draw large to very-large bears to our bait pits, Last fall, I put an arrow through the heart of our second-largest bear from a range of five yards. It was a 422-pound boar that will score very high in the Pope And Young Record Book, proving without a doubt that the do-it-yourself approach can provide the very best in hunting adventure.
Here`s how we do it:
Step 1—Sharpen Marksmanship
A bear hunter's number-one enemy what facing a large bear is the hunter himself (or herself). As both Davy Crockett and Daniel Boone once observed, taking on a large black bear, one on one, is a true test of a hunter's mettle. Neither, from what I've read, tried it with a bow. Of` course, they did not have the deadly archery equipment we have today, but even with a tireann in their hands, they too felt the extraordinary excitement, the suspense and the danger (whether justified or not) that is an inescapable part of every encounter with a black bear at short range. It's a heart thumping, knee-rattling experience, all right.
The trouble is "normal" human responses in this situation contribute to inaccurate shooting. Ordinarily, when a large bear is the
target, the average hunter will be at least four-times less accurate than when shooting at a paper target. What that means is, the hunter who can comfortably put all practice arrows into a 3-inch by 5-inch target (the size of a bear's heart) from 20-30 yards will have a devil of a time putting one arrow into a 12-inch by 20-inch area when the target is a live
bear. What that further means is, to be confident of a heart shot in the field, the hunter must either be capable of putting all practice
arrows into a l-inch circle from 20-30 yards, or limit shooting to the range from which all practice arrows can be shot into a 1-inch circle.
"Confidence" is the key when hunting bears. When you absolutely know you can hit a bear's heart, every time, you will not be nearly as unnerved when one approaches. That's important. Is the heart shot so necessary? No. A lung-
shot bear (both lungs) will usually go down fairly quickly — typically within 20-30 seconds — but, if the arrow does not pass through a bear's chest, it might be tough to track and recover. Being as fat as they are, high, single
chest wounds do not bleed much, and in 20 seconds a larger bear can easily barrel 200-300 yards. When an arrow passes through a bear's chest, making an exit wound, the low side wound will usually bleed profusely, providing an easy-to-follow trail. If you can't be sure of a more deadly heart shot, limit your lung shots to 10-20 yards using heavy arrows shot from no less than a 60-pound bow. Shooting through rib bones only, this should give you that
low-side wound that will lead you unerringly to your bear. Keep in mind, a large bear's lungs are about one-third smaller than a large whitetail deer's lungs.
An old sheep guide once advised me. "When you shoot a bear, you want to shoot it dead. You don't want to just wound it and make it mad. Once a bear gets its adrenalin up, even if it isn't dangerous, it can be very hard to kill." No shot kills a bear more quickly than a heart shot, or a shot that severs major blood vessels at the top of the heart. A heart-shot bear will usually drop within 35-50 yards, and it will be very easy to follow the blood trail to the bear.
Step 2-Scout Early
Even where bears are especially abundant, to Lhe untrained eye, bear signs are unlikely to be obvious or common. Ignoring the need to find bear signs, many hunters select stand/bait sites at random, thinking mostly of
themselves in the process. They pick sites close to roads, sites easy to get to, sites with good views and such. Only about 50 percent of randomly selected stand/bait sites are likely to be productive. Once you have spent
weeks hauling hundreds of pounds of valuable groceries to an unproductive stand, you'll start thinking, "There`s gotta be a better way."
And, there is.
First, key on edges of heavily-forested, wet lowlands, cedar swamps, areas flooded by beavers and tangled creek bottoms, for example, I don 't know whether well fatted bears during the fall suffer from heat and need tc
drink a lot of water. if they like to bed in heavily-forested. wet lowlands, if the foods they eat are more common there or if we simply do better hunting bears where their tracks are easy to distinguish, Whatever the reason,
our most productite stand/bait sites are almost always located very near water. Not just any water. It has to be water near tangible bear
signs such as traclcs. droppings, scratch trees and evidences of feeding.
Second, key on available bear foods. In our favorite hunting area. the only wild berries available to bears during the hunting season are wild cranberries and bunchberries Both grow in wet soils, cranberries in a large
spruce bog and bunchberries beneath mature lowland cedars and other evergreens. Where oaks are common bears will spend considerable time eating available acorns. Domestic farm crops like oats. apples, sweet corn and
melons will attract bears from considerable distances. as well as garbage and carrion.
Black bears especially relish sweets of any kind. wild honey being their most common type of sweet in the fall. Insects and grubs also make up a large portion of their fall diets, evidenced by torn-open rotten logs and trees, and
ripped-open ant hills.
Third, key on big bear signs. Intending to hunt older bears exclusively, my boys and I spend considerable time searching for "big" bear signs. We ignore areas that only have signs of small to medium-sized bears, regardless of how common they may be.
No matter how much bear food is available in any one region during fall, older bears seem to forage almost continually along specific routes, unlike younger bears which commonly bed nearby and exploit a good source of food for an extended period of time, perhaps even for weeks. Unlike younger bears
which seem to remain in the vicinity of a food source long after it's exhausted, older bears quickly abandon the area and resume traveling widely.
Some older bears I've known will range over 20 square miles. The very large
bear I took with a bow last fall was occasionally seen in farm fields 10 miles apart, east to west. I have personally trailed it up to two
miles north and south from the spot where I eventually shot it.
A big bear on the move may not find a new bait for several days, It may not find it at all if the bait is not located near its usual foraging route. Even if it can smell your bait within an infrequently traveled area, a big bear may not go out of its way to visit it unless other foods are scarce. When hunting big bears, then, bears` signs are very important. Droppings
large in mass, claw marks higher than a man can reach on a bear-scratch tree (a rare find) and hind paw prints 8 to 9-1/2 inches long generally mean you've located a big bear's foraging route. Without such signs in the
vicinity of your stand, you may see bears, but it's unlikely you'll see a trophy-class bear.
Upon discovering food placed in the woods by a human, an adult bear will fully
understand how that food got there. Nonetheless, the bear will cautiously make use of that food daily, either until the food is exhausted or until it cannot feel secure there like discovering 21 human there during regular feeding hours, for example. Once the food is exhausted, an older bear will not likely return for 3-4 days. Upon being spooked from the site by a human, it either may not retum at all or it may retum during nighttime hours only.
Where unexpected, near-encounters with humans are likely at a bait site, such as at one near a road or trail frequently traveled by humans, an older bear will either completely avoid the bait site or visit it during nighttime
hours only. Trophy-class bears are therefore unlikely to be taken near roads or trails frequented by humans. To be effective, stand/bait sites should be located at least 1/2-mile from frequently traveled roads or trails.
Hunting bears that far off-trail means the hunter must be prepared to transport heavy bait and possibly a heavy bear over considerable distances over rough terrain. This means the hunter must also locate, brush-out and
mark a conservative trail to a bait site. Once an older bear realizes a human is depositing food at a specitic site periodically, it will be very reluctant to approach during daylight hours unless the site is surrounded by
dense cover. This means a spot with a good view is unlikely to be effective for taking a big bear. It means the hunter will likely find it necessary at a good, heavily-timbered site to create a small clearing for the bait pit and a
conserative shooting lane, preserving as much surrounding cover in its natural state as possible. Wide and obvious, new clearings and shooting lanes spook older bears. Preserving cover commonly makes it necessary to position the stand very near the bait. For this reason, I often end up sitting within 10 yards. This is not usually a handicap as long as the hunter can remain reasonably calm while a bear is present. Nearer than 10 yards is not better though certainly more exciting Shot angles can become difficult at shorter
range and at five yards a bear can hear the strong beat of a human heart.
Step 3—Prepare Stand/Bait Sites
Essential to the effectiveness of an elevated stand intended for hunting any black bear is cover enough to screen a large portion of the hunter's silhouette. Black bears do not have sharp vision. but older bears, nonetheless, readily recognize the exposed silhouette of a feared human, even when the human is completely motionless. Being tree climbers, black bears frequently gaze up into trees. Perhaps older boars, the most dominant of bears, expect to see younger bears in trees, as climbing is a common escape from possible attack.
Encounters between bears are especially common at bait pits, and so is tree climbing. Sometimes, I feel big bears mistakenly identify breathless. well-camouflaged humans on elevated platforms as cowering lesser bears.
Without adequate silhouette-hiding cover, you're sunk. I've had all classes of bears identify me in trees. When that happens, I am amazed at how abruptly a black bear can disappear. With a big bear, one such alarm is all it takes. That bear won't give you a second chance at that site, not even a year later.
Though black bears are less intimidated by new stand sites than whitetail deer, the stand, should be erected no less than two weeks before hunting. With good cover at the platform level, such as provided by a mature evergreen,
a stand nine feet above the ground is adequate.
In Minnesota where we can begin baiting two weeks before the opener, we usually set up our stands and brush-out shooting lanes and
stand trails during the first baiting.
As illustrated, we dig bait pits about 3 feet in diameter and 2 feet deep at well-drained locations. All of the soil removed is carefully spread out around each pit so bear tracks can be measured more easily. |
Track measurements tell us how many bears are visiting our pits and how large they are. Bears eventually pack this soil down so that tracks become indis-
tinguishable. Thus, we make it a habit to loosen this soil each time we add more bait.
After depositing bait in our pits, we cover it with tive or six 100 pound plus logs six feet long. We arrange these logs tightly side-by-side, at right angles to the expected path of the hunters arrow. These logs serve several functions. For one, they protect our baits from other animals and birds. I have seen ravens clean up 100 pounds of exposed meat scraps in one weekend.
The logs also serve as measuring sticks. Any bear that compares favorable in length (nose to tail) with a six-foot log  is "a keeper? The way these heavy logs are moved from pits is also a measure of a bear. Small or medium-sized bears usually roll two or three logs to one side, opening a narrow window to the bait. Large and very large bears flip two or more completely out the way,
sometimes tossing them end-for-end several feet to one side. Placing logs at a right angle to arrow flight promotes ideal shot angles. Bears usually stand parallel to the logs — on top or to one side — providing broadside or slightly
angled positions that make heart shots easy.
Step 4—Bait Heavy & Often
There are probably as many effective baits and bait combinations as there are bear guides. Because bear diets vary from region-to-region and allowable baits vary, too, from state to state or province to province, it 's difficult to suggest baits that are universally effective or allowable. Rather than do that, I'll simply explain what we Nordbergs use in Minnesota. Here, pork is prohibited (to prevent the introduction of trichinosis to bears), as well as glass, metal or plastic containers.
'With such great latitude, we've had plenty of opportunity to find out what our wild bears like best. Our current "per pit" recipe for big bears is as follows:
75-100 lbs. fresh meat scraps, bones and suet
10 lbs, dry dog food
1/2 peck sweet corn on cob in husk
50 pounds of fruit preserves (dated and
unsalable)
1/2 peck backyard apples and/or other fruits
1/2 watermelon, smashed
Assorted table scraps
Bacon and cooking greases saved up during
off season (initial baiting)
2 gal. used cooking oil (initial baiting)
1 pt. honey (used only when hunting}
As you can see, we give our bears plenty to eat. We add the above amounts to our pits very four to seven days during the two weeks before the opener. As we have learned over the years, smaller amounts of bait will not keep a
large bear satisfied very long. Once bait is completely consumed, a large bear will typically resume its extensive foraging and not return again for three to four days. We try to keep this from happening by renewing baits
every four days after a large bear is on a pit.
I`ve had as many as six bears, including cubs, regularly feeding at one pit, but rarely will even this number of bears clean out a pit in less than four days. A particularly large bear will scent its food source with plenty of urine and droppings to warn off other bears, thus making our generous offering last about four days.
Occasionally, we are unable to renew baits for a week. It may take up to four days for a large bear to return. Younger bears will usually stick around a few days after a pit is exhausted, commonly returning within hours after a pit is replenished. Normally, we re—bait two to three days before hunting, and then again at noon on opening day. From that time on, additional baiting is rarely necessary. By the fourth day of hunting, our allotted permits
have been filled, and our bruins are being converted into gourmet cuts of meat.
Our bait recipe evolved over a decade of experimenting with different foods. Fresh meat scraps are our staple. Though many guides swear by ripe meat — the stinkier the better- our bears have shown time and time again they much prefer fresh meat. We freeze it and store it in 75-pound blocks to assure
freshness in the pits. Dried dog food is used like a spice, mostly because bears have often tried to steal some from our dogs dish in camp. Sweet corn is a much-relished side dish. Our last two bears were shot while nib-
bling com from our pits. We dump highly aromatic fruit preserves
from 50-pound bulk containers over the logs covering our pits. It"s likely this bait alone could do the job. Apples are a perennial favorite, and they hold up well in pits for extended periods, whatever the weather. After honey,
the first thing bears reach for is the water-melon we provide. To enhance its sweet odor, we smash it into small bits just before closing our pits. While baiting and hunting, all left-over foods and scraps from our tables become
bear bait. Anything humans like, bears love.
All during the off-season, all cooking greases, especially bacon, and oils are carefully preserved in coffee cans in the back of the refrigerator. Few substances in a bait pit can draw bears from a greater distance. Using
ordinary paint brushes, we spread bacon grease on tree trunks along at least two paths.
Step 5- Hunt Afternoon to Evening
Like whitetail deer, black bears normally begin feeding well before morning's first light. It is impossible to approach a stand at first light, or shortly before, without spooking any bear that might be there. Unless it is stormy, no human can move quietly enough.
Once you spook that big bear you'd like to take at your stand/bait site, it is unlikely you will ever see that beast again at that site during
daylight hours. Don`t take that chance. Sleep late in the morning.
Expect to ambush your bear alter 4 p.m. Head to your stand at least five hours before sunset, however. Occasionally, a bear will come in three hours before sunset. Usually, it will be younger bears first, and then progressively larger bears as the sun sets at a pit where several bears are feeding. The very largest bear probably won't appear until 30 to
45 minutes before sunset. And, some very large bears have a habit of appearing right after legal shooting hours are over. All you can do with a bear like that is keep trying, hoping it will eventually make a mistake.
Being at your stand at least five hours before sunset is recommended for a good reason. A wiser, older bear will commonly check for human scents, at a safe distance along the trail to your stand before approaching your bait pit. If your scent is several hours old, the bear will move in. If your scent is
relatively fresh, it will quietly leave, likely without your knowledge. This is probably the most common reason why smart, old black bears aren't seen by average hunters, and why smart, old black bears become only nocturnal
visitors at stand/bait sites.
When hunting and fresh bait is needed, either replenish your pit at noon, and then sneak in later to hunt, or wait until five hours before sunset and use the "buddy/baiting system ." Two hunters noisily carry in bait. While
one climbs into his stand, the other noisily leaves. In the old days, we used this system routinely, but later in the day. Quite frequently, a younger bear, bedded nearby, would rush to the pit within 15 to 30 minutes after the noisy buddy had disappeared. The older bears were never fooled, however.
Step 6—Minimize Sights, Sounds & Scents
Hunting a wise, old black bear is a lot like hunting a wise, old whitetail buck. With a bear, however, eliminating identifying sounds is most important. Though bears have excellent noses, the air around a bait pit characteristically reeks with food and human odors.
Having poor eyesight even at short range, a bear at a bait pit is mostly dependent on its ears. That's not a handicap as a bear 's sense of
hearing ranks with the best. That doesn't mean the hunter can afford to
be careless about sights and scents, as the honey episode reveals. The hunter must be well camouflaged from head to foot, with camo that fairly well matches surrounding cover. Normally bright and reflective human skin, both face and hands, must also be covered with appropriate camo colors.
The hunter's clothing and body must be free of strong odors. Clothing should be washed in scentless soap, hung outside to dry and protected in scentless plastic bags from odors until shortly before you head to stand. Before wearing this clothing, however the hunter must wash his body with scentless
soap and should brush his teeth with soda Well-scrubbed, all-rubber boots are recommended.
When heading to a bear bait/stand early, the hunter should move quietly and
steadily, only pausing to ascertain that a bear is not at the bait pit and to pour a generous offering of honey on an adjacent tree trunk. Climbing carefully on to the platform making no unnatural squeaks or bumps in the process, the hunter must then sit silently and motionless until the quarry arrives, while avoiding the notice of woodland sentinels that might spill the beans — red squirrels, deer, bluejays and such. When biting insects are prevalent, put on a headnet rather than use a smelly repellent.
Step 7—Prepare For Adventure
Imagine being in my size-11s last Labor Day evening:
A swarm of yellow jackets, heavy with honey purloined from the bait pit below
danced sluggishly on buzzing wings without the warmth of a beam of evening sunlight stabbing through the heavy balsams. Slowly they drew nearer, guided by the swinging shaft of light.
Suddenly, the beam of light fades and the buzzing ceases, but you are not aware of that because your astonished eyes are riveted on the gigantic black form that has just emerged from the deep grass of the ash slough 75 yards
west of your stand. Unconsciously your body tenses, your heart lurches and begins beating more profoundly than ever before, your knees start quaking uncontrollably. It's the biggest black bear you've ever seen. Inadvertently,
the shaft of your mounted arrow slips softly to the moleskin guard from beneath, you wince as bear freezes, its malevolent eyes intent upon the
landscape that hides you. Breathless, you dare not even blink an eye. Several suspenseful moments pass. Finally, the bear tums and effortlessly pads on silent feet through brush and windfalls north of your stand. It seems to
be purposefully staying out of range. Shortly, it disappears from sight behind you. You wonder, "Did I goof`? Was that arrow noise enough to keep that bear from coming in? Should I turn — steal a peak?" Then, you hear a soft shuffling beneath your stand. From the comer of your left eye,
you see the bear moving toward the pit. With your back arched so your clothing will not brush against the rough bark of your stand
tree, you begin the slow, oozing motion that will eventually end with a full draw. Although its body appears fuzzy at the edge of your vision, you're avoiding now the alarm-triggering direct gaze, you note the bear is facing
you. You see its tawny muzzle rise; it's looking right at you. Again, you freeze, totally motionless. Then, you hear loud lapping. You passed the test . . . so far. As the bear intently laps honey, you resume your grand movement with the bear becoming more visible as you turn. Again it looks up. Again you freeze, your eyes diverted obliquely and your heart settling down now. Noisy lapping begins again. The upper limb of your bow rises
slowly upward from your lap. The bear turns, effortlessly sweeping three, 100-pound logs from the pit with one fore paw.
Now, the lower limb of your bow is sweeping slowly downward. Your eyes tell you lean farther outward to keep this limb from hitting the metal platform brace. Concentrating now, and hardly seeing the bear, you watch your
lower limb slip safely beyond the brace. At last you tum your eyes more toward the bear. The bruin snatches a cob of sweet corn out of the pit and drops it just to the left of the pit.
Head down, the bear rips the husk from the cob while pinning it to the ground with its forepaws. Your eyes widen as you realize the bear cannot see you now. It is standing quartering away, its left flank toward you. Anxiously, you begin your draw, stifling the urge to move quickly and listening intently as your arrow slides slowly over your padded rest and plunger. Suddenly, the strain in your right arm and shoulder is gone, your bow has let-off.
Your right forefinger resting firmly behind the trigger of your release begins to slide upward. Through the fuzzy ring of your string peep, you see the red bead of your sight surrounded by jet black fur. You visualize a vertical line immediately behind the bones that make up the bear's left shoulder. Your bead lowers, now centered on that line. The range is a mere
five yards. Your time has come. Your right index finger eases to the front of your release trigger and slowly squeezes.
Whap! You see your bright blue and green fletches disappear into the exact spot of your aim. Instantly, the bear is gone, crashing with astonishing speed and power north through tangled alders. Then, there is no sound. You
lower your bow. Fifteen seconds pass. Then, you hear it: urr-augh. . .urr-augh. . . urr. . .
You did it! You've taken a monster black bear. You obviously did everything exactly right. It just couldn't have been done any other way. You measured up. Shaking almost violently now, your body free at last to be normally human, you take in a deep breath and let it out. You look upward and see the evening star. "Lord," you murmur, "it just doesn't get any better than this." For the first time in your life, you really know what that means.
Archived By
www.ArcheryTalk.com
All Rights Reserved
Leave a Reply
You must be logged in to post a comment.