Published by tim9910 on 21 Aug 2008 at 10:04 pm
Preparations for Fall
By
Tim Hicks
It's almost upon us, the time of year that brings little tingling feelings on the back of our necks. The excitement of finding a heavily used trail and seeing the beginnings of a great mast in the canopy above your favorite stands can be almost overwhelming.
That is of course, if you go out and do some scouting and put your efforts into being prepared for opening day. For many, they poke around a week before season, half-heartily throw up a stand, blow the dust off their bows and hope for the best. But for successful hunters, it began right about the end of last season. Unfortunately for us in northeastern Oklahoma, a blizzard hit the last weekend of archery season. And now, heavy downpours and heavier clouds of mosquitoes are keeping us out of the field. But it's always a good time to stay on top of your game, shooting the many 3D tournaments of the summer, and just practicing out in the back yard help keep your abilities tuned. Passing the time by thumbing through the catalogs and magazines to see the newest gear and read about the great far off hunts of the past season can also thwart the onset of preseason blues. It's a great time to drag out your hunting garb and make sure the off season didn't make your clothes "shrink". You should also check your hunting arrows and broadheads, refletching and replacing blades as needed. I usually start shooting broadheads a month before season so there are no surprises when that opportune moment presents itself come October. I like to scout and hang a trail camera to get an idea of the deer using the area I plan to hunt. Plus this gives you something to get excited about, even though the patterns will change before opening day. Talking with locals in the area you hunt is also a great benefit, they can tell you about the "big one" that comes to pasture each evening right before dark. Anything you can do to get the mindset and the blood pumping for the days ahead.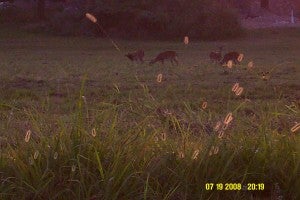 A great thing about September is the fact that here in Oklahoma, dove season opens. That gives us a chance to rekindle our hunting spirit, and form friendships with other hunters. It's also a good time to meet new land owners, most are not objected to dove hunting on their property, provided you remember to pick up your spent shells and take care of their land. This can lead to a possible archery hunt in the future as some will see you are a good steward, and grant permission on their land. This is also a great time to scout, usually the action of dove hunting dies off, and you can walk the crop edges looking for good trails. Following these trails back and finding staging areas and hopefully some good stand locations along the route. Then you can hang a trail camera or two, and check out the quality of the local population. Walking in the fields also helps to condition you for the hunts ahead, but jogging or a regular exercise program is recommended. I don't know how many times I have had everything ready, take a deer in the first couple days, and then nearly have a heart attack dragging him out. I always seem to find reasons not to prepare myself, and usually regret it soon enough.
The great thing about early scouting, as opposed to right before season, is the fact that you can march right in and turn over every blade of grass. I even check bedding areas that I would normally avoid like the plague closer to season. This gives the chance to find any new trails or feeding areas you may have overlooked last season. You can hang stands early and get shooting lanes cut, and maybe block a trail or two and hopefully funnel the movement in your direction. One of my favorite things is walking the fence lines on our property, noting the heaviest crossing route. I also tighten up the fence and then tie down the top strand to the next lower near that area of travel. This insures deer will continue crossing here, as using the easiest route is in their nature. Then I will place a stand 20 to 30 yards back in the woods from this site to avoid detection before they cross the fence. Once they have crossed a fence, it has been my experience that if they feel something awkward they typically won't go back over the fence but run towards me. That is if they haven't seen me or caught wind of a two-legged predator. I also like planting a fall clover or the like, giving the deer and turkey a different menu than the normal summer browse. Hanging a feeder or two in the area also works great, I don't hunt within sight of them but it keeps the deer moving on a predictable route prior to the pre-rut. I have seen more bucks this way early on in the season than I ever have during the rut. I always want to be in the field as much as possible during the rut, but the buck sightings seem more like a chance encounter if they are truly chasing does. It's just the excitement of knowing that huge deer can walk out at any given moment that gives me the drive to stay on stand as long as possible. But the early days are a great time to stock the freezer and get a good idea on the herd you are hunting. I had so many pictures and regular sightings last season, I named most of the deer in the area. Passing up several different four and six pointers, and a couple of does that still had twins with them. There are enough deer in the area I hunt that I try not to orphan little ones prematurely, and let the young bucks grow a couple more years.
As I sit here right now, I am ready to go stomping about in search of that perfect spot not remembering the chiggers and seed ticks until I am already covered with them. My pulse is quickening just thinking about that first morning on stand, watching the world wake up beneath my feet. It's one of the best feelings in the world, a time when one can relax and be at peace, if only for awhile. But then I awake from the daydream, and realize there is three months left before season, and about a million things left on the "honey-do" list. But at least I have run through a beginning stage of mental preparation for the season ahead.
2 Responses to ""
tim9910 on 10 Sep 2008 at 3:57 pm #

Just wanted to note that I wrote this article in the summer of 2007, when NE Oklahoma had been pounded with more rain than we knew what to do with. Although spring this year brought an instant replay of that and after the ice storms from last winter taking out 75% of the woods canopy the undergrowth is ridiculous. I am having to form a new game plan to combat these circumstances, maybe I'll have a new story to tell if I can figure something out that proves productive.

Thanks to everyone who took the time to read it and vote on it, I appreciate it.

Tim aka "OklaArcher" on AT

JStinson on 19 Sep 2008 at 9:09 am #

Hey, Tim — great article! You're obviously someone who loves the outdoors & hunting. Keep up with the writing!
— Jack
Leave a Reply
You must be logged in to post a comment.