Published by archerchick on 24 Mar 2010 at 03:03 pm
Bowhunting Superman Archie Nesbitt – By Jason Butler
Bowhunting World 2006-2007
He's been called "Canada's Premier Bowhunter," and in many ways Archie Nesbitt is the most-accomplished bowhunter who ever lived.
With a bow in his hand and an animal to hunt,
Archie Nesbitt is a happy man. Hunting is in his blood. In fact, the Calgary, Alberta, bowhunting fanatic feels best when trudging through the forest or desert. "I've been chasing animals all over the place for the last 30 years," says the
super-friendly attorney. "Long ago I thought
to myself that if you can hunt it, I want to try, it." Thirty years and counting he's stuck to that notion like glue. And, boy-oh-boy, have the animals piled up.
"I never stop thinking about bowhunting," he says. "It's  just tons of fun and I've never thought there was such a thing as 'kicking back.' Of course, I travel extensively with my job, so that
certainly makes things convenient'"  Nesbitt is a bowhunting fanatic for a very simple reason: Challenge. His attitude blends determination and focus into what he loves best. Once You get to know a little about the man, it's easy to see just how true that is.
Nesbitt, 54, was born to hunt. Growing up as a kid in the wilds of eastern Canada, his family gun hunted to eat much of the time, shooting moose and caribou for their plentiful meat. By age 15,
Nesbitt shot his first big-game animal with a bow, immediately becoming infatuated with the aesthetics of archery. With that single animal his passion was born.
Even back when bows were pretty crude, Nesbitt took animals cleanly, thanks to his sharp shooting and hunting skills. He spent every spare moment he had scouting, hunting, and honing his skills, shooting arrows behind the house. A decade later Nesbitt graduated from
law school and became involved in corporate mining exploration and mineral resources development around the globe. This successful career would reinvigorate his passion and take his bowhunting to a whole new level.
Triple Slammer
Nesbitt's bowhunting resume reads like a Donald Trump memoir on real estate. He has taken more animals with archery gear than any other hunter, alive or dead. Jon Shepley, vice president of sales and marketing for PSE archery, knows Nesbitt well. "This guy is the undisputed most-successful bowhunter on the planet," Shepley states. "He's arrowed quadruple the number of animals compared to any other bowhunter out there. It would be difficult for someone who is just retired with unlimited resources and time to hunt the animals he has successfully."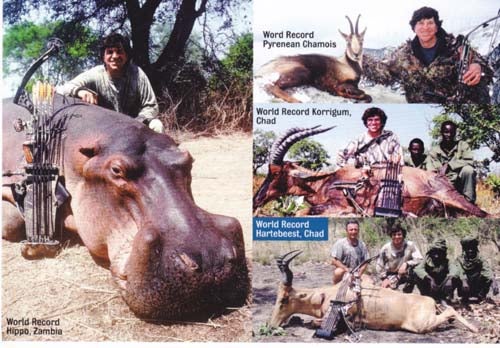 To put that into perspective, consider this: In 2001, Nesbitt became the sixth man to make the North American Super Slam, harvesting all 28 species of North American big game recognized by the Pope & Young Club. More recently, however, he became the sole bowhunter to take the triple Slam, a tremendous accomplishment.
The Triple Slam consists of four separate North American sheep species, 12 additional sheep species from around the world, and 12 additional species of goats from around the world. This feat is recognized by the Grand Slam
Club/Ovis.  At a conference in early '06, the Grand Slam Club awarded Nesbitt a certificate and congratulations for his unprecedented achievement.
However, for his Triple Slam, much like the Super Slam, Nesbitt did not start out hunting these animals with a "slam" in mind. "After several decades of hunting a whole bunch of animals, things just sort of ended up that way," says Nesbitt. "This took many hunts and much energy. I didn't get all of these animals the first time out. For many of them I had to go back a number of times."  But the "slams" are just the tip of the iceberg. Nesbitt currently holds 46 combined world records recognized by Safari
Club International (SCI) from North America and around the world. His tally of Pope & Young animals nearly reaches triple digits; many are listed in the top 10.  In North America alone Nesbitt's tally includes: two polar bear; a 1O-foot, 3-inch brown bear in Alaska; two Dall
sheep; a grizzly bear in British Columbia; two bighorn sheep; three musk-ox; a Shiras moose in Utah that was the state record for 15 years; truckloads of deer; the SCI world record Roosevelt elk on Vancouver Island; and more moose and caribou than some see in a lifetime. In Africa, the list gets longer.
Africa is one of Nesbitt's favorite bowhunting destinations. In approximately 20 trips to eight countries, his list includes: four Cape buffalo; two Western buffalo; three lions; three leopards; two hippos; an elephant; a crocodile; and
hundreds of plains game. Nesbitt says that everybody should experience Africa at least once.
"Africa is magical. You see so many animals up close that it's just incredible.  I've been fortunate to arrow a pile of different game over there. and I tell you I never grow tired of it. You can go over and shoot eight to 10 animals for a reasonable price. Usually l take my family and make a good vacation out of it. I'm always thinking about Africa!"
In other parts of the world, his list is even more mind-boggling. Abroad he
has hunted in 20 countries-Spain, New Zealand, China, Pakistan, and Iran,
just to name a few—-on six continents'  He once hunted for a solid month in North Africa atop camels. In Kyrgyzstan, he spent three three weeks hunting Marco Polo sheep and Ibex at 15,000 feet.  On hunts like these, there's no room for error.
A few years back Nesbitt was planning a two-week hunt in the Middle East.  Because of the unstable political situation, it's not a place many hunters would want to go these days. Naturally, he called some colleagues to see if they wanted to tag along-But all told him he was nuts. Yet, that didn't dampen his parade one bit. He went alone, despite their hesitation, and bloodied up a few arrows. lt went over without a hitch.
So, with all these accomplishments under his belt, why haven't you seen Nesbitt's face plastered all over archery magazines and advertisements? Nesbitt has very few ties to the archery- industry.  He is a PSE pro staffer. "I started shooting PSE bows,around 1980.  When PSE founder and innovator Pete Shepley approached me in the mid'90s to ask me to join the pro staff there,  I was more than happy. I'd already been using his product for almost 20 years. I really think he is an archery pioneer, and I was happy to come aboard."
With a PSE bow in hand, most of Nesbitt's hunts have run smoothly, but predictably, there are exceptions. There was the time when a big musk-ox busted out of the large pack and charged
toward him like a freight train. Reacting quickly and jumping sideways for dear life, Nesbitt walked away after the animal missed him by mere inches. In Alaska, ominous grizzly bears have popped their teeth and circled at spitting distance many times.
These incidents were dicey. But encounters with elephants in Africa were cutting hairs, situations Nesbitt considers much more frightening. "For my money, the most dangerous animal on the planet is an elephant," he says. "Elephants have the temperament of a junkyard dog, and when they charge you better start praying. I came within 4 to 5 feet of sheer disaster a couple of times. I finally killed an elephant in 2OO2 using a custom 100 pound-draw weight bow. I was thrilled!"
"In A League Of His Own"
The Pope & Young Club recognizes 28 species of big game. But Nesbitt's North American resume reveals that he's done them a few animals better with 32 species. Pope & Young Records Chairman Glen Hisey says, "Nesbitt is in a league of his own. It's hard to fathom how a guy can hunt so much and be so darn good at it.
I know a lot of successful bowhunters.  And, believe me, none of them are close
to walking in his shoes."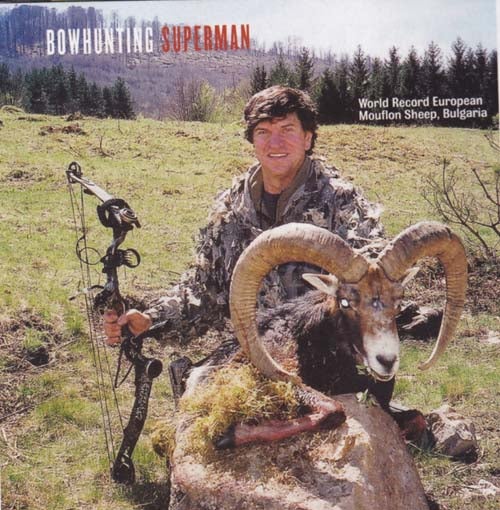 Just how many animals can one guy kill? Well, out of the other species Nesbitt has bow bagged on our continent, the Boone & Crockett Club recognizes two of them. The first is a Boone &
Crockett Tule elk from California. The latter is a Boone & Crockett Atlantic walrus. Nebitt's is the biggest ever shot by a hunter-gun or bow.
Natives have found bigger walruses that died by natural causes. However, the few gun-shot animals pale in comparison to Nesbitt's. He's also shot lynx and bobcat with broadheads. No record keeping organization claims these. They say they can't justify it because they can't tell 100 percent whether the animals were trapped or nor. Nesbitt has a handful of witnesses to prove it.
NEXT?
For a man who has bowhunted and shot just about everything under the sun, what's next? For Nesbitt, there's no letting off the throttle. "Over the next several years I plan to concentrate on
several species of Asian sheep, the ibex and argali. Also elk and mule deer around home will get plenty of attention. They're my favorite North American animals to bowhunt, and I can chase both right out of my back door."
Nesbitt is very involved with SCI and has been for the past 12 years. He considers the organization outstanding and a great support for hunters.
Currently he's the Alberta chapter president. "I've got some great friends in SCI. I plan on being affiliated with this community for a long time."
Archie Nesbitt is a hunting machine, a pure predator on two legs. Many call him "Canada's Premier Bowhunter." His considerable accomplishments aside, the bottom line is that Archie Nesbitt hunts for personal enjoyment and fulfillment, not for sponsor money or bragging
rights. It's that simple. You can't help but appreciate a guy like that.
Archived by
ARCHERYTALK.COM
all rights reserved
Leave a Reply
You must be logged in to post a comment.