Published by archerchick on 09 Dec 2011 at 09:31 pm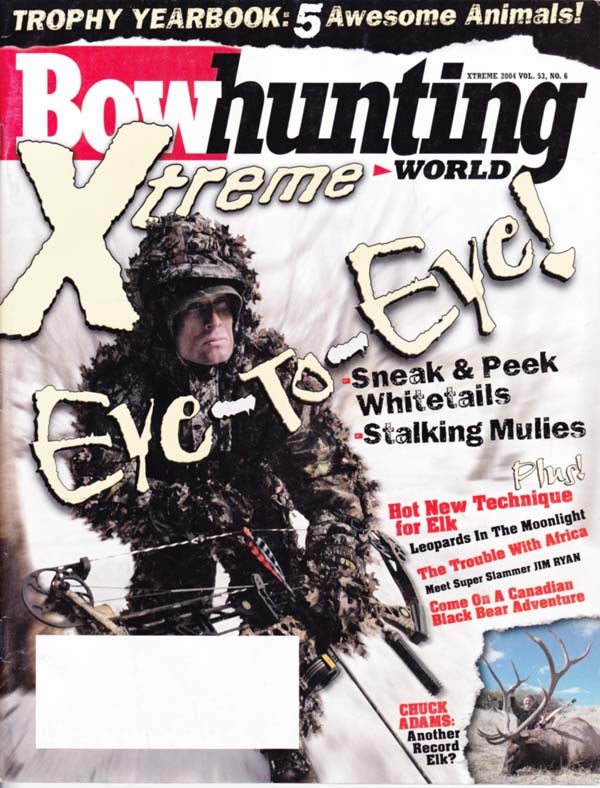 BOWHUNTING WORLD Xtreme 2004
Killer Stalking Strategies – By Jim Van Norman
Scouting, Glassing, and Stalking are the crucial tactical triad for taking open-country mulies
When he tired of the hot sun. he would
look for a new spot. and as he was waiting.
Three·do:en minutes later a wide
set of antlers sauntered into view. A
few more steps and the deer would he
broadside at 32 yards. When the big
muley quartered and looked away. I sent
an arrow through his tilage. The
buck's companion jumped to his feet
and stood in wonder, The fatally
arrowed buck leaned forward turned.
walked toward my position — and lay
down for the last time.


There are many elements to successfully taking mule deer with a how
and arrow. Three of those elements stand out: scouting, glassing, and stalking.
Stalking 101
With excellent stalking skills, your
scouting and glassing efforts go for "naught,"
so I'll start with the basics of stalking.
Those who have stalked mule deer
know it is exciting. It can he frustrating
and disappointing at times, but gaining
stalking experience is important. Trial
and error is what ultimately cultivates
a stalking expert.
First, choose only stalking opportunities
with the highest chance of success, Rate each
as having an excellent, good, mediocre or poor chance. This is
crucial; many stalks are blown because
their possibilities were mediocre or poor
to start with. Don`t stalk unless you
have a good to excellent chance. trying
to turn a poor opportunity into something it's not is a mistake, especially, it
it is a buck you can't live without.
until he beds in a better spot.
Your evaluation needs to be in depth: "Can I get into position for a
responsible shot within my effective range? Can I draw without being seen
when he stands up? What is the terrain and footing likely to be once l get
critically close? Are there other deer presenting obstacles? If I have to wait for
the deer to stand and offer a shot, is the wind dependable?" Consider these
items carefully.


A variable wind ruins more stalks than any other detail. Ask yourself: "Is
the wind steady enough to trust? Can I approach with the wind directly in my
face or, at the very least, with a quartering or crosswind, Considering that
wind, where is my best stalking route," Remember, terrain affects the wind
considerably. Surface interference —draws, trees, rock outcroppings, etc. —
makes the wind do funny things. Give me a stalk in a stiff wind anytime. You
can count on a stiff wind to stay steady and cover mistakes.
Second, map your stalk mentally. (I can't emphasize this enough.) Plan
a route between you and the deer that contains three solid, easily recognizable
checkpoints. Avoid using objects that are excessively common and could
be confusing. If you fail to do this, you may well find yourself in the wrong
place as your buck bolts away. It is always surprising how different the
country looks between your glassing view and the view on the ground once
you start sneaking through it. Pick a dead tree, an unusually shaped stump
or snag, distinctively colored or shaped boulders, rock piles, or outcroppings
as checkpoints. Any feature with unique detail will work.
Checkpoint #1 should be something that confirms, after leaving your glassing site, that you have ended up in the right area to begin your stalk. Checkpoint #2 should be about halfway to
Checkpoint #3, a location where you can, without being seen, confirm
Checkpoint #3 and see if the deer is still there. Although the actual location
of the deer deserves a strong mental note, Checkpoint #3 should be where you wait for a shot to develop.
Don't go in closer than 2O yards; allow a small buffer in case the deer comes
toward you. But don't be farther than 30 yards; you want to allow some room
before the deer gets out of range if he walks away from your position.
Now, here are three of the most important facets to the stalk's final
stages. First; when you check the deer's position at Checkpoint #2, look for
antler tips, ears or another part of the deer. Don't look at his eyes. If you can
see his eyes, he can see you. Second; "sneaking a peek" en»route to Check~
point #3 blows a lot of stalks. Don't do it! If you know the deer's location in
relation to Checkpoint #3, you don't need to see him! Concentrate on foot
placement and staying out of sight. Don't get busted two thirds of the way
through your stalk.
Third; Checkpoint #3 is where you let the deer make the fatal mistake.
Once you get there, check for an antler tip, put your bow up in front of you
(bow limb tip or cam on the ground, if you are on your knees) and nock an
arrow. Don't let your upper bow limb stick up where the deer can see it. Stay
put until the deer gets up to move, no matter how long it takes! The only time
you want to force a deer to get up is if the wind becomes variable and there's
a chance he'll catch your scent. Then you have nothing to lose by throwing a
rock, or calling on a predator or deer call. Otherwise, hang tough. The deer
will make "the fatal move."
Stalking takes practice. So take time while in the field to sneak up on some
does and small bucks for fun. You will learn more with each attempt.
Glass For "Pieces And Parts" Glassing, in my opinion, is a corner»
stone to being a top»notch mule deer hunter and is an HIC within itself. Mule
deer bucks select places to bed that are,
in most cases, well~hidden yet provide a panoramic view. A big buck's general tendency is to "hole up" in a position where he can see a lot of country and sneak out far ahead of imminent danger.
If not well»hidden, the spot will instead take full advantage of the deer's superior eyes, nose, ears and protective coloration. In any case, a mature mule deer buck's bed is carefully chosen, strategically located and unlikely to offer a noise free, scent free or entirely invisible route. To have any chance at
approaching within range, you have to find him first.
When glassing for mule deer, don`t concern yourself with spotting the
whole deer at once. Learn to focus on mule deer "pieces and parts."»(see 15
images above right) Train your mind to alert your eyes to look again when you
pick up one of these images in your binoculars or spotting scope. Burn these.
images into your mind until it become second nature for you to stop scanning
immediately and concentrate on the image. No matter whether you see them
with the naked eye or with optics, stay and pick it apart.
Since glassing is a major key to success, top notch optics are a must. This
rule is always buy optics one notch above what you can afford. You'll never
be sorry. It'll be worth it in the long run.
Scout Early And Be Stealthy, Scouting is another important part of
the success formula. Not only do you have to scout for deer, but the need to
find the right types of country to hunt is pivotal. Some country lends itself
better to stalking than other areas.


There is no sense in scouting a bunch of country if there are only a few places
where a stalk is even possible. Heavy brush, black timber or wide open rolling hills are harder to stalk. A
mule deer`s senses are so acute, successful stalking in heavy vegetation is
tough. sometimes impossible. The same goes for open, rolling hills. A stalk may
work in certain situations here, bur requires extreme patience and a flawless approach.
At best, both are low percentage endeavors.
Easier to stalk areas include canyons.
draws, cut-banks, washouts, etc. Notice
I said "easier," not "easy." Rough, cut up
and sparsely vegetated country presents more opportunities to approach unnoticed, Shade, the number one place to find mule deer bucks, is a limited commodity here. It is found only under cut~banks, washouts, overhangs and under the limited vegetation. That's a good
thing.
Pick an area to scout that will present the highest percentage stalks.
Do most of your scouting at least a month ahead of the season. A big mistake
many hunters make when coming out West is showing up a few days early
and stirring up their chosen area. About the only thing they accomplish is chasing
a big one out of the country. If you absolutely cannot get to your hunting
area until a few days before the season, go before daylight to the highest hill in the
area where you can scope the country.
Scout from that vantage point all day, each
day before the season opener. You will do far
less damage to your opening day hunting
than stomping out through the brush. In
fact, I'd be willing to bet you will see more
deer from your hidden vantage point!
When scouting, use all your hunting
tactics as if you were going to take a buck.
That is, when getting into position to glass,
sneak into position, The fewer deer you
spook, the better. If you are new to
bowhunting mule deer, as long as you are
scouting far ahead of the opener, spend
some time down in the deer's living rooms.
Before you learn how mule deer operate you
will certainly spook quite a few. This is to
be expected, so don't get discouraged.
As long as you are scouting a least a month before the season, the deer will
settle back into their normal routines. Spend considerable time inspecting the
places from where deer came busting out. Get an idea of what those bedding
sites look like and how they are situated in relation to the terrain. Note what
kind of cover is present and how the deer use the wind. As you leave the area.
glass back at those sites so you have an idea what they look like from a distance.
Although experience is the greatest teacher, mastering these three foundational elements will help provide many enjoyed successes in bowhunting mule deer. Remember your scouting, glassing, and stalking experiences by keeping a journal of facts and observations
for later reference. You'll be surprised at
the patterns you begin to note and then
use to your advantage.
>>—>
Archived By
www.Archerytalk.com
All Rights Reserved
ARCHIVED BY
www.Archerytalk.com
All Rights Reserved
Leave a Reply
You must be logged in to post a comment.