Published by archerchick on 09 Dec 2011 at 12:08 am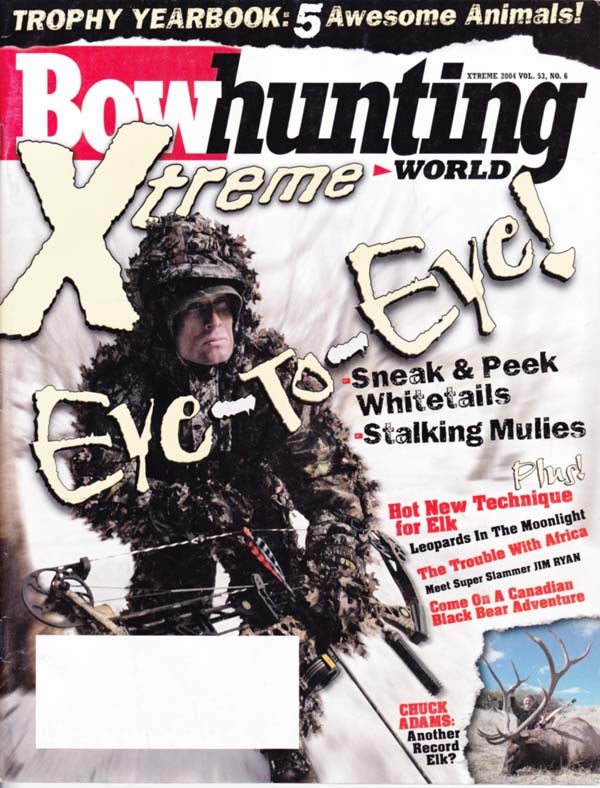 BOWHUNTING WORLD Xtreme 2004
Sneak & Peek Whitetail Strategies – By Bill Vaznis
6 steps to arrowing a buck from Ground Zero
There is no doubt about it. Still-hunting whitetail bucks with archery tackle is the most
difficult way to bow-bag a racked deer. You must not only move quietly through his baliwick,
striving to see him before he sees you, but you must also learn to sidestep that incredible sniffer of his
before he hightails it to parts unknown. And, if that isn't enough to worry about, you must
also learn to stay low and only take high percentage shots at relaxed animals.


Impossible, some say, but over the years I've learned that if you have a plan for the day's hunt,
your chances of scoring will soar dramatically. Indeed, walking aimlessly about the deer woods in
search of a buck will surely leave you empty-handed by season's end. Here are six still-hunting strategies
guaranteed to get you a crack at a racked buck this fall.
EARLY-SEASON Food Sources
Opening day can be your hottest day afield, especially if you know where the bucks will be feeding that evening.
You can start by glassing suspected strongholds from a safe distance in the late summer and early fall. The better
bucks always seem to be popping up at the last minute in out-of-the way clearings adjacent to doe feeding areas. Old mowings, grown over pastures, deserted vineyards and abandoned apple orchards are all good places to begin your search. You'll need to
stay until the last scintilla of light yourself, and then scan the shadows with a
good pair of light gathering optics, like
my Nikon 8x 5Es, for a glimpse or these
secretive critters. In Learning the general whereabouts
of several mature deer at this time of the year is half the battle to filling a tag.
However, you'll need more information before you can get close enough for a
ground shot, and you do that by some midday scouting. You will want to keep
your presence as secret as possible, so wear your knee»high rubber boots and
be careful what you touch. The season's first rubs and oversized tracks should
give you some good clues as to where the bucks are bedding and the routes they
are using to reach early fall food supplies.


The good news is that they are on the clock now making their feeding
bedding routines quite predictable. In farm country, I like to start the season
off by pussyfooting through these feeding grounds. l also like to work ravines
and fingers of brush that lead to the edges of active agriculture. Other good
routes include hedgerows, creek beds, fence lines and irrigation ditches that
bisect large fields of standing corn. Also really good are the edges of small wood lots
and brushy meadows that border overgrown openings and green fields of alfalfa, beans or peas.
In big woods or wilderness areas,
prime early season still hunting routes include gas lines, power lines and other
rights of way, edges of the clearcuts and creek beds. And if there is a good mast
crop, try the ridges just above beaver dams, two to seven year old clear cuts
and river basins.
You'll be surprised how close you can get to these early-season bucks as long as
they have not been disturbed by your previous scouting forays, I've passed on
racked bucks three out of the last five years on opening day by simply working
the cover surrounding their preferred early season food supplies.


Transition Zones
A second strategy is to still- hunt around and through a
transition zone. These openings in the forest, once devoid
of vegetation, are now likely to support finger to wrist sized saplings, raspberry
and blackberry briars, goldenrod, staghorn sumac, dogwood, hawthorn
and various grasses instead.
Old farmsteads are good spots to begin your search for these
early season and pre rut magnets, which can be in the form of
grown over pastures and long abandoned crop fields. Other good
places to check out include dilapidated beaver dams, natural slides,
clear cuts and two or three year old burns. The best part is that
many transition zones can be found adjacent to a brush riddled
apple orchard, a transition zone itself or mature stands of nutbearing oak,
hickory or beech trees.
The better transition zones are not close to active agriculture, however, but
instead are located near or en route to a buck's preferred bedding grounds. In
fact, "good" transition zones can be a half-mile to a mile or more away from an
alfalfa lot or large corn field in farm country, or a big woods feeding area
such as the banks of a river or the periphery of a swamp,
Typically, a racked deer will leave his early-season or pre-rut daytime
bedding area late in the day and enter a transition zone to munch on goldenrod,
leaves, various plant stems, etc.
There is plenty of cover here, and, feeling safe, a buck will linger here for some
time. Then using a ravine or even a nearby stand of open hardwoods as a
conduit, he will time his departure so that he arrives at a large opening at or
near dark.
In the morning he will again pass through this transition zone, or another
one nearby, and linger for a bit until bedding down soon after sunrise. He may even bed down in the
transition zone.
However, do not still-hunt these areas more than once a week. Be careful what you brush up against, and always wear a cover scent on your feet. Fox or skunk seems to do the trick most of the time. Once a buck knows you've been snooping around, he will avoid that particular transition zone – often for the remainder of the season.

PRE-RUT Food Sources
As the urges of the rut begin to take ahold, you will find bucks spending the predawn hours on patrol looking for the years first estrous does instead of heading directly to their bedding area by pink light.
As a result, normally nocturnal bucks are late getting back to their preferred bedding areas.
Indeed, seeing a racked buck an hour or
so after sunrise is a sure sign the prerut is in full swing.
A good strategy now is to still hunt
known, food sources that are on the beaten path, Not the edges of open
alfalfa plots for even standing corn, for
example, but abandoned apple orchards, or ridges laden with acorns.
hickory nuts, and beechnuts that lie
well above the valley floor.
These late morning food sources
must offer plenty of cover in the form of
thick tangles of uneven terrain if you
expect to catch pre-rut buck off guard.


You are not likely to catch a buck out in
the open as you might expect to do later
on when the rut really heats up.
Spring and Summer scouting trips can help you locate these much desired
food sources. If you know the where-abouts of an apple orchard or can find
one on a topo map, Check it out several times during the growing season to
keep tabs on the upcoming harvest.
And, while you are there, take note of
prevailing winds, deer trails, old rubs
browse lines as well as their juxta position
to suspected nearby bedding
areas for future reference.
Oak, hickory and,beech ridges can
be monitored, similarly. Simply peer
through your binoculars at the upper
most branches on and off during the
summer and see which trees have the
best crops. This and any knowledge of
what particular trees the deer seemed
to prefer in past season will go a long ways
toward developing a still-hunting strategy once the
pre rut is underway.
Scrape Lines
Another hot pre-rut
strategy is Still-hunting
along a fresh scrape line. Indeed, I have
tagged several bucks this way, including a 9-pointer
that grossed in the mid 140's. I took that buck at 30 yards,
but shots can be
much closer. In fact, I arrowed a wide racked 7 pointer at 3 yards one
morning as he fed on acorns along a well worked scrape line in upstate New
York. I've also had several other close
encounters along scrape lines that left
me shaking as the buck disappeared
back into the thick stuff.
The best time to sneak along a scrape
line is the very next time you expect
the buck to return. You can generally
determine when the buck will freshen his
scraped line by examining nearby racks,
rubs and the debris tossed to one side of
the scrape
If debris is tossed toward a nearby
crop field, then it is safe to assume it was
remade by a morning buck. He will likely return
to the scrape lined in the wee hours, whereas a scrape line coming out
a stand of thick pines a half mile away
wouldy indicate the buck freshened the
scrape line in the evening soon after he
left his bedding area.
You must always keep the line of
scrapes in view are still hunting.
Last fall I caught a tall-tined 8-pointer
flat footed as he worked his evening
scrape line. I dropped to one knee,
nocked a broadhead and then watched
as the buck moved steadily toward me,
freshening one scrape after another.
Unfortunately, a thick stand of dogwood
blocked my view just as the buck was
about to hit his last scrape,
A few long seconds passed before I
realized the buck had already scooted
past me and was now staring at my quivering
form some 40 yards distant. He
snorted when we made eye contact and
then hightailed back into the heavy
sewer. I never did see that buck again,
and the scrape line was abandoned.
Grunt Tube
One advantage with a grunt tube is that you can easily use one with any still-hunting strategy.
For example, I will periodically blind call when I think
I am in the vicinity of a deer. You must
be ready to shoot on a moments notice.
I got caught flat footed myself a few years
back after I imitated a young buck with my variable grunt tube;
immediately a fat 8point through the goldenrod and
stood looking for me 6yards off to my right. By the time I
managed to nock an arrow, he wandered off.
You can also lure a buck that is about
to walk past you into bow
grunt of a young buck seems to work best
but you must call loud enough for him to
hear you. If you get no response, call louder.
Once you have him coming, nock an
arrow and crouch down for the shot.
My favorite call, however,is a fawn
bleat. I use it whenever I stumble
in order to help mask my clumsiness. Fawns
are always making noise in the woods,
and I hope my renditions relax any nearby deer.
Over the years I have used a fawn
bleat to lure several bucks into bow range
You can use it by itself or with a doe bleat
or a tending buck grunt. One year in Iowa
I doubled up on a fawn bleat and
called a doe to me that had a "booner" in tow.
I started to shake a bit, thinking I was
about to arrow, the buck of a lifetime,
but a sudden shift in the wind scared both deer
away from me.
Late Season
Still hunting whitetails in the late season with archery tackle is
no walk in the park. For starters, there are fewer bucks afield, especially
if your state has a lengthy firearms season. And, to make matters more difficult,
these remaining bucks are not only quite skittish, they have also taken refuge in
places most hunters can't penetrate, such as steep hillsides thick with downed timber,
deep swamps and that bane of all of us -posted land.
The key to locating a racked buck or two now is on available food supplies.
In farm country, corn fields and wind-swept alfalfa lots are two favorites. If
undisturbed, they can easily draw bucks from a mile or more away. In heavily
wooded areas, south facing hardwood ridges, hardwood river bottoms, creek beds,
swamps and clear-cuts attract the most deer, especially if there is adequate thermal
cover nearby. Long-forgotten apple orchards are another favorite.
Your job now is to sneak and peak these feeding areas with caution by using terrain features
and all available cover to your advantage. keep your mind that the colder temperatures, the more
likely the bucks will be bedding nearby. If the temperatures plummet to single digits, you
might even catch one feeding in the middle of the day.
The biggest impediment however, is snow. A fresh snowfall can help muffle your forward progress, and
it may help you locate a racked buck or two more quickly. But when a crust appears, still-hunting can be
a most demanding adventure. Here's what you can do.
Evening hunts are more productive to sneak into your own trasition zone adjacent to a preferred late season feeding
area an hour or so before dusk, and wait a half hour or so for things to calm down. Then by taking only one
or two steps at a time, slip forward, keeping your eyes and ears sharp. Don't plan on still-hunting more
thank 50 to 100 yards under these conditions.
The good news is that when the snow is load and crunchy you are more likely to hear a deer breaking
through the icy crust first. The bad news is you will not be able to move once you hear him, and that means
he might just saunter by without giving you a clear opportunity. In the world of the still hunter such occurrences
are nothing new.
The only consulation is knowing that bucks general whereabouts for next fall.
>>—>
Archived by
www.Archerytalk.com
All Rights Reserved
Leave a Reply
You must be logged in to post a comment.