Published by kbrando on 20 Aug 2008 at 12:00 pm
Mountain Nomads
Bowhunt these caribou in the early season and you'll get a sense of where their name comes from.
By Joe Bell
            Bowhunting dreams do come true. One day you plant a seed to do something and, with a lot of patience, perseverance and perhaps fate, it becomes reality.
            This brings me to my hunt for mountain caribou. Last fall I lived the dream I had long awaited, and the experience was pretty special from the time the bush plane buzzed down in to a remote tent camp to when it flew me out 10 days later.
            Despite living this fairytale, it was certainly not without difficulty. Reality is always different from our dreamy imaginations. Before the hunt I had thoughts of what to expect…we always do. It was going to be an expensive caribou hunt deep in the Canadian wilderness. Certainly, big-racked animals would be everywhere. Shot opportunities would be abundant. It would be a slam-dunk. Those were my thoughts in a nutshell. However, after a couple days of serious 10-plus-mile hiking, trudging thick willow and steep shale-laden slopes, I knew my preconceived impressions were way off. This was no cushy caribou hunt, if such a thing exists. It was quite apparent that these caribou weren't lowland dwellers like the others I've pursued over the years. They are called mountain caribou for a reason, as some of the distant gray spots we examined from long-range (using a spotting scope of course) were way up in the highest crags. I was hunting Dall sheep, not caribou. In some ways I thought that was cool, in other ways, not so.
            While researching mountain caribou hunts, I realized most were backpack- or horseback-style adventures. Now I know why. I was hunting from a base camp where the only way to access elevated drainages with snowpacks (where the caribou go to get away from biting insects) was to cross many rivers and hike and hike, each and every day. I'm in fairly decent shape so I don't mind pounding the trails. But certainly backpacking would allow greater flexibility and effectiveness to reach the caribou.
            These animals travel in small herds, sometimes by themselves, and you can hike all day just to get to one snowpack and find a bull not big enough for a stalk. When that happens, the day is nearly expired and you wait for the next morning to try again. These are not big-herd caribou like the others I've hunted. They are much different.
            Despite all this, I was in good hands. My guide Craig was a great hunter and had plenty of experience guiding bowhunters. I knew my chance would come sooner or later. The country here is stunning, and it reminded me of my dreams each day. Canada's wilderness is unscarred and pristine. Few places soothe the eyes more, especially when you spot a tall-racked 'bou on one of the emerald-colored slopes. It was day three and a nice trophy caribou was only 100 yards or so above us, seemingly unaware of our presence.
            I attempted a stalk, but God didn't make these critters stupid. They have good eyes and a great sense of smell. The bull trotted off across the gorge, but soon eased back into a relaxed feeding mode.
            I was off and running down the hill. I had to cross a steep draw, and then I began clawing my way up the other side. This is rugged country to traverse and, though the caribou looked like a beacon on the hillside, a wall of chest-high alder brush was awaiting me. Step after step I battled my way through it, keeping the huge rack in sight. As I closed in, I was certain of a shot and a likely dead caribou. But as I got closer, the brush thickened. Soon it was over my head and I kind of went into a panic. Now what? Fortunately I came up for air and spotted the caribou again, and from 50 yards I nocked an arrow, while brush was still clinging to my arrow.
            Yet a shot wasn't in the cards. The bull sensed something and trotted away, only stopping and quartering 75 yards away—too far for a shot. Mountain caribou are likely the least hunted and understood caribou. These animals live in very hard-to-reach mountain regions, making travel more tedious. Also, mountain caribou exist only in Canada, in the provinces of Alberta, British Columbia, NWT, and the Yukon. Non-residents must book with an outfitter, and permits are in limited supply. In addition, horseback and backpack hunting are the preferred methods, making it costly and complicated for outfitters to arrange these hunts. As a result, these hunts carry high price tags—usually $5,500 to $7,000.
            During the early season these caribou are found in the highest elevations to escape the annoying black flies. As temperatures cool, by mid-September, these animals venture downward into lower valleys where they are much more accessible. This is the best time to hunt them. (Now I know.)
            Mountain caribou have antlers maybe a bit smaller in size to their barren ground cousins in Alaska, but mountain 'bou tend to have antlers with greater mass, which gives them a very impressive look. Body wise they are the largest of all the 'bou, with bulls weighing as much as 600 pounds.
            The next two days of hunting were very similar—more walking and few caribou spotted. We did see some distant Dall sheep on rocky hillsides. I was hoping to see more of these regal animals, since I've never seen one before this day. Like most die-hard bowhunters out there, I fantasize about hunting America's mountain sheep. As prices for these hunts continue to soar, I wonder if this dream will ever come true. Even so, dreams keep us going, so I'll stay encouraged.
            By day five I was becoming a bit antsy. We were seeing a spindly bull here and there, but as I mentally averaged out the sightings per day of bull caribou over the course of five days, the calculation was not comforting. Even my guide admitted to fewer caribou than normal.
            A few years of experience being in these situations and having decent success kept me positive and calm. Sooner or later, an arrow would leave my bow. I was certain of it.
            In the valleys not far from camp, we spotted a couple massive moose. These 60-inch-plus bulls were incredible as they mysteriously grazed through the dense alder. They were made for this country—long legs to counter heavy brush and water, extra-thick hair to battle the changing climates, and powerful necks to swing their heads during mating battles and survival fights against wolves and grizzlies.
            This was wild country, evident by the sign of daily-fresh wolf and bear tracks. I was moved by the thought of early settlers living in this land. How did they do it? I couldn't help but think how easy we have it in this modern life—so many luxuries and almost always taken for granted. This is one of the benefits of being a hunter. The mountains teach you the simple things in life. The harshness of it makes you appreciate the comforts we have. This is such a blessing that tends to keep you more grounded.
            One morning, while climbing a draw to reach a herd of caribou, we were met by a bear. Interior, mountain grizzlies like this don't know man much, and this one didn't seem fearful at all. Oh boy, I thought. This 400-pound bear was minding his own business and now things were going to get sticky—right in the middle of a stalk! As my guide began working the bolt on his 300 Win. Mag., a charge seemed likely. I was very thankful as the bear came more upwind and caught our scent. Once that happened, he never stopped running.
            A couple hours later, the sky grew darker and the clasp of thunder stunned my nerves. One minute sunshine, the next pelting rain and wind. I couldn't expect anything less in the Canadian wilderness. I tore into my pack and fitted on raingear.
            Moving upward, we climbed until cresting a slope, peering out across a gorgeous mountain basin dotted with our herd of caribou. There were three trophy bulls in the group, and we inched in closer when the time was right. Soon the sky let in light and a rainbow touched the backs' of the caribou. It was a dream-like picture—better, really.
            Unfortunately, it didn't end that way as the caribou did what they almost always do—wander too fast for human legs to catch. To reach a new basin with more caribou would take another day, and so we sped back down the mountain looking toward another five-mile walk back to base camp.
            Each day after a quick cup of coffee I'd take a few shots with my gear. I find this invaluable to keeping my mind and muscles in shooting mode. My setup, and me, continued to perform true and my spirits remained high.
            Would today be the day? It was day seven and I was hoping. The breakfast table was a good motivator, too, I guess. With a nearby shelf of Safari Club and other trophy-minded publications, most filled with exotic trophy hunts like mountain caribou, it was hard not reading them. It was time to snap a photo of my own big trophy for the magazine, I thought each day as I loaded up my pack. Now that I think about it, maybe those magazines were more of a distraction.
            I laced up my Danner boots and soon we were walking the familiar "main trail" out across the valley that connected us to countless canyons and upper drainages. We had to cross two or three rivers daily. There was no easy way about it. To keep feet dry for the day's hunt you would simply shed your boots and socks and wad the ice-cold water and pick your way across a bed of sharp, slick bedrock. It was a difficult, painful balancing act. Many times, on our way into camp, I'd say the heck with it and cross with my boots on, soaking them to the bone! The mile or so walk from there, back into camp, was a pretty mushy experience.
            Today I brought along my Nike rubber sandals. My guide was amazed when I soared across the stream. I flung them across to him and he was in heaven. What a secret weapon. Once we climbed to a good vantage point, we noticed a nice bull in an upward snow pack. He wasn't monstrous, but with little debate the decision was made. We'd climb.
            This trek took us across some neat terrain but it was all vertical. For reasons beyond me, I like gnarly hunting country. It adds to the adventure and makes for a seriously physical hunt. I like that.
            With tall willow slopes, our best plan was to use a narrow ravine with rushing water going down it. Much of it was half frozen, making footing difficult, but the little waterfalls made it breathtaking and more pleasant.
            In time we were closing in on the bull. A looping, upward "hook" would place us on a cliff just above the caribou, probably 40 yards of less from him. He was facing the cliff's wall with his head down when I came upon him, sweat now beading down my forehead. The shot was nearly straight down.
            I waited for the right angle and slowly drew. I was as calm as I've ever been during a shot. I visualized the vital zone and held solid. Automatically the arrow sped away. As the bull staggered to the ground, I couldn't believe my eyes. There, illuminated in the bright sun, lay my trophy caribou. It was a real life dream come true.
Sidebar:
Five-Star Optics
Optically, I was well equipped for this trip. I was using Nikon's Premier 10×42 LX-L binocular and brand-new Nikon Fieldscope ED 50. Both models are top-of-the line in their categories.
            Each model uses the finest cut glass and Nikon's best multi-layer lens coatings. The result is incredible brightness and resolution, even under lowlight.
            The 10×42 binocular I've used for several seasons now and I found them ideal for this type of hunting. Glassing sessions were intense on this trip. At 28 ounces, they are just compact and light enough for easy packing yet are just heavy enough for comfortable glassing stability (lighter binoculars tend to shake more). They are 100 percent waterproof and shockproof, so they can tolerate the worst hunting conditions.
            The new compact Fieldscope ED 50 is by far the best compact spotting scope I've ever used. So light, so compact, yet it's optically incredible. The brightness and sharpness of this spotting scope will rival even some of the best full-size spotters. It brings a new meaning to compact spotting scopes. It will be a constant companion on future mountain hunts. For more information, go to www.nikonsportoptics.com. <—J.B.>
Sidebar 2:
Vital Field Gear
Footwear: This is true mountain hunting, so bring boots that are waterproof, fairly tall and offer good ankle support and traction. My guide was using Cabela's Canada Hunting Boot by Meindl. I switched between Danner Pronghorns and Agitator Mid; both worked perfectly. The Agitators are low-top hiking boots, not really serious mountain shoes. However, they worked great and offered excellent ankle support and comfort. Always bring two sets of boots so you can rotate when one set becomes fully wet.
Raingear: I used Cabela's excellent ultra-lightweight Stillhunter ES1 RainSystem. It worked well. However, the more I hunt in north county, the more I favor rainwear with no a slicker outer surface. Though not as breathable, this type of rainwear doesn't retain water, and so it dries more rapidly. No one likes to put on wet rainwear. Besides, I find you wear rainwear more intermittently than all the time. For this reason, you want lightweight and quick-drying rainwear.
Clothing: I prefer fleece, wool or Cabela's Microtex in the far North. Microtex is hard to beat since it's lightweight, comfortable (even in a variety of temperatures), and dries very fast. These duds, along with Cabela's Berber Fleece Vest, Berber Microweight Fleece Sweater, and Mossy Oak APX VaporTec undergarments round out must-haves for me.
Backpack: I used a Badlands 2800 packs, which I consider one of the most versatile packs available. Unloaded it's very streamlined and lightweight, yet it expands to accommodate larger, heavier loads. I prefer it for remote day hunts where I need to carry lots of gear and possibly meat and antlers out. I also favor the new Nikon Field Recon Optics daypack for less involved day hunting.
Archery Gear: Any perfectly tuned and accurate bow setup will do. Practice at extended ranges so you can handle 40 and even 50-yard shots under pressure. I prefer a rugged, fixed-blade head when bowhunting big caribou. My Mathews Conquest 3, Easton Super Slim 400 (400 grains) arrow, and G5 100-grain Striker broadhead worked wonderfully. I use a Nikon Monarch Laser 800 rangefinder—it's superbly accurate. I use a Double SKB case for air travel.
Outfitter: I booked my hunt with NWT Outfitters (www.nwtoutfitters.com)
Miscellaneous: Be sure to bring a compact digital camera with extra memory cards and lots of batteries. You'll want to take lots of pictures on this trip. I prefer to use Op/Tech neoprene cases to store my camera, GPS, and other fragile gear in. They are light, quiet and protect gear well. <—J.B.>
Hunting areas in the Northwest Territories are only accessible via plane. It's wilderness hunting at its best.
:
The author's mountain caribou, taken after seven long days trekking the near-vertical terrain these animals call home. He used a Mathews Conquest 3 bow, Easton 400 Super Slim arrow, and G5 Striker broadhead.
:
The grizzly bear encountered by the author and his team of guides. He nearly charged!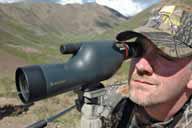 Lots of long-range glassing is the name of the game when hunting mountain caribou.
After a long walk, the author reached this basin only to find a few caribou—no good bulls. It made for a long day.
The pack-out after a successful shot—a dream come true!
Joe Bell
Leave a Reply
You must be logged in to post a comment.