Published by archerchick on 23 Mar 2010 at 08:43 pm
Trophies in Transitions – by Tim Burres
Bowhunting World October 2005
Most bowhunters try to hunt these same spots when the season opens. While this is a worthwhile starting point, it is important to note that a buck's summer range and fall range can be quite different. For example, Mark Drury with Drury Outdoors videos, has been monitoring deer on his Midwest farm with trail cameras for three years. He feels that roughly 60% of the bucks he becomes familiar with have the same summer 
and fall ranges. That means that a full 40% of the bucks relocate at least slightly after they shed their velvet. 
In other words, you can't be sure you are hunting a certain buck until you see him in that area at least two weeks after velvet shedding, which occurs around the first week of September in most areas. 
Even with that uncertainty factored in, you still have a chance at shooting a trophy the first week of the season. Mature bucks are often still on rough patterns at this time. Through the summer, they've become almost predictable, and a part of this lifestyle carries over into the first week of the bow season. 
World OCTOBER 2005Bowhunting 
Usually these feeding patterns are short-lived, but you may get a full week of excitement before a number of factors, not the least of which is your presence, make the bucks more reclusive.
If you are having trouble finding the bucks during the week before opening day, forget the agricultural flelds and go deeper into the timber. Without a doubt, acorns are the number-one
attraction at this time. Where you find acorns, you will find the deer even if there are abundant agricultural crops nearby. They will literally run to a good acom-bearing tree after a windstorm brings down a load of nuts.
There are two categories of oak trees where most people hunt: red oak and white oak. Each of these categories has several subspecies, but within each category the trees are similar in their application to deer hunting. White oak trees have the potential to drop acorns every year though some years are definitely more bountiful than others are. Red oak trees only drop their acoms every other year. It pays to be able to identifiy each subspecies of oak.
After the acorns play out, the deer will generally drift back to the agricultural crops. They will still hit the alfalfa and clover, but soybeans tend to lose their attractiveness when the leaves and
beans are both drying down. You will see the deer also moving more toward corn and other carbohydrate-rich food sources.
I've also sat in some pretty incredible stands when apples and pears were dropping. Bucks zeroed in on the trees moming
and evening, seemingly trying to grab the freshly dropped bounty before other deer beat them to it. Unfortunately, you have to be on the buck's pattern as soon as the season opens because pressure from other deer hunters and small-game hunters and the buck's increasing
testosterone level make them change patterns. Even without any hunting pressure, a buck will begin turning into a ghost in early October.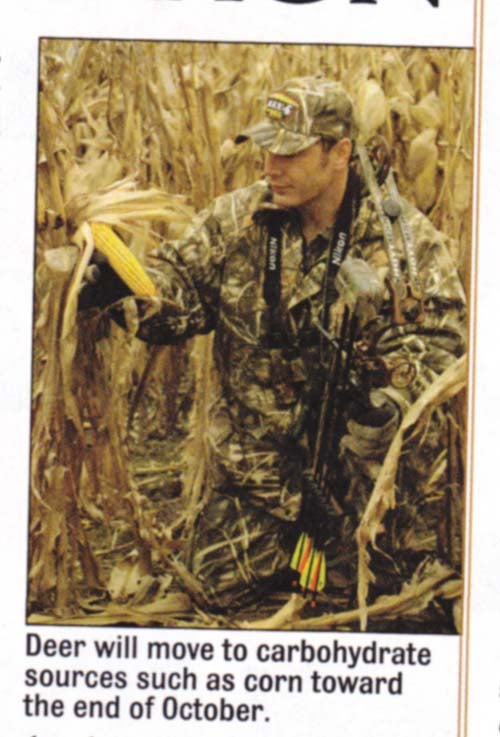 tagging a nice buck during the first week of October depends on your ability to keep the buck from knowing he's being hunted while you observe and tweak your stand location.
You have to become ultra-sneaky-much more so than is required for success during the rut.
Focus on Afternoon Hunts:
It may be tempting to try to hunt the buck in
the morning near his feeding area, but doing so is going to hurt your chances. You run the risk of moving him off his pattern before you can get enough information to take advantage of it. If you simply have to get into the woods, hunt somewhere else.
Cautious Scouting: Hunting a big buck during the first week of the season is a lot easier if you have seen what he is doing. Hang back with binoculars and learn as much as you can
about the overall situation before committing yourself to a plan. You have to fool many other eyes, ears and noses before the biggest bucks will reach the field. Consider how you will beat
all the deer in the herd before you pick a stand location.
Get Out Clean: More than likely you won't get the buck you are hunting the very first evening you try for him. That means you will need a good way to get back to your vehicle without spooking the other deer in the feeding area. This is by far the
biggest challenge you will face when hunting food sources. Use the terrain and cover to your advantage. Make a wide circle around the field. Also, if it is impossible to get out clean, have
someone drive up to the field in a truck or ATV and move the deer off before you climb down.
MID-OCTOBER DOG DAYS
The middle of October is the hardest part of the month for tagging a nice buck. Hunting pressure, changing food sources and rising testosterone make bucks very unpredictable and reclusive. They'll still feed but not in the open, and seeing them during daylight becomes harder.
It is common for a big buck to change pattems shortly after he sheds his velvet and certainly by early October. He seems to disappear from the face of the earth when he was once visible every single evening in his favorite soybean and alfalfa fields. They are still around and they are still active. If you aren't seeing them you are hunting the wrong places. All deer change their behavior as they go from summer patterns to fall patterns, the main reason for this change is a change in food preferences. Telemetry studies by top research biologists show that the bucks continue to feed during these so called dog days of October. In other words, where is no biological basis for what I have referred to as the "dog days."
Bucks love to scrape in the cool, damp earth found at the bottoms of draws and ravines. This is a great place to find sign, but a tough place to hunt. When the wind blows, it will swirl through these hollows until every deer in the area knows a man is nearby. Avoid these ravines and draws and focus instead on scrape lines on ridges and in other locations where you can better
control where your scent blows. You may have to hunt the best scrape areas from a distance on routes you feel the buck may use as he goes to freshen them.
CONCLUSION
October is not traditionally a bowhunter's trophy time, but it is a fun month ro be in the woods. lt is also an excellent time to do your part by shooting a few does to keep the herd in check and supply winter meat.
While October is not as exciting or as productive as the first week of the primary rut, at least you're hunting. As long as you are in the woods sticking to a sound strategy, anything can happen. It only takes one buck to change the entire season and he can come past at any time – even in October.
Archived by
ARCHERYTALK.COM
all rights reserved
Leave a Reply
You must be logged in to post a comment.