Published by archerchick on 22 Mar 2010 at 08:32 pm
Mulie Magic – By Steve Byers
September 2005

Bowhunting  trophy mule deer is no cakewalk, but every now and then it all comes together oh so sweet.
http://www.bowandarrowhunting.com
The trek one makes to a true trophy animal can take many twists and turns. I have been on hunts where it can take weeks, sometimes months, for that one shot to happen. On the flip side of that is where Bruce Barrie's hunt lies for mule deer and elk in western Colorado last season. Bruce hunted with my wonderful wife, Cassie, and me. As Bruce and I spoke on the phone countless times over the summer, I assured him that getting a nice mulie in the 160-plus range wasn't out of the realm of possibility. (I think Bruce thought I might not know how to field-judge mule deer!) Our phone conversations consisted of me telling Bruce that I had just seen another 180-inch monster and him going "Really?"
I scouted a farm area near my home we call the "strip." It consists of four large farms and is about 5 miles long and 3 miles wide. This area has turned out six "book bucks" in the past four years, with the smallest being a 161-inch 4×4. To see a group of bucks all in the 170s is not uncommon. I grew up hunting these farms as a kid, and I have had many encounters with some true giants. With only my family having access to bowhunt, we have gone on a very strict management program. We have decided on shooting only deer that we think will make it to 150 or higher. My summer scouting had turned up many "shooters," and I was feeling confident we would get the job done. I felt like Bruce's best chance at a buck would be on the ground doing some spot and stalk attempts.
Bruce was set to arrive in Montrose on Aug. 27, and I was sure his best chance at a "wall hanger" would be the first week of the season. When Bruce got here, he shot his bow to reassure that everything made it OK, and we went and got him an elk tag.
With the best time to hunt these bucks being in the evening, we would do some elk hunting in the mornings. I also have a ranch on the Uncompahgre Plateau, which harbors many elk and mule deer. We would spend our mornings chasing bugling bulls here. The evening before season started, I took Bruce on a short drive through some of the property we would be hunting. I have been after a large 3×3 on the strip for about five years now. Encounters with him are so common that my good friend Evan Baise began calling him "Pot Belly," aptly named for his 350-pound frame. As we drove along the dirt road, I pointed out different fields where many large bucks had been taken over the years. When we approached a particular alfalfa field, I warned Bruce to keep an eye out for "Pot Belly," because we had spotted him there all summer long. There he was, 40 yards from the truck, just feeding away. Bruce was amazed by the sheer size of this old mature buck. I urged Bruce to take him whenever the chance presented itself. Bruce laughed and said "Sweet!"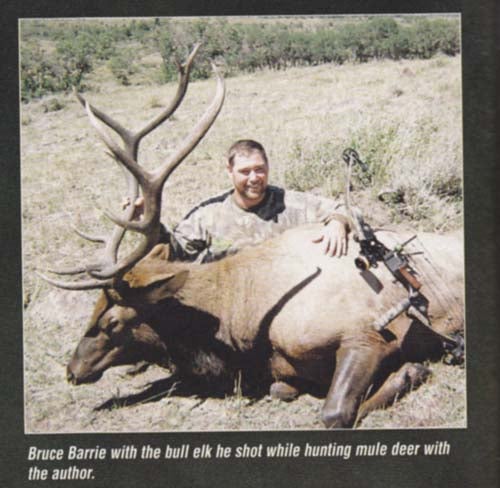 After a fairly uneventful first day, our second morning dawned with bulls bugling in a distant draw. We quickly cut the distance to about 400 yards of the screaming bulls. The bulls seemed to be heading toward a large ravine on a neighboring ranch. After setting up three or four times, we were nearing the fence line ourselves. I decided that we needed to get to a stand of aspens, near the lip of the large ravine . Bruce and Cassie quickly raced forward to set up, and when they got about 50 yards in front of me, I began cow calling. The bull responded with a low guttural roar from about 150 yards through the aspens.
Almost instantly another bull in the bottom of the ravine answered him. We were in the driver's seat now! It seemed that the two bull elks were racing to see who could get to me first. I was pleading frantically with my cow call for the closest bull to come in. He responded by coming to the fence line about 30 yards in front of Bruce. When the bull jumped the fence, Bruce seized the opportunity and drew his bow. The bull was now 25 yards and nearing broadside. When the shot went off, Bruce's setup was so quiet, the bull barely even moved. I assumed Bruce must have missed, so I took my cow calling into overdrive. I was so focused on watching the bull that I didn't notice that Bruce had nocked another arrow. This time I watched as another arrow passed completely through the bull from only 35 yards this time. The bull stumbled stiff legged a mere 60 yards before expiring. Bruce had hit the 5×6 the first time, but an extremely quiet setup allowed a follow-up shot to be made.
I can't begin to explain how impressed I was with Bruce's choice of a broadhead, the 100-grain Turbo. I think it is one of the best penetrating heads that Barrie Archery has ever designed. After 20-plus years in the wapiti woods pursuing these beautiful animals, I can clearly say that the single most important aspect I look for is a broadhead that provides excellent penetration. With a large bull sometimes tripping the scales near 1,000 pounds, everything is bigger, so you need good penetration just to get to the kill zone.
It was time to shift our focus to chasing mulies the following morning. This for me, is bowhunting in its rawest form – you versus an animal with extremely keen senses on level ground. I cut my bowhunting teeth spotting and stalking mule deer, and I am proud to say that I am a much better bowhunter because of it. After blowing thousands of stalks, you become much more aware of the noise you may be making and things going on around you.
It was Aug. 30, a cool snap had hit, and we had a full moon. It seemed like everything was going our way. With a southwest wind, the game plan this morning was to slip south, with the wind in our faces, along the edge of a large marsh. Hoping to ambush a mature buck there, we set out. We quickly covered a mile or so, and as we were nearing a field edge , suddenly a large buck appeared 200 yards to our right. It was apparent that he was already aware of our presence. A mature 4×4 with good width and deep forks, I quickly judged him at 180 gross.
With the buck already aware of us, we decided to leave him alone and possibly look for him later that afternoon. We then turned and went straight east for a mile or two to a large draw. The west-facing slope of this draw is covered with a jungle of large cottonwoods and small willows, and I had seen many bucks in here all summer long.
To get to this draw we would be crossing the same field where we had seen Pot-Belly a few days before. We were both optimistic, it was still early, and we just knew good things would happen. We slowly crept our way to a large drainage ditch in the bottom of the draw. Just as quickly as we arrived, I spotted bucks, sky-lined by the rising sun. Bruce looked at me and said, " What should we do?" I quickly replied, "I think we are in a good spot."
Bruce must have thought I was nuts! These bucks were 300 yards away, and still showing no signs of coming our way, but over the course of scouting this draw, I had seen this same group of bucks work their way to the drainage ditch that we were now hidden by. There were six bucks in this group, and while not our largest, some showed potential. The bucks were just about parallel to us when they started down into the draw. we agreed that the largest buck might go 170 gross. I asked Bruce if he was interested in taking this buck and he gave me the combination head-nod and "Uh-Huh."
When the bucks reached the bottom of the draw, tamaracks and willows engulfed them. We weren't sure where they were when suddenly Bruce muttered, "Here they come." All we could see were velvet-covered antler tips until they stepped out 30 yards from us. The big buck was the fourth to come out into the open, and he moved toward us slightly and then turned perfectly giving Bruce a quartering-away 25-yard shot.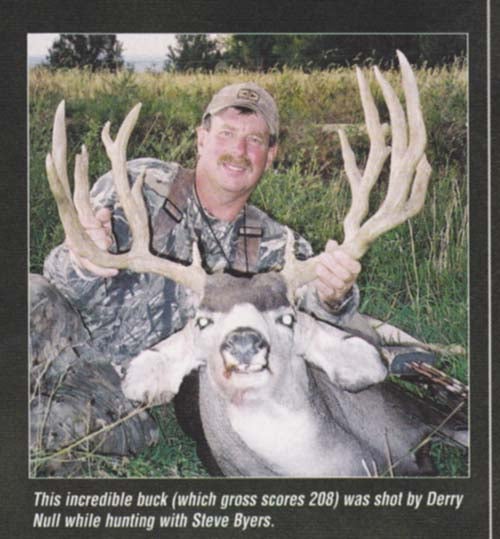 As he drew his bow, all of the bucks peered at us. Luckily for us, there was a huge cottonwood behind us and there must have been a glare from the rising sun. With this glare in their eyes, Bruce reached full draw. When the shot broke, I could clearly see the arrow strike through the buck.
We hadn't gone 30 yards on the blood trail when Bruce yelled, "There he is!" Bruce couldn't wait to get his hands on him! With nearly 40 inches of mass, and 4-inch brow tines, this buck is truly magnificent! As a testament to the great habitat on the Strip, this was only a 3 1/2-year-old buck. They say give your bucks time and food. Well, I like to say give my bucks sweet corn and alfalfa, and me some time to hunt them!
Archived by
ARCHERYTALK.COM
all rights reserved
Leave a Reply
You must be logged in to post a comment.