Published by archerchick on 22 Mar 2010 at 03:50 pm
Understanding Arrow Trajectory – By Roy Marlow
Bow Hunting World  – February 1995
The Effect of Arrow Speed and Weight
On a pretty autumn day several years ago. I was cooking breakfast  after a morning's deer hunt when I looked up and noticed a nice buck several hundred yards away. I watched him for several minutes before realizing that if he kept to his course, he would pass on a trail only about a hundred yards from camp. When he moved into the woods, I quickly donned my camouflage, grabbed my bow, and moved into the timber across the creek to intercept him.
Just as I got to the edge of a small opening, he appeared at the far edge. The setup was perfect except for a large oak tree in the middle of the clearing which had a tangle of low limbs right in line with the deer. I knelt down to allow for the estimated trajectory of the arrow under the tree and made what I thought was a perfect shot. Unfortunately, I did not allow enough room, and the arrow neatly centered a 3-inch branch. So much for that opportunity!
In reviewing the situation over my cold breakfast, I realized that I had not clearly known the arc of my arrow. In this regard, I was probably not much different from many bowhunters. A lot has been written in the last few years about depth-of-kill for different arrow speeds, and most serious bowhunters have a pretty good feel for the trajectory of an arrow just in front and behind an animal.
But very few hunters have an intimate knowledge of an arrow's trajectory over its entire flight path. I know I didn't, and this cost me a nice buck that morning.  In this and the next issue of  Bowhunting World, I will be discussing arrow trajectory.  I will cover the general effects of arrow
speed and weight in the absence of wind drag. The examples given are the flattest trajectories that can be obtained for the speeds listed. Drag can dramatically affect trajectory, but many clean-flying, low-drag arrows used today can come very close to the trajectories given. In each example, I am assuming that the shot is over level ground and that the shooter is anchoring three inches below his eye at the comes of his mouth.

The Effect Of Speed
The trajectory of an arrow is determined solely by its speed at any point in time. In the absence of wind drag, it will have a constant speed, and its path can be described by a type of curve called a parabola.
The only force on an arrow between the time it leaves the bow and it hits the target is
gravity. Since gravity is pulling it downward, the arrow must be shot at a slight upward angle with respect to the line-of-sight. This is called the angle of departure. The initial direction of the arrow before it starts dropping is known as its line of departure. An arrow will usually start off below
the line-of-sight and will cross it several yards in front of the bow. It will then rise to its maximum height about mid-range before starting its descent to the target. If shot corrects, the point where it crosses the line-of-sight the second time is where it will hit the target.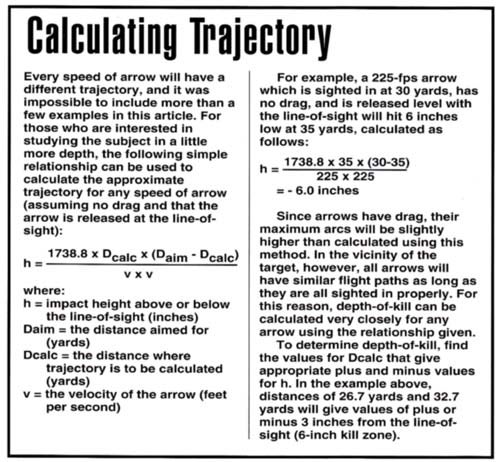 Table 1 and the accompanying graph shows the trajectories and several other items of interest for three different speeds of arrows shot at several different distances. I used 180 feet per second (fps) to represent a recurve or longbow, 210 fps to represent an eccentric-wheeled compound, and 240 fps to represent an overdraw cam bow. These are typical speeds for most hunters using
average-weight hunting bows and average arrow weights.
Trajectory Height
Most hunters today shoot bows that are faster than those of a few years ago, but still, their trajectories are anything but flat. At 20 yards, a 180-fps arrow will rise about four inches above the line-of-sight. A 240-fps arrow will rise by almost two inches. At 60 yards, the 180-fps arrow will rise by a whopping 47 inches while the 240-fps arrow will rise by 26 inches.
These values are interesting in light of the opinion that some hunters have of their equipment. At a 3-D shoot a couple of years ago, I heard one shooter tell another that his speed bow would shoot as flat as a bullet out to 50 yards. After listening to the conversation a few more moments, I realized that he actually believed this. I have often wondered how he would have explained the multiple pins on his bow.
Depth-Of-Kill:
For hunters who use sights, knowing the depth-of-kill of an arrow is usually much more important than knowing its maximum arc. This is the distance over which the arrow will pass through an
animal's kill zone if the shooter misjudges the range. Most whitetail deer have a vertical kill zone of 1 to 8 inches. However, it is common to assume a 6-inch kill zone to insure that the arrow hits the vitals solidly instead of just nicking the edges.
The right-hand columns of Table 1 show depths-of-kill for a 6-inch kill zone. If a hunter using an average 210-fps bow shot at a deer that he thought was 30 yards away, he would kill the deer if it was actually standing anywhere between 26.8 and 32.4 yards. At the closer distance, he would hit the top of the lungs while at the farther distance, he would cut through the bottom of the heart.
(this assumes, of course, that the deer cooperates and doesn't jump the string.) This gives a margin of error of 3.2 yards on the close side and 2.4 yards on the far side of the animal, or a total of 5.6 yards. For the 180- fps bow, the total margin of error would be 4 yards, while for a 240-fps bow, it would be 7.8 yards.
Because an arrow is always dropping faster at the tail end of its arc, the margin of error in range estimation is always greatest in front of the animal, as shown in the "In-Front-Of-Target" and the "In-Back-Of-Target" values in the table. At long distances, this difference is minor, but closer in, it can be significant. For example, using the 210-fps bow above and shooting for an estimated distance of 20 yards, the maximum rise of the arrow would be 2.6 inches above the line-of-sight.
If the deer were actually standing anywhere between zero and 20 yards away, we will kill it. If he was beyond 20 yards, however, we would have to guess the range correctly to within 3.8 yards to kill it.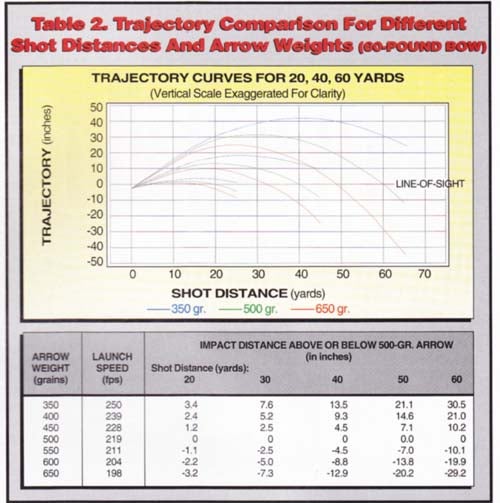 Time Of Arrival:
One reason frequently given for using faster equipment is to minimize movement of the animal due to the sound of the shot. Even the fastest equipment, however, falls short of meeting this goal totally. Humans have a simple reaction time to sound of about 0. 15 seconds. This is the time required for our brain to receive and process the sound and instruct our body to start moving. Although a deer's reaction time has never been scientifically measured, evidence suggests that it is significantly faster than this. Once he hears the string, a deer still has to have time to move out of the way of a shot. Videos have shown that a deer can drop by over twelve inches at 20 yards
and can completely duck a 200+-fps arrow.
As shown in the second column of Table 1, a 210-fps arrow will take almost three-tenths of a second to travel 20 yards. This is twice the reaction time of a human and probably several times faster than a deer's reaction time. At 20 yards, a 180-fps arrow has an arrival time of one-third second while a 240fps arrow will take a quarter of a second to cover the same distance.
At 60 yards, a 240-fps bow will take three-quarters of a second to reach the target. This is about four times longer than a subsonic .22 Short bullet. A 180-fps bow will take a full second. Even for the fastest equipment shot at normal bowhunting distances, a deer can react to the sound of a shot by enough to spoil the best of aim.
Effect Of Weight
Just as many hunters often don't have a good feel for an arrow's arc, they often fail to appreciate fully just how much the weight of an arrow can affect its trajectory. On a Westem mule deer hunt a few years ago, a good friend of mine leamed this point the hard way. Bill normally shot heavy 650-
grain arrows for his close shots on whitetails.  For this hunt, however, he switched to 500-grain arrows to give him a little flatter trajectory at the longer ranges he expected. When he packed for the nip, he threw the 650-grain arrows in the truck to use as backups. He had sighted in his bow with the lighter arrows but had no idea how the trajectories of the two shafts differed.
We got to the hunting area late at night and assembled our equipment the following morning by flashlight. Unknowingly, Bill put the hear,y arrows on his quiver and did not realize the mistake until it got light.  About mid-morning, he spotted a beautiful buck and was able to work his way to within 40 yards without alerting him. He was shooting what he considered to be a pretty fast bow and figured that the difference in arrow weights wouldn't make that much difference. He aimed a few inches higher than normal, released, and watched as the arrow passed just under the deer's chest. Later, back at camp, we found that the difference in trajectories between the two arrows was almost a foot at 40 yards.
If there is no wind drag, two weights of arrows which are shot at the same speed by different bows will have identical trajectories. But if shot from the same bow. their speeds will be different, and they will have different trajectories. Table 2 compares the trajectories of different weights of arrows to a 500-grain arrow that was sighted in correctly. The launch speeds are typical of a 60- pound eccentric-wheeled compound.
At 20 yards, a difference of 50 grains in arrow weight will move the impact point by over an inch. A difference of 150 grains will move it by 3 to 3-1/2 inches. As distance increases. the effect of weight differences becomes much greater. At 60 yards, adding or removing 50 grains of weight will change the impact point by over 10 inches while for 150 grains of difference it will change the
impact point by about 30 inches.
Small differences in arrow weight should also be addressed. For example, I shoot resharpenable broadheads, and I will often use the same heads for several years as long as they don't become dinged up or bent. Before every hunting season and several times during, I will resharpen them. Recently, I went back and reweighed a dozen arrows that started out with identical weights and was surprised to find that several of them had changed by 20-25 grains due to resharpening. I usually shoot at close ranges, so this has never caused a problem. But if I had taken a little longer shot-say 40 yards- this difference would have been enough to throw my aim off by a couple of inches or so. In some cases it could have been enough to cause problems.
Measuring Trajectory
In the real world arrows have drag, and their trajectories will be a little higher than the examples -given above. For this reason, it is always a good idea to test your equipment so that you have a good feel for what it is  actually doing. This is especially important for hunters who use a single sight pin.
Measuring trajectory is a simple task that can be done as part of your normal sighting- in procedure. First, find a piece of cardboard or other material that is 1 to 3 feet wide and
several feet long. Three-foot by 5-foot panels work well and can be bought at businesses that sell packing supplies.
Next, put an aiming spot in the center of the cardboard and sight in your bow at a given distance. Then aim at the spot from several different distances and see where your arrow hits. For example, if you have sighted in a pin at 30 yards, you might shoot at distances of 7.5 yards (1/4
range), 1 5 yards (mid-range), 22-1/2 yards (3/4 range), and at something beyond 30 yards.
Shoot several arrows from each distance to get an average, and then commit these figures to memory.
To determine depth-of-kill for deer, find the distances where your arrows hit 3 inches high and 3 inches low. For larger or smaller animals, you can adjust these values to correspond to the different-sized kill zones.
Summary
With the increasing interest today in long- range shooting, some of the examples given above are very sobering. They show fairly dramatically that even with today's fast equipment, bowhunting remains a short range sport.Even the fastest equipment will have trajectories at longer ranges that
are high and looping and that will require the ability to estimate range at very exacting levels. Taking the time to become intimately familiar with the trajectory of one's equipment should help any bowhunter to understand its limitations and to capitalize on those hard-earned opportunities.
Archived by
ARCHERYTALK.COM
all rights reserved
One Response to "Understanding Arrow Trajectory – By Roy Marlow"
Jeff-NC on 19 Aug 2013 at 8:47 am #

very good information
this is really helpful when taking longer shots in the woods. finding a shot window can be tricky
Leave a Reply
You must be logged in to post a comment.