Published by archerchick on 22 Mar 2010 at 02:18 pm
80 Years With Fred Bear – By Bob Brandau
March 1982
We're damn lucky to have Fred Bear around.  In a time when folks tell us there are no heroes left, we only need look to Fred to know it isn't true.
For the bowhunter, Fred has done it all. He's taken world-class big game on every continent and built a career around his love for a sport. He stood and was counted as a conservationist when the word was still unknown to most sportsmen.
The John Wayne of the bowhunter's world Fred attracts a crowd wherever he goes. Autographs, handshakes and flash bulbs are as much a part of his day as the sun. Yet unlike many other people in that position, his sincere smile never fades and his patience while listening to another
hunter's whitetail adventure is unending.
His ability as a woodsman is equalled to or surpassed by his talents as a businessman, and inventor. Much of the archery tackle we use today is based on inventions cultivated in his fertile mind decades ago. Along with a few other adventuresome pioneers, Fred turned an obscure hobby into a national pastime and industry.
Starting in a depression torn 1933 in the United States, Fred slowly built his archery company from a garage in Detroit to the world leader it is today: His factory now produces products known around the world and employs about 350 people.
Fred's cunning as a hunter and friendly nature have brought him many honors and thrills. He's dined with royalty and dipped beans out a can with African bushmen.  Some of the adventures he's had would seem outlandish even when printed in a young boy's favorite book.
And of all the game Fred has taken through the years, what has been the toughest
to hunt? The whitetail deer.
"There's no doubt about it, the whitetail deer is the smartest craftiest game animal a man can hunt with a bow," he said- But what does Fred consider to be the toughest most dangerous game to chase with bow and arrow? Excerpts from the book, Fred Bear's Field Notes, and an article printed in Outdoor Life in the early 1960s show that to be the African lion.
"Of all the "if-you-start-it, I'll-finish it" game a hunter can go after with either gun or bow, the two big wonderful cats of Africa and Asia, the lion and tiger, head my list. There is something about them that no other animal can match, a mysterious, regal quality of fearlessness and arrogance and terrible power. In my book the man who kills either of them has reached the pinnacle
of the trophy hunter's world."
Fred said recently that the animal he had long considered to be the top hunter's trophy also provided him with his most exciting and memorable hunt "Well, I had a lot of most memorable hunts, I guess. The most exciting of course, was when we were ambushed by a lion for half a night in Africa. I've spent a few nights in a tree with a grizzly down below and a couple cape buffalo have come close and then there were the polar bears. I guess you can call them memorable in terms of excitement.   In just the case of excitement my most memorable hunt would be the lion because in most of the exciting experiences I have had, the high point was over in a second or two. You knew you were either going to get in trouble or not. But the case of the lion went on for about six hours and that certainly was memorable."
A short time after his encounter with the lions of Portuguese Africa in 1965, he recalled the story like this:
"I eased to my knees and picked up my bow. There were two lions, both big-maned males lying beside the wildebeest carcass.  Quietly as I moved, they saw me instantly, stopped feeding and stared balefully at the blind.
"One was broadside to me, with his head turned in my direction. The other lay
behind him facing us head on. I picked the closest one and drove my arrow for a spot
behind his shoulder.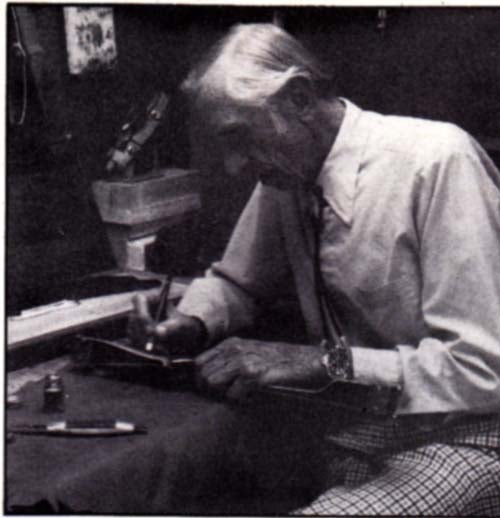 "There wasn't enough light to follow the arrow's flight but the lion left no doubt that it had been hit. He ripped out a roaring blood chilling snarl and both animals sprang to their feet.   The rear one shot off to the left running in long bounds. The other curved hell-bent toward the blind, growling and roaring But when he was only yards away, he swerved off to the left and streaked past
within a few feet of us. The last we heard of him was an ear-splitting roar out in the gathering darkness.
"For another 10 minutes; there was dead silence, with five pairs of ears straining for some sound that would tell us where the lions had gone and what they were doing. When it was full dark one of the pair announced his return with a roar that came from no more than 20 yards away and rattled the very leaves of the blind
"One thing we knew for sure. If either lion was bent on revenge, our brush blind would no more stop him than a garden fence stops a hungry deer. He wouldn't even have to smash through it. He'd come sailing over and the last we'd see of him would be his black silhouette against the faint light that still lingered in the sky.
"There was half an hour of agonizing silence. Nobody moved, spoke, coughed or even cleared his throat My legs were getting stiff and cramped but it was imperative to endure it without stirring. It was cold but no one so much as touched his blanket Tension and suspense filled the blind like fog.
The lion ripped the night apart once more with a long series of roars and snarls, again only a few yards beyond our barricade. I've heard bears, tigers and even elephants scream their anger and defiance, and any one of them can make the hair on a man's neck stand up like porcupine quills. But I don't believe any other sound that comes from an animal's throat is as awesome and frightening as the roar of a lion close up.
Another half an hour went by, seeming like half the night.  Then the situation took a new turn.
A lion spoke up from half a mile away giving the half purring half moaning get-together call and another answered farther off in the distance. I had listened to those typical sounds of the African night before and thought them interesting and thrilling. Now they turned my blood to water. Our lion didn't give us much time to worry about any other, however he let go another bone-shaking roar.
After a few minutes, the lion roared again. The silence settled down and nothing happened for an hour. At the end of that time, Luiz (one of the native guides) inched over to our side of the blind.
"Baas, I can hear lion eating," he said. " I think he feed on the dead one."
We cocked our ears and sure enough we could hear the ripping of flesh and the clicking of teeth out there in the dark, 50 or 60 feet away.
For the first time we had something to go on. It was very unlikely that a wounded lion would be feeding and if this was the unwounded one, quarrelsome as he was, we were in less danger than we had feared. But if Luiz's hunch was right by morning, the pelt of my lion would be torn and worthless.
"Will one lion really eat another?" I asked Wally, my guide. "Indeed they will," he assured me.
By this time the tension in the blind had become too much for the native guides to bear, and they issued the ultimatum of either climbing the trees or going back to camp. Knowing that the trees would not support the three natives, and that any commotion was likely to bring on a charge from the lion, Freds party decided to make a break for it in the car.
Taking nothing but the guns with them, they piled into the car, stomped on the starter and knifed out into the African darkness.
"To my immense relief," Fred continued, "the first thing we found when we went back the next morning was what was left of the python (shot the day before by Fred while making the blind). We agreed that it might have been the snake on which we had heard the lion feeding and our hunch proved good. When we picked up the blood trail of the lion I hit and followed it for 200 yards,
we found a magnificent cat stone dead since the evening before. Needless to say, I didn't give the python another thought "My arrow had gone in low, back of a foreleg and ranged through both lungs, causing severe hemorrhage. A full-grown male with a heavy mane, he weighed 460 pounds and measured an even 10 feet pegged out.
"Looking back on those thrilling hours in the blind, with the lion growling and feeding in the darkness, I couldn't blame the guides for not wanting to lion hunt again. But when I got back to camp, and I saw him reaching four feet above my head with the tip of his tail brushing the ground, I knew I wouldn't trade that night for anything that ever happened to me on a hunt He was the greatest trophy I have killed, and he left me, as a bowhunter, no place to go."
But Fred's conquests as a hunter did not end after that long six-hour wait in a blind on the flats of Portuguese Africa He went on to down a polar bear, after three trys, 500 miles north of Fairbanks, Alaska and a 1,800 Asiatic buffalo in Brazil. Even today he is a familiar face around many campfires in the United States, offering a tale of adventure or two.
Anyone who has been lucky enough to hear Fred spin a tale has heard one of the masters. You may be sitting in an auditorium, but when the griz growls and the guide's hands are skinned as he climbs a tree for safety, you can taste the adrenalin in your mouth. With the gestures of a magician.  Fred can tell a story that rivals those of Davey Crockett and Mark Twain. Those
who have heard his tales more than once may notice slight changes in "fact' as he draws them together for the audience, but it doesn't matter since the end result of excitement is always the same.
Fred is one the few individuals who has had the opportunity to hunt most of the game animals the world has to offer. He has hunted above the Arctic Circle, at the Equator and in lands untouched by modem civilization. Based on that experience, he said that if a hunter had only one "exotic" hunt to go on in his life, he should go to British Columbia or Alaska.
"Now, Africa is great," he said, "but in British Columbia or Alaska you can drink from any stream you happen to run across.  The hunting conditions are much better and the terrain won't be burned up like it is in Africa during the dry season when you hunt. The mountains, the snow capped peaks and trees-yes, that s what I'd recommend. You won't see nearly as much game, but after all the kill is the anti climax. You go to enjoy yourself and to have fun in the outdoors with the birds, the bees, the animals, and the people."
To say that Fred represents that last generation of the wild and free American hunter would be unfair. To say that his contributions to both bowhunting and conservation make him an outstanding American would be much more appropriate.
And although Fred's tales of excitement are untarnished with the years, the role of the hunter has taken on an increasingly important duty. Today's hunter, Fred said, should be more concerned with environmental issues. With the nation's foremost conservationist Teddy Roosevelt, to serve
as his "idol," Fred has taken a leadership role in backing sound conservation practices. People should take time out of their leisure hours to help promote conservation practices, he said
"Too many hunters today place too big an emphasis on the kill. When you read the stories, the emphasis is too much on the kill-instead of being in nature's great outdoors," he said.
"Too many people are uncomfortable in the woods. They don't feel at home when actually they should be. The woods is a friendly place. Yes, the woods is big place to get lost in, or to get into trouble in, but the main thing when outdoors is to use good judgment stay out of trouble and have a good time.
"A downed animal is most certainly the object of a hunting trip, but it becomes an anticlimax when compared to the many pleasures of the hunt.  A period of remorse is in order. Perhaps a few words of forgiveness for having taken a life. After this there is a self-satisfaction for having accomplished a successful stalk and made a good shot.
"But a hunt based only on trophies taken falls short of what the ultimate goal should be. I have known many hunters who, returning empty-handed, have had nothing to say of the enjoyment of time spent in nature's outdoors.
"I like to think that an expedition should be looked upon whether it be an evening hunt nearby or a prolonged trip to some far off place, as a venture into an unspoiled area. With time to commune with your inner soul as you share the outdoors with the birds, animals and fish that live there.
And  in another vein, if it is a lengthy trip, select your companions well. A hunting trip
is a great place to test the mettle of your friends.  "I feel like one of God's chosen people, having had the experiences I've had in his great outdoors," said Fred. <–<<
Leave a Reply
You must be logged in to post a comment.