Published by archerchick on 21 Mar 2010 at 08:57 pm
Spring Turkey Tactics – By Randy Templeton
MAY 2005
Fool Your Trophy Tom Using These Proven Methods
http://www.bowandarrowhunting.com
Coming over the rise, he bellowed an eardrum-rattling gobble and strutted
for the decoy. It wasn't long after two younger toms brought up the rear,
and it was soon perfectly clear which of the three was the boss gobbler on the ridge.
When the dust and feathers settled the big tom headed straight for the decoy but stopped
mid-stride and made a beeline for higher ground. At the time I couldn't figure out what had gone
wrong, but I was soon enlightened when a mangy coyote came running over the ridge. I feared the jig was up and the hunt was over.
I continued to call and much to my surprise it wasn't long after another tom answered my calls. It
sounded like the sarne tom that had been chased off. Evidently my assembly call was working.
Only minutes later I spotted the old gobbler's head craning over the brush. The second he hit
the clearing he let out a double gobble and headed for the decoy on a dead run. At 20 paces
a Muzzy broadhead sliced through his vitals, putting the 25-pound bird in my game vest.
Most turkey-hunting gurus are sure to tell you hunting turkeys with archery gear is tough, but it also offers the ultimate challenge. Let's take a look at several ways to improve your chances of tagging a trophy longbeard with your bow this year.
USE THE RIGHT GEAR
To be a successful turkey hunter it helps to have the right gear. Turkeys have excellent eyesight, so good camouflage is essential. Try to match your camo pattern with the surrounding
terrain and vegetation.
Likewise, the same can be said about concealment. The toughest part of killing a sharp-spurred
tom with a bow is getting drawn without getting picked off first. When I first started hunting these wary birds, popup blinds hadn't been invented yet, my blinds then consisted primarily of brush
and burlap. Although I killed a few birds, it was nothing like today using blinds made by Double Bull Archery and Cabela's.
A turkey's vital area is not much bigger than a baseball, so it's more important to be accurate than to shoot heary bow poundage. You don't need to shoot more than 50 or 55 pounds to get adequate penetration.
Hit a turkey in the vitals or spine with a good, sharp broadhead and there's a good chance they'll go down immediately. I believe any broadhead will get the job done. I've killed birds with mechanical heads like the NAP Gobbler Getter and Spitfire, but also with fixed-blade heads like the Thunderhead and Muzzy 125.
LEARN TO READ THE SIGN
A good turkey hunter scouts heavily and knows where his quarry roosts and struts. A
week or two before the season opens, spend time glassing suspect roosting areas from a
distance during the last hour of daylight. Once you've located a roosting sight, then spend time glassing at first light and find out where the turkeys go when leaving the roost. On opening day, set up an ambush and waylay your bird.
You might also consider scouting the property on foot. The late Ben Lee (the well-known turkey call maker) once told me that a gobbler likes to roost close enough to water to hear his droppings splat. I've since realized there's a fair amount of truth to that and I now look for roosting sights near waterways. If you find droppings and feathers beneath large, mature trees you can be sure turkeys are roosting overhead.
Differentiating between gobbler and hen droppings is fairly easy. A gobbler's droppings
are elongated and often shaped like the letter 'J," whereas a hen drops compact piles or
wads. Droppings with a chalky appearance are generally very old.
Keep an eye open for scratch marks in the timber too. Turkeys scratch up cow pies and
turn over leafs and bark from trees searching for their daily intake of insects like crickets,
ants, grasshoppers and caterpillars.
One way to determine whether or not the scratch mark are old or new is to know when
it last rained. If it hasn't rained recently and the scratch marks are sharply defined, chances
are the sign is fairly new. Likewise, if scratch marks appear washed out then they occurred before the last rain.
Also, look for tracks after a rain. You'll find tracks near crop-field edges, creek/river- banks, dirt roads and other areas void of vegetation. If the tracks you find in a given area
are few, chances are you won't find many turkeys either. Continue scouting until you find an area with more abundant sign.
Turkeys also like to dust in dry and powdery soil almost daily. They use the same
locations year after year, much like whitetails do with annual scrapes. Dusting sights are
typically shaped like a bowl and you'll often find them near field edges, dirt roads and
sandy spots. While scouting, keep a keen eye open for a dusting bowl and you're likely to
catch a tom frequenting it during midday.
CALL SPARINGLY
I'll be the first to admit that I'm not a world champion caller, but I've learned enough to get the job done. For me, there's nothing more exciting at the crack of dawn than to have turkeys gobbling their fool heads off from a nearby roost. In the early years, when a turkey gobbled, I called back.
The longer the conversation would drag on, the louder my calling became. On some occasions it
worked, but other instances the tom would shut up and move away silently. The point to be made here is that beginning hunters often make the mistake of calling too much or too loud. Either one could chase a wary gobbler off!
If you've got a few years under your belt, then you know an old longbeard has the knack for taking a fancy to one hen at a time. A wise old tom wont always come to any one call so learn to "talk the talk" on several types. It might be a mouth, slate or box call that coaxes in the tom, so be sure to carry a wide variety of calls.
THE RIGHT SETUP
Killing a turkey on any given day is a matter of being in the right place at the right time and using the right call. If you can't set up in the right location you surely wont kill a turkey. Turkeys
like to strut in open lanes or green meadows, so avoid thick, gnarly timber ridges or tall grass fields.
Two seasons back I had trouble closing the distance on three old birds that liked strutting the edge of a plowed cornfield that was surrounded by a CRP field. I had scouted the area the week before and watched the toms work the edge of the field. The closest spot to set up was some 60 yards away.
For two days in a row I called the gobblers to the field's edge, but they stopped short of my effective range.  On the third morning I moved the blind to a narrow green strip 10 yards away.
As the first hint of light gave way I let out a couple of soft clucks, and all three gobblers responded from their roost in unison. A few minutes later it was a fly-down cackle, several yelps,
clucks and purrs that brought the old sultan strutting into range.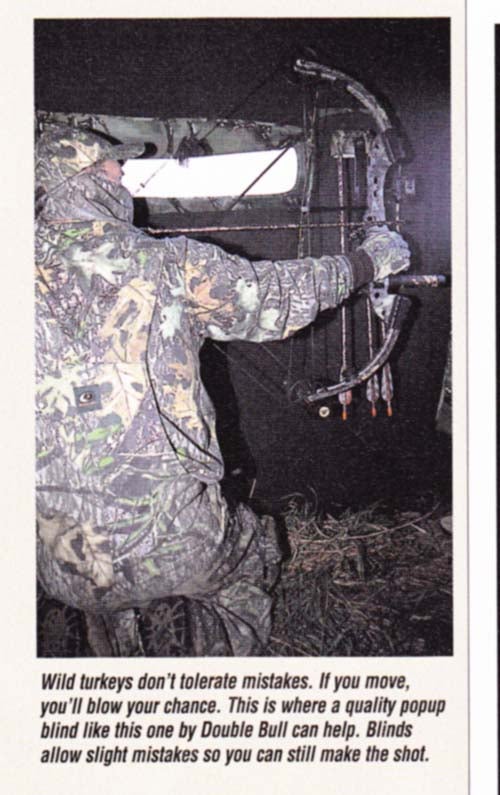 PRESENTATION IS EVERYTHING
All gobblers have distinct personalities and some are pretty moody, so success could hinge on your call presentation. Take for example a turkey that continues to answer your call with a gobble versus one that gobbles every five or 10 minutes without any rhyme or reason. The tom that continually answers is the one that's probably "hot to trot" and offers the best odds of shooting. There could be several reasons why the other tom is less talkative. For instance, he might be
call shy or he is with a hen.  Regardless, you'll need to assess the situation and weigh out the odds.
The afternoon of opening day this past spring I had an o1′ gobbler hang up for nearly an hour before I was able to serve up the right combination of calling and persuade him into committing.
I set up my blind 20 yards from the edge  of a green strip bordering an untilled soybean field. To test the temperature of the birds in the area, I began with a few yelps and cutts.
Almost immediately a gobbler sounded off and within minutes he appeared along the edge of the field some 100 yards away. As I continued using the same series of calls, the tom moved
closer. Unfortunately, for every two steps forward he took one back the opposite direction. When I limited the calls to just yelps and purrs he began shaving off the distance.
At 25 yards I drew my bow and let the string slip free. The instant the broadhead hit the tom he flew straight into the air and then slammed to the ground in a heap.
IT CAN TAKE TWO
Every year the majority of hunters take to the woods alone. As the season grows long it's not unusual for turkeys to become wary of anything that sounds like a single hen. In this scenario a call-shy tom is more apt to come into what sounds like more than one hen. Therefore, you might consider "doubling up" on a gobbler if you've failed alone.
Another twosome tactic is for the shooter to stay put while the caller continues to move away. This sounds like a hen moving away and has a tendency to give the gobbler the idea a hot hen is slipping from his reach.  When a bird consistently "hangs up" and you've made several fruitless attempts, you should pair up with a friend. This tactic positions the shooter in the general location where the tom has been hanging up.
BE PATIENT
One of the biggest dilemmas in turkey hunting is knowing what to do when a tom hangs up just out of range. More often than not there's usually a barrier that prevents him from progressing all the way. In most cases it's a barbed-wire fence or deep ditch.
Regardless of whether the turkey stops answering or continues to answer but won't come in, the first thing I usually do is stop calling and wait 15 minutes or so. If the turkey doesn't show, then I'll move in the direction where he was last heard and call again. If the turkey continues to answer then there's a good chance of killing him. If he wont answer after making a couple of moves then it's probably a lost cause.
The odds of calling a tom away from a hen are slim but not impossible. I've done it a couple of times. I've actually had better luck scattering the flock and then calling the gobbler
back a few minutes later.  Like whitetail hunters, turkey hunters have a tendency to leave the
woods too early. Experience has proven that restless gobblers begin roaming the woods looking for hens or strut on hilltops in exhibition during the midday hours.
If you know or suspect a gobbler is "henned up," you might consider waiting until late morning or early afternoon (in states that allow late hunting) to try calling. A tom will sometimes leave his hen midday to search for others, at which time he's vulnerable to calling. On a couple of occasions I've called in the same tom later in the day that was non-responsive in the morning.
USE A BLIND
Although I've bagged turkeys with my bow by spot and stalking or ambushing them in various ways, erecting a blind is the best way to go. The type of terrain often dictates the best method for ambushing a gobbler. Let's take for example gnarly dense cover. It's nearly impossible to spot and stalk through it without alerting a bird. A better approach might be building a blind from the
natural surroundings or using a popup blind.
This reminds me of a big gobbler my brother Mark was hunting back in the 1980s. The old tom liked strutting along a fence line on top of a hill where he could see all around. There was a big pile of old wooden fence posts in the corner that Mark used to build a four-sided blind along the
fence line. The following day he killed the old bird at 20 paces.
Big toms aren't pushovers and they don't come running to everything that sounds like a yelping hen. To consistently tag a mature gobbler each spring you need to stay on top of your game. No single tactic will guarantee success, but a combination of the tactics mentioned in this article is sure to up your odds. <–<<
Archived by
ARCHERYTALK.COM
all rights reserved
Leave a Reply
You must be logged in to post a comment.