Published by archerchick on 22 Feb 2010 at 11:47 pm
Aquatic Archery – By Mark Morrison
April 2005

Spark up the off-season by hunting these underwater targets.
http://www.bowandarrowhunting.com

To archers like myself who eat, sleep and bleed bowhunting, it seems there's never enough time to bowhunt. When there is ample time, sometimes our prey is scarce and the waiting game we play can become monotonous. The same can also be said for sport fishing. However, when you combine these two great past-times-bowhunting and fishing-you'll step into an all out action-packed activity called bowfishing, one of the fastest growing segments of archery today.
The list of rough fish species available to bow-fishers across the United States is nearly endless. Due to their wide distribution, common carp, buffalo and gar are the species most often pursued. Because of their ever-expanding range and penchant for rapid reproduction, carp are the top fish hunted by bowfishers. Average size "bronze-backs" range from 10 to 15 pounds. But they regularly reach 40 pounds and monsters as large as 80 pounds have been harvested by fishing archers! Carp are strong fighters that prefer wild close-in, fin-to-toe battles.
Arguably the most aesthetic of rough fishes are buffalo (including bigmouth, black and small mouth), which have a distinctive color scheme that features jet-black dorsal areas that fade into shiny silvery-blue sides. Typical buffalo weigh 10 to 15 pounds and trophy specimens grow as large as 30 to 60 pounds! Buffalo are speed merchants, well known to knowledgeable bowfishers for their tremendous battling skills. When struck with a well-placed fishing arrow buffalo don't hesitate to employ their inherent speed to streak bullet-like for deep-water sanctuary. It sometimes takes a Herculean (but always fun) effort to bring the fast departing fish under control!
Although gar (shortnose, spotted, long-nose and alligator) are found throughout the U.S., they are more predominate in southern waters. Typical spotted and shortnose gar encountered on the water average 5 pounds and hefty specimens will weigh as much as 10 pounds. Longnose gar (easily recognized by their ultra-long, tooth-filled 'noses") weigh 5 to 20 pounds and monsters as large as 50 pounds have been bow-bagged in the extreme southern tier of their range. Alligator gar are the monarchs of the rough fish world. "Gator" gar inhabit rivers and reservoirs in the gulf coast regions of states like Texas, Louisiana, Alabama and Florida. These gar are formidable opponents that can tip the scales in excess of 200 pounds! Although any size "gator" gar can test a bowfisher's mettle, seasoned fish hunters agree that the bench-mark for trophies is 100 pounds.
Longnose gar are plentiful only in a few water ways in my home state of Minnesota. Still every spring and summer, I make many treks to a few select area lakes and aim all my efforts at chasing these challenging fish. One steamy Saturday last July still stands out in my mind. The wind was dead calm, the air sultry and the intense sun had sizzled the temperature to near 100 degrees – nowhere near ideal conditions for any other bowhunting pursuit but perfect for hunting heat-loving longnose gar.
I cranked my outboard to life and raced across the lake toward a small inlet stream. I figured where the creek emptied into a weed infested bay, good numbers of gar should be there to feed and loaf. To avoid spooking the gar I shut the outboard down 100 yards from the inlet. After scrambling upon my elevated platform and lowering the electric foot controlled trolling motor, I began a methodical stalk toward the weedline. The coon-tail weeds were unusually thick…perfect habitat for gar.
Approaching the inlet I was astonished to observe an estimated 100 gar lazily hanging out at varying depths within the weeds. I immediately stopped the trolling motor and silently drifted through the incredible school of gar. My search for a suitable trophy didn't take long, because a huge long-nose unexpectedly surfaced and gulped air not 5 yards off the boat's bow!
I carefully brought my recurve to full draw, picked an aiming spot on the gar and drove my heavy Muzzy Penetrator arrow at the gar's enameled hide. The arrow's impact was akin to striking a match to gunpowder. One moment the gar was slowly slicing through the water, the next it was displaying acrobatic maneuvers that would've made a sailfish seasick! The sight of a 5-foot gar completely clearing the water and shaking it's toothy beak from side to side was awe-inspiring.
The sharp Stingray fishing point and 350-pound test BCY synthetic line held firm and I soon had the gar reeled alongside my boat. Since I didn't relish having my hands raked to shreds by the gars protruding razor-like dentures, I was very careful when I grabbed my arrow to hoist the fish aboard. As soon as that was accomplished I permanently silenced the gar with a sharp rap from my "bonker" ( a short section of steel pipe).
This is necessary because a gar of this size coming to life in the confines of a boat can cause a lot of havoc including spilled tackle boxes, shredded clothing and lacerated body parts! Hanging the substantial fish from my electronic
scale revealed it to weigh an incredible 19 pounds. I couldn't have scripted a better start to my day. Bagging trophies like the above
mentioned gar is the result of pre-season scouting and realistic "on the water" archery practice. Successfully arrowing underwater prey requires you to compensate for light refraction. Simply put, refraction bends light rays in such a way that fish always appear higher (or closer) than they actually are. To compensate for refraction you must aim low to connect with your quarry.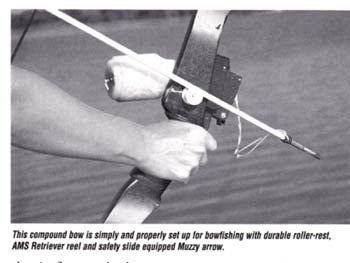 How low? That knowledge only comes with shooting experience. The best rule of thumb is to aim low, then aim lower! Soon your instincts will take over and you'll begin hitting with surprising consistency! Since no two bowfishing shots are alike in range or depth, sight-equipped bows are a hindrance. Shooting instinctively and letting the shot happen naturally is the ideal method for arrowing rough fish. Also, to block out annoying surface glare and make the task of spotting and arrowing fish easier it is a must that you wear a quality pair of polarized sunglasses and a hat with an efficient sun blocking brim.
My above gar hunt represented a typical, (albeit very exciting) bowfishing outing. Previously, I started my season in early May hunting for bowfin (dogfish) and common carp. I usually continue to hunt carp, buffalo and gar throughout the summer and into early fall. I also travel to neighboring states to hunt Asian bighead carp (a plankton feeding river-ine fish that can easily attain weights in excess of 50 pounds) and white amur (grass carp).
Even with all this variety, I always find time to make several forays for "dusk to dawn' hunts. My bowfishing rig sports a 2,000-watt generator which sends power to a bank of halogen lamps that pierce the inky blackness, illuminating the water around my boat for 10 yards. Despite the constant humming produced by the generator rough fish like buffalo, carp, sheephead and gar are more relaxed at night and far easier to approach. In fact nighttime bowfishing is so productive many bowfishers (especially those in southern states, where day- time temps can reach dangerous levels) ignore day-light hunting altogether and do all of their bowfishing under the cover of darkness.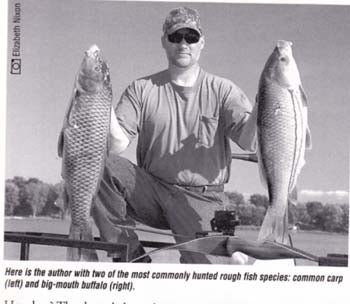 I've been a self-proclaimed bowfishing addict for 20 years and I've acquired all the latest gear to make myself a more efficient predator of fish. I didn't start out that way though. Like many other youngsters, I literally cut my bowhunting teeth on rough fish at an early age. Each spring when the annual sucker spawning runs were in full gear my buddies and I would grab our little fiberglass recurves and wooden arrows (equipped with crude homemade barbed fishing heads) and dash for the nearest creek in anticipation of filling our stringers with cold water suckers.
Those early days provided a lot of action (which is what restless young archers crave) in the form of endless shot opportunities and heavy bags of fish. But, the real challenge was bringing our fish to shore after a successful shot, You see, at the time we neither had the inclination or resources to attach a reel and line to our bows. So…after arrowing a fish we'd simply ditch our bows and race downstream after the fast departing fish! Knowing where the fish was in the stream was fairly easy; we just had to keep an eye on our brightly colored fletchings juning up like oversized pencil bobbers through the water's surface. Of course, we had to sprint well ahead of our quarry and ambush them on a shallow stretch to finally bring them to hand. This was accomplished by grasping the arrow and fish simultaneously and tossing the squirming, slippery prize onto the bank.
It was definitely great fun for neophyte archers like us. Because bowfishing is a year-round, day or night sport in many states, it is ideally suited for passionate bowhunters of any age looking to extend their hunting season. Be careful, however because bowfishing excitement is contagious. Your bowhunting goals may soon include harvesting trophies like 4O-pound carp, 50-pound buffalo fish and maybe even 5-
foot streamlined predators with bony armatures and mouths stuffed full of needle sharp teeth!
Archived by
ARCHERYTALK.COM
all rights reserved
Leave a Reply
You must be logged in to post a comment.