Published by archerchick on 22 Feb 2010 at 11:57 am
12 FEET UP – By Rob Evans
April 2005

After 32 record-book bucks, this Minnesota bowhunter doesn't see any disadvantages of low treestand perches.
http://www.bowandarrowhunting.com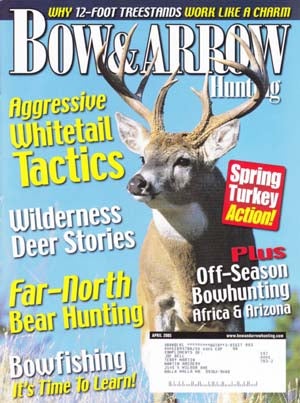 My hunting partner had told me that my perch for the day would be a mere 12 feet above the floor, so I was pretty certain that I could keep my dramatic fear of heights at bay. I climbed up the tree at "0 to dark-30," and waited for the sun to wake up.
As the darkness began to slip away, I looked below me and found that while one part of the tree was only 12 feet high, the stand that I was sitting in was over a ravine. There I sat, staring at an abyss that was no less than 80 feet below. My job, my partner told me, was to simply shoot across a narrow ravine to a well-use trail. All I could do was fight off a panic attack. Sweat Poured out, I was shaking, and my fingernails were blood red as I hugged the tree down to safety. We came back later, and my friend retrieved my bow and other gear as I sat firmly planted below.
I won't lie, my hunting style was born due to my fear of heights, but I've learned that there is no reason a person needs to sit 20-plus feet high as many trophy hunters claim. In fact, I can sit and look at some 32 record-book bucks mounted in my home that prove my point. I don't unveil my buck kills to boast, but rather to prove that there is no shame in hunting low.
I've taken my fair share of ribbings from my "expert" buddy trophy hunters. But the fact is, while in the Army, I learned to improvise, and that's just what I find myself doing by hunting low exclusively out of ladder stands.
Precautions Are Needed
First off, I don't believe that hunting low always that deer will be able to scent a person. In the morning and evening when hunting, when hunting is often best, many time the wind is often low. With that in mind, if I'm sitting at 12 feet and whatever scent that exists might disburse similar to a cone, like sonar. Say my scent goes down and out from the tree at ground level out about 8 feet. Well I better make sure that the shots I need to make are 20 yards or better from my stand so that the bucks just won't nail me. If a person is 20 feet or higher, their scent has a longer time to expand before it hits the ground, meaning that a buck has more scent surface area in which to detect you.
As with any hunting situation, I am almost overly cautious with the way I enter and leave my stand. At no time am I going to sit a stand if I have walked an area where my scent could blow into a buck's lair. Further I often have two stands setups for hunting-one spot so that I can manipulate the wind in a matter that will keep my scent safely away from the deer.
My de-scenting preparation is extreme. Wildlife Research offers plenty of elixirs that not only mask, but also kill unfriendly odors. A Scent Lok suit is all the additional insurance needed to keep scent bottled up.
I also de-scent all my equipment- from my bow to my ladder stand. As I set up, I'm wearing rubber gloves, and I douse my equipment with spray. Once I set up my ladder, as I descend the the stand, I soak every rung of the ladder with spray so it is literally dripping when I'm at ground level. When I come back to hunt the spot, the stand and all around it is void of any impure smells.
One buck, shot in Minnesota back in 2002, was taken not more than 10 to 12 feet above the ground. I was hunting a small 1/2 -acre wood lot off of a picked corn field and slough. The spot was small, so most hunters would think with it being in the open that a person would have to get really high to evade a buck's glance.
I found a low cedar tree off a fence row that was perfect, but not very tall. I passed up several nice bucks in the couple of times I hunted, having and eye on a nice 150-class eight-pointer. Having no luck, I laid a scent trail from the slough from a hot area I had located about 60 yards from my stand. I put just a drop of scent from the hot area all the way to my stand and just past. I never put too much scent down, just enough to spark curiosity. In this case, we were talking about and early December hunt, so the bucks were by no means in peak rut.
After laying the trail a few hours later a 187- inch 12- pointer walked right where he needed to be. He returned to his slough about 60 yards away and fell over dead.
Aren't Ladders Cumbersome?
A friend of mine who was sold on portable hang-ons and tree steps once bet me that he could get set up much quicker than I could. The bet was that we had to set up the stand, fire an arrow, and return to the truck. He had 12 tree steps and a hang-on; I had my ladder stand. We both set up and I was back at the truck sipping on a glass of port I had in my backpack. He never gave me the business again about my ladder stand and it's cumbersome qualities.
Customize Your Stand
When I hunt, I do it with intelligence about the area I plan to use. I scout during, before and after the season so that when I need to set up I'm in and out quickly. For the early season, I set up by midsummer and have everything ready to go for an opening weekend hunt. For the pre-rut and rut, I will have a stand ready in the general area that basic hunting principles show: funnels, bedding areas and food sources. The same goes for late-season hunts; you need to have some stands set, but I always carry extra in case I need to improvise.
When I set up a ladder stand, I always try to do it in a cedar or pine tree. For one, they offer added scent blocking, And two, they offer good cover. I try to never cut any branches from the tree I'm hunting in, but instead, tie off limbs to my stand for an ad-hoc blind around me. I carry some twine and a large bolt with me. When a limb is in the way, but too high for me to reach, I tie the twine to the bolt and toss the bolt up above the limb. Then I pull the limb down and tie it to the the rungs of the ladder. I can make a blind in this fashion in just a few minutes and literally envelope myself in a cocoon of limbs that no whitetail will see through.
I've had big bucks bed right below me, and even have had them scratch their backs on the ladder itself. If you do things right, with regard to scent control and camouflaging the stand there is no better cover out there.
Subtle Tips
Often times guys tell me that they set up stands high so they can get away with more movement on the stand. To that I say, if you are comfortable in the stand, you don't need to be shifting around and stretching every few minutes. I'm 60 years old now and I like to be comfortable and safe when I hunt. A nice ladder is easier to climb, has a big platform and a comfortable seat that many smaller portables don't offer. You have to be in the woods to shoot a deer, and ladder stands just make the hunt more enjoyable. To further the ladder's benefits, I have often used individual sections of them to carry/drag game out of the woods.
Beyond Strategy, Luck Plays a Factor
Beyond the tools a person chooses to use in their pursuit for big bucks, I want people to know that I don't think of myself as the most skilled hunter in the world. I'm lucky. And luck plays 75 percent of the game. Sure, a person needs to hunt using sound strategy, and they need to play the wind; they need to hunt smart. But the bottom line is that a person needs some luck to take large bucks, and for that matter, they need to hunt in an area that has large bucks.
Each person may have their own standards for what they call a trophy animal. But I think that when they pursue that animal, they can do it from the 5- to 12 – foot range just as I have and be just as successful as the cowboys out there who claim there noses need to bleed from their stand.
Archived by
ARCHERYTALK.COM
all rights reserved
Leave a Reply
You must be logged in to post a comment.