Published by archerchick on 06 Jul 2011 at 10:19 pm

Bowhunting World
February 1990
ELK HUNTING'S AGONY & ECSTASY
By Patrick Meitin
"What time is it!" I jumped from my sleeping bag and threw on my
clothes. It was opening morning of elk season in southwestern New Mexico
and the alarm clock had not gone off. With a lot of panicked rush we zoomed
out of camp on the four-wheeler, clutching precious bows and daypacks for
dear life. A line of silver began to crack in the eastern horizon. We zipped
around corners, bounced over rocks, and just in the nick of time arrived on
the mountain we would hunt. We were off to a hectic start, but I was elk hunting
and I could have cared less.


I started up a canyon that I knew had elk in the past. I heard a faint bugle at the
head of the canyon and pressed hard to reach it. The forest was damp and quiet, as
a soft mist fell from the low, fog-like clouds. Upon reaching the head of the canyon
I again heard the bugle, but much closer this time. Wooeeeeeeeock! Bugles began to
sound from all directions, at least five of them – mostly bad. Damn, I wasn't alone.
It looked as if my surefire spot had been discovered. "There is at least one real bull
up here, maybe I can find him before the crowd does."
I slowly approached the saddle at the head of the canyon I had been following noticing
the three sets of fresh elk tracks in the rain soaked ground. I heard a faint click of hoof
against rock and dropped to the ground beside a well worn game trail. I grabbed an
arrow from my Catquiver and felt the razor sharp edge of the Zwicky that tipped it, and
quietly nocked it. The two beasts rounded the spruce tree—–horses!
The riders stopped to chat a while, noting
all the "elk bugles" they had been hearing.
They seemed real proud with their logic of
bugling from horseback, saying, "The elk will
think it is another bull walking toward them."
My somewhat sarcastic response, "More
likely you will get shot."
That was it. I shifted my pack for a better
ride, looked skyward hoping it wouldn't rain,
and made a beeline for parts roadless and remote.
Five miles later I sat huddled under a
tight branched pinion tree singing, "Rain,
rain go away . . ." It must have been about two
in the afternoon before the cat and dog rain
finally subsided.

I began to stillhunt down a thickly covered
ridge and really started to get into the sign. It
looked like a hundred bulls had gone on a tree
thrashing rampage. I caught movement
through a hole in the thick brush and froze in
my tracks. A yearling elk calf walked into an
opening only 20 yards away.
As I stood motionless, mostly in the open,
several cows began to filter out of the brush a
little farther than the calf. I knew there had to l
be a bull with the herd. A deep, throaty bugle
not far away confirmed my suspicions. It began to
rain again, I slowly reached around and
slipped an arrow from my quiver. Just then a
small 4×5 bull walked out to join the calf. I
didn't want him. I had decided long before the
hunt, having killed two nice bulls previously, I
wanted at least a 300-inch class Pope and
Young bull.
The wind began to swirl a bit and I anticipated
that it was about to betray me. No
sooner had the thought crossed my mind
when the small bull and the calf grew nervous
and began to tiptoe to my left. The farther
cows sensed something was up and also grew
fidgety. The elk began to move away through
the thick brush. The deep bugle again
sounded from the trees behind the now moving elk
and I readied myself, hoping it would
be a trophy bull. I glimpsed a set of dark,
heavy beamed antlers moving toward the
opening — he was big enough. I drew my
bow.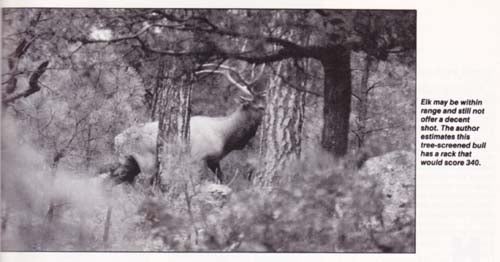 The elk filtered down the ridge. The bull
walked quickly through the opening and offered
only a split second of shooting time. I
got my pin on his chest, panning the bow with
the moving animal. A tree jumped in the way.
He entered another opening. Just as my pin
found its place he disappeared again. I would
not see the bull again. I let my bow down,
exasperated and frustrated. "It's only the first
day, calm down He was a good bull — about
three—forty, but it was not his day to go. I
walked down to a saddle and found a place to
get out of the rain. I fell asleep against the dry
side of an ancient juniper tree, waiting for the
rain to cease.
Suddenly my eyes were wide open, "What
was that?" A bull was bugling in the canyon
below. I glanced around and saw elk everywhere
I looked, mostly cows. I glassed all of
them, but none of them was the trophy bull I
was looking for. I still hadn't seen the emphatic
bugling bull sol stalked down to take a
better look. The bull continued to bugle, making
him easy to home in on. When I sensed
that I was very close I let out a short, high
pitched bugle through my cupped hands. The
bull answered before the first echo sounded
from my own bugle. I grunted as best I could
through cupped hands, and waited. Crunching
rocks and snapping twigs prompted me to
nock an arrow.
As the 6×6 bull walked into the open at 30
yards. my pin settled behind the mud speckled shoulder.
I let the string down slowly and
looked a little harder at the bull's rack. He
would go around two-eighty. It was only the
first day of the hunt, with several more days to
come, and it would be a long haul out of here
with 100-pound packs of elk steaks. I would
let him pass.
I watched the bull lose interest and turn to .
walk away, his ego inflated by having run off
the brave intruder. I noticed for the first time
that it was getting late in the evening. I drew a
deep breath and turned to walk toward the
truck.


I reached the four-wheeler around midnight,
glad to see it still there. Perry Harper,
my long time hunting partner and kamikaze
driver, dragged himself in just behind me. He
was also glad to see the four-wheeler. He too
had bee lined to the rough stuff. He had passed
up a nice 6×6 bull during the day, but having
bagged a 314-inch Pope and Young bull the
past season he was looking for bigger things.
We loaded up and zipped back to camp. Oh,
the dry sanctuary of the tent — dry clothes —
dry socks!
The alarm sounded early the following
morning. Our hunting party gathered in Perry 's
camp trailer to compare notes and decide
where to hunt. Steven Tisdale, a college
friend on his first elk hunt hadn't seen much
game the day before. When I told him he
could have anything that I passed up, he was
more than happy to come along with me. Arriving
at the end of the cow trail "road" after
dropping Perry off, we shut down the engine
and sat back to wait for shooting light. Soon
the sunlight began to creep up the valley. We
pushed the doors shut quietly and went forth.
It was cold and crisp alter the nightime clearoff,
the frost whispered quietly as we walked
through the knee-deep grass. Following a
barbed wire fence, we approached "the perfect
elk meadow," a name that had come to
mind the first time I had seen it two seasons
before. I rounded a huge, ground hugging cedar
and stopped suddenly. I couldn't believe
my eyes — a huge 7×7 bull walked tranquilly
across the meadow with his small harem of
cows. I excitedly waved Steven over to take a
look.
We huddled behind the cedar admiring the
majestic bull. A squirt of talcum powder from
a small bottle drifted back into my face. The
bull brought his head back and grunted deeply
without bugling, then lowered his head to rake
the ground with his horns. I adjusted the diaphragm
in my mouth, pressed my lips against
my grunt tube and let out my best bugle, followed
by five, throaty grunts. The bull
stopped, turned our way, and screamed at the
top of his lungs. I grunted at the enraged bull
and waited. The bull trotted toward us bugling
his head off. "He's coming in."
I shakily nocked an arrow, and looked up
to see the bull still coming our way. The wapati
reached the barbed wire fence 80 yards
ahead and walked behind a screening tree. I
seized the opportunity to move closer. The bull
hopped the fence without touching even a
hair. He continued past at a 90-degree angle,
caring the cedar I was using to hide myself.
I drew my bow. "This is too easy," I thought.


The bull stopped for an instant as the string
slipped from my calf skin tab. At 50 yards the
bull had time to begin walking again, before
the arrow struck. I was in horror, as the arrow
met the elk after one long step. The arrow
disappeared into the bulls liver area. He was
hit, but was it good enough?
The bull spun and ran through the fence he
had jumped earlier and across the open
meadow. then vanished from sight. As we
watched, a small 6×6 walked into view across
the grassy meadow from a line of trees that
jutted into the open.
We watched the 6×6 through binoculars
for a short time, not believing how many elk
we were seeing already, not even 500 yards
from the truck. The small bull walked to one
of the ponderosas at the tip of the peninsula of
trees and stood beneath it's boughs. We
turned away to start our stalk, wasting no time
in getting into the area.
We removed our shoes, and proceded.
Cold feet silent against the cutting ground, we
drew closer, feeling every twig and pebble.
Soon we were close and the chilled western
breeze still holding steady. Steven nocked an
arrow and drew a few deep breaths. He held
up the crossed fingers of his left hand and
smiled. then drifted ahead with me shadowing
him.
The bull rounded a tree 60 yards out, and
froze in his tracks at the sight of the two lumps
of moving brush. Steven slowly drew his bow
and anchored. "Sixty yards — 60 yards," I
hissed quietly. Steven held his bow drawn for
what seemed a long time, then slowly let it
down. "Too far," he whispered.
I cow talked very quietly to the bull but he
was no pushover. The curious bull let out a
loud bark and waited for a reaction. Pushing
the diaphragm to the front of my mouth I
barked back at him. He took a few steps toward
us then stamped his feet and let out another
ear piercing bark, This went on for at
least 10 minutes before the bull turned and
trotted away. Steven said, "If he had been 10
yards closer I would have shot. I just kept
thinking we already had one bull hit, we
didn't need me to wound another. We still
have four days of hunting left." That was a
hard decision for a guy on his first elk hunt.
After taking a short nap, we took up the
trail of my elk. We found one good puddle of
blood were he had entered the trees but from
there the drops were small and infrequent. We
followed mostly hoof prints in the soil when
we lost the blood. As we found even the slightest
sign it was marked so it could be referenced
if we lost the trail. We began to End less
blood sign and the ground had become rockier —
we were making very little headway.
The elks trail ended at the edge of a rim-rock
bordered canyon.
Steven and I split up to search for the bull.
I searched until the sinking sun forced me to
retreat to the truck. I was disgusted. I guess if
you hunt long enough, one day the odds will
catch up with you ~ and you will loose an
animal. Should I have taken the long shot? I
might have been able to call him closer — he
was interested enough. Why couldn't I have
hit him better? I felt sorry for the magnificent
animal. and wished I had never seen him. I
tore my tag from my license — my hunt was
over. Sleep would be difficult tonight.
At first light the following morning Perry
and I returned to where the trail had been lost,
hoping that fresh eyes and bodies could better
follow the trail. I couldn't believe how easy
the trail seemed after the day before. In a matter
of hours we trailed the bull to where it had
fallen. I was thankful that I had found the bull
in time to salvage the meat.
If that valiant warrior had gone to waste I
would never have forgiven myself. I still felt
hollow inside from the circumstances of the
kill, but remembered that nature is often
much crueler.
As Perry and I field dressed my bull we
heard a distant bugle. After we had gotten it
dressed and into the shade we walked in that
direction. We skirted a high rim hoping to
glass the countryside below. Finding nothing,
we sat down to eat our lunch. For no reason at
all I pulled a diaphragm from my pocket and
bugled defiantly to the valley below. Three
bulls answered me. Wide-eyed, Perry
squeaked, "Can you believe that! "
We stalked down the mountain side toward
the closest bull, moving very slowly as we
went. After a few hundred yards Perry
dropped to the ground and nocked an arrow.
He could see elk legs a short distance down
the hill.
I bugled again adding a few deep grunts on
the end. Perry joined me with a variety of cow
calls. The forest became eerily quiet. I saw
the bull for the first time sauntering uphill at-
tempting to find his opponent.
At 25 yards the bull threw his head back to
bugle. Perry drew his bow. The bull took a
few steps forward and stopped again, broad-
side, in the open. Perry 's arrow shot forward
just as the bull stopped. The bright yellow
vanes spun in suspension, then stopped suddenly
as the arrow landed in the bull's side.
The hit was good, and the bull lunged down
the hill with the Delta Zwicky-tipped wood
slicing through both lobes of his lungs.
After a short, easy trailing job we found
the bull down for good, he had gone only 90
yards. Now the work would begin. I left Perry
with his bull and returned to mine to start the
long work of whittling elk into manageable
pieces. I returned to the truck in the darkness
noticing, as I approached, that everyone was
gathered around Steven listening to his tale.
Seeing me, he excitedly continued, after filling
in a few details.
"l hid behind a cedar tree and waited,"
Steve was saying. "The bull kept coming —
straight for me. When the bull went out of
sight I tiptoed around the edge of the tree I was
hiding behind and drew my bow. The bull
walked through a gap at 40 yards. I couldn't
get my pin on him soon enough so I waited. l
swung my bow to the next gap and put my pin
where I thought the bull would be when he
walked through. He walked through the gap
and my pin crossed his shoulder. I let the arrow fly.
The arrow hit him low in the chest
The bull whirled and limped out of sight the
way it had come. I trailed him a while, but
couldn't find any blood so I just went the direction he
had gone — it was getting dark."
I interrupted, "Think he's hit good. Let's
go back and see if we can trail him with a
lantern."
Steven smiled widely, "I found him, he`s
dead! " A handshake was in order.
With three bulls down, the following
morning was torturous work. Boning out
quarters, caping out hides, sawing antlers and
packing meat. But despite the sore muscles,
aching feet and sweat, I wouldn't have traded
it for the world. As the last load of elk steaks
stumbled into sight under the light of the
moon and a blanket of stars, we would stop to
tally our rack scores. Steven's 6×6 bull just
missed Pope and Young minimums at 256 5/8
inches. Perry's heavy beamed 7×7, including
the "devil" points over his brow tines, taped
out at 295 5/8. My 7×7, after 15 inches of
deductions, scored a tidy 337. Not bad for a
bunch of flatland bowhunters!
AUTHOR 'S NOTE: New Mexico elk hunting
is at its best and getting better every season.
Elk populations are up in nearly all management
units and spreading into new areas each
year. Several areas have been opened for the
first time ever. Good elk hunting spots include
the Gila National Forest, units 13, 15A, 15B,
16A, 16B, 16C, 16D, and unit 17; Pecos Wilderness
areas, units 44 and 45; North central,
units 50, 52 and 4; and finally the San Pedro
Park area located in unit 6.
New season dates have been adjusted to
allow hunting during the peak of the rutting
period. Proposed season dates for the 1989
season are September 7-20. Resident license
fees run $38, while nonresident license fees
are $213. For more information contact, New
Mexico Department of Game and Fish, State
Capitol, Santa Fe, NM 87503. <—<<
ARCHIVED BY
www.ARCHERYTALK.com
All Rights Reserved
Leave a Reply
You must be logged in to post a comment.