Published by archerchick on 20 Feb 2010 at 01:09 am
Tarzan's Tips For Beginners by Steve Barde
December 1975

Jock Mahoney's Archery Feats Are On Film, But The King Of The Jungle Shows He Hasn't Forgotten The Rudiments In This Primer For All Beginners!
http://www.bowandarrowhunting.com
December 1975
TARZAN MOVIES ARE as popular today as some decades ago, and a good portion of today's younger ticket buyers recognize the loin cloth-clad hero mostly for his 'gator  'rasslin', vine swingin' and yodelin'.
What most have forgotten or didn't know in the first place is that the character created by Edgar Rice Burroughs was supposed to be a regular tack-driver with the bow and arrow. Not only could he outshoot the late Howard Hill, but he also could manufacture all of his tackle from raw jungle materials with relative ease.
Normal folks realize that authors sometimes create fictional characters with larger-than-life abilities. After all, who really believes that Tarzan could bring at a run all manner of wild game simply through a series of vocal contortions? But, as more than one screen actor has been known to comment, most movie directors are anything but normal!
As an example, ten years ago BOW & ARROW reported the exploits of the then-current Tarzan, Jock Mahoney, on the set of Tarzan Goes to India. Besides riding the herd bull on various elephant stampedes, Tarzan Mahoney was required – among other things – to cluster three fresh-cut, crooked shafts into a half dollar-sized group in a tree trunk some fair distance away. Though remote, this was conceivably possible, if the archer had a good bow. Mahoney's bow Was anything but. As he describes it:
"One end was a sort of arthritic, partial recurve. The other end was twice as thick and curvy as a broom handle. Torque? Yes, the heavy end had twice as much as the small end and in the opposite direction. Every time I shot an arrow in the air, I had to tighten the string, because the bow lost some poop somewhere."
Somehow, the actor managed to put the three arrows into the designated spot from about twenty feet, thus proving the director might have been right all along. There wasn't any doubt in the latter's mind following a later feat with bow and arrow, however.
In this case, Mahoney was astride a charging bull elephant, leading a herd that was stampeding wildly toward a wall in the distance. The script called for Tarzan to launch an arrow far in front of the stampeding herd, the dynamite stick strapped to the shaft blowing a hole in the wall so the elephants could continue rushing forward. As Jock Mahoney relates, he shot the shaft and, after glancing at the elephants surrounding him, looked forward to see the shaft slowly arcing
earthward far short of its intended destination. In fact, it was descending close to the spot Mahoney would reach as his elephant raced ahead!
Perhaps out of self-preservation, he reached out and caught the falling arrow, then renocked and fired it again.  All this from elephant-back at thirty miles per hour, no less! That feat surely would convert even the most skeptical director!
It only was natural, then, to take beginner lessons from a man who'd performed these miracles – especially if he's your father. At least, that's what Princess Meliss O'Mahoney thought.
Brought up on the banks of the Mississippi, Jock Mahoney – legally Jacques O'Mahoney – received his introduction to archery at a young age. His first bows were fashioned from green willow wands, but he later advanced to a sixty-six-inch recurve made of modern materials that generated sixty pounds of pull at his twenty-eight-inch draw length.
So when daughter Princess asked for instruction, Tarzan was ready. He outfitted the lithesome, five-foot, ten-inch actress with an Eichoitz Bowhunter model scaling twenty-five pounds.
"The greatest problem for beginners in archery lies in the fact that they won't admit they can't handle a heavy bow," Mahoney told his pupil, standing in the backyard of his Del Mar, California, home. "They read articles about hunters who shoot sixty and seventy-pound bows, or target champions who shoot all day with forty or forty-five-pound bows, but they find, when they try to pull these heavy units, they just don't have the knowledge or the muscle.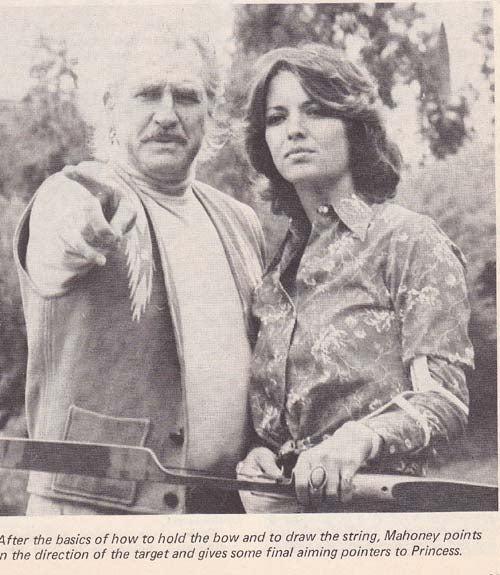 "You build a whole new set of muscles when you take up the sport of archery," continued his daughter's gray-haired mentor, "and it's not just brute strength that puts an arrow in the center of the target. It's a knowledge of how to pull and hold, among other things."
Mahoney then launched into a discourse on the nomenclature of the bow and its assorted accessories, so Princess would know to which part her instructor was referring. He then braced the bow and handed it to the aspiring archer. Being right-handed, she immediately switched the bow to her left hand.
"Don't question, just listen," ordered Tarzan, explaining the process of drawing the arrow back to a constant anchor in this case, the corner of the mouth – with the first finger of her right hand.
"This system seems the easiest to learn, since you have less to think about," informed Mahoney. "Besides, it works great for me and if I can do it, you can"
A Port Orford cedar shaft was withdrawn from a box and the nock, fletching and field point next were explained. The discourse was meant to reduce tension and prevent his pupil from trying to shoot too soon.  "Now, assume a comfortable stance," commanded Mahoney, who recently finished filming To Speak As Brothers in Oregon for release in late 1975. "Set your feet at right angles to the target. Space them apart enough that you've got good balance, but not too wide, Now raise the bow and pivot towards the target."
The tall actor then circled his pupil several times, adjusting and altering her stance slightly. He then moved the target to within approximately ten paces and addressed himself to the matter of proper grip. "There are many styles and methods of gripping a bow handle," he informed his student, who was becoming restless. "You can grip it until the knuckles turn white, but if you do, the bow will have a tendency to torque."
The puzzled expression on Princess O'Mahoney's face led to more in-depth explanation of torquing. "This means erratic flight of the arrow and inconsistency in your shooting and hitting ability," elaborated. her mentor. "Hitting a target consistently is enough of a problem without making additional ones."
Returning to the matter of grip, Mahoney added, "If you open-hand the bow, hold it in the web of the left hand and allow drawing of the bow to hold it in place until the arrow is released, you can develop the habit of grabbing for the bow just prior to release. This also gives bad arrow flight to the target.
"Perhaps the simplest and least-complicated method is to hold the bow lightly but firmly in the bow-hand and, after you've overcome some of the basic problems, you can experiment to find the system that works best for you." "If I have to listen to another
lengthy discussion like the last one. I'll be too old to worry about shooting at all!" grumbled the aspiring archer under her breath.
"We're getting there," answered Mahoney with a paternal glower. "Don't rush me!"
An arrow then was nocked on the bowstring. The nocking point had been installed in the proper position, a quarter-inch above the right angle to the string at the point opposite the arrow rest. "The arrow goes under the nocking point, since it's perhaps easier for the beginner – that's you – to place an upward pressure on the arrow," interjected Tarzan. "There's also less chance of the arrow riding up and causing wild shots. Okay, now draw the bow."
As she began pulling back on the string, her illustrious father reached over and deftly plucked the arrow off the string. In response to her quizzical expression, the erstwhile King of the
Jungle instructed Princess O'Mahoney to try full draw several times before nocking an arrow and shooting.
Realizing it was almost time to shoot, the archer dutifully did as instructed. The arrow was replaced on the string. "Now come back to full draw, then hold until I tell you to shoot," he said, Grinning, she began to draw the shaft, but found it wanted to flop off the left side of the bow, away from the handle. "That's from trying to use your thumb," explained Mahoney. "Cut off the thumb with your mind and forget you have it. You unconsciously try to grasp the arrow with the thumb and you just don't need it in this sport; at least, not with the normal three-finger draw and release technique."
As instructed, Ms. O'Mahoney forgot her thumb and smoothly drew the arrow to her anchor point. Her head bobbed up and down as she tried to see what the arrow and target relationship would look like. When told to shoot, the arrow sailed high and over the target.
"What happe…."
"Don't worry about hitting the target," Mahoney advised, cutting her off. "Just try to get an arrow in the backstop. After you get one in it, then try for the target. You can start trying to drive tacks or whatever later on. Learn to shoot first, then where to shoot."
Another arrow and another miss brought a pained look to the archer's face. "From thls close range, hold the tip of the arrow below the target on the Korky backstop," her mentor instructed. "You don't really see what you shoot at; you see under it at some ranges, over it at others."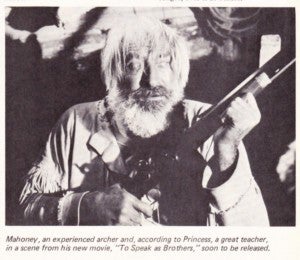 With a dubious shake of her head, Princess O'Mahoney came to full draw, held and, when the arrow plunked into the rubberized cork of the backstop, it was dead-center in the square target.
There's nothing quite like that first good hit to bring smiles to the faces of both student and teacher.
"That's great!" Mahoney erclaimed. "Now all you need do is practice'and keep putting them in the same spot. Problems will develop, but we'll work them out after you acquire them. Telling you about them now could influence your shooting. "All you need for target shooting is to try turning yourself into a shooting machine," added Tarzan, "to put all the arrows in one spot. The oniy difference between the hit you just made and one at a hundred yards is a matter of elevation and aiming. There are factors of wind and temperature, but don't worry about them now."
No matter how advanced she becomes, it's doubtful that this sister of actress Sally Field, and an actress in her own right, will find herself adorned in a loin cloth atop a charging elephant. That would be stretching Tarzan a little far, even for a director!
<– <<
Archived by
ARCHERYTALK.COM
all rights reserved
Leave a Reply
You must be logged in to post a comment.