Published by sarah on 22 Dec 2009 at 11:11 pm
The weather man is calling for a twenty four inch snow storm here in Roanoke county Virginia.   more snow than we will have gotten in fifteen years, also setting records for the month of December!  Anyways, i decide it will be fun to hunt in the snow and i should get to my tree stand before it starts snowing heavily.  As soon as i start walking into the edge of the woods i can barely see through the sno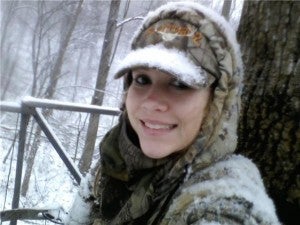 windburn 🙁
w. i don't turn back.  By the time i get to my stand already an inch and a half of snow has fallen and the steps are slippery climbing up.  im sweating and i should have lived in that last moment of warmth.  finally hooked in my stand i start to feel the snow flakes and wind on my cheeks.  windburn was in my future. my big fluffy NON-waterproof coat was starting to turn white and so was the rest of my clothing. i had to stand up to get some of it off before it all soaked in.  this turned into a routine.  an hour has passed and I'm colder than I've ever been in my life, and it feels like the temperatures dropping.  it hurts to look to my left; the wind and snow are hitting me harder than ever.  the next two hours were miserable.  i hadn't seen a a squirrle  much less a deer and i was about to die so i lower my bow down and descend down the slippery steps once again.  up the hill i fell more times than i can count and next time i WILL dress warmer!
4 Responses to "My very first hunting trip in the pouring snow"
Leave a Reply
You must be logged in to post a comment.