Published by admin on 16 Dec 2009 at 01:24 pm
Nutritional Bowhunter
Become a stronger, more alert hunter by properly fueling your body
By Patrick Cillbrith
http://www.bowandarrowhunting.com/
 Were you one of those hunters last fall huffing and puffing as you climbed a hill in an effort to get to your stand?  Maybe you were seen gasping for air as you moved closer to that big bull elk screaming his brains out amid the rugged landscapes of the Rockies?  If so, didn't you wish you were in better shape?
 Maybe you are just strictly a whitetail-hunting fanatic who thinks staying in great shape is really for those high-country bowhunters.  You might think, "Why become a fitness goon when all I do is sit in a tree stand?"
 But, if you think this, you'd be dead wrong.  Every successful whitetail bowhunter I know agrees that being fit definitely works to your advantage.  For example, hanging tree stands in different locations, usually all in one day, is tough work.  Only by eating healthy and exercising a bit will you be able to slip around in those trees like a monkey.  Besides, if you can hang a stand like it's a small chore, you'll be easily motivated to move it when necessary (like when a big buck's pattern says you need to) where out-of-shape bowhunters usually drag their heels… until eventually it's too late.
 I've had many clients live the benefits of solid eating habits in an attempt to increase energy and improve alertness while hunting.  Below I have listed essential nutritional information along with a few pointers that will increase your chances of being in better shape come next hunting season.
Know What You Eat
 I have read many articles that emphasize the importance of nutrition for deer.  The end result leads to an improvement in antler growth and development.  Isn't it ironic that we are so concerned about what the deer have to eat and yet on our way back from the stand we think nothing of grabbing a candy bar?  What if our nutrition was the sole factor in determining deer antler growth?  Most of us would throw that candy bar a mile and a half into the woods.
 Dr. Michael D. Hurt of Iowa Lutheran Hospital in Des Moines said, "The value of nutrition extends well beyond the scope of health. Individuals who consume a variety of foods, in the proper caloric allotment, can achieve optimal energy levels and state of mind throughout the day."
 Hurt stressed the importance that frequency and timing of meals has a direct response to energy levels.  "In addition to satiety, our body functions best when provided with smaller, more frequent meals.  When compared to the above, the 'three square meals a day' philosophy is truly outdated."
 Before delving into the technical aspects of nutrition, it is essential to note special health conditions and circumstances that exist which require individuals to be under the care of aphysician.  If you fall into this category, any information or recommendations provided below should yield to the instructions of your physician.
 The Various Foods
 Food can be broken down to two large groups, macronutrients and micronutrients.  The macro (large) nutrients have three sub groups: proteins, carbohydrates and fats.  Let's analyze the macronutrients first.
Building Blocks
 Protein is the only macronutrient that can be used for building and repairing essential body tissues and as an energy source.  Proteins play an intricate roll in every chemical reaction that takes place in your body.  Healthy muscle tissue and optimal brain function rely on proteins.  Maintaining the proper pH (acid/base balance) in your blood along with fluid balance would not occur without proteins.
 I want to caution you on the use of protein as a source of energy.  Protein is a very inefficient source of energy and should only be used as such when absolutely necessary.  The body can only efficiently use between .8 and 1.6 grams of protein per kilogram of body wight (1 kilogram = 2.2 pounds) in a day for tissue growth and repair.  Excess protein will either be used as energy or stored as fat.  Mega doses of protein increases the level of nitrogen in your body, which among other things causes the kidneys to work overtime.  Unless directed by your doctor, protein intake should never exceed 2 grams per kilogram of body weight.
 Proteins are composed of subunits refereed to as amino acids.  Our body requires 22 different amino acids, in a specific sequence, to synthesize body tissue proteins.  Complete proteins contain all of the amino acids necessary for support repair.  Incomplete proteins are missing one or more amino acids and must be combined with a different protein to provide the missing link.  The purposeful combination of two or more proteins to form a complete sequence of amino acids is referred to as a complementary protein.
Nutrients That Power Up!
 Carbohydrates are the body's preferred source of energy.  Two types of carbohydrates exist: simple and complex.  Simple carbohydrates are those that break down very quickly and yield immediate energy.  Good examples are fruit, honey and sugars.  Complex carbohydrates commonly known as starches, break down slower but yield energy in a gradual manner over an extended period of time.  Some examples include wheat bread, pasta, potatoes and vegetables.  The ideal meal will include a combination of both simple and complex carbohydrates in an attempt to sustain consistent energy levels.
 The claim that sugar makes you fat is usually spoken by those who don't have any idea what they are talking about.  All carbohydrates break down into a simple sugar called glucose.  Simply put, glucose is the body's preferred source of energy.  When glucose (blood sugar) levels drop too low, fatigue and lethargy soon follow.  Many individuals also experience mild to moderate shaking in their extremities.  That is the last thing a hunter needs when drawing back on a 10-point buck.
Real Scoop on Fat
 Most consumers know that there are two types of dietary fat, saturated and unsaturated.  Saturated fat is found primarily in animal byproducts (i.e. fat found on flesh, butter , cream) and should be kept to a minimum.  The molecules are linear and thus can be tightly packed together.  This explains why they are difficult to break down.
 Nutrition experts recommend that we avoid processed foods due to the high levels of saturated fat and preservatives that are used to increase flavor.  For years physicians have cited concrete evidence indicating that diets high in saturated fat can increase the risk of heart attack, so put down those fatty burgers and greasy fries.
 Unsaturated fat is the good type of dietary fat.  The molecular configuration and subsequent organization of the fatty acids allow them to easily be disrupted by heat.  This means the body can dispose of them more efficiently than saturated fats.  Of the fat you eat, try to keep unsaturated fat in the majority.  The following is a good rule of thumb to determine if a fat is good or bad.  For example, if a fat source is solid at room temperature, then it should be kept to a minimum.  A few examples of healthy fats are Omega-3 fatty acids (the fat found in salmon) , olive oil and flax seed oil.
 In the wake of low-fat diets, I am here to promise you that too little fat in your diet can lead to as many problems as too much fat.  The key is balance.  The proper ration amount of dietary fat can dramatically improve levels of satiety, energy and health.
Disease Fighters
 The nutrition industry refers to vitamins and minerals as micronutrients.  Most, if not all, of the nutrients your body needs to function are available in the foods you eat.  A diet that is rich in fruits and vegetables will provide your body with B vitamins, fiber and antioxidants that fight off the agents which can cause disease.  Meat, fish and dairy products provide essential fatty acids, certain B vitamins, and vitamins A, D and E.  All of the above foods contain minerals that help strengthen the body, prevent disease and aid in bone and tissue maintenance.
 Scientific studies indicate a diverse variety of healthy foods have proven to be the best way to get the micronutrients your body needs.  Food provides other healthy essentials such as fiber that can't be found in a pill.  To use supplements in place of food or as an excuse for poor eating habits is a major health mistake.
 Your family doctor should first clear any supplement that you decide to take.  While many food supplements are harmless, some can be deadly.  Rare but dangerous interactions between certain medications and supplements have been known to occur.  Only your doctor is qualified to tell you what is acceptable to take.  The herbalist and the guy behind the counter at the local health food store are not acceptable substitutions.
 The above information should provide you with a solid base to interpret the sample menu on page (64).  Most hunters are notorious for under eating during the day.  I once heard a hunter say, " if deer eat only twice a day then I don't need more then breakfast and dinner when on stand."  The fewer meals you eat the more your body slows its metabolism and sacrifices other bodily functions.  The body will attempt to maintain  life at all cost, even if it is to the detriment of your health.
Always Drink Water
 Every aspect of our body, ranging from healthy muscle tissue to kidney function, uses water to operate at an optimal level.  Because water is the solvent our body uses to conduct nearly all of its faculties, roughly 70 percent of a healthy body composition should be water.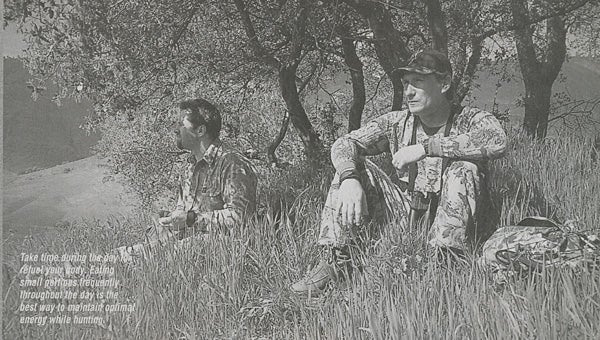 Hydration studies indicate that an average man will lose ¼ cup of water per hour in a sedentary state.  In my opinion, activities like tree stand hunting surpass sedentary energy requirements.  This is not like sitting on a couch and therefore your body is required to exert more energy to stay in stand.  Even on a cool day (30-40 degrees F) you could lose up to a ½ cup of water pr hour in a tree.  The key is to drink water consistently throughout the day to maintain hydration levels.  Try to drink 8 ounces of water before you go to stand to replace what you have lost overnight.
 I also recommend taking an additional 32 ounces of water to stand for each four- to five-hour hunt.  This means if it's the peak of the fut and you plan to sit all day, take nothing less than 64 ounces of water for the entire hunt.  At first thought this may seem excessive, but keep in mind that waiting until the end of the day to rehydrate puts you well past the critical point affecting performance.  Even moderate net-water loss has noticeable effects on the body including lowering core temperature, reduced ability to concentrate, and mild to moderate shaking.
 If you are worried about having to jump out of stand to use the outhouse, the urge to urinate can be reduced by taking small sips on your water bottle periodically.  This way the body uses what it receives in a timely manner.  Try not to pound 16 ounces at 9:30 in the morning because by 11 you will wish that you hadn't.
 If you plan to spot-and-stalk hunt out west, hydration requirements will dwarf those in comparison to still-hunting.  Due to many factors including elevation and climate, you may have to drink as much 8 ounces of water per hour depending on the intensity of your activity to stay in balance.  Proper hydration is a key component for staving off altitude sickness.  Anyone can be afflicted, but the individuals who reside at lower elevations are at the greatest risk.  There are even times when acute altitude sickness can require hospitalization.  This is a sure-fire way to ruin a great hunt.  Stay hydrated.
Weight Control
 A 1997 study was conducted in conjunction with the American Medical Association (AMA) in an attempt to determine the cause of our nation's expanding waistline.  The findings concluded the average American consumes 260 more calories a day than he or she did 10 years ago.  So it is no surprise that our nation is getting fatter at the fastest rate in recorded history. 
 
 If you remember one thing about nutrition, memorize this statement: When calories in equals calories out, mass remains constant.  Forget what you have read about carbohydrates being the devil's sidekick.  A meal after 8 p.m. won't make you fat.  Fat grams alone will not tack on extra pounds.  What will cause your waistline to bulge is eating more calories than you expend (burn) in a 24-hour period.  As long as you live on earth this is not subject to debate, as it is a law of physics.
 People alive prior to the 20th century spent 60-plus hours a week in the field to support their family.  Today these events have been replaced by 40 sedentary hours at a desk.  If physical activity isn't present in a job, then it must be attained through extracurricular activities (i.e. we must work out!).
 To some, food holds an emotional bond to happiness.  Others tend to eat out of boredom or habit.  Whatever category you fall into, the best way to address this issue is to first ask yourself why you practice your current eating habits.  This will often reveal the root of your weight problem.  Once established, you can effectively plan an attack on your issue(s).  Years of experience have taught me that diligence will eventually pay off.  Just a few corrections can put you on the path to better health.
 Having access to the best hunting ground in the world won't help you bag a record-book buck if you aren't in the timber.  Altering a few eating habits can make incredible changes in health, energy and strength.  Manage your lifestyle such that health is one of your top priorities.  The favor will be returned with more energized seasons, chasing the trophies you think so much about.
Leave a Reply
You must be logged in to post a comment.