Published by admin on 14 Dec 2009 at 02:11 pm
Deep Freeze
When conditions get bitter cold, fight off the chill with this
sophisticated layering approach.
By Gary Simms
http://www.bowandarrowhunting.com/
 After five years of wearing T-shirts in November, the 2000 season produced a great opportunity to once again revisit the notion of staying warm.  I had almost forgotten what it felt like to have the inside of my nostrils freeze on a hard inhale.  That's something that sticks with you—that's cold!
 I spent the coldest part of last fall hanging from trees in central Kansas.  The Rocky Mountains were the nearest feature taller than the local elevator with any hope of deflecting the northwest winds, and they were 500 miles away.  The wind slammed me without letup for nearly the entire 12 days of my hunt.  With the temperatures in the single digits most mornings and rarely getting above the teens during the day it would have been a miserable time had I not luckily included a couple of pieces of clothing in my gear bag.  Actually, the items were incidental but they proved to be indispensable and opened my eyes to the importance of cutting the wind.
 I hadn't packed enough clothing for such exposure, but I had brought along a lightweight fleece-lined nylon-shelled jacket and a pair of lined nylon sweatpants for casual wear.  After a couple of days I started wearing the jacket and sweats under my insulated camo outerwear.  Immediately, I was hunting in comfort for the rest of my trip.  I then spent a cold week on the plains of eastern Colorado in late December using the same system with similar results.
 After those hunts I began to study the many pieces of clothing on the market that could replace my crude system.  Things have really changed since the last time frigid temperatures forced me to take a closer look at the mail order catalogs.  Here are some of the great new products and concepts that I'll be putting into service next time the mercury hits rock bottom.
Cutting the Wind
 Wearing windproof materials is one of the smartest things you can do if you want to stay warm (along with protecting your head).  In late fall and winter it is the wind that really makes for a cold and miserable experience on stand.  Anything you can do to cut it will keep you much warmer and will do it with less bulk.  Any of the modern waterproof membranes such as Gore-Tex, Dry Plus and Omni-Tech are also windproof.  Of course, you can also choose garments made from Gore's Windstopper to achieve the same goal.
 
 Clothing made from laminated micro-fiber is becoming very popular but it is  not  a good choice for cold-weather hunting.  In most cases the fabric becomes stiff and noisy when the temperature gets below about 15 degrees.  The glue used to secure the synthetic fleece is what causes it to become stiff.
 I spoke with Van Larson from Due North Apparel about facemasks and headwear.  At the time, I was looking for a facemask lined with Windstopper, but Larson warned me away from that line of thinking.  According to Van, the head is the body's thermostat and to work properly it relies on natural evaporative cooling.  When you impede the process by using a windproof membrane, the head reportedly loses its natural ability to sense and set the body's temperature.
Creative Solutions for your Head
 The only part of your body that you should strive to protect better than your midsection is your head and neck.  An enormous amount of heat leaves the body through this area.  There are traditional solutions such as knit or fleece facemasks, neck gaiters and stocking caps that will do a good job, but now you also have a new option that serves double duty by actually warming the air before you breathe it.  The benefits of this are obvious.
 The now Polar Wrap Exchanger facemask received great reviews from my buddies that tried them last winter.  The system is fairly simple and intuitive; it works like a heat exchanger.  The facemast captures heat and moisture from your breath when you exhale and uses the energy to warm and humidify the air that comes into your lungs when you inhale.  Any facemask will do the same thing to a lesser extent, but the Exchanger absorbs more of the heat and moisture from your breath by passing it through a system of channels before it exits the mask.  Your next breath enters through the same path and is warm and moist by the time it reaches your mouth.  Not only does this preserve body heat, but it also prevents dehydration during a long stand session.
 I spoke with Myles Keller about the system and he marveled at how well it works.  Myles is one of the most hard-core late-season bowhunters that I know and if Myles says it works you can bet that it does.
Don't Forget the Feet
 I had a chance to test a unique system of cold-weather foot protection this past fall and came away very impressed.  The boots were from the new set of hybrids that have made their way onto the market in only the past two years.  They aren't pack boots but they aren't walking boots either—they are a little of each.  They are characterized by thick, lightweight Thinsulate insulation but with the fit and appearance of a walking boot.  Not only were they warm, but they also made walking very easy.  I've never liked walking long distances to reach a stand while wearing conventional pack boots.  The fit is often sloppy and the foot can move around inside the boot easily.  This makes it tough to climb ridges and steep banks comfortably, silently and safely.  These new hybrids, however, made the hike to and from the stand a real pleasure.
 The boots I tested were Deer Stalker  Extremes from Rocky.  They feature 1,600 grams of Thinsulate insulation and Gore's Gore-Tex Supprescent fabric.  Supprescent reduces odor while making the boots waterproof and windproof in the process.  Other examples of this style of boot include the LaCrosse Gamemaster 1300 with 1,300 grams of Thinsulate and a comfortable leather walking boot design, and Cabela's 1200 Gram Cordura Boots that feature 1,200 grams of Thinsulate in a durable, affordable Cordura design.  Another example is the RedHead 10-inch Leather Boot with 1,000 grams of thinsulate.
 I sized my boots so they would be slightly loose with a single pair of socks so that I could test a new Polartec bootie from Due North Apparel.  The bootie incorporates ComforTemp to help control temperature.  The material stores heat when your feet are warm, such as when you are walking, and gives it back when you sit immobile on stand.  Under it I wore only a thin polypro liner.  I never once experienced cold feet even though the wind chills hovered around 20 degrees below zero each morning.  That was a first for me.
 
 Conventional pack boot are also a great choice if you don't have far to walk to reach your stand. Tinmerland's 12-inch Iditarod Mukluks are extremely warm and waterproof.  LaCrosse's Ice King boots are rated for minus 100 degrees and are also available in all-rubber design for maximum scent reduction.  Rocky's Kenai are all rubber to protect your feet down to minus 100 degrees and reduce human scent.  Their Barrow features a rubber bottom and leather uppers and are for comfort rated to minus 135 degrees.  Field tested under arctic conditions, Sorel's warmest pack, the Alaska, features ThermoPlus 100 inner boots and is comfort rated to minus 100 degrees.
 
 Make sure you buy boots with a little room to spare.  Most manufacturers don't recommend a lot of bulk inside their boots.  One polypro liner under a medium-weight wool sock will get the job done nicely.  If you wear pack boots with removable liners it is well worth the money to buy a second pair of liners.  You will be surprised by how wet they can become from sweat as you walk to and from your stand.  The extra pair of liners permits you to swap them out at midday if you go back to the vehicle.  At the very least, make sure to remove your liners and insoles at night so they can dry thoroughly before the next morning's hunt.
The Ultimate Layering System
 For expertice in layering using today's high-tech materials I relied on input from Steve Culhane, Cabela's Product Manager for Big Game Clothing.  Steve makes his living choosing the best new clothing systems to include in the catalog and his tried virtually everything.  I offered a typical cold-weather scenario: Nebraska in late December.  It's 10 degrees on the thermomerter with a 20 mph wind causing the wind chills to bury in the double digits below zero.  It is a stand hunt with a falf-mile walk to and from.  Here are Steve's recommendations for such a hunt: 
 "First, I'd pick the best underwear I could find."  Steve said.  "In the Cabela's line I really like the Polortec Power Stretch underwear.  It is thick and creates lots of dead air space close to your body.  I recommend the bib for really cold conditions, covered on top by the full-zip jacket.  The material stretches so it doesn't affect your range or motion and has a slick outer surface so it doesn't bind with other clothing making it easier to draw your bow."
 A similar product in the Bass Pro Shops catalog is the RedHead Expedition Weight Polartec Fleece Thermal.  Other thick, long underwear systems will also work well in this application.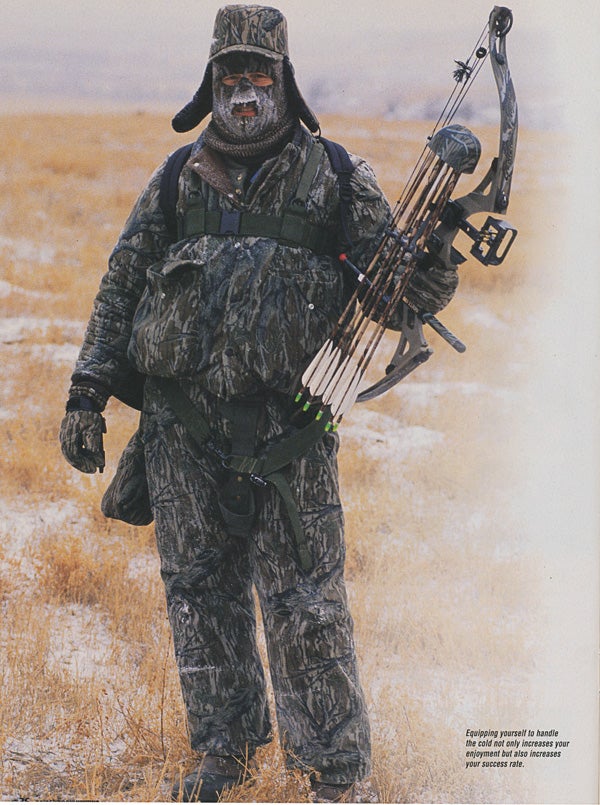 Over the long underwear Steve recommends a thick layer of fleece.  "Fleece is perfect for this layer," he said.  "It is lightweight and offers great insulation as well as moisture wicking.  From our line I like the Fleece Layering Pullover for the upper body.  I wouldn't use Windstopper on an inner garment because it won't  breathe as well, but if you will also be using it as an outer garment on milder days Windstopper here gives you more versatility."  A similar product in the Bass Pro Shops line is the Scent-Lok Pullover.
 Over everything, Steve likes a heavy bib and parka constructed with plenty of insulation and a windproof membrane.  In the Cabela's line he suggested the Whitetail Extreme system.  The outer shell on this clothing is warped (brushed) polyester that is silent even in cold temperatures.  Don't overlook the importance of wearing a bib instead of pants.  Bibs eliminate cold spots that can occur when wearing pants.
 Personally, I'm a big fan of vests because they offer insulation for your core but don't restrict the movement of your arms as you draw your bow or climb down from your stand at the end of a long cold day.  When things are particularly cold I like a thick vest like the one made by Winona /High Caliber (800/851-4868) that I've worn for years.  It is a combination of wool and fleece that is both thick and large enough to keep me very warm while fitting comfortably over any combination of underwear.  In the Cabela's line, Steve recommended the Berber Fleece Outfitter Series Vest.
When It Gets Really Cold
 Under the toughest conditions, almost any cold weather system needs help.  That's where the over-boots, hand muffs, neck gaiters, electric socks and even body blankets find their application.
 Heater Clothing (920/565-3273) offers a unique product for the cold weather hunters.  The Heater Body Suit is basically a poly-fill sleeping bag with legs.  The bag closes up tight around your neck and zips easily down the front allowing you to slip your arms out for the shot.  Shoulder straps hold the garment in place as you shoot, preventing it from flopping down and spooking game.
 Icebreaker Inc. produces two great items designed specifically to relieve cold hands and feet.   Boot Blankets zip on over your regular boots to add a layer of thick Hollofil insulation where you need it most.  They will keep your feet toasty in the coldest conditions.  I wear them regularly when sitting on stand for extended periods, and they permit me to endure at least 15-degree colder conditions.
 Ice Breaker's Handblanket is a thick Hollofil hand muff held in place in front of you by tie straps that go around your waist.  You can stick a handwarmer inside to keep your hands warm with only thin gloves.  For more information contact Icebreaker Inc., Dept. B&AH, P.O. Box 236, Clarkseville, GA 30523; (800) 343-BOOT.
 A new over-boot system introduced this past winter appears to have a lot of potential.  The ArcticShield Boot Insulators (877/974-4353) are less bulky than Boot Blankets and constructed with a layering system that includes patented Reflek-Tek that reflects body heat.  The pair weighs one pound and can be rolled up for storage in a pack.  If we have cold temperatures again this fall you can bet I'll be testing a pair of these.
 Investing in warm clothing is one of the few ways in which you can actually buy-up your odds for taking nice buck.  For every extra minute you can stay on a cold stand your odds for success increase:  the better the clothing system, the longer the hunt.  You'll not only be a more successful hunter but you'll also enjoy it more.
Leave a Reply
You must be logged in to post a comment.