Published by admin on 08 Dec 2009 at 01:31 pm
Deer Hunting With A Pioneer
Improve Your Bowhunting With These
Tips From An Old-Timer.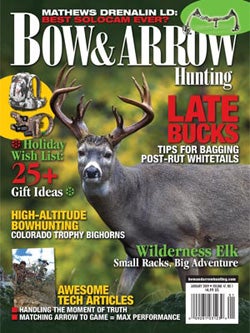 http://www.bowandarrowhunting.com/
 Years ago, I became acquainted with one of bowhunting's legendary, but retiring and thus little-known, pioneers.  His name was Jim Ramsey and he lived above the Bonito Valley in Lincoln, New Mexico.
 Ramsey had grown up among the Apache Indians and had learned from them the art of making archery tackle and using it for hunting,  Especially, he perfected their process of flaking obsidian for arrow ans spear points and became the finest practitioner of the art I have ever known.  It was from him that I obtained the supply of large chipped obsidian lance points that have since been used as the centerpiece of the Pope & Young Club's "Ishi Award;"  their highest honor.
 Jim Ramsey also made up a work display for the then-new Fred Bear Museum, showing all the tools, raw materials and steps involved in chipping heads, including a large number of beautifully finished arrow points.
 I had the opportunity to visit Ramsey in his hillside Lincoln home, which was itself a museum of miniature.  From him, I learned a great deal of valuable hunting lore.  He had slain more deer with his homemade bows, arrows and chipped heads than most people ever see.  I asked him to jot down some of his hunting notes when he had the time and I later received some of these from him.  I was glad to have them, for not too much later Jim Ramsey quietly passed on the the Happy Hunting Grounds.
 What follows are Jim Ramsey's comments on his bowhunting techniques, given to me some twenty years ago.  They contain a great deal of interesting information and some novel tricks he used, many of them forerunners of what is common today.
 "Here in the Southwest, deer inhabit vast areas of the country and the various places where these fine big-game animals are found are often amazingly diversified and dissimilar.  The big, fine mule deer may be found from the high altitudes of the mountains, way up around ten to twelve thousand feet were moisture is plentiful.  They're also down in semi-barren desert foothills of scant rainfall, in the spreads of the ancient lava beds and even on down onto the more broken and rougher plains country.  The lower elevations, however, are mostly home to the smaller whitetail (Coues) deer of the Southwest, especially in the cactus/mesquite areas.
 "Regardless of where I bowhunt for deer, there are certain practices I like to follow as much as possible.  Deer are not so much concerned about the invasion of their haunts by a creature whose body scent strongly suggests a vegetable diet as they are over some comer who reeks with the warning odor of devoured flesh.
 "Considering this, I prefer to prepare myself in advance for hunting by not eating meat for at least a couple days before I go out.  But, I do eat plenty of vegetables and fruit, especially apples.  After arising from my bed in the morning, I like to take a good bath, but in soapless water so I'm fresh and clean with all possible body odor eliminated.  I say soapless, because most soaps leave lingering odors quite foreign to the natural outdoor smells in the haunts of deer.
 "Then I dress from the skin out in clean, fresh clothing.  As an added precaution, I like to allow everything I might wear or use on the hunt to lie through the night on evergreen bushes or other fragrant vegetation common to the area to be hunted.  Just laying them on the ground and covering them with mine straw or dead leaves helps a lot, provided there is no dampness to harm the equipment.  Not only are my clothing, socks and shoes treated in this manner, but also my bow, arrows, quiver, arm guard, hunting knife and any rope I may carry along.
 "Soiled, sweaty clothing worn on a hunt is a dead giveaway to game.  So are bloodstained garments that have been previously worn while dressing or handling game.  Clothing that has been slept in is especially bad, though most hunters camping in cold weather, myself included, are at times guilty of sleeping in at least some of the clothing worn in the daytime.
 "I don't care to carry along a lunch that might give off a telltale odor; perhaps just a few apples.
 "While camping, I prefer to sleep on the ground with a bed of leaves, pine straw or tips of evergreen branches.  A good comfortable bed can be made this way and your blankets soon take on the fragrance of the natural bed material.
 "It's a mighty good idea for the bowhunter to get out in the area he intends to hunt and camp for a few days before the hunting actually starts, living close to nature.  This gives him an opportunity to make leisurely reconnaissances of the area and appraise hunting conditions.  Besides, if he's from lower country, it allows him a little time to become accustomed to the altitude before any arduous hunting starts.
 "The hunter should try to lend in as much as he can with his outdoor environment and, even if it does seem a bit farfetched, to become, in a way, just another creature of the wild places.  This advice is prompted b the various experiences gained from the more than fifty years I have hunted with the bow.
 "Most often, people arrive at their intended hunting area in a closed car.  Their clothing, hair and body reek with the odors of food, tobacco, gasoline, motor oil and probably the perfume from soaps, cosmetics and aftershave lotion.  Hunters do not notice these odors.  But, to the weary deer, what a distasteful contrast it is to the pure and natural ozone of their haunts.  It's quickly noted by these and other creatures of the wild places.  It all adds a discouraging handicap to hunting, especially bowhunting.
 "After I am ready to go hunting, I avoid anyone frying bacon or other meat, as the odorous smoke settles on hair and clothing and clings tenaciously there, warning game.  I do not smoke, for an animal can detect tobacco scent a long way off.  I, myself, have often been warned of other hunters in an area by catching the drift of their smoking.
 "I prefer to wear outer clothing that blends in well with the natural surroundings, but I want it to be of material that will not be noisy when brushed by twigs or branches.  To prevent the cuffs of my trouser legs from flapping loosely and catching on brush.  I draw each one down and pin it in place with a large safety pin.  I don't like to wear an ordinary hat when hunting in the brush.  I used to prefer wearing a head band of brown or greenish cloth about four or five inches wide, but I am getting a bit bald and the top of my head shows up like a reflecting mirror.  Now I sew a crown of like cloth onto the head band.  In colder weather a dark color stocking cap works well.
  "If I'm not familiar with the country and game conditions where I intend to hunt, as soon as I get a camp site settled, I get out and do some quiet scouting.  I try to learn which canyons have streams of springs in them, or if there are any stock tanks in the vicinity.  At any such places, I check to see if deer have recently been coming in to drink.  I learn if they have been using regular routes over well defined game or stock trail or have just come and gone haphazardly.
 "As I scout, I check for the types of vegetation deer like to feed on during that season of the year and also note places that might be favored as bedding grounds.  I try to learn how the breezes blow over the slopes and up or down the valleys or canyons.
 "Considering deer depend more on their sense of smell to warn them of danger than their sight or hearing, I always try to hunt against or across the wind, except when I may find it advantageous to slip into a brushy draw or canyon head and go with the wind to flush game onto open slopes.
 "When hunting during the early morning and evening, if the wind is right.  I try to stay between the sun and the game.  I have learned this offers me quite an advantage.  A fine way to determine direction of faint breezes is to keep a feather tied to the upper loop of the bowstring.
 "Having learned from many experiences that the unexpected usually happens when one is least prepared for it.  I try to be alert and on the lookout for game wherever I may be, even if it's unlikely deer are around.  Game will sometimes appear suddenly at the most unexpected time to place.  This is especially true when other hunters are in the area.
 "I often use cover scents, but prefer natural odors over man-made concoctions.  I like to crush and rub fresh sage, juniper or pine needles on my clothing and I rub my boot soles in any fresh animal droppings I come across.  In addition, skunk scent has for a long time been my old standby.  Deer are well acquainted with the smell of skunk and seem to be attracted to it.  It may be the smell appeals to them, but I have seen times when it appeared to have angered them.  Often, when deer come across a dead skunk, they will paw and stamp the carcass as if in anger.  This may be because deer, while feeding on the ground, have had their eyes sprayed with the skunk's stinging fluid.
 "To handle such scent, I use a small, wide mouthed glass jar with a tight screw-top lid.  I fill it with rags or cotton and apply fifteen to twenty drops of the pure essence I have secured from a skunk I have killed, or from one of the trapper's supply firms.  I carry the jar in a padded belt pouch.  When hunting, I loosen the lid about halfway.  If I want to hunt from a blind, I find a place of concealment near a well-used trail or crossing and place the open jar about ten paces back of my blind so the breeze will carry the scent over to me and onto the trail or crossing.  If shooting from a tree stand, the jar, or some moss with the scent on it, can be placed in an open space within good shooting range, so a passing deer will stop in the desired spot.
 "I usually prefer to still-hunt and stalk deer, so I carry my partially opened jar on my side.  One may get himself scented up a bit this way, especially on damp days, but the fun and success this trick affords will make it worth the trouble.
 "On the inside of each hind leg of a deer, just below the hock or knee, is a large musk gland.  This area has little or no hair on part of it with stiff, dark hair around its edge.  These glands seem to serve as a sort of radio set by which deer send scent messages to one another.  When hunting, if I can get these from the legs of a recently killed deer, I rub the musk on my trousers or on my boots.
 

"If suitable cover is not close to a deer trail, deer can often be lured from the trail, deer can often be lured from the trail by dropping pieces of apples or other deer tidbits such as acorns along a course the hunter desires the deer to take. "A sneaky trick I have found useful is the 'odorous arrow gambit.'  It works best when deer are feeding or traveling int the wind and I'm behind them, but without sufficient cover to work up on them.  I take a field arrow and wrap a piece of an old sock, well stunk-up with human odor, snuggly around the forend, holding it in place with a rubber band.  From cover, I shoot the arrow high over the deer so it will fall to the ground beyond.  The sound of the arrow may turn them back toward me.  If not, they will soon scent the human odor on the arrow and may come slipping back downwind toward me, their attention mostly centered on watching their  backs.  I have more than once had deer come right in close to me using this trick.
 "If I decide to still-hunt a lava flow area, such as the 'malpais' west of Carizozo, which is some five miles wide and extends down the valley from the crater about thirty miles, I carefully scout around the many grassy and brushy depressions, working as much as possible into the wind.  Lava bed deer contrast sharply in color against the blackish rock and are easy to spot unless the animal is bedded in brownish grass or brush.  Nearly all shots are rather close, since a hunter will usually be quite close to a deer when he discovers it.  And, since most of the vegetation, except for scattered old juniper tree's is quite low, there are not many overhead hazards to deflect an arrow.
 "Mostly, the wind blows across the lava beds in an established direction.  When it blows quite hard with a lot of noise, deer are reluctant to get up from their beds which are sheltered in depressions.  This brings the hunter close in.  Since shots are short, he arrow is not overly affected by high winds.
 "All volcanic areas of the Southwest are not like this and thus do not present the same hunting conditions.  For example, the Cochiti Canyon country north of Albuquerque consists mainly of extremely steep mountains of volcanic material.  Some of this country is heavily timbered and much of it cut and broken by steep-walled canyons.  Deer hunting here is done just about the same as in any of the forested areas of the West.  The Gila Wilderness area of New Mexico is another volcanic country, mountainous and forested and an extremely good deer area.
"Binoculars are extremely handy in such country.  Bedded deer can be spotted from a distance and an appropriate stalk planned beforehand.  Feeding deer are more easily located, also.  Whenever I come to the crest of a ridge, I always peer over cautiously, usually through a bush or clump of grass.  Deer grazing on a hillside generally graze uphill.  By maneuvering cautiously, a hunter can often get above feeding deer and let them come up within easy shooting range.
 "Whenever I'm out hunting I always pay particular attention to all the various little sounds, especially the calls of birds or other animals.  A slight rustling sound may be a deer easing out of a bed and slipping away.  A red squirrel barking and fussing may lead one to a deer.  Ravens are apt to be concerned about a dead or wounded deer, so when I hear these black denizens calling to one another in their strange raven talk.  I give a stealthy look-see.  A bluejay or scrubjay squawking at or scolding something, prompts me to learn the objects of his ire.  Such woodland busybodies can give the alert hunter a lot of good hints— and, of course, will often scold at him the same way.
 "I well remember one day years ago when hunting along the base of the Capitans, I heard a bluejay fussing at something along the trail I had just covered.  I went back and got the opportunity to shoot two fine wild turkeys out of a flock that had come in after I had passed
 "Just this past deer season, while hunting among the scattered cactus and scrub juniper on a ridge, I noticed a flock of small birds fly up from the ground about thirty yards ahead.  I looked sharply and caught a glimpse of something grayish brown in the low brush.  I thought it to be just a jackrabbit, but to make sure, I eased behind some bushes and saw it was a fine buck.  Evidently, he had just come up out of a canyon, for he was standing there looking down into it as if he expected other deer to follow.  As a result of my heeding the warning of the startled birds, I was able to make an easy, clean kill of the big mulie. 
 "When I'm stalking a deer and the cover is poor, I watch carefully as it feeds.  When it switches its tail I freeze in place, knowing this is the sign it is about to look up.
 "During rutting season, buck deer will often stay in areas where there are domestic cattle.  A hunter should be on the lookout for such places.
 "Well up on many of the more forested mountains of the southwest are rather open grassy, meadowlike areas scattered over with fir trees, grayish old aspens, patches of young aspens and a variety of plants.  Deer love to feed in such places and, during the summer, bucks like to bed there.  But during hunting season, if such areas are readily accessible to hunters, the deer will hide out in the thicker surrounding timber or down in the brushy, tangled rocky canyon heads.  About sundown, they will emerge to feed in the upland meadows, returning to thicker cover shortly after daylight.  By waiting in cover or in a tree stand near the edge of such an open grassy area, an archer has a good chance for shots at deer emerging from the canyon heads at dusk.  Sometimes these uplands are enveloped in fog, making it damp and quiet for still-hunting.  But one should carry a compass to keep from getting turned around, as it can happen easily in drifting fog.
 "Sometimes the fog turns to sleet that comes rattling noisily down.  This is also a great time to be out since the sound of your progress is covered  and visibility and odor drift are somewhat negated.  When big fluffy flakes of snow are falling thickly over the mountains, hunting is usually good, too.  Just after such a storm, before the snow becomes crusty, is an excellent time for still-hunting.
 "Farther down the mountains, where pinyons, juniper and scrub oak grow, are other populations of deer.  But when hunters in any numbers invade such areas, the deer promptly move up into those brushy, rocky canyons and rockslide slopes.  An archer who has the patience to quietly work around through such fastness is pretty apt to get chances at some of the better bucks in the area.
 "Whenever I'm sneaking quietly through thickets and hear a deer get up with a snort of dash off a few jumps, then all is quiet, I remain perfectly still.  The animal may sneak away, but the chances are it's not quite certain what disturbed it and is curious to find out.  If I feel it's standing out there looking and listening.  I crouch and look under the brush for sight of its legs while keeping a lookout farther up for antlers or ears.  I especially watch in the directions where the breeze is carrying my scent.  I've had bucks silently and suddenly poke their heads over bushes upon catching my scent, allowing me fine close-range shots.
 "A word of caution when hunting n any of the dry areas of the Southwest where it is usually windy.  Be careful of fire and of your smokes if you have to smoke.  It's a terrible letdown to return to mountain areas where you've had many happy hunting experienced, only to find the forest burned away and only scorched and blackened stubs in the canyons and on the slopes.
 "Happy hunting."
Leave a Reply
You must be logged in to post a comment.