Published by archerchick on 17 Feb 2011 at 06:18 pm

Bow and Arrow
June 1972
Open Door To Adventure ~ By Roy Hoff
When Alaska Was Reopened To Bowhunting The Trophy Possibilities Were Staggering!
IT WAS INDEED A GREAT DAY in bowhunting circles when
word was flashed that the Alaska Game Commission had again
legalized bow and arrow as a hunting weapon in the Territory of Alaska.
The new legislation was effective during the fall of 1954. All
big game animals were legal except grizzly and brown
bear. There was a good reason for the prohibition.
Most present-day bowmen, no doubt, believe the
bow and arrow has been legal ever since the Eskimos
moved in. That's not true.

?
Prior to 1930, Art Young and Saxton Pope received
world-wide publicity in newspapers and magazines
and in theaters where movies were shown of
their Alaskan adventures depicting the successful bagging
of grizzly and Alaska brown bears. The success
of these famous hunters set the stage for a tragic event.
A party of state-side hunters figured they knew all the
answers, but learned the hard way they were mistaken.
In a tragic episode involving a grizzly, one member
of the party lost his life and some others were mauled
so badly they barely escaped with their lives. Shortly
afterward, hunting with a bow and arrow in what is
now our fiftieth state became a no-no!
?
The new law specified that moose could be taken
only in the Anchorage area. Other big game such as
caribou, deer and black bear (excepting grizzly and
brown) could be taken anywhere in the Territory.
Members of the Alaska Bowmen initiated a long
and arduous campaign of public relations between the
bowmen and members of the Game Commission. The
ring-leaders, with whom we were in constant contact,
were Royce Martin, Ivan Blood and Bob Myers, to
whom bowhunters on the North American Continent
owe much.
?
Having worked for the news media nearly all my
life, it took little persuasion to convince myself I should
be on hand for the festivities.
On a – dream-trip like this, a guy must have a hunting
buddy or two, so I invited Bill Childs of Alameda
and Tim Meigs of Oakland, a couple of dyed-in-the-
wool bowhunters in California, to join me.
?
We met in Seattle, chewed the rag with Glenn
St. Charles, founder of the Pope and Young Club,
then boarded a Northwest Orient Airlines plane for
our destination in the Land of the Midnight Sun.
The flight is about 1700 miles, practically all over
water. To me the only impressive sight was the Alaska
Range, with many snow-covered peaks rising abruptly
from the seashore to an average altitude of 18,000
feet, much higher than any mountain in -the States.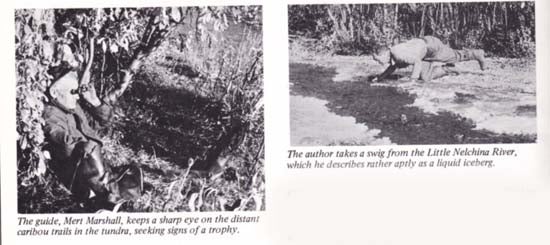 ?
As our pilot turned the nose of our plane in to-
ward Anchonage, we passed over Montague Island and
proceeded up Turn again Arm to Cook's Inlet. My cam-
eras really clicked. Keni Peninsula, noted for its many
species of big game, was in plain view for many miles
and we wondered what fabulous hunting stories the
island could tell.
?
That night we were guests of honor at a very nice
banquet staged by the Alaska Bowmen. Each of us was
presented with a "bellykin" made from walrus tusks,
as a talisman to carry with us on the hunt.
In the morning, our guides: Royce Martin, Mortimer
Moore and Ivan Blood, packed our duffel on two
pack horses. Frieda, my wife, was provided a saddle
horse. It was a seven-mile hike to moose camp which
was on a shelf of a nearby mountain where the view
of Anchorage and the surrounding valley was superb.
?
Upon arrival we received our first hunting thrill.
The boys unveiled a fine set of moose antlers (still in
the velvet) and a quarter of the carcass hanging in a
nearby hemlock, all ready for cooking, Ivan was the
lucky hunter. He had bagged the animal during the time
the boys were setting up camp. It was thoughtful of the
boys to provide our party with camp meat and, let me
tell you, there is no tastier meat than moose, if prepared
correctly of course, and Frieda attended to this
detail. Boiled moose ribs, yum, yum!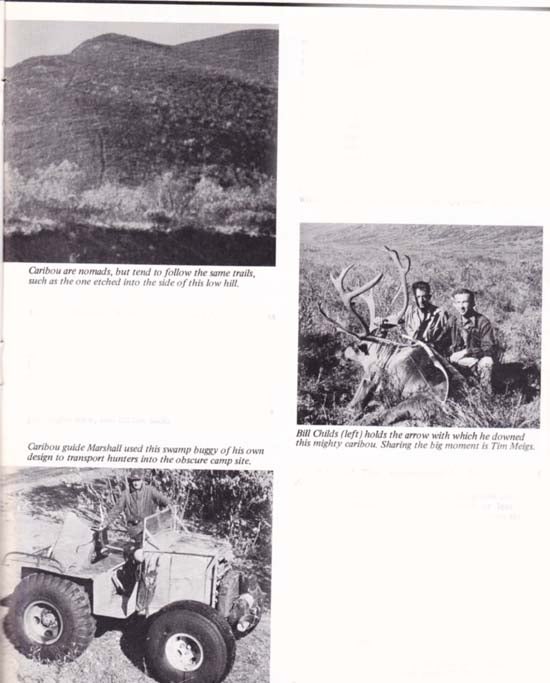 ?
With a moose already in camp it appeared we'd
have little difficulty in filling our tags early and then
head out for caribou country. Coming events did not
work out that way. Moose had been in the area, that
was certain, but all but an occasional straggler had departed
for parts unknown. There were lots of tracks
but none was fresh. We hunted hard for three days.
Other members of the party reported sighting a nice
bull. The best I could report was one "maybe." We
all came to the conclusion we were hunting a "dry hole."
?
All of us were pleased when we broke camp and
headed back toward Anchorage, and for the opportunity
to dry out. This was the early part of September
which is their rainy season. If you plan to hunt here
at this time be sure to take plenty of "foul weather
gear." I'd suggest an outfit consisting of: lightweight
rubber hip-length waders, rubber pants (bib overall
pattern) and rubber parka-coat. If you don't like to
hunt with your ears covered, wear a rain hat and tuck
in the parka. The parka comes in handy to keep your
ears warm in the evenings and early mornings.
?
Returning to Northern Sporting Goods, our head-
quarters in Anchorage, we were greeted with glowing
reports of the many moose sighted by local hunters together w
ith a few kills – right at the edge of town! In
fact, as we were being briefed on what had transpired
in our absence, in walked Charley MacInnes, one of
the Territory's popular and successful bowhunters. He
was smeared and spattered with blood. The broad
smile on the Scotsman's face told us louder than words
there was meat on the table.
?
"Where is he, Charley?" we asked in unison. Our
hero merely headed for the door motioning us to follow.
A most beautiful sight greeted us. There in the bed of
a pickup truck was a beautiful set of moose antlers resting
on a spring-sagging cargo of moose meat.
McInnes was a very impressive person. He actually
hunted wearing kilts, symbolic of his ancestory,
or his shorts. Charley pointed out he was a "lone wolf"
type of hunter who believed it is tough enough for a
bowman to stalk quietly through the woods without ad-
ding noise-producing makers such as Levi overalls.
?
One arrow proved to be "curtains" for the big
moose. Further, quoting Charley, here is what he said:
"On September 6, at 6:10 a.m., I was hunting in
the Goose Lake area and spotted a bull below me headed
my way. I waited until he came to within forty feet,
whereupon he stopped, apparently sensing my presence.
I eased my bow up carefully and released a broadhead.
The bull whirled and dashed off down the slope. He
disappeared in the brush for a few seconds, but I saw
him when he came out on the flats below."
?
"He stopped in an open spot and appeared to at-
tempt to turn his head back in my direction. At that
moment, I heard the breath go out of his lungs and saw
him collapse. It sounded a lot like letting the air out of
a rubber mattress. I'd estimate from the time the bull
was hit until he keeled over dead, was about fifteen
seconds. The broadhead entered the rib cage and passed
through the lungs."
?
During our interview, I documented a few hunting
tips which I'll pass along to you: He always spreads
his clothing on spruce boughs overnight, washes with
plain soap just before the hunt, wears clean clothes,
uses no tobacco or shaving lotion. A parting remark
was, "Any shot in the rib cage may be considered as
a fatal hit !"
?
We had to kill time for a day waiting on Mert
Marshall, who was to guide us into the caribou country,
returning with a party of successful hunters (we
hoped). So we took a sight-seeing trip to view a couple
of glaciers. Upon our return – as usual – it was the
same story: Another moose had been bagged. Don
Goodman was the successful hunter. Following is the
exciting and humorous story he told me:
?
It seems Don is more of a novice bowhunter than
an experienced old timer, though, I must say he could
hold and shoot a hefty stick of seventy-five pounds and
place an arrow pretty close to the spot he was aiming at.
Don had been out several times, hunting in proximity to
the Campbell Air Strip at the edge of Anchorage, but no luck.
On this particular morning he
had hunted the spruce-covered hillsides and was re-
turning to his car through the middle of a swamp.
Suddenly, not over twenty yards in front of him, up
jumped a bull moose from its bed in the buffalo grass.
It stood broadside apparently unperturbed at the intrusion.
Don loosed a carefully aimed broadhead and ob-
served the feathers as they disappeared into the rib
cage. Don swears this dumb-dumb moose never even
so much as batted an eye.
?
The hunter immediately drove another shaft into
the animal not two inches from the first, with about the
same reaction from the moose.
"'That critter," said Don, "just shuffled his feet,
stuck out his neck a little closer toward me and just
glared. As I nocked the third arrow I looked around
to see if there were a convenient tree I could climb or
at least hide behind. There was none, so again I blazed
away. By this time I was so dog-gone nervous and
shaking so badly I hit him in the foot.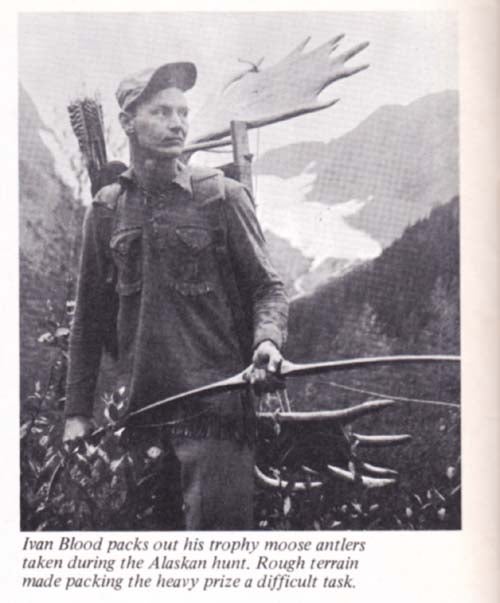 ?
"By the time I loosed the fourth arrow I was a
physical wreck and missed that big hulk completely. I
started desperately praying for help-a fellow bowman,
shotgun hunter, or maybe somebody with a stout club.
As I fumbled for another arrow I stood transfixed by
a sight I couldn't believe. Just when I thought I was
a goner, over he went dead as a mackerel!
?
Subsequent investigation showed both of the first
two arrows had completely penetrated the animal's rib
cage and were found sticking in the ground beyond. In
my estimation, there is not the slightest doubt but what
the first arrow would have done the trick.
According to the U.S. Fish & Wildlife Service,
the Keni moose of Alaska is the largest of its kind on
earth. Bulls reach a weight of 1,400 pounds or better
and with an antler spread of six feet and more.
Of the sixty hunters who participated in this hunt,
six were successful in bagging a moose.
?
Statistics on tackle show a radical change in re-
cent years. Ivan Blood used an eighty-pound recurve;
Charley MacInnes shot a seventy-nine-pounder. Seldom
do we see bows this hefty any more.
?
We joined Mert Marshall at Eureka Lodge across
from the huge Matanuslca glacier, 125 miles northeast
of Anchorage where, after loading our duffel, we took
a swamp buggy ride fifty miles up the river bed to the
headwaters of the Little Nelchina River into the tundra
and land of muskeg.
?
In all this wide world there's no ride just like that
on a swamp buggy After eight and a half hours on
this vehicle, it was the concensus of our gang that the
best way we could compare it was a combination of
which the worst part was like riding a Brahma bull
bare-back; the average as that of riding a pack horse
with the saddle stirrups too short; and the real smooth
portion as that of riding on a lumber wagon over a
cobblestone road!
Ment designed and built two of these swamp-
buggies with but one thought in mind a really rugged
conveyance which would carry parties of hunters
into the back country which is impassable, except on
foot or horseback.
?
Construction of the swamp-buggy started with a
Model A Ford engine. The frame was four-inch pipe
welded together. The body was made of heavy gauge
steel plate. C54 17 x 21 airplane tires were mounted
on the front, and earth—mover truck tires, with non-skid
tread, on the rear. A magneto was used for ignition, as
many times on this· trip the engine was almost entirely
submerged We went through water holes so deep, and
over boulders so huge, it didn't seem possible a motor-
driven vehicle, other than an army tank, could accomplish
the feat. There were no refinements such as body
springs or soft cushions on the outfit.We all were grateful
when Mert announced we had reached our camp site.
We shook the kinks out of our weary bones, downed a
heaping plateful of Frieda's ptarmigan stew, and hit the sack.
?
?
Next morning, our day's activities started on a
sour note. I had a confrontation with Moore, our licensed guide.
He chawed me out for starting a campfire, explaining
in an unfriendly manner that only
sissies built campfires which spook the caribou out of
the area. I didn't strike any fighting pose, for I knew
he could lick me. Suffice to say, if I were paying the
bill for this trip I should have something to say about
turning on a little heat. The fire was built. Breakfast
was eaten and we prepared to leave for a day's hunt.
?
Tim was chomping at the bit and decided to climb
the riverbank to take a look see. He topped out slowly,
looked around for about two seconds, then dashed madly
back to the fire and told us he had sighted a small
herd of caribou feeding within a stone's throw of the
camp. They must have been looking the other way,
when mama told them not to approach a campfire.
?
?
Bill and Tim, accompanied by Moore, sneaked
downstream for a few hundred yards, then made a successful
stalk on a nice bull. Bill put an arrow into him.
The animal started to run. Fifty more or less steps
farther and he folded in a heap – not from the effects
of an arrow but a bullet! The guide said he
thought the animal was escaping, and it was- his legal
responsibility to kill it. I was sure we could have track-
ed down the wounded animal, but the damage was
done. Take a tip from me, hire a guide who is familiar
with bow and arrow hunting.
?
In the meantime, Ivan and I headed out in the
direction Tim had seen the caribou herd. Nothing
was in sight so we fanned out. I turned to my right
and started walking parallel to the river. Making a
sweeping glance, I saw Frieda on the riverbank at our
camp waving her arms and motioning something was
just ahead up river. I sneaked down to the bank and
looked over. There were eleven head of caribou drink-
ing from the stream. I had goofed! The herd spotted
me and moved on. I use the word moved because, in-
stead of like state-side animals, they didn't run. They
just walked. I tried to catch up with them, but they
could walk faster than I could run. Of course, I must
say this was not a cinder path, but muskeg which is not
conducive to speed. Who was it who said caribou
won't come near a campfire? Phooey!
?
In succeeding days, Mert taught me much about
hunting caribou. There are two species: the barren-
ground, which is the most abundant game animal in
Alaska, and the woodland, which is found in Canada.
Caribou are migrating animals to the north in spring
and summer and to the south in the fall. Herds travel
hundreds of miles to find new ranges and are constantly
on the move in search of lichen or "reindeer
moss" their favorite food which grows in abundance on
the muskeg-covered tundra.
?
Both sexes of caribou have antlers. The bulls, of
course, have the larger. Considering these animals are
nomads, there is no sense in building a blind during
hunting season facing toward the south. All your game
will be heading south, so face north. We did not build
any blinds, merely hiding in the willows growing at
the edge of the riverbed where we'd constantly glass
the deep etched caribou trails which run north and
south through the tundra for hundreds of miles.
?
One morning, Mert set up an ambush for Tim
and me. We were keeping our eyes peeled on trails
where they skylined. Suddenly, perhaps five miles
distant, we spotted a herd of caribou approaching.
We did not see the animals, just antlers! We could
see those fascinating five-feet-high antlers for several
minutes before the body of the lead animal came into
view.
?
Now for the strategy. That was the last look at
our quarry for perhaps thirty minutes. Mert indicated
hiding places for us across the stream from where we
watched our guide – not the herd! By slow hand move-
ments Mert signaled us the approach. All we had to
do was wait until a big bull got within four feet of us,
then drop him in his tracks with a well placed broad-
head. Things didn't work out that way.
?
Mert finally signaled us to attack. We raised up
ever so slowly to take a peek. About a hundred yards
ahead on a hillside were four bulls apparently having
stopped for a snack. We figured we had them in the bag,
but they wouldn't come down any farther.
Tim and I really tried to make a perfect stalk.
?
After some difficult maneuvering, we reached a spot
where we both were concealed from the herd in a
dense growth of willows. By lying flat on our bellies
we could barely see a dim outline of the herd, but
this was all we wanted or needed, just enough view
to keep the herd under observation. Terrain and willow
growth were such we could not contact our guide
for instructions. So we decided to stay put until the
herd came down, even if it took hours of waiting.
We must have lain in that one spot for more than
an hour. It was exasperating to watch our game graze
slowly down the hill toward us until almost within
bow range, then turn around and work back up the
hill. I had to restrain myself from attempting a Joe
Dolan shot at the herd. They were always closely
grouped and at one time were within less than one
hundred yards from us.
?
I petted and stroked my little Walrus tusk talisman,
but it didn't work. The bulls worked slowly back
up the hill. Then very slowly topped the hill and disappeared.
For several seconds their bodies were out of
sight, but we could still see the tips of their antlers and,
judging from the way they fooled around on our side
of the hill, Tim and I figured they'd stay put for at
least a few minutes. We ran up the side of that hill as
fast as we could and when we topped out we very
cautiously peeked over expecting to see them nibbling
right in front of us.
?
We slowly stood up and scanned the barren hills
in every direction. Our game had disappeared.
We rejoined Mert who pointed out one phenomenal
characterisltic of caribou is their ability to disappear
in an area where there is no cover. We concluded
the herd must have known we were in the area though
they seemed to be peacefully grazing, without a care in
the world. It was just a ruse to outwit us.
So ended our Alaska hunt. Score: two trophies
for three hunters. Question: How come I had to be
the bridesmaid?
Archived By
www.Archerytalk.com
All Rights Reserved
Ads inserted with google adsense plug and play
Leave a Reply
You must be logged in to post a comment.