Published by archerchick on 17 Feb 2011 at 04:19 pm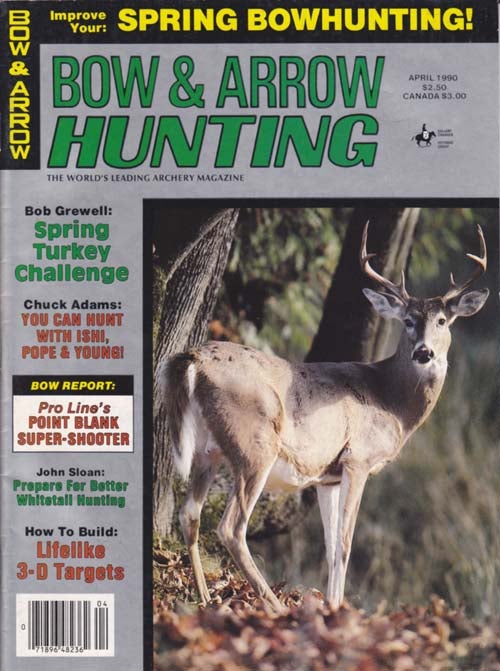 Bow And Arrow Hunting
April 1990
Improve Your Deer Hunting Odds~ By John Sloan
Are you in a Hunting Rut? Give some of these Old/New Ideas a Trial~ They May Pay Off This Season!
EACH YEAR, as I get letters and calls from deer hunters who have questions
about something I have written, or when I talk with hunters who have attended
one of my seminars, I am amazed at how many simple mistakes these hunters
seem to make. Many of the folks I talk with are experienced hunters. By experienced,
I mean they have spent a lot of time hunting. That doesn't mean they have been
successful much of the time.
?
I speak with hunters who still believe many of the old wives' tales and myths
that have abounded in deer hunting lore for many years. I see hunters who have not
kept pace with change in both equipment and habitat. These changes have affected
the habits of deer and their vulnerability. In thinking back over many of these
calls and encounters, I find that there are six main areas that, if given a little more
attention and thought, can be changed to greatly improve the hunter's chances of
success. The understanding of these areas requires that much of the hype and bull-
hockey that has been written and espoused must be cut through. Look at the factors
with clear, simple understanding and you will develop a clear, simple understanding
of the animal you are hunting.
?
SCOUTING
There have probably been more words of advice on scouting than any other facet
of deer hunting. Of course, it is important. But it isn't a great mystery rife with secrets
and complicated formulas. I do most of my scouting in the post-season. Why'? Because
I can see the ground better then. Deer walk on the ground. They do not fly. or climb trees
or hop from bush to bush. They walk on the ground and they prefer certain types of ground to others.
?
Deer would rather walk where the walking is the easiest. Given decent cover, a
deer is also going to take the course of least resistance. He is not going to climb a steep
ridge if there is a gentle slope nearby that will get him to the same place, but with less
effort. Deer don't really like level ground. It is harder for them to hide there. They prefer
there be a depression through which they can travel. They prefer to have a ridge they
can get over in a couple of quick jumps. I want to be able to see the contour of the
ground first. Then I'll take a look at the trees and the brush.
The single biggest mistake a hunter makes is not seeing what he is looking at.
He is not assimilating the material his eyes observe and computing that into what it
means to a deer. Look at the surface of a lake. lf you never consider what is under
that surface, you' ll not catch many small mouth bass. If you look at the trees, you'll
never see the forest, to rephrase a phrase.
?
STAND SELECTION
Each year I am given consulting jobs. These jobs are simply me — the guide —
telling the employer — the hunter — where he should hang his stand. Most of
the time. I have never been on that piece of property before. Here I am, charging $l5O
a day to tell a guy where to put his tree stand. Most of the time, I find that where
he had his stand last year was within twenty or thirty yards of where it should have
been. Too often. a hunter picks a particular tree. because it is a good tree to climb. It
may be a bit out in the open or a touch too far from the trail. but it is a great tree to
climb.
The stand has to be in the right place; or you might as well be sitting at camp
drinking Jack Daniels and branch water. Quite often. there is no good tree to climb in
exactly the right place. Your options are simple: You either find another place; or
make do with what you have. Frequently, even a bad tree can work just fine, if you
have a different type of stand or hunt from the ground.
?
Now I would just as soon be at camp with bourbon and water as sit on the ground.
So I own about four kinds of tree stands. If all you find where you hunt are little saplings,
maybe a ladder stand will work. I suggest placing ladder stands in your selected location
at least four weeks prior to hunting that area. If the trees are all huge or have lots of branches,
a lock-on stand often will work. A tree seat and a board will work in the crotch of a big tree.
A tree sling may work in almost any tree that will hold you up. I use a Quick And Quiet climbing portable stand ninety percent of the time. But if it just won't work, I'm not so set in my ways that I won't use something else.
Pick the stand location on the basis of deer movement, cover and the direction of
the sun. I try to have the wind at my face or quartering and the sun at my back. Here in
my state of Tennessee, the sun almost always rises in the east and sets in the
west, but the damn wind can change every twenty minutes and often does. So l don't
get locked into not hunting a particular tree just because the wind is wrong. I simply
adjust for that.
SCENTS AND LURES
I have often wondered just how many different scents and lures there are on the
market. I have also wondered just how many of them even come close to being
what they are reported to be. Here in Tennessee, thousands of words have been
written about a lovely teenage girl who has bagged several nice bucks over the past
couple of years using her favorite perfume. I don't doubt it. I have a tale or two myself.
You can do everything wrong and still kill "Ol' Snort."
One day last hunting season, I did everything wrong. I used no masking scent or
attracting lure. I made plenty of noise going to the stand. I got in the wrong tree, waited
fifteen minutes and climbed down and moved. It was a warm, windy day and the
ground was wet from rain the day before. I had eaten a Mexican dinner the night before
and Montezuma was taking his revenge. I got down and attended to that ~
five feet from my tree. I didn't expect to kill anything, I was just marking time.
I shot the nine-pointer ten minutes later at a remarkable six feet. I literally could
have stabbed him with a spear. Maybe he liked enchiladas? Maybe we've discovered
something. When it comes to masking human odor, the best product on the market costs thirty-
five cents. It's called soap and you add water to it and use it regularly. There are
also some products that are said to eliminate human odor. I don't know about total
elimination, but a couple of them do a pretty good job on boots and hats. I do use
them some, but only as an addition to keeping my body and clothes clean. There
is no substitute for that.
As far as attracting lures are concerned, the only thing I use is an estrous scent during
the rut and pre-rut, then use it sparingly and preferably in a spray format. The key in
using these scents is to be sure the stuff is good quality. Concerning animal urine on my
boots: I don't use it. I doubt the urine hurts anything, but I also doubt it helps anything. I
also have not been able to see one bit of difference in leather and rubber boots, as
far as scent control goes. Just watch where you wear your boots; I really don't think
gas or motor oil on your boot soles does much good. I do wear plastic surgical
gloves going to and from my stand. After all. it is my hands that push the branches
out of the way.
CALLING AND RATTLING
There have been millions of words written on calling and rattling. I wrote some of
them myself. I am a firm believer in calling and rattling at certain times. I am also a
firm believer that neither of these techniques are magic. They work only sometimes.
I call a lot and rattle maybe ten days a year. I call softly and usually try to sound
like a doe. If a hunter has not included calling and rattling in his or her bag of tricks,
one should consider it. Learning to do it properly may spook some deer in the beginning.
So what? There are plenty of instructional cassettes, videos and books to reference. Use
some common sense and sort out what works best for you. If you never try it, you'll never know if it works.
?
DEEP WOODS SYNDROME
In the past eight years, I have killed sixty deer. I need that many to feed my
family; that is well below the legal limit where I live. I have not killed a deer that
was over 150 yards from any sort of road. Of the ten deer I killed last year, eight were
within seventy-five yards of a road. Three of those were within thirty yards of a road.
Too many hunters walk as far back in the woods as they can before even considering
a stand site. Their rationale is to escape the other hunters and have all
the deer to themselves. Now if most of the hunters are thinking that way, it doesn't
take a genius to see the long walk in is accomplishing nothing.
I much prefer to hunt where the deer are. If my scouting has revealed a super
stand fifty yards from a road, that's where I hunt. If the deer don't care about the
road, why should I'? I'll go ahead and let the deep woods hunters have the deep
woods. I'll stay up by the road and enjoy the lack of hunters and plenty of deer.
I have, on several occasions, killed deer within sight of my truck; I mean within
forty yards of my truck. Many of my friends and paying hunters have done the same
thing. One of my hunting partners coined the phrase, "If you can't see the car, you've
gone too far."
?
DR. PEPPER
A popular soft drink had a slogan, which ran something to the effect, "Good
at 10-2-4." I have found that you can apply that to deer hunting. I have been
keeping some pretty good records on the times of day we are killing deer with my
guide service. In 1988, of the forty-two deer killed, all but four were killed after
7:30 a.m. The majority were killed between 9:30 and 10:30 a.m.On our afternoon
hunts, we had poor success last year. Only six deer were killed in the afternoon and
those were killed between 4:15 and 5:03 p.m.
Here, where we hunt, all the deer were killed at least one hour after daylight and
one hour before dusk; our legal shooting time here is daylight to dusk. In the past
few years, we have seen but little deer movement either early or late. What deer
we do see are usually does and yearlings. The majority of the big bucks we take
are shot around nine or ten in the morning when many hunters have left the woods.
Now I don't even go to the stands until I can see well enough to shoot.
To put all of this in a nutshell: Scout in the post-season. Find good-looking areas
with deer sign and the sort of terrain deer like to travel. Pick out one or two stand
trees. Go back late in the summer and see if the deer are still there and if you can
shoot from your selected stand trees. If not, trim till you can or move.
Pick all stands on the basis of shooting a deer, not because it is such a good tree to
climb. If your stand won't work, get one that will. Buy one, build one or borrow
one.
Take a shower. If it is hot, shower two or even three times a day. Wear clean clothes.
Change twice a day, if you have to. If a set of cammies costs you $75, isn't it worth
$75 for a good buck? Remember, the best camo you are ever going to wear is called
sitting still. Keep your boots clean and use a cover scent if you wish, but be sure that
cover scent is natural.
?
If you are not calling and rattling, try it. Investigate the products on the market, listen
to some seminars or cassettes, pick the products that appeal to you. Don't use
calling and rattling as a last resort: use them as primary tools. Don't be misled into
thinking all the deer are five hundred yards back in the woods. One editor of a popular
bowhunting magazine kills most of his bucks in his neighbor's backyard.Re-think the old
saw about, "All the deer are killed right at daylight and right at dark." It just ain't so. If
you are getting tired and fidgety by 8:30 a.m. and are on the ground, "scouting" by nine,
try going into the woods at seven and hunting until eleven.
Quite simply, use some common sense and think about the animal you are hunting. Whitetail
deer, sharp as they may be, are not mental geniuses. You can out think some of them. Do some simple, basic things until you are ready to try the college-level tactics. Most of all, enjoy
what you are doing and give some of these different techniques a try. They can pay
off for you.
Archived By
www.Archerytalk.com
All Rights Reserved
Leave a Reply
You must be logged in to post a comment.