Published by archerchick on 17 Feb 2011 at 04:01 pm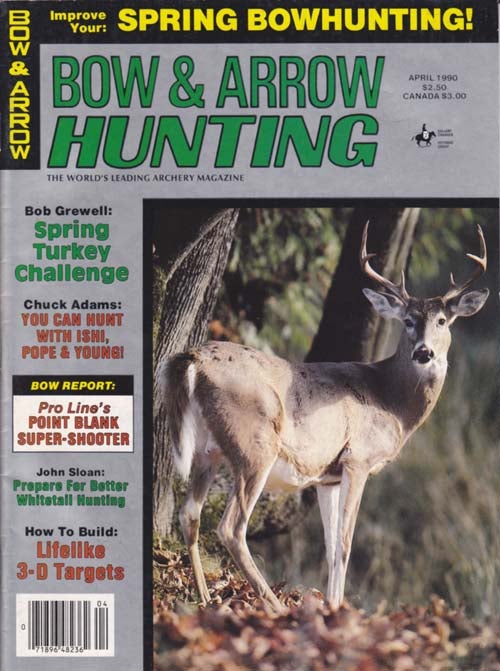 BOW AND ARROW HUNTING
April 1990
How To: Build Life-LIke Three-D Targets ~By Jim Deitrick
I CAN BARELY make out the light tan color of an elk's back on the
steep slope above me. Looking carefully, I pick up the glint of an
antler through the timber. Moving closer, I can see the elk standing at the
confluence of a thick patch of aspens bordering a heavy stand of fir. Closer yet and
the bull comes into full view. He is a magnificent animal, poised with his head up,
listening, ten ivory—tipped points of armor tilted over his head.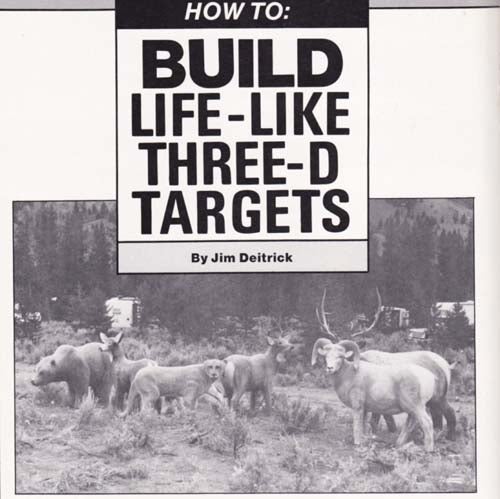 While mentally compensating for the steep incline, I carefully judge the distance
separating us. In one smooth motion, I slowly raise my bow, draw and release.
The arrow flies true, heading for its mark. Thud! The unmistakeable sound of an arrow
hitting — Styrofoam?
The elk is only a target; not an ordinary target, however, but a handcrafted three-
dimensional target. With targets built in this manner, it's easy to let your imagination take hold.
Practicing is, as every archer knows, a crucial part of being a good bowhunter.
The best practice possible is having life- size three—dimensional targets set up in a
field, simulating actual hunting conditions. Three—Ds enable a person to get a
better feel for judging distances that ordinary face targets simply cannot duplicate,
especially when shooting on steep inclines.
Three-Ds also make it possible to shoot from any position or angle without having
to move or adjust the target. Putting aside all the practical aspects, though, shooting
at these lifelike animal replicas is just pure fun. l believe anyone, with a little time and
practice, can put together good looking 3-D targets.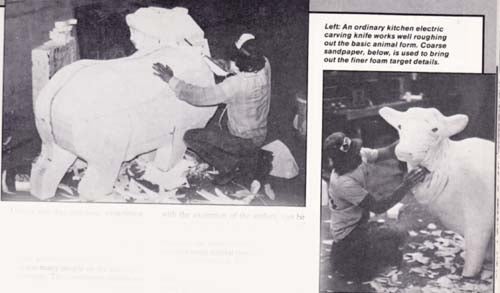 Unless one has previous experience, working with a buddy seems to be the best
approach on the first one or two attempts. When it comes to carving the form, one
person can sometimes see an irregularity the other person does not notice. Avoid
getting too many people on the same project, however. This sometimes creates too
many opinions, making it difficult to get anything accomplished.
I had the opportunity to work with a fellow who is exceptionally good at turning out
these lifelike targets. Mike Shetler of Carey, Idaho, has produced several
exceptional 3-D targets and together we made the elk featured here.
The materials used for construction, with the exception of the antlers, can be
purchased at most lumber yards, builders' supply or hardware store. It is conceivable
that even the antlers could be carved from wood or some similar type of material, but
I have never tried it. It is generally much easier to End the real thing. However, real
trophy—sized antlers are a lot harder to come by. Antlers carved out of Styrofoam
would lack the strength needed for normal handling.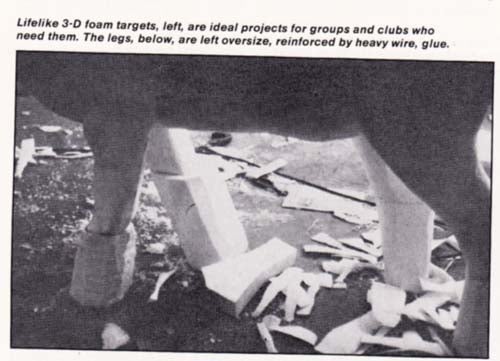 Many big—game animal targets that one can make have no antlers to worry about.
In fact, Shetler carved out a set of full curl ram's horns in a sheep target that turned
out to be nothing short of incredible.
The materials we used for assembling the elk are: a large sheet of cardboard,
two—inch Styrofoam, Styrofoam glue, heavy—gauge wire, burlap, wallpaper paste,
paint in appropriate colors. The first thing to do, after deciding which
animal target one wants to make, is to find a picture of that animal in the pose wanted
from a book or magazine. With the help of an opaque projector, enlarge this image to
lifesize onto a sheet of cardboard and trace out the outline. It is important to ensure
that the selected picture must be almost perfectly broadside. lf the animal is quartering
even slightly, the result will be a distorted view when the silhouette is traced
onto cardboard. If a person can draw well, this problem can be eliminated by simply
drawing a life—size silhouette on card- board. Once drawn, this outline is cut out,
making a pattern for cutting the Styrofoam.
We used ordinary two—inch white insulating Styrofoam on the elk target. We
used one sheet of the denser blue—type foam in the center for durability. I believe
the more dense foam makes a longer— lasting target. Unfortunately, it is a lot
more costly and considerably harder to work with.


The cardboard silhouette is placed on top of each sheet of two—inch Styrofoam
and traced. The sheets of Styrofoam do not need to be wide enough to cover the
entire height of the animal. In fact, shorter legs make the target more stable for
carving and can be lengthened easily after the rest of the target is carved. Depending
upon the size of the animal target to be made, one to three sheets are cut
without legs — for the center of the body. Two or three sheets are cut for each side,
including the appropriate right or left side legs for each.
All of these layers are glued and stacked together in their correct order. Some weight
placed on top while the glue is curing will help hold the pieces evenly together. Masking
tape wrapped around the legs will hold them while they are drying. If the target is
being made with a turned head, this portion will have to be built out farther than
the rest of the body. Small pieces of foam can be used by adding them to the head
and neck area so as not to leave as much waste.
The best glue to use is one made specifically for glueing Styrofoam. It is generally
purchased in tubes and applied with a caulking gun. Builders' supply outlets should
have the necessary materials.
When the glue is completely dry, the foam is ready to be carved and the fun
begins. We have found that an ordinary kitchen knife works well for carving Styrofoam.
The only drawback is having your spouse catch you with it and use it on you
before you can get it out of the house.
When carving the body, try not to worry about cutting off too much. This is a common
tendency and resulting in an animal with a sort of blocky squared-off look. If a
person does cut too deep, it's a simple matter to glue on a scrap piece of foam and
start over. Once the foam is roughed out with a carving knife, coarse sandpaper
works well to bring out the fine details, especially around the head and face.
Don't rush this process. Sometimes it is best to leave for awhile; return at a later
time with a fresh view.


Sections of heavy wire are used to support the ears and extend the leg pieces to
their proper length. It is usually best to leave the lower section of the legs over-
sized. Carving them down to lifesize will make them too weak to support the rest of
the target. Steel rods can be used for support if a person wants more lifelike legs.
However, these same rods are often detrimental to the life of aluminum arrows.
Attaching the antlers to the foam is a matter of carving out the appropriate size
hole in the head, then anchoring the antlers with several sections of heavy wire pushed
down into the head through drilled holes.
Sometimes balance can be a problem. lf the antlers are too large, the front of the
animal will be too heavy to stand on its own legs. If this happens, one possible
solution is to place some weight in the lower part of one of the hind legs.
When the carving, shaping and swearing are finally completed and you are satisfied
with the look of the form, you are ready for the next step. The foam is covered
with burlap and wallpaper paste. This process puts a heavy covering, almost like a
shell, over the entire target, adding strength and durability.
Our best luck with wallpaper paste is to use the pre-mixed variety. The extra thickness
and weight of this paste helps to hold and fill the burlap. When applied liberally,
the paste will hide the seams between sections of burlap, making a smoother skin on
the target. Any heavyweight burlap will work. We used burlap bean and grain sacks, with the
seams removed, cut into varying sizes. Larger pieces are used over the body section while
smaller strips are placed around the head and face. The entire target should
be covered with burlap. Weaker points, ears and leg extensions, are tied together
by overlapping the strips in opposing directions.
When the wallpaper paste dries, the target will be relatively strong and ready
for normal handling. If any weak points are noticed at this time, it is wise to apply
some extra burlap where needed. Most wallpaper pastes will break down
if immersed in water. When the target is completely dry, it is a good idea to apply a
generous amount of exterior paint, in an appropriate base color, over the entire target
to help protect it against the weather. However, it is not a good idea to leave a target
in the rain any longer than necessary regardless of how much paint has been applied.
With the base coat of paint completely dry, the target is ready for the final step.
Putting on the finishing color is critical to the final appearance of the target. On this
final process, we appropriated the services of a talented lady who had most of
the paints and talent to make a fair target look pretty good.
Even though we had an expert paint this elk target, that doesn't mean anyone couldn't
do as well with some practice. It is generally helpful to gather as many color pictures as
possible before beginning to paint. These pictures will help with the color and shading,
particularly while working on the face.
It is important to remember to not rush the job. Take your time.
Three—D targets put together as I have described will last through dozens of arrows.
However, when the vital area finally does get "shot out" and is too weak to prevent
arrows from passing through, it is time for some repair. Carefully cut out and remove
the damaged section and replace it with a new block of Styrofoam. The patch is
covered over with a new section of burlap and paste. Then, with a new coat of paint,
the target is ready for service.


It seems the closer a target appears to real life, the more fun it is to shoot at and
the harder a person tries to connect with a good shot. This extra effort improves
concentration, making for better quality practice. Many clubs also have competitions
for the best looking 3-D target constructed by members. A club can assemble a large
inventory of fine targets.
Good shooting! <—<<
Archived By
www.Archerytalk.com
All Rights Reserved
Leave a Reply
You must be logged in to post a comment.