Published by archerchick on 17 Feb 2011 at 03:40 pm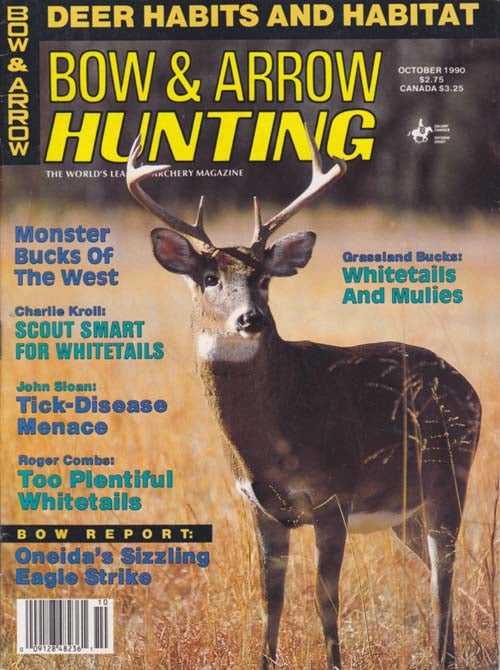 Bow And Arrow Hunting
October 1990
Whitetail Habitat and Habits By Bob Grewell
?
Bowhunters And Deer Are A Lot Alike – Learn More About Your Game and Improve Your Score!
?
A HUNTING PARTNER gave a few of us some good advice when he explained
about using known whitetail feeding grounds he had been tree-standing successfully
for three years. He favored a ridgetop plateau crowned with oak and hickory. To his
advantage, a brushy stream-lined ravine skirted the east side of its base. Below
this flat on the south and west sides was a massive cornfield. A bedding growth
of tangled honeysuckle and blow-down timber wrapped around the northern
lower third. It set the stage for suitable bowhunting habitat. Deer frequented the
ridge for mast and had all they needed: food, water and cover. Picking a spot
and waiting for deer movement was his proven technique.
?
This ridgetop was also used by early- season squirrel hunters quite regularly
Although we bowhunters don`t directly emulate the methods of squirrel-gun
hunters, Gary picked a stand site in this area, right on the perimeter where the
landscape dropped over and down into corn and bedding. This kept him directly
away from squirrel-hunting activities, but still put him in touch with a major
deer-escape route. He had selected ideal habitat, relied on deer feeding and
bedding habits and positioned himself so squirrel-hunter movements would
probably force fleeing deer past his stand.

The last day of the early season, he hadn't been settled more than thirty
minutes when he heard the faint sound of voices far off into the hardwoods. The
hunters who were stalking the woods that morning were friends of Gary`s and
knew he was bowhunting, so they stayed away from his stand location. Shortly
after their voices broke the silence, a fat doe and apparently her two offspring
slipped past his tree and down over the hill. The action looked promising.
?
Before Gary had a chance to get settled again, a muffled shot was heard;
then another. Within two minutes he noticed movement in the trees. Walk-
and-stop, walk-and-stop; the buck was sneaking through the hardwoods at a
snail`s pace. Constantly looking back toward the squirrel hunters, the whitetail
didn`t pay much attention to what was in front of him. Appearing as if he felt
he had eluded the human interference, the cautious buck stopped behind a tree
not fifteen yards from Gary.
?
When the buck turned and looked back toward the squirrel hunters after their
voices broke the silence, Gary eased into full draw. The buck took three steps
and stopped, alert, but not frightened. The arrow whispered as it gilded into
the buck`s chest cavity. He flinched and jumped straight up. Standing motionless
and looking all around, he wobbled a little. Then, trotting past Gary`s tree, he
attempted to walk downhill, stumbling, then rolling into a briar patch. Even
though the buck lay motionless, Gary sat back down. '
?
He had picked a good habitat location and took advantage of the whitetail`s
habits in this area. He also used the squirrel hunters activities to his advantage,
knowing the buck would avoid their presence. Although this bowhunter
is a rut-hunting enthusiast, he never fails to be afield before or after the rut.
The first two or three weeks of whitetail bow season are not perfect
times to be looking for rutting bucks. A bowhunter is not likely to be found
seated in close proximity of a "hot" scrape, because they just aren't prime.
?
Even though one can`t concentrate on whitetail mating urges to be successful,
it is a great time to be afield. The deer haven`t been pressured a lot by hunters.
The weather is not deplorable and there are lots of deer. Many hunters score on
whitetail bucks even when these trophies aren't yet interested in mounting a doe.
Whitetail and bowhunters are alike in many respects. Our habits and habitats
coincide. The whitetail faces a different set of problems on a daily basis, even
though some are like ours. They must develop habits that mesh with the conditions
of their habitat.

?
The whitetail deer generally leads a life of comfort, seclusion and sometimes
just plain luxury, except for hunting season, human pressures and changing
weather. Food, water and protective cover are all around them. This is a
"key" bowhunters can capitalize on each season. When mating urges haven`t
reached a focal point, basic necessities are a hunter`s asset as well as a deer's;
in many cases, even more exacting than the short-spanned exposing effects of a
traveling, sex-hungry buck during the rut.
?
The common practice today is to hunt whitetail bucks during the peak of their
rutting activities. There`s nothing wrong with taking advantage of this natural
urge and the high-exposure effects it has on a buck`s actions. In many instances
and terrain locations, rut-hunting provides a bowhunter with an exceptional
chance to take a secretive buck. But if he waits solely for those few weeks of
prime sexual behavior, a bowhunter is missing out on a lot of other chances to
take deer.
?
Logically, bowhunters are constantly searching for the fastest, simplest and
least expensive means of arrowing a buck. The usual method of pursuit that
ups the odds in one's favor is to take advantage of the exposing effects mating
has on a buck as he searches continuously for a receptive doe. But deer
activities won't always be predictable or on time and hunters limit their opportunities
when hunting solely for mating bucks.
?
There are many opportunities available prior to and after the ritualistic
mating cycle that can expand one`s chances. The ability to pattern buck
exposure is more prominent when they are stimulated by their annual sexual
drives. This erratic response does help one to set up more productive stand
sites and enables a bowhunter to see more deer, more often. Patterns of travel
become more consistent and timely as bucks spend increased time on the hoof
looking for ready to mate does. Rutting bucks are a little more prone to being
visible when they are crazed for estrous does. For that we can be thankful, be-
cause bowhunting is a limited opportunity sport. anyway.

?
There are thousands of bowhunters who take deer each year and don`t count
on mating activities as a catalyst for success. Not that it`s any easier, because
a hunter must work just as hard and be just as smart to outwit a sneaky
buck. When we enter whitetail habitat looking for a place to hunt, it can appear
confusing. Local deer know it thoroughly. But for us, it`s like walking onto
a new car lot…so much to look for, so much to choose from. The buck usually
only exposes himself when feeding, watering and traveling to and from
bedding locations. These are the key points to concentrate on during any
given day. Habits and habitat knowledge will put you on better bucks when they
aren't on the move for doe.
?
Bowhunters who plan to take bucks prior to and after the rut need to spend a
lot of time in the field. Relying on previous areas of success is a major
ingredient when taking deer, if the landscape hasn't been altered to move
deer out or change their habits too dramatically. Deer associate with sights
and sounds in their home range. When changes occur, these animals are
automatically alerted. Although whitetail habits seldom change greatly, they do
change travel habits and feeding locations if habitats are rearranged or some form
of interference dictates their mood. But for deer that live in specific areas year round,
these changes are minimal. That`s why it is important to get to know an area
well. Learn the contour of the land, the locations of food, water and bedding.
?
?
These natural architectural features will control the daily habits of deer. Every
effort of scouting will build a storehouse of valuable information in your favor.
When a bowhunter pursues a buck without relying on rutting activities, the
hunter must study intensely. Talk to landowners, rural mail carriers and successful
hunters. Tap other successful archers knowledge to help you improve
your own. Opinion plays an important role in deer hunting and if it`s a successful
hunter`s opinion, the answers are more prone to be factual details.
?
?
Whether before or after peak rutting desires are aroused. food is a critical
influence that stimulates deer movement patterns. Bedding sites are important, as
well. The routes of travel leading to and from feeding and bedding areas are
walkways to guard. When a bowhunter is after his buck under normal conditions,
study whitetail habits and the structure of the habitat.
?
Any buck not interested in does is especially concerned with protecting his
own hide. This makes him tougher to get close to when he`s not overwhelmed by
a female. Extreme caution on the hunter`s part is a must. but bucks aren't
beyond approach. If you go after a buck that has been bedded throughout the
afternoon, a logical place to set up an evening stand is along a trail that shows
obvious use.
?
Scouting cannot be over-stressed. Of course, deer aren't likely to travel the
same trail. the same way. the same time, on an everyday basis. We can`t assume
deer have rigid schedules. But we can determine deer habit patterns more
accurately by thinking food and cover, and using these necessities to our
advantage.
?
Ideally, one first locates a prime food source that is being utilized regularly,
whether it is natural. such as acorns, or artificial, like corn and soybeans. By
backtracking game trails adjoining likely feeding areas and potential bed sites,
stand site selection is easier. Choosing two or three possible stand locations
that will place you on the downwind side of predominate daily wind currents
allows you to change positions, because of shifting weather, other human
interference, or noticable habitat changes.
?
In no way would it be practical to suggest that one should not hunt during the
heat of mating activities. It's a perfect time to be afield. But no hunter should
rely solely on the sexual urges of whitetails before going hunting. It would
be a genuine loss of productive hunting time to stay home during non-rut days.
If a bowhunter studies and learns normal daily whitetail habits, familiarizes
himself with the details of the terrain he intends to hunt, scouts and determines
the most popular food sources and finds likely looking bedding lairs. the efforts
will amount to a perfect foundation for hunting at any time of the season.
?
Then by respecting the wind`s fickle effects in exposing your scent, hunting a buck
without relying on the mating urge will be an exciting experience. It will not
only teach you more about your quarry, but will instill you with a sense of pride
from the fact that you took your deer from intentional effort, not just from random
luck. Using whitetail habitat and their habits will put you in the drivers seat.
Leave a Reply
You must be logged in to post a comment.