Published by archerchick on 16 Feb 2011 at 03:29 pm
Bow And Arrow
Bowhunting The Third Season ~ By Ralph Quinn
LASHES OF GRAY light were beginning to punch
holes in a seamless canopy of inky clouds as I hiked
toward a distant hedge-row. The bitter December wind slowed
my progress. Periodically, l`d huddle against the cold, glass the expanse of
corn stubble, then continue. Twenty minutes later I arrived at the ancient oak
tree.
?
Seemingly for the hundredth time, l`d scale the main stem, anchor my portable
perch in place and watch another day end in the farm country of southern
Michigan. Hopefully, however. tonights hunt would be different.
For three days now the weather had been typical of third-season hunts: rain,
sleet. snow and sub—freezing temperatures; the local deer herd was under
wraps. With the Canadian front passing to the north, the bucks would be on the
move again. Thoughts were still bouncing about when the first whitetails
entered the field from the south. Single file. like ants in a line, the animals
picked their way through the dense cover surrounding the planting, then
flooded across the field.


?
Temporarily distracted, I didn't notice the entrance of a second group from the
east; four bucks, led by a high—racked trophy. Almost on cue, the big Whitetail
turned south and stiff—legged to the center of the corn stubble. From here, the
buck diverted his attention on the feeding herd. The staredown continued for
several minutes. Satisfied, the big boy put his legs in motion and headed down
the fencerow.
?
Checking the wind as he moved, the buck ambled closer. In a few seconds
the animal would be opposite my stand and I'd have to make a move. As the
buck reached the brushed shooting lane I carefully leaned away from the tree.
The bow eccentrics rolled over. The sight pin found its mark. At the release,
the buck exploded into full flight. I followed the whitetail's noisy escape.
?
Fifteen minutes later I took the trail. The path was easy to follow in the
drifted snow. In the beam of my flashlight the blood showed bright red.
Fifty yards into the secondary maple growth I found my prize wedged against
fallen timber. If you haven't guessed it by now, bowhunting the third/ late
season for whitetails in farm country is, in a word, fantastic. Under normal
early—season pressure, dominant bucks are almost entirely nocturnal.
These animals are solitary and avoid contact with man.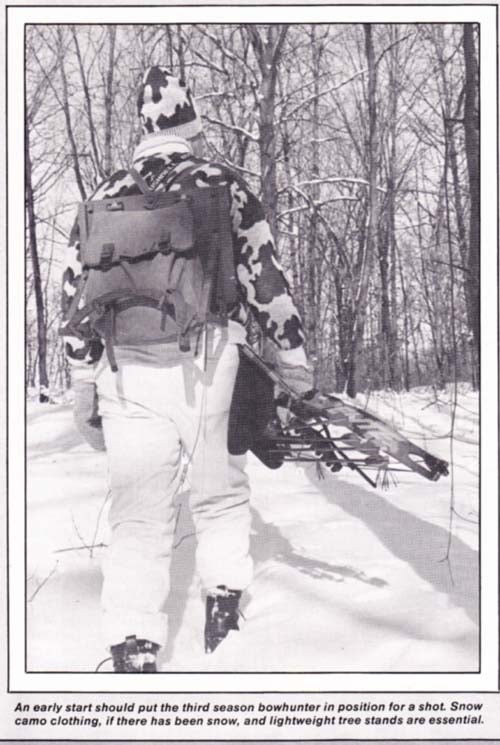 ?
In mid—October the bow and arrow hunter may get a brief glimpse of a trophy buck
as it makes a hasty retreat from a food plot After a few of these accidental
chance meetings the whitetail begins to pattern the hunter who is at an extreme
disadvantage. The rut in early November changes the picture slightly in favor
of the bowhunter, but you still have to cash in on the temporary distraction.
?
During December, the third season, the story is different. Initially, my interest in
late—season bowhunting centered on avoiding the crowd. A few years back it wasn't
unusual to run into a few bowhunters in the cornbelt region. Today, however,
that's changed. Lease hunting, increased numbers of two- and three-season hunt-
ers and a surge in bowhunting numbers has forced the devotee to adopt a different
time slot or give up serious hunting. For me, the solution was simple:
hunt the third season — December —— and eliminate all but the most hardened
whitetailers. There are other, more important considerations, too.
?
When game departments establish seasons on whitetails, top billing is given
to peak rut periods. Bowhunters are given an excellent opportunity to tag a
trophy before the gun hunt. In Michigan, for instance, the peak rut period occurs
during the first full week of November and continues to mid month. Bowhunters
who stick with late fall early winter have a good chance of tagging a buck, if
they are able to tough it out. A few dominant bucks are tagged during the
firearms season, but once the army of redcoats disappears, the late-season fan
can get down to the serious business of buck hunting; not for immature 1 1/2-year-
olds, but breeding bucks in the 3 1/2-to 4 1/2-year class.
?
In December, snow typically blankets the whitetail's world and after a few
brief flurries of "secondary rut" activity—— when multiple bucks pursue unbred
does — the average buck is primarily concerned with food gathering, not
breeding. Not that the late-season trophy is a dumb goat pursuing such
urges. With fat reserves low. bucks will feed often and travel long distances to
get nutritious high—energy grains like corn, soy beans, milo. It's this behavior
that puts the Whitetail in front of the hunter's sights and, in many instances.
during good shooting light
?
Another factor playing to the advantage of the late—season hunter is the
social interaction of whitetails December/ January. Early in the year,
bucks buddy around in bachelor groups. As the rut approaches, they disband
going solo much of the time. ln the mid season, subordinate bucks will rejoin the
herd and even though dominant bucks may not travel with the group. they are
always close by, on the fringes. lt`s the post season yarding or changing of
habitat that makes late hunts so productive. One of my best whitetails came in
1985 from such a setup.
?
During the pre-rut in late October, I'd located a prime scrape area, adjacent to
a pothole-infested bottom and from the activity I guessed a number of bucks
were using the locale. Rubs, territorial and breeding scrapes lined the trails and
openings leading to and from this hideaway. The weeks prior to the mid-November
firearms season slipped by with only one sighted an eight point, but
I knew there were more. Each time out I guessed wrong and the whitetails some-
how escaped. The gun hunt arrived November 15. The weather was
inordinarily warm and breeding fell off sharply. The rutting bucks went into
neutral and didn`t surface until December 8.
?
When I pulled my bow up the spindly cottonwood the temperature hovered at
a grim l2 degrees F. By sunset, it dropped into the single-digit area. The
whitetails showed at 5:30 p.m., right on schedule. but by the time the buck got
within range it was dark, dark. Three days went by and the story didn't
change, too late and too dark. On'the fifth try, however, I got my chance and
temperature played a key role in the outcome.
?
The mid-day high on December 13 was a record low for that date; the thermometer
registered l0 degrees. I thought of canceling the hunt, but by
late afternoon I was bundled in down and wool, waiting. If the whitetails
moved early I'd get the chance. My prediction was correct and the herd showed
at 4:30. By dusk, the herd buck, a good 5×5, fed below my stand. A twenty-tive-
yard shot and I tagged my sixth late-season whitetail.
?
Once you've located an area where deer are actively feeding and traveling,
skirt the region and make note of routes entering heavy cover. These will usually
be bedding regions. Now, back up and find a zone that has sufficient cover to
hide a buck's comings and goings and set up. Too many hunters stand at the
margins of feed plots and expect a buck to drop in their lap. After a Whitetail
enters a food area, he's on alert, looking for danger. He expects danger in the
open, particularly in good light. Dozens of eyes and ears from herd members
don't help the cause any. By taking a stand some distance from a grain field
or mast crop, in adjacent covers, you stand a better chance of getting a shot
on a respectable animal.
?
Away from feed areas, whitetails on the move are alert, but not as
easily spooked. Generally, the closer the bedding area is to food plots, the more
alert the animals will be. Stay well back and you`ll be better off.
Of the problems confronting third-season bowhunters, temperature has to
be the biggest obstacle to success.
?
Actually weather can be a two-edged sword. Low temps make whitetails
travel and feed over a wider range to maintain body fats, so the bowhunter has
a better opportunity of scoring. However, grim can and do play havoc with a bowhunter
locked in a tree stand. Cold feet, legs and numb fingers are tough to control under stress.
?
You can ease some of the pain by warming your trunk – chest region – with a down vest, then the feet and head. Insulated felt boot packs are, in my opinion, the best for cold weather bowhunting. I generally layer clothing to to maximize heat retention: cotton and wool socks, plus wool blend underwear, followed by wool pants and sweaters. Cover the head with a quality wool skull cap with eye slits and you'll endure the cold.
?
If there's a weakness in a late season clothing system, it's keeping shooting/release fingers
warm and flexible. I've tried a number of cures and found nothing does the job as well as a leather hand-warmer mitt lined with sheep wool. Additionally, this accessory serves as a spare hand to carry climbing spikes, bow cords, tabs, flashlights, scents, etc. While traveling to and from stand areas, I often wear a white disposable coverall made of Tyvek, then zip out of it prior to climbing the tree. I've repeatedly stumbled into whitetails feeding ahead of their scheduled time. Quite often
late-season bucks travel during mid-day periods – 9 am to 2 pm- and bed near food plots. If you're not prepared you'll blunder into a situation which could spook the trophy of a lifetime.
?
Basically, hunt strategy for late-season whitetails is simple. First, find the feed and you'll find the deer. Second, if does are gathered, the bucks won't be far away, particularly if a second rut phase is in progress. Under normal late-season conditions – snow covered landscapes – whitetails prefer corn to forage – alfalfa, rye, etc, but if there's no snow, they'll be attracted to these islands of green until forced to switch. If there are no crops in your hunt area, concentrate on mast crops such as acorns and beechnuts.
?
If stand productivity is slow, you might check out the solunar tables, corrected to your geographic area. Scheduling stand periods based on moon phases has merit and is worth checking out. For instance when the moon is full, whitetails feed at night, traveling less in the day. So normal evening and morning stands are not likely to produce well.
?
However, when a new moon – dark of the moon – dominates, deer feed less after dark and often bed near food zones to take advantage of reduced light periods. With the herd feeding to maintain body temperatures, stands near crop areas during the first and last quarter, plus the new moon usually are productive. And the fact that fewer bowhunters are bumping around can't hurt the strategy.
?
Patience and dedication are two traits the late-season bowhunter must possess in large quantities or it will be a long wait between bucks. When your opportunity comes, move slowly. Even though whitetails are more at ease in traveling areas, they aren't an easy mark. Pick a point and don't wait for a standing target. It may never come.
?
Finally, quiet every piece of bowhunting equipment before heading afield. Then you'll avoid the buck's second line of defense, his hearing. Bowstrings, eccentrics, quivers, arrow rests, sight windows should be given special attention. In cold weather, sound travels great distances and one false slip could cost you a successful shot.
Third-season hunting is super if you plan well, hunt smart and persevere until the last minute. Remember it's the persistent bow and arrow hunter who score season after season.
Leave a Reply
You must be logged in to post a comment.