Published by archerchick on 09 Feb 2011 at 06:12 pm
How To Fool A Buck's Sense Of Smell ~ By Bob Grewell
Here Is A Simple, Inexpensive Secret To Mask Human Odor On Your Way To Your Stand
I was tree standing downwind of a well used deer trail,
completely camouflaged. I had doused the dormant brush
at the base of the large oak tree with a liberal amount of
"essence-of-skunk." It was late November, cold, with a
light breeze.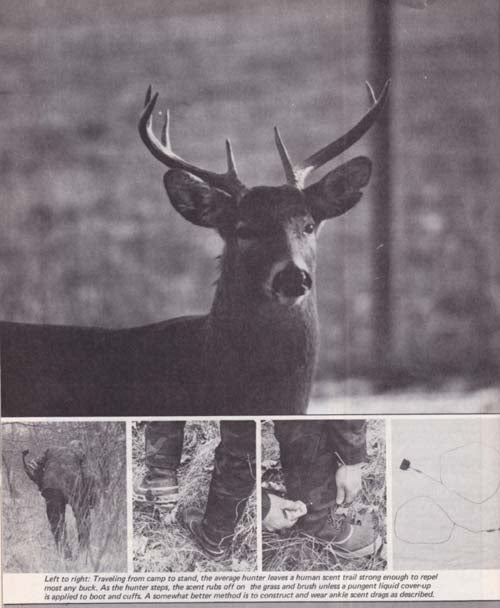 I'd spent the better part of four weeks determining one
particular buck's habits and patterns. I'd finalized his
movements and was positive I had his activities nearly down
pat. Now all I had to do was nurse my patience while I sat
motionless within the oak's array of limbs.
I rolled back the top portion of the off-brown colored glove
on my right hand, to glance at my watch; seven thirty-eight.
When I sluggishly raised my head to scan the brushy terrain in front
of me, I spotted him! A fair-sized eight-point buck, deliberately
moving toward my stand, coming in-crosswind, about eighty yards out.
He moved along at a somewhat cautious pace, with his now probing the ground.
At first I thought he was searching for a doe.
But after close observation, it was apparent he was
following the same path I'd used to approach my stand. He didn't seem to
approve of the latent human scent I'd left on the ground.
He was trailing my course through the ankle-high dead grass, snorting
occasionally as if in defiance. When he was within forty yards of my stand, he
stopped, threw his head up and down, snort/whistled again, and stamped the
earth, trying to intimidate me into revealing myself. Then, he veered off to
my right and made a wide berth of the oak, stopping twice and glancing back
over his shoulder in my direction, before disappearing.
In all my preparations, I had omitted using the skunk scent on my
boots on the way to my stand, mainly because the foul odor would have been
absorbed by the leather. But if I had sprinkled the cover scent on my boots
or the lower legs of my coveralls, there was a ninety-percent chance he
wouldn't have detected my human scent trail.


This has happened to nearly every bowhunter at least one time or another,
you can be sure, whether you were aware of it or not. We are so meticulous
in preparing ourselves, our equipment and our stand area that we too often
overlook one thing; the foreign, human odor we leave on the ground, grass and
brush as we make our way to our stand. What can you do to cover your
human scent trail, yet keep the masking scent from fouling your boots and
clothes? You can use ankle scent drags, two lengths of dark colored wire and a
dull-colored piece of ordinary cloth. So simple and inexpensive to make that I
sometimes think it's cheating by solving such a common hurdle so easily.
The ankle drags are slipped over your feet and drawn around the ankles
with the piece of scent—absorbing cloth hooked on the trailing end of the wire.
The scent — skunk scent for instance —is applied to the cloth, and as you walk
through the weeds and brush it completely wipes out your scent behind
you. It adds no additional weight to contend with, it's inexpensive to
prepare and once you make your drags, they'll last indefinitely.
To make the ankle scent drags, one for each ankle, use a thirty-inch—long
piece of 22—gauge black annealed wire, which may be purchased at any
hardware store. If you can't find the 22-gauge specifically, you'll be safe
with any wire diameter from 18 to 22-gauge. Black annealed wire is used
because it won't reflect available light with its dull finish and won't rust as
easily as common steel or galvanized wire. The thin diameter is used because
it's more flexible and isn't visible to your intended game.
Using a four-penny nail, twist one end of the wire around the body of the
nail so you'll be able to make a slipknot, or noose. Use a pair of pliers and twist
the excess tip of the wire so that it wraps tightly, leaving no protruding end
to snag on your clothes or brush. Then, remove the nail and slide the opposite
end of the wire through this one-eighth·inch diameter hole, making
somewhat of a snare or hangman's noose.


Next, fold up a three-inch square piece of drab colored cloth, which will
be used as the scent pad on the dragging end of the wire. Punch the straight end
of the wire through the center of the folded cloth pad, pulling it completely
through the cloth. Bend the end of the wire back and wrap it tightly around the
main length of the wire, being sure to also twist the protruding end. The scent
pad will be secured and won't be pulled off while walking.
Now, using a three-sixteenths—ounce crimp-style lead fishing sinker, move up
two inches on the main portion of the wire, away from the scent pad, and
attach this lead weight, crimping it tightly with a pair of pliers. This small
weight will not interfere with the drag's main function and will aid in keeping
the scent pad closer to the ground when you're raising your foot to take a step.
The scent pad needs to stay close to the ground because the scent on the pad
will rub off on the grass and brush, to invisibly dissipate upward.
These ankle drags serve another function. Upon reaching your stand,
loosen the wire noose, remove both drags and hang them in the brush at the
base of your tree stand. The wire is of fine diameter, the cloth scent pad is of
drab color, and the scent on the cloth will disguise your human odor at
ground level, when you're in your stand. This way the pungent skunk
scent, or whatever type of scent you choose to use, never touches your
clothing.
The actual cost of making your ankle scent drags is fifteen cents each,
or a total of thirty cents, plus a minimal amount of time. With these ankle scent
drags in your possession, you successfully mask your human scent
trail when moving to your stand site and obliterate your foreign odor at the tree
stand. <—<<
Archived By
www.Archerytalk.com
All Rights Reserved
Leave a Reply
You must be logged in to post a comment.