Published by admin on 01 Sep 2009 at 02:17 pm
 
 
THE VELVET TOUCH                                                           by Ted Nugent
 
All bonedemonium was breaking out. I was bonulated. Overboned. Bonedacious. I needed a boneadectomy and needed it bad. Couldn't leave well enough a bone. I was getting bone tired.  Bone, bone on the range. It was a full on bone-A-rama and I was about to lose my mind. I had never seen such a head full of bone in all my life, and the moment of truth was here and now. Bone-A-gram for Mongo!
 
Let me explain in pedestrian terms for all you confused bone collectors out there. It was my fifth day at America's premier whitetail deer hunting camp,  Jim Scheifelbein's Three Lakes Whitetails in Three Lakes, Wisconsin. This intensely managed deer paradise had been high fenced way back in 1959 by a guy who wanted to see more than spikes and forkhorns during his cherished Wisconsin deer season, and was getting fed up with all the hunters in the deer woods that shot at every deer they saw. Statistics show that more than 90% of bucks killed by deer hunters in Wisconsin, just like Michigan and elsewhere, are only a year and a half old, and are killed way before they are anywhere near maturity or capable of reaching their potential. Backstraps are backstraps, afterall, and I am a huge fan. But to each his bone.
 
Surely everyone who hasn't been living under a rock knows good and well that Ol Uncle Ted is by no stretch of the imagination a trophy hunter. I'm just a regular old fashioned meat hunter for all intents, purposes and kill it and grill it pragmatism. But some guys want to shoot big, mature bucks, and I say more power to them. That takes a lot more discipline and patience, and of course demands hunting where there might be a mature buck.
 
And though Buffalo County Wisconsin produces more book bucks than any other geographical location in North America, that is a direct result of a prolonged and coordinated effort by a huge block of landowners and hard core dedicated hunters to let the young bucks walk so they can grow to their potential. Sometimes that can mean no backstraps at all. A decision that is very difficult to get contiguous landowners to agree upon.
 
Where such a united agreement cannot be attained, another alternative is to high fence private property, not to contain the deer so much, but rather to keep out the young buck killers so that this contained herd can be better managed, balanced, and mature. Perfect. Who doesn't love a huge antlered stag?
 
Sadly, there is still the assumption that such enclosures eliminate real hunting, and such ignorance has been wildly clung to regardless of the facts. The ignorant call it "canned hunting" when in fact, the fence doesn't help a hunter bag a deer in the least, except for the fact that the herd is healthier and usually more calm like in the good old days before hyper pressure on the animals from the growing army of hunters across the nation.
Now, mind you, I am not only a huge fan of the growing army of hunters across the nation, I have also been a part of this great American venison army for more than 55 years, and in fact promote the increased recruitment into this wonderful deer army more than anybody that has ever lived. Clearly, America needs more hunters, not fewer. Recruit already.
 
But here I was, as an invited guest of the Scheifelbeins along with Edwin and Lisa Waddell, parents of BloodBrother Bone Collector Michael Waddell. We converged at Three Lakes Whitetails for the unique excitement of an early deer season in August, where a velvet antlered beast might be bagged. The hunt, the challenge, dedication, early mornings and late evenings, brotherhood time around the campfire and backstrap camaraderie were all the same regardless of the presence of any fence or not. It was everything a gung-ho American deer hunter could ever want.
 
Edwin and Lisa were able to arrow fine trophy deer in the first three days, but the ol WhackMaster was getting skunked. I was trying to figure out when the canned hunt would begin! I have hunted deer for more than 55 years, and no one can tell me that this wasn't real, honest to God deer hunting. I loved every exciting minute of it.
 
Then my luck changed, the planets aligned, and the beast beyond my wildest dreams strolled into my Northern Wisconsin wilderness forest on this fine, cold morning, and I about had a bone attack. I could barely believe my eyes as this fat, waddling stud of a stag strutted into view amongst the beautiful pines, cedars and spruce before me.
 
I forced myself to ignore his head, locked my gaze into the crease behind his shoulder, drew back my arrow, and willed it into his chest. The THWACK heard round the world pole axed this behemoth to the ground. Propelled by only 50# OF Martin bow thrust, my scalpel sharp Magnus broadhead sliced and shattered the old buck's shoulders with devastating effect. All 335 pound of venison on the hoof crashed to the earth right now as if punched by a .338 Winchester magnum, and I about blew out of my treestand.
 
Kowabunga! Am I alone or in a hunter's dream? The moment of truth is here and now. I felt his touch, I felt his guiding hand, and the buck was mine forever more!
 
Being die hard old school, even though I knew my arrow had penetrated both shoulders and both lungs, his instant fall to the earth translated as a central nervous system hit, so my second arrow was on its way three seconds later. My 3rd even faster.
 
My bulging, stunned eyeballs swung back to VidCamDude, Gonzo Guide Mark LaRose in shocking disbelief, as if to get his confirmation that what I thought I saw had actually taken place. I was stunned as Mark grinned broadly and rolled digital tape capturing the magical moment to share with the whole world on Spirit of the Wild TV. It was pure, primal, raw, natural, organic, wild and intense as anything could be. The beast is dead, long live the beast.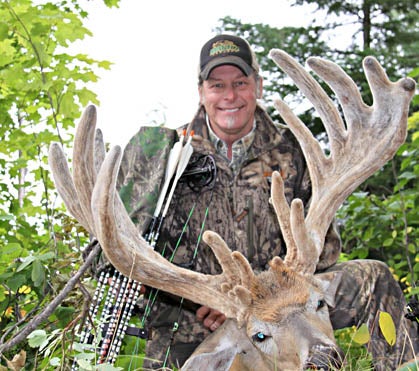 We filmed the over the top shock and awe of the moment as I filled my hands with 246 inches of velvet covered head bone, marveling at his roly-poly 335 pound hulk. As hunting and game manager of Three Lakes Whitetails, Mark had seen this giant on a few occasions, but no one had got a crack at him over many a years hunting. And here he was, making an old river rat sticking bowhunting pioneer from Detroit very, very happy.
 
We sat there for a long time admiring this magnificent beast, and were joined soon by owner Jim Scheifelbein and his whitetail addicted BloodBrother Kevin to marvel at this phenomenal animal.
 
Many photos later, we loaded my buck into the four wheeler to weigh, measure, gut, skin and butcher. This buck of a lifetime will be mounted lifesize by world class award winning taxidermists Martin and Lynn Bonack of Safari World Taxidermist in Three Lakes, Wisconsin.
 
This stunning whitetail turned out to be the largest buck ever taken since 1959, and I could hardly get next to myself. I had felt very unlucky not getting a crack at a deer those first few days, then this. I have averaged far more opportunities at deer and far more kills under free range conditions that here at Three Lakes. But it is hard to imagine being able to encounter a mammoth of such proportions on 95% of America's deer grounds. It was the management practice of letting this buck mature that made it possible, and the high fence is how we did it. I have hunted Illinois, Buffalo county Wisconsin, the mega buck zones of south Texas, and could quite possibly encounter such a mature specimen there and a few other places in North America. But regardless of management choice, I could not be happier than to have killed such an animal and sincerely salute Three lakes Whitetails for making it possible.
 
On this hunt, Ted used a 50# Martin AlienX bow, Nuge GoldTip arrows, 100 grain Magnus BuzzCut broadhead, Scott release, Sims LimbSavers, rest and sight, Lumenok, Bushnell optics, C'Mere Deer, Mossy Oak ScentLok clothing, Boggs rubber boots, Code Blue scents, Hunter Safety System vest, Knight and Hale calls, Outdoor Edge knife, Glenn's DeerHandle
 
To experience the finest whitetail deer hunting on earth, visit tednugent.com or call Sunrize Safaris at 517-750-9060.
THREELAKESWHITETAILS.COM                                 by Ted Nugent
 
I have a dream. I dream of a spectacular wilderness paradise in the big timber wilds of Northern Wisconsin where the mighty whitetail deer grows to maximum potential. Where the classic hunter's lodge is world class and the people genuine American BloodBrothers, and where my natural born predator spirit runs wild and free. And the dream lives at Three Lakes Whitetails in Three Lakes, WI, where gung-ho deer hunter Jim Schiefelbein and his team of professional whitetail maniacs have created the ultimate whitetail deer hunting heaven.
Hunting-10
Accomadations-10
Habitat-10
Food-10
Spirit-10
Attitude-10
People-10
Guides-10
Deer-INSANE!!
Through intense, hard core, dedicated management for more than 30 years, you can experience what the original deer hunters of North America saw with a herd of perfectly balanced, healthy, thriving monster mature bucks beyond your wildest dreams. If you seek the ultimate whitetail deer hunt for huge, trophy bucks, go to Three Lakes Whitetails and get it on. You deserve it.
Some of Ted's Other ALIEN X TROPHIES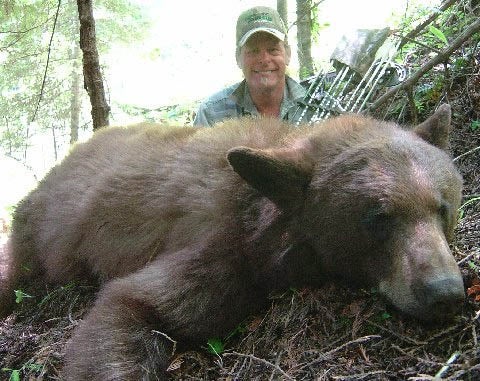 ——————————————————————————–
One Response to ""Ted Nugent Trophies with Alien-X""
Mr Whitetail on 14 Nov 2009 at 2:40 pm #

Dear Ted, That deer in wis was like a pet. Any response? I got video of him laying by his feeder last year. Thought about petting him. They also buy all their deer from deer farms. There is no reproducing in the preserve. I have all the tags they cut out of the deers ears before they transport them. ????
Leave a Reply
You must be logged in to post a comment.