Published by archerchick on 12 Jan 2011 at 11:32 pm
BOWHUNTING WORLD
OCTOBER 2005
BUDDY SYSTEM BOWHUNTING By Joe Byers
Friends and family add spice to stick-and-string hunting. You'll cover more ground, hunt more effectively, and double your fun afield.

I Fully Expected To Die
Dreading the crushing jaws of a savage brown tear. I clutched
the handle of my .44 Magnum pistol, thumb on the hammer,
finger on the trigger, throughout the night. Dozing occassionally,
I tried not to think of the 1,000-pound beasts splashing
about in the salmon stream less than 50 yards away.
"How come I have to sleep next to the entrance of the tent ?"
I complained to the outfitter.
"Don't worry," he said, having fun with my fright. "Bears
don't always come through the doorway."
That first night on Kodiak Island was the most harrowing
of my life. Fortunately, I had invited Bill "Bump" McKinley,
a high school acquaintance to join me. During the next seven
days, Bump and I developed a bond that has lasted nearly 2O
years. At first, our relationship was based on mutual dependence.
We shared equipment, helped pack game. explored unknown
mountains, and for a brief time became "mountain men of old."
Today, we share treestand secrets, black bear hunts (now with
much greater confidence) and everything involving the outdoors.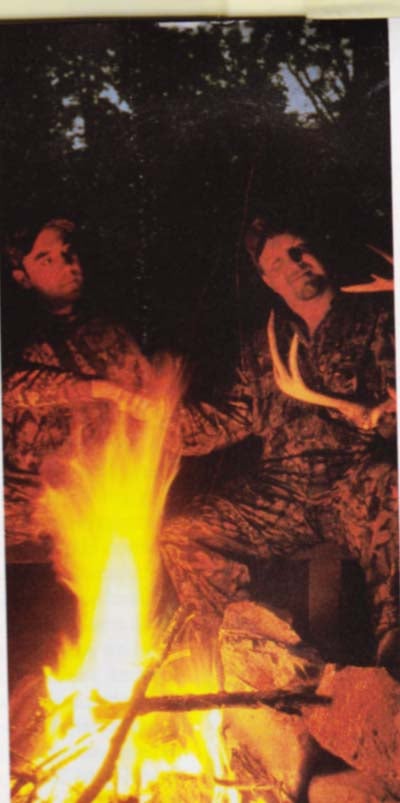 Buddies Increase Effectiveness
Bowhunting is often a solitary, secretive sport. An archer may
slip softly to a treestand, spend the day in simple solitude and
gaze thankfully toward the setting sun. relishing the peace and
tranquility of a day without telephones and the stress of modern
life. Most treestands don't have a shotgun seat because two fellows ,
hunting side by side create more movement. scent. and create
a dilemma—who shoots first? The most effective tactics for
whitetail deer dictate a solitary, well camouflaged, scent-free
hunter waiting silently at a prospective crossing.
Treestand hunting may be solitary, yet a buddy system approach
can make you more effective for whitetails and other game. Plus,
you'll have lots more fun. Scouting is far more effective in pairs,
since discreet sign is much easier to find with four eyes and two
perspectives. Having a friends ear at local sporting shops and tuned
into general deer hunting discussions can pay big benefits. When
your phone rings and your bow-bud explodes with the news of a
big buck seen crossing the road or missed by a disgruntled archer,
you have a starting place for a trophy buck.


For example, African hunter Steve Kobrine and Jeff Harrison,
the urban deer specialist from Frederick Maryland, became
friends five years ago. Kobrine raises Nyala in South Africa and
only gets to hunt a few weeks in the states each fall. Kobrine put
Harrison onto his best stands, encouraging him to hunt in his
absence. Harrison reciprocates with the latest information and
best places to hunt when his buddy returns to the States. lnternational
bowhunting buddies may be the extreme, yet each per·
son is a more effective hunter in the process.
?
Many archers begin a hunt together and then head toward
separate stands. The advent of portable radios allows one
hunter to converse with another. lf he gets a shot, he can summon
his friend to help begin the trailing process. Working in
tandem, one archer can search while the other holds or marks
"last blood." While one person searches for sign, the other can
watch ahead vigilantly in case a second shot is needed.
Once recovered, a buddy can be a tremendous assistance in field
dressing the animal. Positioning the animal, managing knives,
gloves, and gear, is greatly aided by a buddy. Dragging the beast to
the nearest access point is physically and emotionally easier.
Taking this a step further, most state laws require that a deer
carcass be retrieved in its entirety. A buddy will allow you to
hunt places less likely to be visited by solo archers. Steep terrain
and long distances are two hurdles that tend to develop
greater age structure (and bigger racks) in whitetail deer. Having
a buddy share the exertion can pay big benefits. Should you
both get lucky, you make two trips.
A buddy system improves your chances on most game
taken by calling, stalking and decoying, With turkeys, predators,
moose, and a host of other game, four eyes and legs are
better than a single set. After spotting a bedded muley buck,
having a friend provide hand signals can be invaluable. Ante»
lope decoying is exciting sport and much easier if a friend holds
the decoy. Will Primos, as evidenced in his video series, has
honed the buddy system for calling elk to a science. (Truth V
l Big Bulls is the latest.)

"Every animal has its own characteristics," says Primos. "Bull
elk are often concerned about being blindsided by another bull,
and they protect their flanks. It wants to see the movement
of a cow, and in real thick places will hold up to look for the
calling animal. We like to have the caller 75 to 1OO yards
behind the shooter. Elk usually don't circle like whitetails.
There is so much competition for cows that bulls come straight
in. This system has worked great for us and will increase your
success rate by 100 percent. Let one person do the calling and
the other do the shooting. It has worked wonders."
A hunting buddy can make you a more effective hunter and
provide that extra impetus to embark upon a trip of a lifetime.
CIA "agents" (Central Iowa Archery, that is) Ray Neil and Craig
Wendt practice and shoot tournaments regulariy. They answered Africa's call
together, having the time of their lives. Wendt saw five species of big game his
first afternoon and had two rhinos under his stand the second.
Talk about hunting stories!
Perfect Practice Makes Perfect
A person who has been bowhunting 10 years may have years of experience
or one year of experience IO times. When we practice, tune, and hunt
alone, we tend to do the same things the same way, year after year. Having a
hunting buddy, especially one who is comfortable making suggestions, allows
you to gain from his knowledge as well. I have hunted with headnets for many
years, primarily to cover the shine on my face. Once while hunting with Bump
on a minus-20-degree day, he explained how keeping his face covered with the
headnet had a dramatic warming effect. Since then I've carried a headnet in cold
weather and wear it, often over face camo paint. As you expand your hunting
circles, small tips and tactics from friends will increase your effectiveness.
Practice, like exercise, can be boring. Realistic 3·D targets pump up the
volume, yet the enjoyment of these figures can be improved through interaction.
Buddies add pressure and anxiety elements that are often missing from effective
practice regimens. Competitions inevitably evolves between shooters
Whether it's the prestige of winning or the burden of paying for the Coke round,
practicing with buddies adds realism and greatly magnifies the enjoyment of archery.
Tuning, judging arrow flight, estimating distance, learning your effective range
and many more elements of bowhunting, will improve dramatically if undertaken
in an interactive environment. Also, you will stick to your practice schedule more
consistently with motivation from a friend. When you promise to shoot early
on Sunday morning, you'd better keep your cell phone on or face a raft of good
natured kidding next time.
?
Maybe you and your buddy will agree on the best bow, arrows, and broadhead.
Probably not! Much of the fun and enjoyment of archery comes from
analyzing and debating the elements of gear. Since each piece of equipment
will function according to the user, there may not be a "right" answer. In the
long run, this debate helps you and your buddy understand gear, how
it works, and why.
Of Stick, String, And Heart
My friendship with Bump had an air of predictability. We were about the same
age, grew up in the same town, and both loved to hunt. However, friend-
ships and special hunting relationships can spring from unusual or accidental
circumstances, even with rifle hunters. "l first met Dale Earnhardt in l992
at a hunting lodge in Michigan where l was filming whitetails," said David
Blanton, producer of Realtree's Monster Buck series. "The Realtree TV show
had just started, and l was getting deer behavioral footage. The guys at the
lodge mentioned that Dale was coming in to hunt. l had heard the name and
knew that he was a racer, but l didn't know much about NASCAR or Dale.
?
That evening, l was working in the basement of the lodge when he
walked into the room. ` "'What are you doing,' he asked with sincere
interest. " I'm logging deer footage," l said with a welcoming glance.
He pulled up a stool, and l soon found out that he had come down here
to escape the hustle of the lodge and the attention people were giving him.
Dale was in the public spotlight, and he didn't like that. He tolerated it, yet it
was not something he craved. He came down for some peace and quiet.
We talked into the wee hours of the morning about where he lived, the fence
he put up to raise deer and about deer hunting. l really saw how much he
loved deer. l think the fact that l was not in awe of him as a racer was the
reason we hit it off so big from day one.
"l will be hunting in the morning" said Dale as we finally headed up stairs.
"Why don't you bring your camera?" We started by rattling deer. He was
intrigued by how we set up our equipment. That I could move around in
the woods quietly. He appreciated that. He started rattling and l had a grunt
call. It was his first grunt call experience, and he was surprised what it could
do. He was amazed. l ended up filming him killing a deer. and then we went
our separate ways.
?
"Two years later, he called me at work. We began hunting together and going to
North Carolina and to film deer. We always had such a big time together."
Blanton continues, "Our relationship was centered around hunting. He didn't
have many close relationships in life where he didn't feel like he was being
used because he was a racing star. He felt very suspicious. It was racing but
deer that brought us together. l spent time at his place at North Carolina where a
very deep friendship develop. It continued through the years, and we hunted together
in Texas, Mexico, Michigan, Iowa, Utah, and each spring we hunted Georgia for turkeys.
I always gave Dale his room because he hunted like he drove – with very little patience,
wide open. That didn't go hand in hand with video taping. There were times when Dale
and I really disagreed. He tried to hut like he raced, with little regard for the camera. We
clashed several times, but the fact that I was not in awe of him strengthened our friendship.
Dale always wanted to tell me about priorities in life. He'd call me up and say, "David, how much you been traveling?" knowing that it was fall and I travel a lot. He'd always talk about
keeping my family first. "Don't let your career become more important than your family" he'd advise, asking in particular about my wife, Ginger.
He was such a genuinely thoughtful person. A very few people knew that outside of his family.
We talked about family and life while hunting. Dale was the first close friend I ever lost suddenly.
l wasn't able to tell them good-bye. l treasure and value the conversations that we had in
treestands from Texas to Michigan to Mexico so much now. I will never forget the simple
conversations about family, God, and life in general. So many things we talked about that were confidential at the time and still are. Dale was a true sportsman, and so concerned about getting young people involved.
Little Buddies, Big Benefits
In our nation are millions of young girls and boys who yearn to explore the outdoors and will consider archery "very cool." Each of us is a potential role model for archery and hunting. If
you demonstrate the fun, excitement, and enjoyment of the conservation ethic the youth of America will look up to us and bowhunting.
Girls' Clubs, Boys' Clubs, Scouts, 4-H and dozens of other youth groups welcome
speakers and/or a modest shooting-demonstration. The chance to nock an arrow or
just pull back a timber longbow is a big thrill to a child. When doing archery demonstrations at outdoor camps, I always put the target (balloons are great ) at "can't miss" range. I remember
one second-grade girl who was very hesitant about pulling the bow, then exclaiming "Wow! Now I know what I want for Christmas."
Introducing youngsters to stick and string is important, yet they need that special buddy
treatment to get them started. I grew up in a working family where my dad taught school all day long and farmed half the night. l don't remember ever having a game of catch in the back yard,
yet we had and still have good times afield. Some sons have personal conflicts with their fathers, yet the hunting denominator creates a solid foundation in their relationships. lIve never been
able to persuade my dad to pick up a bow, yet we often hunt together when he totes a rifle or shotgun, and l a compound. We have driven non-stop 45 hours cross-country to hunt elk
dozen times, frozen in treestands. and told and relived the related adventures
countless times.
?
Closer Than You Think
Don't overlook the lady who shares your life. Your best friend of the opposite sex
could be the best bowhunting buddy of all. Your relationship will elevate to another
level once you share the thrills and excitement of the outdoors. Brenda Valentine,
Kathy Butt, and countless other female archers have shattered all of the depend-
ency stereotypes. These gals can hunt!
?
Even Mom can get into the act. Frank Lindenberger, a taxidermist and
ardent archer from Pennsylvania, convinced Mary Ann, his mother, to join
him on a safari in South Africa with Ken Moody Safaris. "Exhilaration is an
understatement," she said as she described her first day in a bow blind.
"The adrenaline flows, the heart palpitates and the breathing accelerates. all
the good things about hunting." At times Ken and Mary Ann sat a blind
together, sometimes laughing so hard they worried about scaring game.
Finally, bowhunting buddy systems have a "big-picture" benefit. Americans
take bowhunting for granted, yet in most of Europe and England, hunting with
archery gear is strictly outlawed. Animal rights activists hate hunters of all sorts,
and often employ backhanded litigations to reduce or eliminate bowhunting
options. By working together in conservation and bowhunting advocacy
organizations, we can assure that the conservation heritage we enjoy
today will be preserved for future generations.
Bowhunting buddies come in all shapes, sizes, colors, and genders.
Extending the hand of friendship to a novice, fellow archer, even a stranger
may change both lives in unimagineable ways. Remember: Arrows fletched in
friendship always group tightly.
ARCHIVED BY
www.ARCHERYTALK.com
ALL RIGHTS RESERVED
Leave a Reply
You must be logged in to post a comment.