Published by archerchick on 08 Jan 2011 at 12:53 pm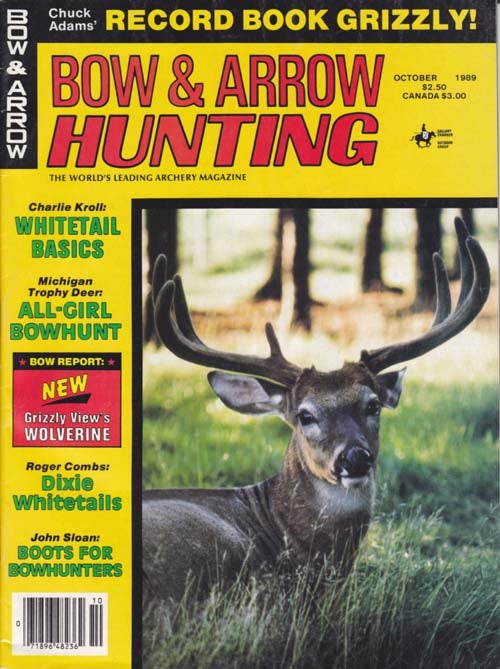 BOW & ARROW HUNTING
October 1989
Dixie Whitetails ~ By Roger Combs
Mississippi abounds in deer, offering bowhunters plenty of opportunity at reasonable cost.
MISSISSIPPI IS not usually the first state that comes to mind when
bowhunters get together to talk about whitetail hot spots. Not a lot has been written about
the area which, in fact, abounds in the elusive game most of us spend hunting
seasons pursuing. Due to several factors, whitetail deer in Dixie, in Mississippi, in particular, are
doing well.They are plentiful, healthy, enjoy growing populations in most areas and, on some well managed private and public ranges, are producing trophy antler racks.


The state's Department of Wildlife Conservation encourages enlightened game management on privately owned farms and clubs, including the necessary food crops and either-sex game harvesting. One of the most common and earlier symptoms of a dwindling food supply is a
decline in buck antler development. In fact, say Mississippi game management experts, when a deer herd has been above carrying capacity for several years, even older bucks may grown only spike antlers.
Many of the private areas of Mississippi are leased or owned by hunting or wildlife clubs, practicing modern deer management techniques. One such is the Pecan Grove Wildlife Club at Fort Adams.
Located in the southwest corner of the state, it's just north of the Louisiana state line and on the eastern banks of the Mississippi River. The club is owned and developed by businessman George Haynes of Baton Rouge, Louisiana. Haynes obtained the old 7000—acre plantation several years ago and has implemented programs to improve deer, wild turkey, duck and small game habitat.
My introduction to the club came as a result of an invitation from Haynes through the good offices of Bill Bynum, a successful bowhunter who is familiar with whitetails in the South. The state's deer season for archery opened the first of October and ran until November 18 in 1988. Those who hunt with archery and/ or black powder are permitted to take up to five bucks per season, plus three does.
The regular firearms season opens the day after archery season closes and runs
until past the middle of January of the following year. If they wish, archers may hunt also during the firearms season with bow and arrows, but they must abide by the gun season rules, which include the wearing of a specified minimum of hunter orange outer clothing. Only bowhunters
and muzzleloaders may take the extra three does per season.


The Pecan Grove Wildlife Club lodge is located about an hour south of Natchez, Mississippi and about an hour north of Baton Rouge, Louisiana. It is just northwest of the early settlement of Fort Adams on the banks of the Buffalo River. Both cities have frequent airline flights from and to any place. The club acreage includes access to Lake Mary and the banks of the Mississippi River for plenty of fishing opportunities.
I flew to Baton Rouge the day before opening day of the 1988 season and was met at the airport by George Haynes. During the drive to Fort Adams, Haynes outlined the club's program for conservation and game management. All wildlife is left in its natural state. Deer food plots are
planted. as is millet for ducks, crimson clover for turkey and deer. Haynes has initiated a timber management system, selectively cutting certain areas to enhance hunting potential. Timber cutting thins out some areas, allowing more deer browse to grow.
Haynes also has taken steps to construct a number of water control structures on the property, with better hunting in mind. The club property is located along the banks of the Mississippi and Buffalo Rivers and, because of that, subject to partial flooding from time to time. When the property was farmed, the flooding brought silt and topsoil down, creating rich farm land. Flooding also helps to restock the many fishing ponds, lakes and streams in the area.
Lake Mary is one of the large ox—bow lakes at Pecan Grove. Ox—bow lakes, explained Haynes, are formed when the river, after years of flowing around a sharp bend, eventually floods through the curve in an effort to flow in a straight line. The original river bend is left isolated, leaving an ox-
bow—shaped lake. There are hundreds along a river as extensive as the Mississippi. Lake Mary is full of bass, bream, crappie and catfish, as well as a locally popular fish called sac—a-lair. On the way to the club lodge, Haynes and I spend an hour examining his concrete boat launching ramp and fishing dock recently installed on the lake's shore. Crossing the Buffalo River and turning off the dirt road to the parking area of the lodge, one is struck immediately by the
fact that the building is constructed upon log pilings which raise it about twenty feet
above ground level. The guest rooms, large dining room and meeting room are all on the higher level. The meat processing area and recreation/ indoor archery range room are at ground level. Whenl naively asked about the height of the building, I was reminded that, at times, the Buffalo River floods, putting much of the property under the water.


Haynes and his staff have spent time surveying the property during all seasons
to determine the natural deer travel routes, feeding and bedding areas. In some places,
they have constructed rather permanent tree or free—standing stands to take advantage of the knowledge. Before opening day, the guides are out, making a final survey and marking the
route into the tree stand locations with red tape so hunters can find their ways in the pre—dawn darkness. Undergrowth is heavy because of the rich soil and the seasonal
rainfall. In some areas, access routes have been cut through the brush to enable hunters to make their way without becoming soaked while passing through the wet growth.
The lodge itself can accommodate up to a hundred people during the hunting season.
In 1988, we had about sixty hunters and guides in the place the night before opening morning. Rooms are comfortable, set up with double bunk beds and enough bathrooms to handle the group. The lodge also features a meeting or seminar room, a dining room large enough for hungry hunters and food as delicious as one can find anywhere. After supper before opening day, Bill
Bynum, who does work for Robbins Scents, spent an hour discussing scents and how to
use them in the Mississippi terrain. The rut comes later in this part of the country usually cooler weather does not arrive until late December » and the rut may extend into late January. October is a bit early for establishing mock scrapes, but Bynum said he was going to try the technique in a day or so. Bynum's plan had to be modified some- what because of Mother Nature. It began
to rain hard that night and continued through most of the opening day. Any artificial scents would have been washed away. That heavy rain was to be the ending of the most of us for the first three days of the archery season.


The rain changed the standard routes and hot spots which had been scouted over
several weeks by guides at the Pecan Grove club property. Some of the lower pockets
were flooded and the deer were using different routes to and from bedding areas.
Nobody said bowhunting was supposed to be easy. Hunters may use the permanent stands
at the club or they may bring their own climbing and portable stands. Or they may
not use a stand at all, choosing to still—hunt areas of their choice. Some stands are within a few minutes' walk from the lodge, while others require a four-wheel-drive vehicle drive of a half—hour or so to reach.
Daniel Littleton and his crew plotted out likely areas on the maps before opening
day and assigned guides and transportation to each hunter.
Those who had the longest travel time launched earliest in order to be on their
stands well before first light. The wise bowhunter will bring a small flashlight in
his day pack or pocket so as to easily follow the marked trail into the stand. The
unfamiliar terrain can be confusing, especially in the dark and rain. Guides will
offer to escort each hunter to the stand, but another human only adds to the amount of
scent left on the trail.


Hunting the Deep South in October is almost sure to be in rain, at least part of the
time, so a bowhunter is advised to bring lightweight rainproof camo clothing. The weather is warm. but if you get soaked and a breeze comes up, you can become chilled and remain uncomfortable during hours on the stand. Another Robbins product welcomed by all, was their mosquito repellent. As soon as the rain stopped, the temperature rose and large, yellow looking mosquitoes
found us on the stands. These suckers seemed able to penetrate even heavy cloth. The Robbins repellent was effective on all my exposed skin and eventually, I rubbed some on my camouflage sleeves and trousers. I had no trouble with mosquitoes after that.
After daylight, I was able to hear, but not see some of my fellow hunters as they apparently released arrows several hundred yards away. I learned later, as the truck picked each of us up for the return run to lunch in the lodge, that none had any more luck then. There were no deer taken
on opening day. We each returned to stand in the afternoon and remained until well after dark, but nobody scored. The following day dawned bright and clear, although there were still plenty of
low areas with too much water. The weather was cool and a warm jacket felt comfortable in the early morning. Later it warmed up a bit, but the day remained comfortable in full camouflage clothing. With the rain, walking and stalking quietly through the woods was easier, because everything underfoot was wet and soft. On the other hand, deer, too, move more quietly through
the same woods.
This day, my hunting partner was Richard Sapp of Bear Archery in Florida. As we were on our way along a path not far from the lodge to take up adjacent tree stands, we jumped two whitetail does which had been hidden in the underbrush. lf they hadn't. we probably would never have
seen them, even from ten or fifteen yards away. Neither of us had arrows out of the quiver, so we did not have a shot, but their presence gave us encouragement. State game department officials oversee and approve or disapprove local hunting club activities, while offering advice to managers about how to improve the quality and quantity of deer and other game. Pecan Grove and other neighboring private clubs generally subscribe to the state's progressive philosophy of harvesting a large percentage of does each year, until the quality of bucks shows improvements.
To over simplify the program, it boils down to reducing the number of females
and male spikes in any given year, the expectation being that the remaining does
will fill out the habitat by giving birth to more twin fawns. Theoretically, the next~
year fawns will be fifty percent males. As this serious culling continues for four to
six years, the buck—to-doe ratio and the quality of trophy bucks improves dramatically. The state encourages the practice by permitting three does per year during the archery and primitive weapons seasons, with some other special antlerless seasons in certain locations.
Good habitat is essential to the development of trophy whitetails. Some of Pecan Grove's cutover areas have been allowed browse. Some nearby farms have acres of soybeans and com, which promote healthy growth among the deer herds. The club also uses mineral—fortified salt licks, proven successful for improved antler development.
In some areas of the South, the whitetail herds are not noted for their quality; just their quantity. Left unmanaged, some of these herds produce small deer, with a preponderance of females. Without hunting pressures, they soon eat and reproduce their way past habitat capacity. With progressive management, private hunting clubs are able to produce plenty of healthy
trophy bucks.


My equipment consisted of an older model Jennings Unistar bow, shooting Easton 2117 XX75 Autumn Orange arrows made up by FS Arrows (Dept. BA, 2852 Walnut, Unit 2,Tustin,CA 92680.)
I carried the arrows in a bow-mounted quiver from Jennings Archery (Dept. BA, 4600 41st Blvd., Gainesville, FL 32601). I also carried a pair of excellent light gathering binoculars from Ranging (Dept. BA, Rts. 5 & 20, East Bloomfield, NY 14443). Distances in the thick growth were
not long, but the five-power glasses helped pick out details in the dim light of morning
and evening. I carried the lot in a rugged Bow Guard case from Quality Shop (Dept. BA, Box
291, Dana Point, CA 92629.) That case has seen duty through many thousands of airline miles, through wet and cold boats and truck beds, without any damage to the contents.
Most of the growth in Mississippi in October was still predominately green, although there were some early signs of changing colors. I chose to wear the ASAT camouflage clothing pattem from Brigade Quartermasters (Dept. BA, 1025 Cobb International Boulevard, Kennesaw, GA 30144) because of its durability, lightweight and ability to blend in with most habitat. When wet, the ASAT material dries quickly and the design includes lots of pockets to carry extra gear up the tree.
Undergrowth was always wet, raining or not. I was happy to have on a pair of LaCrosse hunting boots (LaCross Footwear, Dept. BA, P.O. Box 1328, La Crosse, WI 54602) which never let in any water. They are rubber on the bottom, with Cordura nylon uppers. They are fast to lace and, with wool socks, my feet never got cold, no matter how rainy it was nor how inactive I was on the stand.
On an earlier mule deer hunt in the Nevada high country, I had good use from
a pair of Deerslayer bowhunting gloves. The Ridgewood Group (Dept. BA, Box 27, Rock Island, IL 61201) makes these gloves in either right or left-handed versions, in the tan Trebark camo pattern. The bow hand glove features an integral forearm guard. The palms and fingers are made of deerskin, with three reinforced finger tabs on the string hand glove. The ground floor of the lodge includes an indoor archery range lighted for night practice. Many of us availed ourselves of the facility. That, unfortunately, was the only archery shooting I was able to do on this trip. Bill Bynum, who has hunted here before, took a doe on the second day.
Just before dark that same day, I heard one of my neighboring tree standers let an arrow fly, followed by sounds of running feet that indicated a hit deer. When the truck arrived after dark, we all used our flashlights to follow the blood trail for what seemed like hundreds of yards, until the
returning rain washed the sign away. As happens sometimes, that was a deer we did not recover.
The fourth day of the season, the day I was scheduled to head back to the Baton Rouge airport, a taxidermist from neighboring Lafayette, Louisiana, Byron Latour, downed a small three—by-three buck. It wasn't a giant wall-hanger, but would fill the venison larder.
When I was back at our California editorial offices, George Haynes called
from Baton Rouge. He said I should have stayed for the second week of the season,
as it opened up for the bowhunters. Overall, the season saw a sixty-percent success
rate for whitetail bowhunters. l'll have to try again another year.
Archived By
www.ARCHERYTALK.com
All Rights Reserved
Leave a Reply
You must be logged in to post a comment.