Published by archerchick on 06 Jan 2011 at 10:28 pm
The Basics of BAREBOW ARCHERY ~ By Joe Henault
Joe Henault is a policeman in Bellingham, Massachusetts, and a member of the United States Bare Bow Association.
"What I hope to do is explain this Old, Simpler form of Archery and put it in print before it is Gone And Forgotton…."
IN THIS ERA of sophisticated archery equipment and techniques such as elaborate sights, string walking, compound bows, release aids of all types plus mountains of other gadgets too numerous to mention, wouldn't it be refreshing to get back to a much simpler and more relaxing form of
archery? The type of shooting I would like to introduce you to I will call conventional barebow, for want of a better name.


I certainly do not want to take credit for inventing this method of shooting a bow. Variations of this type of archery have been around for a long time, I am sure. On the other hand I haven't seen much information on this archery technique in print. What I hope to do is to explain this old,
simpler form of archery and put it in print before it is gone and forgotten. I will be referring to the field or —— more aptly named — forest round as I attempt to explain this system, but with adjustments in equipment setups it can be applied to any archery round.
You will be shooting with your fingers rather than with a release aid. I would recommend a tab rather than a glove be used for finger protection. I find that the tab allows a more sensitive anchor placement than the glove, but some bowhunters might still prefer the glove. The anchor used will be the old basic index finger in the corner of the mouth with the nock between the first and second finger.
For equipment you will need a smooth, soft-shooting recurve bow of between sixty-six and seventy inches in length. A draw weight of about thirty-two to thirty-five pounds should do for the average male target shooter, The idea of the equipment setup is to get a point-on of about fifty yards. The point—on, for those of you who are not familiar with this term, is that distance where the arrow tip can be aimed right at the center of the target and when shot correctly will hit the
center of the target. To accomplish this you will have to do a little experimenting with your equipment setup. I will list my equipment only as a guide -yours may vary due to variations in
facial structure and shooting form. I am shooting a seventy-inch Wing Presentation Two. The draw weight is thirty—four pounds at a twenty-eight- inch draw. The string is ten strand and
I try for a brace height of about ten inches. I use a Hoyt Pro arrow rest.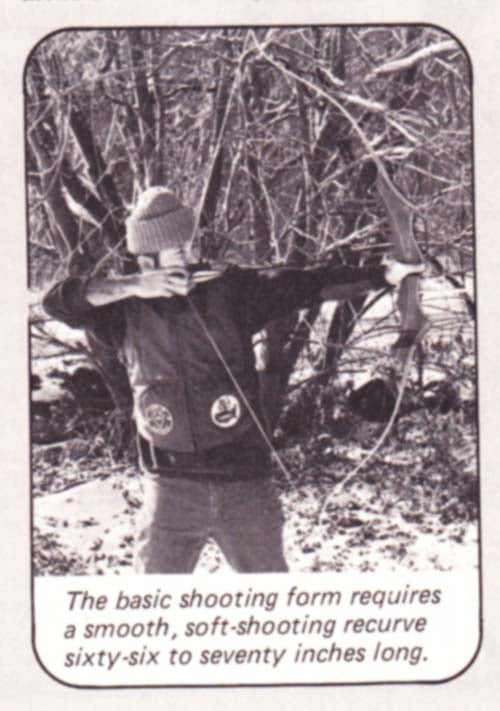 Arrows are X7 1816s with the extra heavy target points. Fletching is three helical feathers each 3% inches long. This is what works well for me and gives me that desired fifty-yard point- on.
Aside from the bow weight itself there are several areas you can work on in order to gain or lose yardage. The arrow size, of course is a big factor but you are limited in that you must stay within the proper spine range for the bow weight you have chosen. The choice of regular or extra heavy target points is a valuable aid in adjusting your point-on. Fletching is another item to be considered. The bigger the feather the slower the arrow will travel, lowering your point-on. A
helical fletching is quite a bit slower than a straight fletching. Four·fletch will slow you down three or four yards as opposed to three-fletch in the same feather size, Stay away from plastic or
rubber fletching if your need is to slow down the equipment. lf you need more distance these might help.


Brace height and number of strands in the string also can be used to advantage. Generally the higher the brace height the slower and smoother the bow will shoot. Stay within the manufacturer's recommended brace height however. In the bow weights I have mentioned you will probably use either a ten or twelve-strand string ~ten if you need more speed, twelve to
slow the bow down a little. Generally, the problem will be one of slowing down the equipment. Try not to pick a bow that is super fast to begin with.
An exception to some of these equipment suggestions would be the bowhunter who prefers to use his hunting equipment year-round while
shooting the field course I have found that the large helical fletching 125 to 150-grain 1 field points on the average hunting arrow keeps the point·on down pretty well, enabling the hunting archer to use pretty much what he likes in the way of bow length and weight
I have set up my equipment so that the point on of both my target and hunting equipment is the
same so that I have little trouble switching from one to the other, except for the conditioning of the extra muscle needed to handle the hunting equipmierit. I find it only takes
about two weeks to condition myself
for my forty-five pound hunting bow after shooting my target equipment


That's about as far as the equipment requirements go. Now, let's get to the actual shooting technique. From the bunny shot up to about 30 yarder, this system will require the archer to employ pretty much an instinctive technique in order to hit the target.
What is instinctive shooting and how effective is it? Simply stated, instinctive shooting is shooting by feel. It's like throwing a ball- there's no particular system, you just know when it looks right. You hold for the elevation and line that looks good. and shoot and adjust as necessary until your arrows start to group where you want them. LIke most other archery styles, the key to success is a good, solid, constant anchor and good basic shooting form. As for how effective instinctive shooting is, I have seen good instinctive shooters pack a group of arrows as tight as any sight shooter at twenty yards. It does take a few years, however to attain this type of accuracy. Also it is very difficult to be real consistent at much over thirty yards without some type of system. Once you feel comfortable with your shooting style and are grouping well at these closer targets you can go about determining your point on. The Point-on is key to our system.
In order to determine your point-on, find a butt with nice soft turf both in front and behind the bales. Stand at the fifty-yard mark. Draw back and anchor. Aim the tip of your arrow right at the middle of the target and shoot a few arrows. If you're hitting paper, you're in good shape. Hold above or below the spot as you may find necessary in order to hit the five ring. If you're not on paper for fifty yards you will have to go back to the equipment suggestions described earlier and fool around a little until you are on paper. Fifty yards should be one of your easier targets.
When you have your fifty-yard point-on well established and are able to group well at this distance, move up to forty five yards. Using an eighteen inch face, draw back and hold. Concentrate your primary vision on the target with both eyes open but pick up the arrow tip in your secondary vision. Hold the arrow tip about two or three inches under the bottom edge of the eighteen-inch target paper. Shoot a few arrows. If they group high widen the gap between the arrow tip and the bottom of the target. If your groups are low raise the arrow tip right up under the target paper. Practice until you get your gap jus tright and can hit forty-five yards consistently.
Now move up to forty yards, you should be able to hold just about a full face under this one or eighteen inches and hit. Again adjust your gap as necessary. Remember to close the gap between arrow point and target to raise hits and open the gap in order to lower the hits.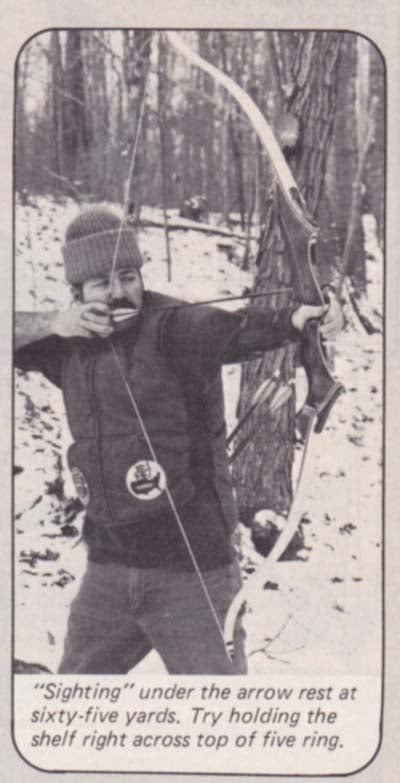 Now, let's try thirty-five yards. Hold about a face and a half under the paper for this one. In other words, your gap will be a little wider than it was for forty yards.
Now let's go back to fifty-five ards. At fifty -five yards I use the little plastic finger that sticks up on the Hoyt rest and holds the arrow in position. If you look you will see that it sticks up alongside the arrow at full draw just far enough back from the arrow tip to make a perfect sight a fifty five yards. Just hold the little plastic finger right on the middle of the target and you should hit. Hold above or below the center of the target as you find necessary in order to hit a nickel.
At sixty yards we will start using the shelf of the bow itself for our gaps rather than the arrow tip. You will be looking under the arrow rest. Draw back and aim, placing the bow shelf about two or three inches under the bottom edge of the twenty four inch target paper. Shootfew arrows and adjust as necessary. Your arrow tip will be well above the target but you will have to keep an eye on it to maintain your line.
Move back to sixty-five yards when you feel confidenent in your sixty-yard gap. For sixty-five yards, try holding the bow shelf right across the top of the five ring. Shoot a few arrows and adjust if necessary.
For seventy yards you will just about have to hide the top of the target with the bow shelf. For eighty yards it's back to good old instinct. You could change to an under the chin anchor for seventy and eighty but I'm kind of a purist and would rather not.
Since there are only two shots at eighty yards in a field round I wouldn't lose too much sleep over
them but you can get to the point where you will hit them just as often as not.
I'm sure you have gathered by now that there are a lot of variables connected to this system. There are. But if you get that fifty-yard point-on the rest should fall pretty close to what I have described. If you increase your point-on you can gain some accuracy on your longer shots but your middle distances will suffer and as a result your total round will suffer. For uphill shots, if the hill is quite steep, you may have to tighten up your gap just a little. Open up the gap if the target is
down a pretty good hill.
What type of scores can you expect from this system? That depends first of all, of course, on how good your basic shooting form is. I will not attempt to get into that at all. Keep in mind that this is not intended to be instant archery and score should not be the predominant factor. Full enjoyment of the sport and relaxation should be your primary goals. If its 560s you want, stick with the more
regimented forms of archery. I would think that a 400 field score would be good and this should be possible in a season or two if the archer already has good shooting form. One fellow at our club started from scratch a year ago and has been able to maintain a 400 average this past season. I generally shoot about a 460 to 470 on the average day. My best official score is 501. I shot a 498 field round and a 452 unmarked animal round to win the 1976 United States Bare Bow Association Championship.
One of the biggest problems you might run into with this type of shooting (or any form of archery, for that matter, where the fingers are used to release and no clicker is used) is that old malady target panic. I prefer to call it lack of control. This problem can be handled, however, and some of
you may never have it. In my opinion, the ability to draw a bow back, hold it, aim it well and then shoot when you want to without the aid of any gadgets is the challenge in archery. I can't always do it but when I can, "how sweet it is." The less you worry about score and the less you worry
about missing the better will be your chances of maintaining good control.
What I have attempted to give you is just a guideline. Once you get into conventional barebow shooting I'm sure you will come up with some variations of your own. I hope some of you have found this interesting and will want to give it a try. If you do, I'm sure you will enjoy
the freedom and relaxation that should be a part of field archery but
that has somehow become lost. <——<
Archived By
www.ARCHERYTALK.com
All Rights Reserved
Leave a Reply
You must be logged in to post a comment.