Published by archerchick on 06 Jan 2011 at 12:14 am
BOWHUNTING WORLD
October 2006
GROUND ATTACK – By Jeff Murray
When it comes to getting close, your tactics toolbelt should include blinds.  No longer the cumbersome contraptions they once were.  Today's innovative blinds are proving their worth with top guides and outfiitters.
According to recent Pope and Young records, about three-fourths of all
whitetail entries involve treestands. But as much as I love a "height advantage"
I find myself land-lubbing it more and more each year. In fact, I'm just about convinced
that the portable ground blind—which used to be an oxymoron I0 years ago—is as
effective as the portable treestand.


Have I lost my mind? Some of it. I know I've lost my narrow-mindedness, not to mention
a few staunch opinions. And I'm also losing some habits, such as fighting with treesteps
in my sleep; dreaming about falling out of trees, and nightmares about swaying in wind
and rain from dark-dawn to dusk-dark.  My new outlook is fueled by two key factors.
First, the latest portable designs are, well. more portable than ever. And second, we've
learned a lot about ground pounding from a decade of hardcore experience. We've
learned for example that blinds are ideal for turkeys. But blinds are equally deadly on
pronghorns, mule deer and elk. We've even learned that whitetails are susceptible to the
right blind at the right place with the right tactic.
Need proof? How about the 200—inch 5×5 buck that Mike Wheeler guided New Jersey
bow hunter Aaron Moore last year.   If that deer isn't big enough for you, consider the 2003 monster (38 points, 307 5/8
harvested by 15—year-old Tony Lovstuen.
Yes, it was taken from a ground blind.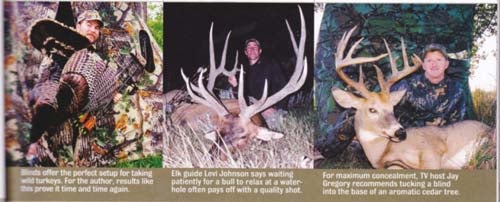 OLD VS. NEW
The first portable blind I hunted out of was an Invisiblind that Mark Mueller asked me to
field-test. Erection and disassembly were a little time-consuming, no doubt, but it was a
leap in the right direction. Mueller figured out back then that camo netting goes
with portable blinds like peanut butter & jelly sandwiches go with kids. He relied on the
netting mainly for concealing hunters inside and the ability to shoot broadheads through
the material. But the netting proved to serve another important purpose .
In 1995 I first heard about Double Bull Blinds and I got my hands on a lightweight
model the following year. This blind date was made in heaven. The pop—out hubs
locked rods in place that, in turn, stretched the walls of the tent-like structure neatly
into place. In seconds l was up and running and down 'n' dirty bowhuntin'. My new blind
was a constant companion in turkey country, and I was madly in love with it.


Shortly thereafter I discovered the "coiled" spring steel concept. Today, anyone can stow
away, say, on Ameristep Doghouse portable, even if an airline ticket is part of the hunt; the
blind's dimensions are a mere 2×24 inches. And blinds keep getting better and better.
Double Bull now offers the Matrix, a 360-degree viewing and shooting blind that has all
the bells and whistles. Not to be outdone,  Ameristep is promoting the Brickhouse Half-
N-Half that features two complementary camo patterns on opposite sides, just in case the
scenery calls for flexibility. Underbrush incorporates  3-D leafy material that blends naturally
with surroundings and moves in synch with Natures wind currents; the Bowhunter spans 5×5 feet and weighs—what else?—5 pounds.
Then there's a series of Excent (carbon-activated fabric lined) models from Eastman Outfitters to help deal with scent buildup.


GETTING GROUNDED
Blinds offer several distinct advantages. Most are strategic, but the one topping my list
is psychological: l'm addicted to eye-to-eye combat, with game being clueless to my
presence. I feel like the Invisible Man inside a portable. Other advantages include:
*Extreme portability (no treesteps, no ladders, no safety belts).
*Surprising scent—control (top models sporting a roof and four walls confine scent
with remarkable efficiency).
*No trees, no sweat (set up where you want, not where a tree says so).
*Deke out turkeys and deer with a well-placed decoy.
*Hunt aggressively while relaxing (ignore wind, rain, snow; relax in a folding camp chair or recliner).
* Hunt trophy elk and pronghorns near waterholes without a pick and shovel.
*Make a mule deer's frontline defense- acute eyesight—his Achilles' heel.
This is all possible if you follow the rules. Start with no flappin'. lf your blind flaps in the breeze, it will spook game. Period. So
make good use of tent spikes, but also make a discerning purchase and eliminate models
that are loose-fitting and baggy. Another bugaboo associated with ground blinds is the Black Hole Syndrome. Deer are
especially spooky when confronted with a small, dark object. Perhaps its because critters such as fox, coyotes and wolves prey out of
dens. Regardless, the best antidote is camo netting. Because it reflects sunlight, it replaces dark shadows with greens, browns and grays.
"I remember the day we finally saw the Iight," recalled Brooks Johnson, of Double Bull
Archery. "We got a tip from Mike Palmer, a custom bowyer from Texas with a ton of experience
hunting whitetails from the ground. He told us about the netting, and over the years we've
continually improved ways to eliminate the dark openings on our silent windows.
Ironically, after removing black from the setup, the next critical step is adding black-
today, all Double Bull blinds are jet black inside, as are the carbon-fabric-lined models
from Eastman Outfitters and Ameristep. "If a bIind's interior is camouflage material
and you wear camouflage clothing," adds Johnson's partner, Keith Beam, "you're fine
as long as you don't move. But the instant you draw your bow, deer will usually spot
you. We learned that from twin-blind setups we filmed out of. Nowadays, we always wear
black inside—we even customize the upper limb of our bows—because black against
black is virtually invisible. You've got to experience it to believe it "
To that end, Double Bull offers a complete  line of "Ninja" accessories, including a black
head cover and a black fleece jacket. When  the weather is warm (a little greenhouse
effect can really heat up these blinds), a   Scent-Lok Base layer long-sleeve top is ideal.
This ultra-lightweight polyester garment  contains scent-eliminating activated charcoal
plus an anti-microbial bacteria fighter.   "You get a great one-two punch," says veteran
bowhunter Tod Graham. "Invisibility plus  personal odor elimination. But you still need to
go the extra mile, scent-wise, on the outside [of  the blind]. For example, when hunting out West,
cut some sage brush and place it on the roof.   In farm country, fresh cow pies will do. In deep
woods, cedar and pine boughs are great."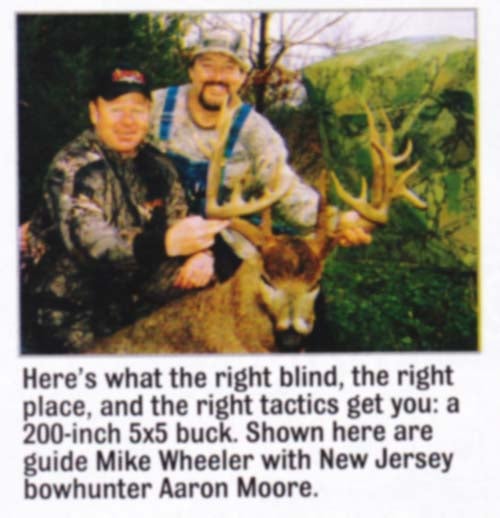 SETUPS FOR BLIND LUCK
How you set up a blind is as important as  where you place it. What works for one
species likely won't work for another. Let's start with turkeys. l recently asked Ameristep's
Pat McKenna if their blinds helped beginners with gobblers. He sent me a stack of testimonials.
Consider that 15-year-old Ashely Cole   shot her first big tom with her father on a
Wisconsin hunt; Justin Temple scored on   his first tom in Michigan; Mike Gaboriault, a
disabled Gulf War veteran from Vermont,  followed suit. These turkey success stories
seem to have no end!  Set up a blind where turkeys are likely to pitch off a roost, and
return to it toward evening (where legal hunting hours apply). Or, find a travel route
connecting loafing and feeding areas. You'll see for yourself if you watch a little TV and
let Ralph and Vicki Cianciarulo (Archers Choice), Mike Avery (Outdoor Magazine), or
the Scent-Lok gang take you along for the ride.   The antelope, according to guide and
outfitter Fred Eichler, is the perfect big game if species to take portable blind—hunting to
the next level. "From 10 years of antelope  guiding, l'd say you get the best of both
worlds—a good challenge, yet good odds if you do your homework."
Eichler offers these tips for the prairies:
*When setting up a blind on a water hole or cattle tank, first determine the side
with the most tracks along the shoreline. To further tip the odds, pile up some
sagebrush on the opposite side to discourage antelope from drinking there. Even an
arrow in the mud with a flapping sock can redirect antelope to your side of the pond.
"*Wind can be a factor, but antelope usually rely more on their eyes than their noses,
especially where there is little human activity.  Although Eichler has harvested antelope
on the same day he's set up his blind, its usually best to give them time to acclimate to the
setup—as much as four weeks, if possible.
Whitetails are the big leagues of the ground attack game. Start by mastering the
"50/100 Rule. Interestingly, in dense cover where visibility is limited to 50 yards or less,
it's critical that the blind not be recognizable.  The best tack, according to outfitter extraordinaire Steve Shoop, is building a brush
pile during the off season, then sawing a hole inside and placing the blind within. This hides the blind, all right, but also gives deer
a chance to get used to the brush pile.
Popular TV host Jay Gregory tried blind-hunting last year and arrowed a fine whitetail. "If you're lucky enough to
hunt an area with cedars, try this," Gregory says. "Prune just enough boughs to wedge your blind up against the tree trunk. Then
place the boughs on top and in front of the blind. The scent of the fresh [cuttings] seems
to help, and cedars are usually thick enough to obscure the blind. I shot my buck on the
same day I set up my blind!"
Now for the "100" part of the 50/100 Rule.
Ironically, deer tend to ignore a blind when they can spot it from 100 yards or more.
Apparently, they eye it over and, if nothing moves and no scent alerts them, they consider
it a part of the landscape much like, say, an abandoned truck or tractor in a field. ln fact, wherever man-made
structures are common, ground blinds are ideal, according to a noted whitetail guide like Wheeler. Zero in
on windmills, abandoned buildings, farm machinery, center pivot irrigation stations, old tires, hay bales, silos, fences, gates—you
name it. "Deer are already used to something  different in their area," Wheeler maintains, "and a blind just seems to fit right in."
Elk are particularly vulnerable to a discriminating blind setup. A few years ago,  Nebraska buddy Doug Tryon shared a secret
mountain-top burn in southern Colorado where elk fed predictably on the lush vegetation. But they showed up only when the wind kissed
their noses, and it was impossible to get below them. So I came prepared and tucked a portable
blind into a clump of junipers. Blind luck!  Cows meandered within feet, and a raghorn wandered with in 10 yards. Soon a nice bull
showed up and took the whole herd with him, but here's betting he'll be there again this fall ….
Levi Johnson, from Winnette, Montana, guides elk for Flatwillow Creek Outfitters
considers a ground blind a top tactic for arrowing big bulls:
"Once our bulls gather cows,   there are too many eyes and  noses for the average hunter
to deal with. But setting up over water, especially on a  hot September afternoon,  can simplify a complicated
hunt. ln 2005, Mike Huff  and l watched a nice 300- class 6X6 steer his cows
into a steep draw where the wind was all wrong  for a morning hunt. So we backed out and returned in
the afternoon, set up our blind on a waterhole at the end of the draw and, in the scorching
100 degree heat, watched the bull jump into the pond with a cow and calf next to him.
They were clear up to their bellies when I shot the bull at 45 yards.
"Last fall, I set up my blind near a different waterhole on the second evening of archery
season. I'd tried in vain to hunt this waterhole with a treestand, but the wind was always giving me away. Well, I heard what sounded like
hooves pounding turf, and when I peered out of my window I saw about 20 cows and a big 7×7 heading straight for me. I let all of the elk
drink, and the bull was within easy bow range when my arrow found its mark."
Johnson's keys to hunting elk with ground blinds;
*Since elk don't seem too bothered by blinds, don't waste a lot of time brushing them in. In fact, you can hunt out of a blind
the day you set it up over a waterhole.
*Always stake your blind down no matter the weather. In Western states like Montana, it can be calm one second and a tornado the next.
*Open only the windows you intend to shoot out of, and leave the others shut tight; the less light inside the blind the better.
Stay calm and wait for a good shot.  When Johnson's friends watched the video of last year's hunt, they wondered why it took
him so long to shoot. The longer you let a bull relax at a waterhole, the better the results. Be patient. Resist the urge to leave the
blind for any reason. Stay put and stay tuned.
Mule deer, like the one whitetail expert Tod Graham is posing with above, can be had
for the right price The price is mainly scouting for details. "Glass fields early and late to
locate a worthy buck, figure out his bedding area with different winds, and take good
notes Graham says. "Once you see a buck use the same trail twice, you can kill him
with a blind. The third time's the charm.  "I don't worry much about cover, because
it usually doesn't exist in good muley country.
Just put your blind where you can get off a good shot—even in the middle of a field.
Mulies must think it's a hay bale the farmer has relocated because they don't veer
around it. I remember telling this to my guide in Alberta last year. I'd suggested we
set up my portable blind on the downwind side of a wild oat field where a big buck


was hanging out with a bachelor group of six other bucks. The guide chuckled at my suggestion, but l got the last laugh when he
helped me drag 195 inches of muley antlers back to his truck."
Drew H. Butterwick, Double Bull pro staffer and host of Art of Deception (Men's Channel), loves bowhunting black bears out
of a portable ground blind. "Close contact is why we bowhunt, and a blind can put you in the heart of the action," he says. "But blinds
are superior to treestands for bear hunting. It is easier to intercept 'staging' bruins that
hang back from a bait as darkness  approaches. And you get a 360-degree view that usually allows you to see under tree
branches that would otherwise obstruct  your vision from an elevated stand. l also believe you can do a better job of judging
bears at eye level. Last and maybe not least, mosquitoes and blackflies can be kept to a minimum – the shoot through camouflage
netting on my Matrix model acts as bug netting."
Final footnote; While bears don't associate blinds with danger, they are inquisitive creatures and could do some
serious damage if you don't remove the blind after each day's hunt.
lf an African safari is on your crosshairs, Butterwick recommends stowing away a  portable blind in your luggage."A moveable
pop-up blind offers many more options than pits and fixed setups," he says. "The wind is always shifting, and swapping sides of a
waterhole really increases the odds. Portable  concealment can mean the difference  between no shot and a record-class animal."
THE ART OF BLINDSIDING:
HOW TO SHOOT
Tod Graham hunts exclusively from ground blinds and has blindsided more than 20
Pope and Young whitetails. Learn from his proven shooting tips;
*Practice drawing your bow inside the blind to gauge how much clearance you need for bow limbs and arrows.
*Always double-check the gap between  the window opening and your sight pins. If you don't rehearse the draw, you could end up
missing the window and shooting the wall.
Visualize where the shots are most likely to occur; you'll probably be right more
times than not. Position your chair carefully; Graham likes to shoot at a 45edegree angle to the window.
* Practice shooting arrows out ofa blind, including through the netting, especially if you aren't used to shooting from a sitting or —
kneeling position.
* Always use a rangefinder if time permits; depth perception is affected by the netting.
For ideal blind placement, avoid a rising and setting sun in your face. Also, setting
up in the shade improves your ability to see through netting.
Use a bow holder, such as the one Double Bull Archery markets, to keep your bow
in a handy position. (You may have to be quicker on the draw from the ground than
from a treestand)
*Practice shooting from inside the blind at different distances, angles and times of
day. Be sure to dress in hunting garb.  The dark interior of a ground blind reduces the amount of light available to your
sight pins. You may need a larger peep and possibly a light (check local regulations).
•Blinds can often accommodate two hunters. Practice together ahead of time to avoid the proverbial Chinese fire drill.
Archived By
www.ARCHERYTALK.com
All Rights Reserved
Leave a Reply
You must be logged in to post a comment.