Published by archerchick on 31 Dec 2010 at 03:15 pm
TAGGED OUT
by Steven Tisdale & Brandon Ray
To Shoot all five of the North American deer species: whitetail,
Coues whitetail, mule deer, Columbian blacktail and a Sitka blacktail,
during the course of any bowhunter's lifetime, is a tremendous accomplishment.
To shoot all five deer species in less than a year, with three of the
five deer species taken on do-it-yourself hunts, would be phenomenal.
As one friend put it,"Now that's the sort of thing you should write an article about!"


Texas bowhunter Steven Tisdale did just that during the 2000 hunting season. Tisdale, 37 years old
today is the owner of Collision King Repair Center, an auto body shop in the town of Lubbock.
He has been a bowhunter for 17 years. He is like most bowhunters,
Tisdale works hard all year at his business and spends his free time with his
wife and two daughters, but come fall he finds time to slip away on the weekends to
pursue his passion, bowhunting. While the dusty panhandle town of
Lubbock is hardly at the center of great bowhunting country, there is good hunting for
both mule deer and whitetails within a couple of hours drive of the city.
Tisdale's first taste of success came on a mule deer hunt in eastern New Mexico.
Tisdale gained permission to hunt a private ranch in the rolling sand dunes and
farm country found on the Texas/New Mexico border. Here are the details of that hunt, and others, in his own words.
Mule Deer New Mexico and Texas


Looking out my pickup window at the sun sinking down on the horizon,
I calculated that I had two or three more areas left to glass before
darkness would erase the landscape. An unproductive early season
tag had been neatly folded in my wallet for the last three months and
I was eager for another chance during this late—season, archery—only
hunt. At the base of a tall sand dune, I ditched the truck like I'd done
several times already that afternoon. I climbed the sand dune and poked
my head over the top, being careful not to be skylined. I scanned to
the west and suddenly my glasses were filled.
With a 5×5 mule deer buck less than 150 yards away. I quickly ducked
out of sight and skirted the perimeter, making mental notes of the
buck`s last location.
I slithered through the short shin oak brush and cactus using the
dunes to flank an approach route. When I thought I was getting close
I eased into position and peeked over the closest dune. The buck was
35 yards away, broadside. I drew on him and released, but a hard
crosswind combined with me being winded from the stalk sent the
arrow off course, just grazing the buck's back. The buck, not knowing
my whereabouts, turned toward me and dropped out of sight in a low
spot. In one fluid motion I nocked a second arrow and drew as the
buck came back into view, topping the sand dune in front of me. At 18
yards I put the arrow into the oncoming buck's chest. He turned and
ran 75 yards and collapsed within sight.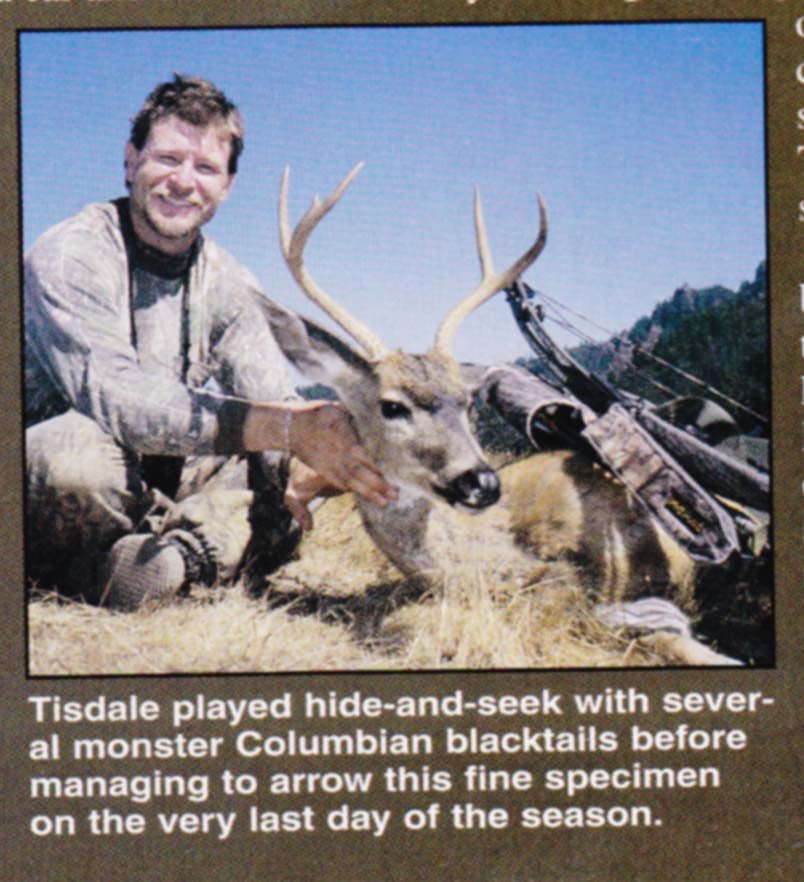 The last 10 minutes worth of events soaked into my brain as my
heart pounded and sweat ran down my brow. During the past 15 years
I have had some dry spells pursuing big game with a bow. In my
twenties, it was sometimes almost more than my restless, impatient
soul could bear. Sometimes I would be on the verge of picking up a rifle, but an occasional animal taken would quickly bring me back to the realization that it was well worth the effort to hunt only with a bow.
During the drive home I pondered on what I would do for my next hunt, just as many bowhunters would do. I had set aside five days off of work for hunting in the month of January. Visions of thick-beamed, mouse—colored
Coues bucks chasing does in the colorful deserts of Arizona filled my thoughts. I had hunted the sneaky Coues whitetail of the desert Southwest off and on for the last 12 years without success. That would be my next hunt.
(ln addition to Steven's January mule deer he shot a second, even
larger muley buck in late October on his deer lease in the Texas Panhandle. That buck was also taken by spot—and-stalk hunting in rugged, open canyon country. A 30—yard shot downed that second, wide 5×5 muley buck.)
Coues Whitetail Arizona
Thursday evening after work, I quickly went home, loaded my truck
with gear, kissed the wife and kids goodbye, and headed west. My
plan was to camp out and stay mobile until I found a good place to
aunt. It is common to see mule deer in the lower elevations before
getting into Coues country and that is mostly what I encountered for
the next three days. During the middle of the day I tried to gather
information on hunting areas from the local ranchers, arming myself
with forest maps, a smile and a friendly handshake. After several
encounters their response seemed prerecorded, "You're trying to get
a mountain whitetail with a bow? Why don't you go for a muley, lot
more meat and easier to hunt'?" At the end of day four, I made a major
move to an area I had hunted several years earlier—rough terrain and
a good walk in.
Once in the new location my memory was fuzzy at first. A familiar knob
overlooking lots of stalkable terrain Finally registered.
Yes, there it is. I unpacked my optics, got comfortable and began glassing,
picking the desert apart. The Zeiss were scrutinizing hunks of land-
one tree, one rock, one cactus at a time. Veteran Coues deer hunters
will tell you that glassing is the key to success. At the first possible
light let the binoculars be your legs, they say, reaching into faraway
shadows of pinions and brush. Be patient.
One spike buck and a few does was all I found that morning. Further down in a different bowl I saw one doe, then another and another. From a half mile away I watched several more deer filter out of a low spot in a far-away crease. I decided to investigate. When I reached the low spot where all those deer were coming out, I noticed a small natural pond with about a dozen ducks on it. "Could this be the only water source in this area?" I thought to myself. As I
approached the water's edge the ducks lifted off. There were heavy trails
leading to the water with tiny hoof prints in the mud. Two sizable pinion
pines near the pond would serve as a makeshift ground blind. As I got situated
in my new ground blind the ducks landed back on the pond confirming
what I'd suspected. Water was scarce.
Throughout that day six different deer came in for a drink, including a small 6-point buck. They all left quickly after getting a drink, as this is a land filled with mountain lions and even an occasional jaguar. I had to be back at work the next day, so reluctantly I left my newly discovered hot spot. During the
10-hour drive home I schemed on how I could return to this oasis before the season ended.
I retumed the following Saturday night, slept five hours in my truck
then made the two-hour trek to the pond equipped with a backpack and_
material better suited for constructing a ground blind. I set up my blind,
trimmed branches, and dug out a seat in the ground. I draped camo
material to keep me hidden in the shadows. It was 40 yards to the water's edge.
At 1 p.m., I looked up from my book to see a splendid solo buck
approaching the water maybe 75 yards away. His 8 point rack glistened in the midday sunlight. I eased my bow into the ready position, putting tension on the string. He lowered his head to drink while ever so slightly leaning forward. I knew he would not linger after quenching his thirst. I drew, anchored, and settled my 40-yard pin low at his shoulder. The arrow caught the buck solid. After a short recovery I was holding the most beautiful animal of the desert.
Columbian Blacktail California
The biggest dilemma I faced was using my vacation time for my remaining hunts without interfering with my 10 year wedding anniversary in September, My wife Lynn decided to join me on my trip to northern California to hunt Columbian blacktails. In mid August we flew to San Francisco, rented a car and drove north towards Jim Schaafsma's awesome blacktail hunting operation. Along the way we made stops in Napa Valley to taste wine, sight see and even stayed at a bed and breakfast. I wanted to the trip to be special no only because of my blacktail hunt, but I wanted Lynn to enjoy the trip as well.
The first evening of hunting blacktails found Jim and I staring at a huge 5×5 buck bedded with a small forkhorn. The big buck was colossal in size, pushing the B&C minimums according to Jim. Jim has guided loads of bowhunters to record class bucks and he has personally taken many P&Y blacktails with a bow. A few years earlier, I even shot a decent P&Y buck on my first blacktail hunt with Jim.
The air was hot and steamy and my thin cotton shirt was sweat-drenched by the time I completed the stalk. I closed to within 30 yards but just as I was preparing for the shot the smaller buck saw me and they both ran out of sight. I spend the next several days relocating that same big 5×5 and
attempting stalk after stalk, but I was never able to get a shot. Columbian blacktails are more patternable than their mule deer cousins, similar to whitetails. They hang in the same area day after day. I never got the big 5×5, but I did have several opportunities at other big bucks, including a dandy non-typical that I missed. On the last day of my hunt I shot a respectable buck at range of 25 yards. The date was August 13, the last day of the season in the unit where I was hunting.
Bowhunting early season Columbian blacktails is tough for several reasons. First the temperature is hot and miserable which keeps deer movement to a minimum in daylight hours. The heat also makes hiking and controlling the scent tough on bowhunters. In addition , the , dry conditions make grass underfoot brittle and noisy. Very tough for stalking. When the hunt was over I was very pleased to have a decent set of antlers to bring on the plane ride home. Lynn and I left norther California with fond memories and hopes of returning sometime in the future.
WHITETAIL Texas
For the first day and a half of Texas' archery-only season, I hunted three different stands. The 90-degree-plus temperatures had deer movement to a minimum. Just a few does were spotted, but no bucks. The scorching heat made me consider another option that had paid off in Arizona,
hunting water.
It was on the second day of the season that I made a midday trip to a waterhole. The plan was to erect a tripod stand in a cluster of hackberry trees near a beaten trail at the stock pond. The timing seemed perfect for a buck to quench its thirst.
By 4p.m. I was seated in the new stand with a slight breeze in my face. A full Scent-Lok suit and scent-eliminating sprays were used to increase my odds. In order to play the wind direction it was necessary that the stand be placed where the afternoon sun beat down right on my face. For this reason, I sat facing slightly away from the trail where the sun wasn't directly into my eyes.
It was at 5:30 p.m. peering through the sun at the trail, that I first spotted a deer. Due to the blinding sun the buck had drifted into the waterhole undetected. By the time I noticed the movement, the buck was already at the pond, broadside, with his head down drinking. Immediately I knew he was a shooter. By the time I had swiveled my stand around to get in position for a shot, the buck was already leaving the water. Experience from past hunts had taught me that once a deer was finished drinking they wouldn't stick around for very long. Time was quickly fading away. I jerked the compound bow to full draw and tracked the walking buck's progress through the mesquites. When the big 8-point stopped in an opening at 33 yards, the arrow was on it's way. Hit in the spine, the buck dropped immediately. A finishing shot behind the shoulder and it was over.
As I walked up on the fallen buck I was surprised at the rack's tine length. The tines curved inwards and the beams were longer than expected. Small patches of velvet were still clinging to portions of the rack. The 135 inch, mature 8-point buck became my first ever P&Y whitetail from my home state. What I thought could take me months, had quickly ended on the first weekend of the season. Fantastic, only one deer species to go!
SITKA BLACKTAILS Alaska
It was on November 5th that my Sitka
blacktail hunt began on Prince of Wales
Island. My dad accompanied me on the trip,
which made this final leg of my deer season
even more special. l had two deer tags
in my pocket and my plans were simple.
Shoot the first respectable buck, then hold
out for a bigger buck.
The island was beautiful with rolling,
mountainous terrain and thick, dark forests.
Most of the terrain was so dense that glassing
and spot-and-stalk hunting was difficult.
The primary tactic was driving logging
roads, glassing into openings and along
edges, and trying a stalk if l spotted a buck.
Unfortunately, only does were spotted when
we glassed. Another popular tactic my guide
used was calling with a deer bleat in the
dark, damp forests. We called in several does
using this tactic, but never a buck.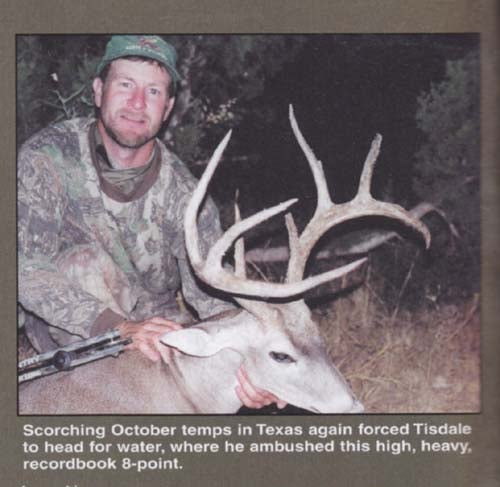 Rainy, damp conditions plagued the first
three days of my trip. After three days of it l
was feeling like l would never dry off. Since
calling and spot-and—stalk hunting had been
only mildly successful, we resorted to still-hunting.
And so on November 7, at 11:30 in the morning, while
slowly cruising through the moss—covered timber, I
spotted a big deer and a glimpse of antler.
This was the first buck sighting of the hunt. At 25 yards, with the
buck broadside, I punched an Easton A/C/C shaft through the
buck's chest. When I recovered the mature deer I was shocked to
see only one antler. In my rush to shoot I had only seen the buck
from the side, glimpsed multiple points and a thick beam, and shot.
His left antler beam was broken just above the base.

The following day, late in the afternoon,
I shot another buck while still-hunting. At
30 yards, I connected. Typical of Sitka
bucks, this one had a blocky frame with a
handsome cape and antlers stained the color
of rust. His hooves were also oversized. My
guide said that was an adaptation to walking
in the spongy, wet terrain. That buck had the
tip of his right beam broken off, but considering
the bad weather and tough hunting
conditions, I felt fortunate to fill both tags.
My single season deer slam was complete,
and with it I had lots of great memories.
What had started as a normal year of
bowhunting back in January had mushroomed into a full-blown,
year-long obsession of hunting deer with a bow. Every technique
and tactic was required in order to succeed.
There was spot-and—stalk hunting for
mule deer and Columbian blacktails, hunt-
ing over waterholes for whitetails, and even
still-hunting in rain—soaked forests in Alaska
for chunky Sitka blacktails. lt was never
about making a name for myself or trying to
set a record. It was just taking my stick-and-
string deer hunting to a new level. >>—>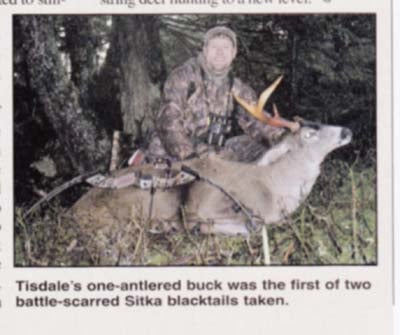 Archived By
www.Archerytalk.com
All Rights Reserved
Leave a Reply
You must be logged in to post a comment.