Published by archerchick on 31 Dec 2010 at 12:23 am

BOW & ARROW HUNTING MAGAZINE
August 2009
TUNDRA FUN

Come along on this fun-filled journey in pursuit of central barren-ground caribou amid Canada's Northwest Territories.
By Warren Anderson Jr.


I think caribou are fantastic animals; not many other species in North America can grow as much antler in such a short amount of time or cover the open landscape they call home faster than an Olympic track star. They inhabit pristine country and going to the Northwest Territories to chase them with a bow is an incredible challenge. They are also excellent table fare, yielding a flavorful meat that is tender and worth the effort. I had hunted caribou once before in Newfoundland a few years back, and that experience left me with a hankering to chase them again. So, in January 2007, my wife and I met with the folks from Peterson's Point Lake Lodge at the Denver Sportsman's Expo. After talking with the owners and some of their staff we decided to send a deposit and book a hunt for the first week
in September 2007. Although my wife doesn't hunt, I was able to talk her into going as a non- hunter and sharing this once—in-a—lifetime experience with me. Some friends of ours had hunted with Peterson's in the past and all gave glowing references. Although all of my buddies were rifle hunters, the staff at Peterson's had guided several bowhunters and were well versed in the challenges that archery equipment poses.
We arrived in the town of Yellowknife in the Northwest
Territories via commercial airline, and then took a floatplane an hour and a
half north to camp. The Peterson's camp sits on the shore of Point Lake,
which is a large body of water 70 miles in length, located just south of the
Artic Circle. The area is so pristine that the ice—cold water is safe to drink
straight from the lake. After cabin assignments and introductions with all
the staff and other hunters in camp that week, I headed down to the beach
to check my archery equipment.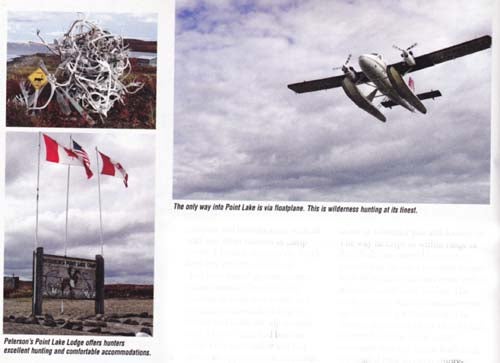 I had been paired up with another bowhunter named Vince (the only
other archer in camp that week), and he also came down to check that his
equipment had made the trip without incident. I knew Vince had been to
Peterson's a few years earlier and had not gotten an opportunity at an animal,
so we decided that he would have the first crack at an animal when we went
out the first day We shared a few stories, and I knew he would be a good
hunting partner for the next week.
On our first day on the tundra, we had great weather and spotted several
groups of bulls right off the bat. Our guide, Egan, helped judge the quality
of the animals and suggested that we could do better. That afternoon we
found a group of six bulls that made the grade, and Vince was on the chase.
He slithered into position as the rest of us sat in a boulder pile and looked on.
The way he crept to within range of these bulls, you would have never
guessed that he was a treestand hunter from Wisconsin who had never stalked animals in such open habitat. The caribou stood, sensing something was up, and Vince got his chance. The distance was a little closer than he had estimated and the arrow sailed harmlessly over the largest bull's back.
We headed back to camp empty-handed, but with a great first day on
the books. That night in camp we ate like kings and shared stories of the day
Some of the other hunters had taken animals, so we listened to their adventures and admired their trophies.
On the second day of the hunt, we were again treated to great weather, a
gorgeous sunrise, no bugs and plenty of caribou. We each had a Pew stalks,
but no shots presented themselves. We also saw several bear tracks along the beach,
and that night, we had a bear visit camp. It had Pound the buried
freezer that the lodge used for storing eggs, peaches and jalapenos! Needless
to say after the surprise of jalapenos, we didn't think the bear would be
back.


On the third day of our trip, my wife elected to stay in camp and relax.
We loaded into the boat and headed for one of the large islands on the
lake. \When we neared the island, we spotted two groups of bulls. After
sizing them up, we beached the boat and made our way to the top, over a
series of saddles and rock outcroppings. We slowly inched our way
around the numerous dips and peaks and could not relocate the target
animals. After getting the slip from the bulls, we were headed back to the
boat when a bull appeared out of nowhere and busted us. We were in a
little meadow crossing a boulder field when I heard Vince sharply say my
name in a high-pitched whisper. I froze and got our guide's attention,
and when we looked to our right, there stood a good bull, with the sun
shining from behind him, illuminating his velvet-covered antlers.
Vince whispered, "Would you shoot that bull?" I answered yes, but
in our current situation, it seemed unlikely that I would get the chance.
After a few minutes, the bull moved off behind the saddle, and the chase I
was on. The bull busted us again as we were making our way to him and
trotted around another saddle. We stayed in pursuit, but at the next ridge
he had a cow and a calf with him. I was able to stalk within 30 yards and
get drawn on him twice but, each time, the cow or the calf was blocking
his vitals, preventing a shot. The group headed back in the
direction they had come from, and now Vince was back in the game.
Egan motioned for me to slip around behind them and cut off the escape
route while Vince crept close, trying for a shot. I hustled around several
knobs and lost track of both the bull and my two hunting partners. When I
eased up over the saddle and looked to my right, Vince and Egan were
motioning frantically that the bull was to my left. I was confused because
there was nothing but a large expanse of tundra, and I thought I should
surely be able to see a caribou in the wide open.
Just then, I saw his antlers bobbing from behind a large rock shelf and
knelt down to range the distance. When the bull took a few steps out
away from the rock outcropping that had concealed him, I drew and placed
the 30-yard pin in the sweet spot behind his front shoulder and triggered
the release. The arrow hit home with a thud, and I watched him tear out across the tundra and tip over. After some back slapping and photos, Egan caped the head while Vince and I packed the meat back to the boat. When I
returned that evening, my wife was happy for me, but a little sad that she
missed out on the whole experience.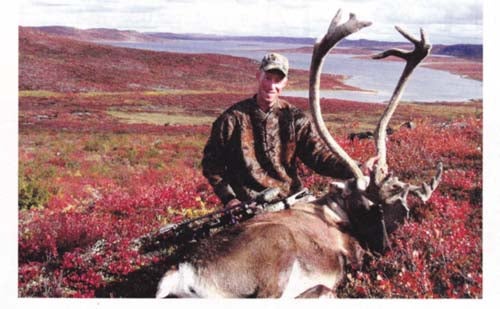 That night, just before dark, the skinner was coming out of the meat
shed when he encountered a grizzly bear about 10 yards away. He had just
closed the electric fence and was reaching in to turn on the power, when
he turned around and saw the bear. Both he and the bear were startled at
the same time, and all he could muster to shout was, "Bear!" The skinner
made fast tracks for the guide's quarters, and the rest of the staff came
piling out, shooting into the air to encourage the bear to move along.
As I watched the bear running out through the tundra, the owner of the
lodge walked past me and said, "I told that skimmer to keep the shotgun
loaded. I bet it will be loaded tomorrow." He just kept walking back
to his cabin, as if nothing had happened. The skimmer was still shook
up the next morning and retold the story over a cup of coffee. He was in
no hurry to get out to the meat shed, and he took a good ribbing from all of
us before we headed afield.
On the last day of our hunt, my wife again elected to stay behind. I still
had my second tag in my pocket, and we spent most of the day trading stalks on different groups of bulls we found. In the early afternoon, while out on the lake, our guide spotted a lone bull in some thick cover. We beached the boat and tried to get the drop on him. We lost track of him in the tall
willows, and on our way back to the lake, we walked through a saddle,
when Vince and Egan froze. The bull had looped around and was sleeping
standing up when we came through the saddle. He had now spotted Vince
and Egan, but hadn't seen me. Vince said they were busted, but if I thought
I could get the drop on him, for me to go ahead and do it.
I belly-crawled ahead to a small rock and ran out of cover. I was still
60 yards from the now-bedded bull, with no chance for a shot. I slid
backward until I had some cover and motioned to the guys that I was going
to go over the top of the ridge and come at him from the other side. As I
was sneaking around the knob, I felt the wind hit my back. Had I been
stalking a deer or an elk, I would have just headed back, but I knew that
sometimes you can get away with a bad wind on caribou. I crawled to
within 35 yards of the bull and waited for his next move. After about 10
minutes, he got up and started to feed to his right, which brought him to 30
yards broadside of my position. I drew the bow and slid the 30-yard pin
behind his front leg. When the arrow hit, he crow-hopped in a circle and fell
over dead within 15 yards.


We soaked in our final afternoon on the tundra as we worked on
quartering and skimming. We shared a few laughs and admired the orange
and red leaves of the landscape we were about to leave. It was a great way
to end a fantastic hunt. He wasn't the largest bull in camp, but the stalk was
one that I will remember for a long time. As we said our goodbyes before
getting on the plane, my wife and I filled up our Nalgene bottles with our
last drink of the pristine waters of Point Lake and wished that the end of
our trip hadn't come so soon. <—<<
Archived By
www.ARCHERYTALK.com
All Rights Reserved
Leave a Reply
You must be logged in to post a comment.