Published by archerchick on 17 Sep 2010 at 08:19 pm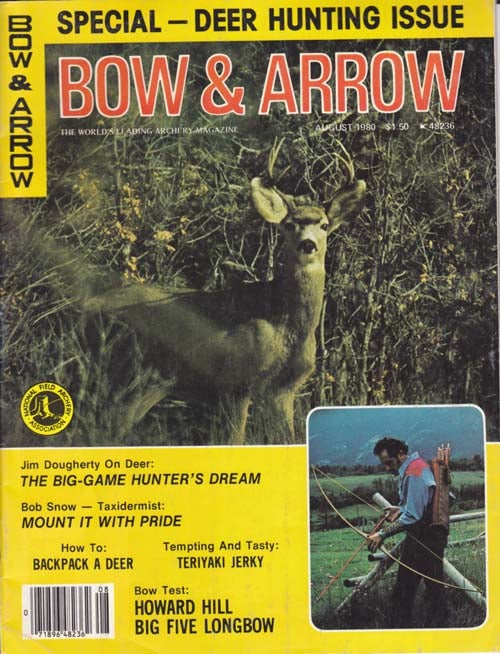 BOW & ARROW -AUGUST 1980
DEER
The Big Game Hunter's Favorite
By Jim Dougherty
About A Million years ago, we're told, a primitive deer drifted across the great land bridge that
joined Asia to the New World along with the early sheep and many others
of our current big game animals. Just as the sheep evolved into four distinct
races, that deer evolved into two distinct groups, continuing to subdivide
until the race slowly covered what is now North America.

Today their widespread geographic distribution has made the deer the most populous
big game animal on our continent. Biologically there are currently eleven classifications of
mule deer/blacktail and twenty-seven North American whitetail groups.
As a category deer are so plentiful that anyone with even a slight outdoor
notion has a good opportunity to see them in the wild, just about anywhere.
For the big game hunter they are made to order: plentiful numbers, easily accessible and
economically feasible. Most "big-game hunters" are deer hunters, period! Deer cause more
pulses to quicken, energy and dollars to be expended, stories to he told and shirttails to be
cut off than all other big game critters combined. No animal can be hunted successfully
in so many different ways or places, provide such a variety of fine eating, keep more
taxidermists in business or cause more folks to clutch up than a respectable ·deer, and
as far as l am concerned, they are all respectable.

To most folks, deer are deer. Percentage wise few of the total amount of deer hunters pursue
both mule deer `and Whitetail, fewer still hunt blacktails, and a goodly portion have never
heard of a Coues; the sprightly desert Whitetail, or the remote Sitka blacktail, all individual
categories of deer recognized by the Boone & Crockett and Pope & Young Clubs. They are
all deer to be sure, but each has his own distinct appearance, environmental requirements, habitat
preference and whims of nature and temperament geared to remind us frequently of our human frailties.
Whenever, wherever hunters gather to tell war stories the talk most often revolves around deer hunting.
As folks are inclined to do, making comparisons about the biggest, best, smartest or tastiest is the
direction a lot of these chattering elbow-bending sessions seem to take. To the easterner the whitetail
is king, nothing is sharper, more magnificent or tougher to hunt. By comparison he thinks the
mule deer is stupid, a big-eared clod that stands around in the open inviting termination.
Northwesterners make good cases for the secretive blacktail, a close cousin to the big-bodied Rocky
Mountain mule deer, a look-alike that runs somewhat smaller and favors the thick canyons of
Washington, Oregon and the northern portions of California.

How opinions that the mule deer is stupid come into being escape me. Any animal that has been around for
thousands upon thousands of years taking the worst that man and beast can throw at him, generally
increasing in the process, isn't stupid. The hunter who claims he is hasn't hunted him overly much and has
been lucky when he did.
Each of the most huntable three —whitetail, mule deer and blacktail —- is a special product of its environment.
The mule deer ranges over relatively open country covering some distance from Summer to Winter while the
whitetail lives and dies in a closer, more intimate relationship with its home ground. The mule deer is easier
to locate visually than the whitetail be- cause of his living quarters, but the pattern of a whitetail buck can be
determined with a great deal of exactness. A hunter can pinpoint where he will be, sooner or later, yet not
actually see him aforehand. l am of the opinion that deer are deer when it comes time to hunt them,
and that strategies should be based on the country, time of year and weather rather than the animal's supposed
intelligence level.
lf the whitetail is smarter than the blacktail, so be it. The blacktail is still going to be at the very top or the very
bottom of the area l plan to hunt, while the whitetail is going to be running some flat land somewhere.
l have found it quite difficult to stalk whitetails. I think this is as much because the country I have hunted
them in has not lent itself to stalking as for any other reason. Most whitetail hunting, done in the Fall when the
leaves are knee deep and noisy, when the woods are nearly bare so as to reduce cover, is not as conducive to
stalking as the aspen patches of a Colorado August.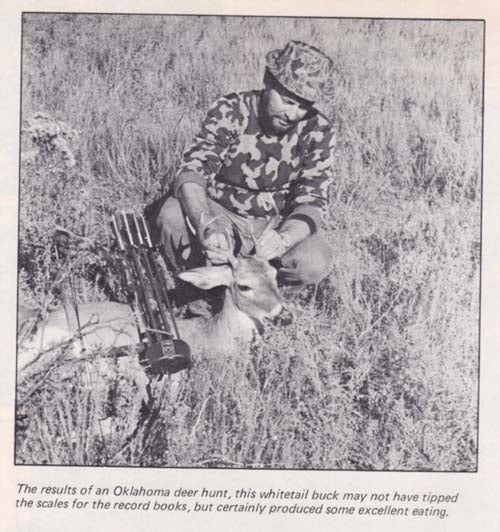 Certainly there are exceptions. Deer are found most every-where and whitetails live in a lot of swell places
for the stalking bowhunter, but most of them do not. l have hunted mule deer in the desert, where the cover was mesquite
and greasewood and the ground sun-baked sand, where there were so few rocky areas that the deer hooves did
not wear down and they pranced about on toes that grew for inches and curled up like slippers on an elf.
You didn't take up the trail and stalk muleys in that stuff, you laid in wait for them, like most whitetail hunters
do. The similarities between mule deer`and blacktails are many. In appearance they differ little. Blacktails are
generally smaller than the Rocky Mountain mule deer but not much different than a good many of the mule deer
subspecies whose ranges adjoin theirs. The Pacific Coast and Inyo mule deer that I cut most of my teeth on are small
deer, a big one dressing around llO pounds f`or the coastal type or some-what bigger inland. They are dark in
color with prominent markings.
Because the range of the mule deer has been expanding, the legitimate blacktail boundaries have been
changed from time to time by the record—keeping bodies to insure that sufficient separation is maintained for
purity's sake. They will interbreed. While the blacktail is most often a small deer, as one moves further up the
coast they tend to get somewhat larger.
Most of my blacktail hunting has been done in California and lower Oregon. I have found that they can be
hunted, for the most part, just as I would hunt muleys in Colorado or Arizona, with a lot of looking and then
stalking in the more open range. In the West bowhunting for deer starts early in the year, as early as mid-
July in some places.
Colorado bowhunting, however, starts in August and most western bowhunting seasons are in full swing
by the first of September. What a hunter experiences at that time of year is a far cry from what he
is used to if he's a whitetailer born and bred from the eastern shore. He's hunting big bucks traveling together,
most still carrying racks in full velvet and spending a good deal of time in the open. They are creatures of the
high lonesome, coming off a hard Winter and a Summer of plenty. Their temperament is that of a gentleman
that would like to spend the summer taking things easy.
Take care that this impression does not lull you into a false sense of security. Check back with him in November
if you care to take notes on personality adjustments. I have spent many summer months with whitetails, and
their metabolism and attitude are much different from what it will be when the first frost of Fall lays its carpet.
In fact they act surprisingly like a mule deer during the same period of time. They'll be harder to locate because
they frequent a closer environment, but when you do find them they most often will be in the company of
others, taking things easy and sunning their headgear as it matures It's the quiet time for the whitetail, as it is
the muley, days away from the changing weather that will stir in him the inbred knowledge that life will change
and times will get tougher.
When it comes to hunting the three I have definite preferences. For the whitetails I enjoy the game of figuring
out where they will be and setting up for them. I have found that, for me, in most cases still hunting or stalking is
not as effective. I will see a good many deer on these jaunts — southern ends of northbound beasts — but I will not
bring many to bag. I do not think it is because I am inadequate as a still hunter. I think it's because the country
during that time of year is against me. I'm inclined to see the whitetail as a more explosive critter, less inclined to
stand about when anything signals danger, but I have seen a fair share of them that must have been suicidal.
I recall a buck, one of the few that I have still hunted that let me shoot one over, under and right through. He
seemed quite interested in the affair – well, up to a point. My son, Kelly, nailed his last buck under conditions not
normally associated with whitetail behavior. Kelly shot his first arrow at forty yards and his last, the fourth, at
ten feet. Locating a good buck and putting a stalk on him is about as much fun as my heart can stand. It is my favorite
way of hunting mule deer and black-tails, easing slowly through the country in keeping with normal movement patterns,
stopping frequently to carefully look things over. It's a challenge worthy of any bowhunter taking advantage of the
high ground and looking for hour upon hour, searching out the pockets where the bucks feed, putting them to bed
and trying to come up with a stalk.
Most blacktail/muley country allows this type of hunting. The ground cover is right for careful footwork, there is cover to
hide in, get behind, and use for your approach. The bottom line for all deer is the same: those last few steps of
yours, moving in for a shot — or those last few steps of his as he comes to the stand. That's when the chips are down
and the hand gets played. No matter how it comes out, you're a lot better off for having been in the garne.
Leave a Reply
You must be logged in to post a comment.