Published by admin on 23 Jan 2014 at 01:25 pm
GUIDED OR NOT  –  LOCAL OR ABROAD Part 2
D. I. Hay
            Well, I guess I had better start this segment off by first apologizing to you for not making the "before Christmas" deadline.  I certainly wish I could have accomplished that, but unfortunately I was down and out with a horrible flu bug which 'grounded' me not only for the complete Festive Season, but also into 2014.
Well, hopefully the first part of this series did, in fact "sow the seed" and some serious thought went into what we could reasonably accomplish with the circumstances surrounding our daily lives. Please remember we are all individuals and each of us has our own personal set of circumstances. Before we get underway let's recap the main points from the last article:
1.        The problematical one was concerning the financial obligation with regards to taking on the total cost of entering into an agreement with a potential Outfitter.  What other costs were associated with a fully guided hunt?
2.        Which animal(s) are we going to hunt and where?
Cape Buffalo taken in Zimbabwe in 2013
             So, let's get started with the third one:
3.        Make a definitive plan based on the real factors in our lives.
If we have had a hard and real look at what we can afford without inconveniencing our family (best to discuss what you are planning with the whole family present, hence avoiding a 'sticky' situation later on – sometimes it is accepted if we give up smoking and dedicate those dollars toward our hunt??), we will be able to determine how long we will have to save before we will have enough funds to cover the hunt and the animals we would like to harvest on this adventure. It is not an uncommon occurrence to have to save for two or more years before there is enough funds set aside to cover the costs. We will have a chance to discuss some of the associated costs with an outfitted\guided hunt a bit later. One deciding factor will be the distance you will have to travel to your hunt destination?  It may be within your State\Province, your Country, North America or somewhere far away. You should be able to figure out the cost of travel at the current rates and then you will have to guess at what the cost of fuel will be when your time arrives to travel – now there is a brain-teaser??.
There is a lot of assistance out there these days to make your job a lot easier than it was, say 20 – 30 years ago, when we depended upon the mail to receive the Outfitter's Brochure, although we could contact them via phone and that is still a good idea. It must be remembered  Outfitters are usually busy most of the year either getting ready for the upcoming hunting season, looking after clients during the hunting season and cleaning up and replacing any equipment, which may need replacement due to normal wear & tear.  Also lots attend Outdoor Shows in the off-season, as that is where most clients are secured.
Today, most Outfitters host websites, which provide you with the various animals they offer, cost(s) of the guided hunt, seasons, cost of licenses and any other costs associated with that Outfitter's particular hunt. Also, and most importantly they list References and it would be a very solid investment to make contact with a couple of these to ensure this Outfitter is going to supply exactly what you are looking for, as well as how the hospitality was.  This might be a bit biased, as no one is going to look bad on a website constructed for their business – I certainly know I wouldn't.
There are numerous "Hunting Consultants\Booking Agents" who have many Outfitters from every conceivable part of the world listed with them.  Their services should cost you absolutely nothing, as they usually receive a commission from the Outfitter upon completion of the hunt. In my case, I love talking to hunters and am happy when they have had a successful hunt, in all aspects of it. Many of them also can look after your travel arrangements and there is usually a slight cost for this effort. Usually, these people should be familiar with hunting the animal(s) you are interested in or at least have hunted that part of the world.  If not, they will still have knowledge of those animals and the geography. If they do not handle travel arrangements, there are several very good Travel Agencies out there who cater to hunters and know everything connected to ensuring you arrive at your destination.
So, we should have now determined where we are going to hunt (area), what animals we are going to pursue and the time required in order to put away the required funds to make this dream become a reality.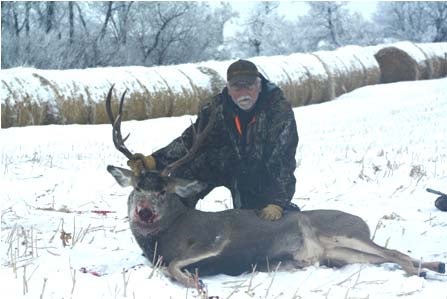 Alberta Mule Deer taken in 2013
4.        Assessing all the costs associated with the hunt.
Now here is an extremely important factor, which you may or may not want to consider – do you want to hunt alone or with a friend or two? 1 X 1 (one hunter for one guide) is the most expensive way to hunt.  It is usually cheaper for a 2 X 1 (two hunters for one guide). Some Outfitters will give a discount price if the group numbers 3 or more.  It is a great way to cut down on costs and enjoy the adventure with friends or your wife\husband\son\daughter. I know some African Outfitters offer special Father\Son hunts at a really affordable price.
The first cost to consider is travel.  If you are able to drive and there are more than just you traveling, then the fuel costs can be drastically reduced.  The same cannot be said for flying, that is unless there are ten or more people – smile. I have always found that Wednesdays are the cheapest day to fly and if hunting in North America the hunting season is either in the Spring (Bears) or Fall (rest of the Big Game animals) and that is a good thing.  If you are planning on hunting out of North America or in the northern reaches of North America, please take into consideration airlines charge more per person during the 'holiday' season or as they would name it "peak time".
Do we 'need' any additional equipment\clothing?  Outfitters do not supply personal gear like sleeping bags\air mattresses and required clothing for their area.  It is a good idea to check with the Outfitters who you think may be the one you are going to finally book with, as to what is required for personal gear – most provide this and some even have it posted on their website.  It is not a great way to start off a hunt by not having the necessary personal equipment.  I have hunted all over North America and have been to Africa several times and I always check to ensure I have the not only proper, but necessary personal gear.  I cannot stress this enough, as if you have not travelled much, this can be a real bad experience.  Spring & Fall are very finicky, as far as weather changes go and one must always be prepared. Not meaning to "cry wolf" here, but some hunts are conducted a long way from what we normally associate with as civilization and sometimes one flies from the airport where the commercial plane landed straight into the Outfitter's main camp and then may fly out to a "Spike" camp. So, it is imperative you have everything you need to keep you comfortable, warm, dry and safe against the elements. But this can be discussed in more detail with either the Hunting Consultant\Booking Agent or the Outfitter and please pay heed to what they suggest.
A little thought of expenses is with reference to the meat from the trophy (I use the word trophy here meaning any animal you take is your trophy, regardless of size).  This matter depends on the animal you are hunting.  If you are required to fly into the Outfitter's main camp, there will definitely be a weight restriction on you and your gear.  Usually, in the case of moose especially, it may take an extra flight to get the meat out and you will be responsible for this extra cost.  Along with this comes getting it home.  The Outfitter will usually have the facility to freeze the meat and that way you can put it in a plastic garbage bag(s) and then in a duffle bag (the extra one you remembered to take with you).  If your flight from camp to your home is less than 24 hours, it should be good when you arrive.  Extra baggage is cheaper than shipping via a reefer (cold storage truck). In a lot of cases the meat or a part of it can be left with the Outfitter, as it will be used in the camp kitchen or he may distribute it to needy families. While we are on the topic of the animal, in our initial planning process, we should have decided whether or not we are going to get the trophy mounted or not.  Some will, if it is of a certain size, others will just take pictures and have that as the reminder of their hunt of a lifetime. I always carry two cameras with me – one a small one and then a larger one.  Remember, we cannot turn back the clock and one should take as many pictures as possible – better too many than too few.
The last major expense to be completely clear about is any additional costs associated with the physical hunt itself, such as travel from the airport to the hunting area.  Usually the hunter is responsible for any meals and accommodations before and after the hunt and travel from their residence to the point of contact, as stated by the Outfitter.
A minor expense, but an extremely important one is health insurance.  Check to see what your current health insurance covers and what it does not.  The cost of extra health insurance is usually minimal.  One has to check this one out in detail, as health costs are extremely expensive and one certainly doesn't go on these hunts with the intention of either getting sick or injured, but things do happen.
It is hoped this covers some of the areas one should be aware of when planning a hunt. If there are any questions\queries, please do not hesitate in emailing me at  [email protected]
There are a couple of personal areas of preparation, which I will cover in the next article.
Take care and stay safe.
Yours in the Field
D. I. (Ian) Hay
Owner
Blue Collar Adventures
www.bluecollaradventures.ca
Leave a Reply
You must be logged in to post a comment.