Published by admin on 18 Nov 2013 at 06:55 pm
The New Bow Hunter
By Kyle Roush
AT member MN.Moose
I have been a life time hunter, born and raises around the sport of hunting in the great state of Minnesota. The passion of hunting has been passed down from generation to generation in the Roush house so it came to no surprise that I followed in these footsteps. By the age of 6 I began shooting firearms and by 8 I was going on small game hunts with my father and uncles. Then at the age of 12 I was legally allowed to enter the woods armed ready to take down a monster whitetail deer. As we all know that didn't happen but none the less I was hooked on hunting. Just after my grandfather's death, just after my 15th birthday, I finally put my first buck down, a simple eight pointer. I was sad that I couldn't share the experience and the excitement with him but being in the woods I could still feel his presents.
It is funny the way life directs you and how you adjust to the opportunities that it presets, because in 2006 I ended up moving to Ohio with my new wife. From there I had to adjust from gun hunting 40 acres to 2.5 acres. Well with only 2.5 acres I didn't have enough space from housing to continue to use the shotgun, so I was left with two choices: 1- give up hunting or 2- pick up a bow for the first time in my life at 22 years old. So that is what I did, I went out and purchased a cheap Bear bow and started to practice. Let me start by saying that hunting with a bow is way different then gun hunting. It is not so much the fact that I have to get the deer closer to me (even though that isn't easy) as I have always taken deer within 50 yards, but the muscle control and accuracy that you have to have is amazing. It can be easy to say I hit the deer a little forward and blow through a shoulder with a shotgun but that just will not due with a bow.
Well that brings me to my first year of hunting with my bow. It was early October and after spending an afternoon at the local pumpkin patch with the family I still had 2 hours before dark so I thought I would go out and see if I can catch one walking by. By my luck I did, however like I said above you cannot expect to kill a deer unless your aim is dead on. Well the plan that I had laid out with the wind direction, projected walking path of the deer, cut shooting lanes, and sent control all paid off. The buck came in just before dark walking the edge of a corn field and walked right into my shooting lane. I waited until I could have full view of the body, picked my spot put my 20 yard pin on the deer and let loose my arrow. Unfortunately the arrow didn't go where I wanted it to, I ended up hitting him high and to the front. He ran like the dickens, never got a single drop of blood and later that year we got sight of him again still alive. But I don't have to tell other bow hunters that I wasn't upset that I didn't get the animal, I was upset that I had allowed myself to make such a bad shot. It was hard as a new bow hunter to talk myself into going back into the woods after hitting a deer and not killing it, this was my first time ever wounding but not killing and I didn't like the way it felt. I vowed to never go back into the wood without knowing that I would make a better shot. So during the off season I shot and shot my bow over and over again, this time I feel extremely prepared. Sadly so far this year the winds and weather have not been in my favor. So far I have only had two good encounters, on a Friday that I had off from work I had 11 deer sighting with 2 being bucks. Both bucks stayed out about 90 years in the hunt for the does but wouldn't respond. The other encounter was last Friday I used the last vacation day I had for the year and had my mind set on sitting all day. Just before daylight I had 3 does out in front of me and I thought what a good start. I was hoping that a buck would be trialing them about 30 minutes out so I could have a shot on him, and I was right the only problem he was on the other side of the field heading right to their final destination, he cut the corner and didn't walk by. I called to him but there was no response. Then I sat ALL day and didn't see anything. So I started to pray to my god and the deer gods just say, I have sat in this stand all day PLEASE PLEASE just let me see another deer. I don't even care if I don't get a shot on it I just want to see one. Then out of nowhere in front of me 30 yards I have a deer, one of those deer that sneak up on you in the wide open. I was amazed, it had worked! So I stand up, notice that it is a buck but a real young smaller buck, but when you hunt in my conditions you take what you can get. So I decide I am going to take a shot at him. He is down wind which didn't make me feel too comfortable, so I decide the first chance I get I am going to take my shot. He is working his way close and close towards my lane and doe pee. I got him at 21 yards and as soon as he clears this last tree I will have my shot, so I draw back and he takes one more step right behind the tree and stops….. He is just standing there; I am holding and holding and holding. Now he has me worried, I am going to have to let down soon if he doesn't take those last two steps out into the open. Then I see it, the tail wag and again the tail wags he proceeds to turn and walked away. What a hunt, lesions for any new bow hunter out there if you pray to your god and to the deer gods make sure that you don't add that little line "I just want to see one" make sure you let them know that you want to "kill one". Well if you need to find me I can be located here: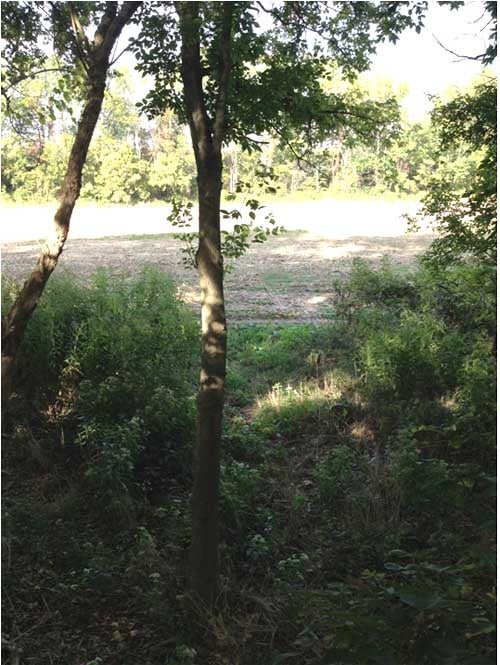 Leave a Reply
You must be logged in to post a comment.