Published by admin on 02 Jun 2009 at 01:08 pm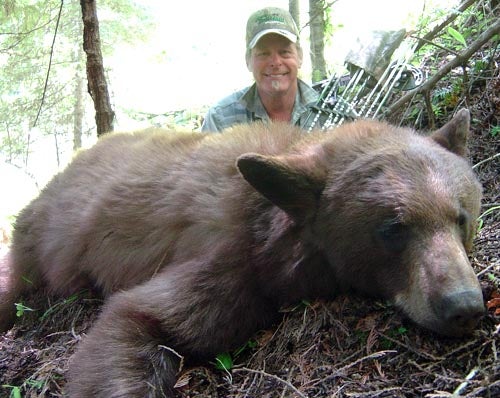 IDAHO SPRING BEAR   by Ted Nugent
I needed this. Not that my life is short on adrenalin charging highs by any means, but my extreme ying calls for some darn extreme yang to keep things in balance and keep me from further going crazy in my unbelievable wild life. Having just wrapped up three very intense days of the most momentous, record breaking 139th NRA annual meetings in Phoenix Arizona with more than 60 thousand of the worlds greatest freedom fighting families, I was ready for an equally intense dose of wilderness adventure with my wonderful son Toby. And according to the ear blasting cacophony of bellering, yowling, howling spirit hound music ricocheting off the mountainsides all around us, the good Lord His bad self was once again soothing the old guitar players tattered nerves and pumping massive renewable spirit back into my soul. Say YOWZA and let us get it on, again!
Hunting game with hounds is surely the most demanding, high octane hunting challenge known to man. When tuned in properly to the sheer energy of the amazing dogs and the target beasts of their fury, one cannot help but be moved back to primordial times when the pureness of survival drove life itself. In a modern world of overt cush and dependency, I am convinced that it is vital for truly independent souls to run behind a pack of kill crazy hounds, clawing our way up near vertical mountain slopes, slipping, sliding, falling, crashing, smashing and slashing legs, knees, arms, hands and heads on rocks, stumps and deadfalls, driven to call upon a defiance factor seldom unleashed in man's everyday life, just to keep the spirit hounds in earshot. It will change your life.
And that we did. Now, I admit we do experience the occasional easy, short, nearly flatland jog to a pack of baying hounds only a few hundred yards from the truck, but that is rare, and after some life endangering iron man, marathon man humps, a quickie run is much appreciated by all. Except maybe the bear or lion on the receiving end of the race.
But now I was heaving, clinging to any sapling, branch or root I could grasp my sweating hands around. The day before, on another thrilling race with Bear Hunting magazine publisher Jeff Folsom, I had battered my legs, shins and knees on the 50 degree slippery slopes just enough to hamper my climbing ability, so now I was really struggling as I dragged my Martin Firecat through all sorts of destructo derby abuse. That young, athletic MotorCity MadMan had disappeared a few years back, and in his place is this weathered, rather beat up 60 year old man who still thinks he can leap tall buildings in a single bound. He cannot, but I am not quite ready to admit it just yet, so I push on at a pace that will eventually get me to the beautiful hound music ahead without killing myself. Ying and yang all day long baby.
Mountain man Mitch Payne was already there, surrounded by a pack of handsome hounds barking furiously at the huge ancient western red cedar tree that towered up more than 100 feet. My son Toby strategically maneuvered into prime vidcam position as guide Travis Reggear and I scrambled up the side hill looking for a hole to thread an arrow up into the gorgeous yellow tinted red bear high up in the canopy of the upper branches. With a hot sun basking us on that spectacular mountainside, I gulped some delicious Idaho air, settled my racing heart and tingling nerves, said a brief prayer for the wildthings, envisioned Fred Bear drawing his bow somewhere, and sent my first arrow from my 52# Firecat across the deep chasm into the chest of the red beast. Instantaneously my second arrow followed nearly the same path, the bear rolled its head back, reached for an invisible limb, and came caterwauling earthward with a crashing thump. Hallelujah and pass the SpiritWild rugsteaks! Beautiful!
We were soon joined by Travis' son Walker, and Three Bear Kennels operator Mike Kemp and his son Colton. A reverential recovery on film for our Spirit of the Wild TV show said it all; More bears in North America today than at any time in recorded history. Mind boggling challenge keeping up with the unstoppable spirit hounds, designed by God to chase and sing and kill. Real conservationists still connected to the perfection of sustain yield resource utility and respect. Crazy men and boys seeking and attaining pure, thrilling fun in the mountains killing bears and other protein rich beasts. Perfect.
Travis Reggear, Mitch, Mike, Mike Stockton and Scott showed us what its like to be Daniel Boone in 2009, and we rejoiced this amazing American Dream that is still alive and well in dedicated, gung-ho hunting families across America.
Amazingly, in our short three day hunt, Travis' world class hounds treed seven stunning bears, all in varying shades of brown, red, cinnamon and blonde. Some were so high up in old growth timber that an arrow shot would have been very difficult. All seven of the bears we treed were on the smaller side in the 150 pound range, though Travis routinely puts his hunters on 300 to 400 pound whoppers, true trophy bruins. He also guides trophy mountain lion hunts, trophy elk and whitetail deer, and has gained a well earned reputation for being the real deal and a gifted guide and outfitter and natural born hunter and woodsman. His mother Charlotte created award winning meals everytime we sat down, and the Reggear hunting camp is one I highly recommend and shall return to ASAP. I think the dogs liked me.
For booking info, visit tednugent.com or call Sunrize Safaris at 517-750-9060 or contact Travis Reggear at 208-476-5638 or subscribe to BEAR HUNTING magazine at 320-743-6600 or [email protected]
3 Responses to "IDAHO SPRING BEAR by Ted Nugent"
HighlanderArchery on 12 Jun 2009 at 11:23 am #

I am still exhausted from the NRA Annual Meeting. My battery recharge will have to come from helping the Irlene Mandrell's Celebrity Shoot and Discover Presque Isle where we will be teaching about 2500 kids and adults to shoot bows and arrows while raising money for several charities. Thanks for the inspiration Ted.

bowdoc09 on 09 Jul 2009 at 8:58 pm #

Hello ted my name is brandon and I just would like to let you know how much you inspire the ways I hunt, and I hope one day I could meet you and maybe even go hunting with you. Keep the bloodbrothers strong and long live the beast.THANKS for all you do for the sport!

Brandon
bowdoc09

bigmezz on 20 Jul 2009 at 11:42 pm #

Ted, I listen to "Fred Bear" before every hunt. Thanks for your support of hunting. Your highly visible efforts combined with good common sense logic wins over a lot of people who are ambivelent towards the greatest sport.
Leave a Reply
You must be logged in to post a comment.