Published by archerchick on 21 Feb 2011

Bow and Arrow Hunting
June 1990
Big Country Big Elk By Mike Kroetsch?
This First-time Elk Hunter Must Be Prepared- Here Are Tips From A Pro
" I CAN'T BELIEVE how big they are!" Bill said. This was one
of the first statements he made following our initial introductions.
Not knowing exactly what he was referring to. I asked him to elaborate.
"Elk", he explained, "I never realized they were so big."Bill was a first-time
elk hunter on his first western, guided hunt. Like many others, Bill was
also an avid midwestern, whitetail bowhunter who had longed to hunt the
elusive wapiti.
?
Earlier in the year, Bill had booked a hunt with my father-in-law, Judd
Cooney, and myself for a September bowhunt. He had arrived a day early
and was practicing on our backyard bow range when my Labrador retriever just
happened to walk by with the foreleg of a big five-by-five bull we had taken
earlier in the week. Bill had never even seen a live elk in the wild; it was the size
of the hoof that amazed him! Elk are big. An average Rocky Mountain bull will be
three to five times larger than a good, average whitetail buck, depending on where
you live. Most mature bulls will be in the six hundred to eight hundred pound range,
which is a lot of critter, no matter how you weigh it.
?
Big animals need big country and that's exactly where elk live. These are
the two main factors to keep in mind when preparing for a guided or unguided
western elk hunt. In talking to prospective and first-time elk hunters we get a lot
of the same questions pertaining to how to prepare for elk hunting and what to
expect when they arrive.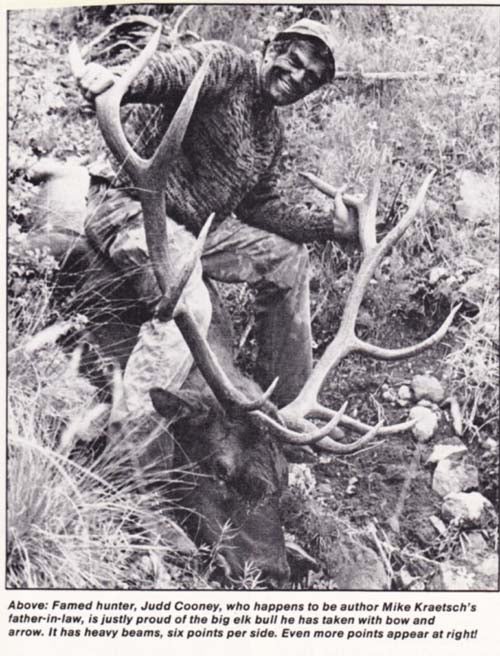 ?
Some of the questions: What kind of shape do I need to begin? How heavy a bow
do I need? What will the weather be like? What kind of accessories will I need?
Entire books have been written to answer these questions and every guide and
elk hunting authority has his own opinions. I believe that most of these questions
and more can be addressed by keeping the concept of BIG in mind. Big animals;
big country.
?
In many ways elk are like whitetails. They live most of their lives in a pattern,
with the exception of a few weeks during the rut. Elk, like whitetails, are
ruminants which means they will move to feed and water, then to cover to chew
their cud and rest. Other than both being members of the deer family, this is
where most of the similarities end.
?
Unlike whitetails, the distance elk will travel to and from feeding and bedding
areas is often measured in miles, not yards. They take big steps when traveling
with a purpose. A hunter jogging cannot keep up with an elk walking
through the woods. With their long legs and high clearance, elk step over logs
and go easily through brush that a hunter must scramble over and fight to get
through.
?
Elk seem to enjoy rugged terrain. They prefer to bed in heavy timber and
on northern or eastern side hills so they are out of the sun and can look down at
approaching danger. Because of their large body mass, thick coats and poor
cooling systems, elk prefer cool, shaded areas in which to spend their days. Elk
will migrate to and from these areas morning and night to graze and feed in
meadows and open parks. These are all factors to consider when preparing for
an elk hunt.
?
Unless you know you'll be hunting exclusively out of tree stands over
wallows or licks, get in the best physical shape possible. Jogging and riding
bicycles are great ways to get your cardiovascular system in shape, but you
don't do either while hunting. To prepare physically for an elk hunt, put on
your hunting boots and shoulder your loaded hunting pack and get out and
walk. Find the steepest, most rugged terrain around and utilize it to walk up
and down. Train at least twenty minutes a day, a minimum of a month to six
weeks before your hunt; preferably longer. If you are paying someone to guide
you, don't cheat yourself out of opportunities in more remote areas by being
out of shape, unable to keep up with your guide.

?
The archery equipment necessary to hunt elk doesn't have to be big in terms
of speed or excessive draw weight, just big on simplicity and efficiency. Use as
heavy a bow as you can shoot consistently and accurately. Excessively high-
arrow speeds aren't necessary, but momentum and kinetic energy are. I was
recently at an indoor bowhunter shoot here in elk country and was amazed at
the number of shooters who were "over-bowed." At least seventy-five percent of
the shooters had to point their arrows at the sky to draw their bows. After fifteen
or twenty arrows they were played out and couldn't shoot accurately.
?
Elk may be big, but they aren't dumb and have excellent eyesight. Excessive movement
when drawing a bow and aiming will spook them almost every time. Don't be
fooled into the notion that your compound has to be cranked up to it's maximum
poundage or that you have to buy a new Neanderthal-limbed stick bow to
hunt elk.
?
Accuracy and shot placement, not poundage and arrow speed, are the keys
to downing an elk. Because a bull offers a large body mass to shoot at doesn't
mean that a hunter can get away with less than pin-point accuracy. A poorly
placed shot leads to a wounded animal with an incredible amount of stamina
and endurance that can travel great distances before expiring. Often, even a
well hit elk will travel up to a hundred yards or more before leaving any kind of
blood trail. This is due to their thick hide and long hair, as well as the speed
with which they cover the distance.
?
A well placed arrow still may not be enough to kill an elk if the broadhead
that tips it is inefficient in its cutting abilities, Broadhead selection has a lot to do
with the arrow shaft size and bow draw weight a hunter is using. No matter what
the equipment choices are, the broad-heads, arrows and bow should be well
matched and fine tuned before venturing afield after the wily wapiti. Generally,
the lighter a bow's draw weight, the more tapered the head should be to
increase the penetration through an elk's tough hide and thick muscle.
?
A tapered cutting blade will begin to slice the instant it makes contact with an animal.
It takes less force to cut through an elk's hide than it does to punch a hole in it
with a bullet- or chisel-point broadhead. Stay away from flimsy or tricky heads. Tapered,
fixed-bladed heads like the Zwickeys and Bear Razorheads, or for heavier draw-weight
bows, replaceable two-blade Andersons and Thunderheads, offer good penetration and
excellent secondary cutting action. In an animal which is big enough to stop complete
penetration and often not allow an exit wound, secondary cutting causing
internal hemorrhage and blood loss can mean the difference between a lost
animal and a trophy on the wall.
?
When a complete shoot-through has not occurred — which is quiet often in
elk —- the role of the broadhead becomes even more important. A two-
bladed head will move and slice like a double-edged scalpel as the elk walks or
runs after being hit, because of the single cutting plane design of the head
and the leverage of the arrow shaft being moved by the elk's muscles. A three or
four-blade head has two or three planes of cutting which opens large holes on
contact, but tends to hold the broadhead in place in the internal tissue. Since a
three or four-blade head moves around less internally, there is less secondary
cutting and thus less internal damage.
?
Whatever head style is used, it must be extremely durable and always rather
sharp. An elk hunter must be aware of how his broadheads, arrows and bow shoot
in all kinds of conditions from many angles and positions. Most elk country
isn't flat. Rain and even snow can usually be expected during a hunt of
even a week or less. Shot lengths can vary from a bugled-in bull at ten yards to
grazing animals at forty-plus yards. If you're not accurate and confident at longer
distances, don't shoot! However, keep in mind that some areas, vegetation and
terrain may not be conducive to the fifteen- and twenty-yard shots many
bowhunters limit themselves to.
?
Fall weather in elk country is anything but predictable, so the type of
clothing needed is pretty difficult to pin down. If a hunter will pack for the
worst and hope for the best, he'll usually have the right combination of clothing.
Temperatures can range from hot to freezing,often in a matter of hours, so the
layered method of dressing is most efficient. As the weather or a hunter's own
body temperature fluctuates, he can take off or put on layers as needed. Polar or
arctic fleece garments are quiet and comfortable and will remain fairly warm even
when wet. If a hunt is planned for early in the season, I have found that a light
jacket or camo netting may be all that is needed.
?
A Gore-Tex or other waterproof rain suit is always nice to have along even if only the
pants are used to stay dry on those early morning hikes through the dewy wet underbrush
and tall grass. Upon reaching the area to be hunted, the noisy rain gear should be
taken off to facilitate a quiet stalk. Whatever clothing is used, it should be quiet and pliable.
?
The West is a big place with a great variety of vegetation and cover for the
habitat. Depending on where and when a hunt is to take place, the color and
type of camouflage that will be the most efficient at concealing a hunter will
vary. Grays and browns like the Trebark and Realtree patterns will
generally blend in just about anywhere from sagebrush to aspens. Dark green
and black tiger stripe works great if elk are to be pursued in the pines or dark
timber. Always camouflage your face and head to break up your human silhouette.
Face paints and creams work better than netting during long days afield and won't
restrict peripheral vision or get tangled in the brush.
?
Accessories can play a big part in the success and enjoyment of any western
hunt. A day pack or fanny pack is almost essential. Use it as a "possibles"
bag for toting your extra gear. As a guide, my gear includes: fire starter, a
butane lighter and waterproof container of matches, a small first-aid kit, flares or
a signaling device. It also has an extra knife, compact sharpening stone, folding
saw, rope, two flashlights and extra batteries, with an extra candy bar or two.
That's not all; there's also a poncho ground cloth, game bags, compass and
topo maps, toilet paper, flagging tape and, of course, my lunch.
?
With these essentials and a little ingenuity, I'm confident I can meet just
about any situation that arises out in the woods. It may sound like a lot, but it all
neatly compacts together in my day pack. When I'm familiar with the area I
hunt or guide in, I don't generally carry a canteen unless I'm hunting in a location
where I know there aren't any fresh springs. If you are not sure of water
quality, treat, filter, or boil it before drinking. Giardialamblia and other contaminants
may be present in even the cleanest, clearest looking water.
?
One of the most often overlooked accessories by first-time elk hunters is a
set of quality optics. Good binoculars are essential for spotting game and planning
stalks. They are also a great help in identifying shapes and animals in dense
brush and timber. Aside from a hunter's archery equipment, a good set of binoculars
will be one of the most expensive equipment purchases he should make.
Plan on using them often and buy the highest quality you can afford.
?
I feel absolutely inadequate without a set of Bausch & Lomb 7×24 Discoverer
compact binoculars around my neck while stalking or bugling for elk This past
season, I bugled in a nice five-by-five bull for a hunter who, because he didn't use
his binoculars, turned and asked me how many tines the bull had. The bull saw
his movement or heard him speak and bolted before the hunter had a chance
to even think about shooting, If I'm hunting in open country where I'm spending
a greater amount of time glassing and can effectively anchor my position so I
have little binocular movement, I opt for a larger, heavier pair of binoculars like
Swarovski 7x42s or a good spotting scope. A larger set of binoculars will ease
eye strain by being easier to steady and they will also tend to be brighter, because
the larger glass elements pass more light.
?
Elk hunting is an addictive sport. Once you've had a big bull come to your
bugle, watched a herd graze across a meadow and seemingly disappear into
the woods, or better yet, harvested a trophy, you'll be hooked. Bill was one of
those hunters who got hooked after his first elk hunt Bill didn't harvest an elk. He
stalked several, but couldn't get a shot. His respect for the size of elk as well as their
elusiveness grew daily throughout his hunt Together, we glassed and hunted
many miles of country. One morning, we sighted eight different bulls, but
couldn't get in a position for a shot on any one of them.
?
The next morning, Bill was nearly run over by a bull, but was stopped from shooting
by a large bunch of oak brush between him and the moving bull. The fifth morning
was another eventful one in which he managed to work his way into the middle of a
bedded herd. Bill was astonished when a large cow got up not fifteen feet from him.
He had stalked right past her while his attention was on the herd bull. The young bull
actually walked toward him and gave him a broadside shot at less
than twenty yards.
Once again Bill couldn't shoot; the bull was only a three-by-three and, since our area has a
four-point minimum antler point restriction, he couldn't release an arrow. That was all the elk experiences Bill could handle. He went home a satisfied hunter and maybe a bit relieved, too,
knowing not only that he could have taken that bull, but that he had gained an admiration and respect for the big animals and the big country in which elk live.
Archived By
www.Archerytalk.com
All Rights Reserved