Published by Shaman on 05 May 2008
As a person on a budget, I am always looking for ways to scrimp and save. A couple of years ago, I got into bowhunting for turkeys. Unfortunately, there was little in the way for turkey targets for bow hunters. I had bought a paper photorealistic target and tacked it to the Morrell Fieldpoint bag. It did not last long. I then took another paper target and glued it to cardboard. It lasted a little longer, but not much.
Then, I hit on the proper combination.
Ingredients:
Fieldpoint Bag
Children's Puzzlemat
Photorealitstic Turkey Target
Glue
Glue your photorealistic target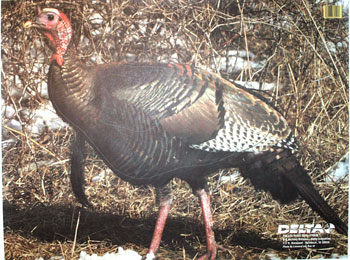 To the PuzzleMat

Drop your FP bag to the ground and place the puzzlemat with picture in front of your FP bag.
Since the paper is glued to the mat, the paper does not tear on arrow removal.
Shoot it like crazy! The mat and target will last hundreds of arrows worth of shots.
I've attached a video of how it works. Sorry the sound is a little muffled, it was windy that day.