Published by archerchick on 07 Sep 2010
Bowhunting The Biggest Grouse – By Sam Fadala
RAIN WAS NOT in the forecast. But the minute my brother
Nick and I discussed limbering up our bows and putting some
sage hens in the pot, we were greeted by a deluge from the
skies. We climbed into the four-wheel—drive anyway, as the sky
crackled with lightning and clouds as grim as a tornado funnel moved
in.
"Aw, don't worry about it," I assured Nick. "It'll clear up. The
weatherman says so." As I expounded on my theories, Nick carefully
wrapped plastic sheeting around his camera. Being a non—resident, and
never having hunted the sage grouse, he was hedging his bets. If there
were no birds around, he would save the day by shooting some hopefully
worthwhile film.
"Some of the best pictures I've ever taken were in lousy weather,"
Nick lectured, showing his great confidence in my
assurance that the rain would stop. "I don't know why people put their
cameras away when the thunder-storms start up." He pointed to two horses
standing close in a field, a dark sky behind them.
"That's what I mean."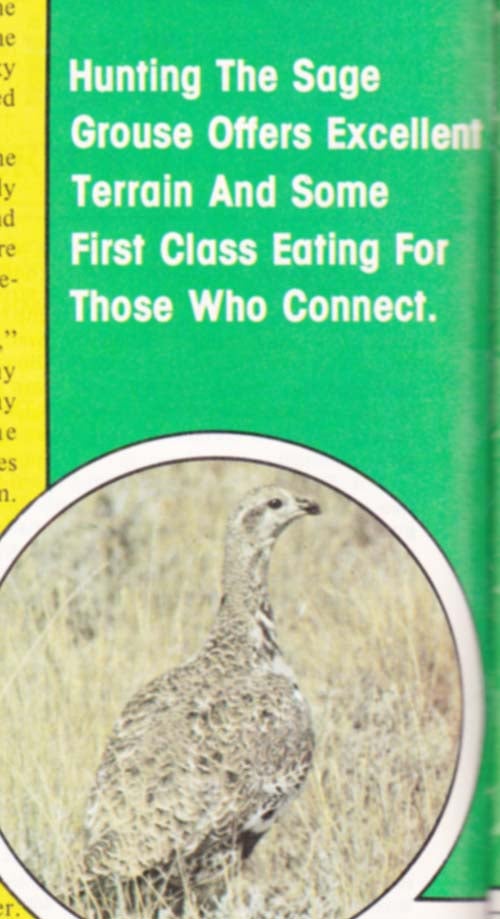 Water buffalo aren't always found around water.
Rock- chucks aren't always in the rocks. Mountain lions
are not always in the mountains. But more likely than not, sage hens
are in the sage. And we had an area of literally thousands of acres of the fragrant
weed all to ourselves. The rain had something to do with it, certainly, but after
the opening day or two of sage grouse season, there is usually scant
activity, and this was the middle of the week.
We got our birds. And l was lucky enough to take mine as they
walked in the brush twenty and thirty yards away, both on the move
and using only one arrow on each. l was proud. I sure had missed
some good opportunities a few days earlier. lf the rain had continued
as a downpour, I doubt that we would have had much luck, but it
dwindled down to a friendly spattering of droplets and for bowhunting,
that was not so bad. The birds held terribly tight to their
foliage cover, and we knew they would, so we looked hard, moving
slowly. And when we did find our covey, the sage grouse moved away
at a walk instead of flying. They don't like to fly in the wet.
Sage hens are the largest grouse in the country. Records show a
huge male bird that weighed in at eight pounds, but this is rare, sort of
like the whitetail deer that dressed over 350 pounds. A fine male will
go five pounds, however, and I have taken a couple of sixes. The lady birds
don't weigh that much, tipping the scales at about three pounds usually,
and often even less. After hunting quail—size birds, it is almost a shock to
have a limit of only two to three sage grouse in your game jacket. They feel
like several limits of smaller birds. But size alone is not the main reason for
hunting the sage grouse. Sure, it's fun to get such a large-winged treat as this
creature is, but there is much more to the chase than that. I like the country.
It is not difficult terrain, and it is relaxing to pad along through the
flatlands. Sometimes, the tall sage can be tough to negotiate, but most sage-
brush country is rolling or even flat, and there are many little trails through
it. Often, these birds will demand a good deal of walking, but walking in such
gentle territory is no problem; certainly nothing like chasing chukars.
The sage hen is also fun to hunt because the season generally comes in
early Fall, a hospitable time of the year in all of the sage hen states. Usually,
it does not rain. Usually, the sun is out. And our rainy trek was a rare one.
I have hunted the hens quite a number of times, but only twice has
Old Man Thunder roared at me.And I like the nature of the bird
itself. It is plenty of challenge, especially for an archer. But it runs in
good-sized coveys and when that bevy of birds is broken up, there is still
hope of closing the gap on the bunch and taking a couple birds out of it.

The sage hen is depleted by bad weather, especially by rain during the time
when the chicks are newborn, and naturally the varmints work on them.
The badger is rough on nests, and so is the skunk. All in all, it makes sense to
harvest these birds, and game departments know this. Since the largest
range of the sage hen habitat has become city, farmland and civilized in other ways,
there are no vast coveys left over all of the West, but there are still many, many
terrific locales left to hunt. If the hunter does not harvest his fair share, nature will.
The birds get up early, but they are sort of like me, rising from bed at a decent hour,
but groping around until the blood begins to flow in the veins and the eyeballs can focus.
So, for the first hour or so of the morning, in the dimly lit part of the day. activity is
minimal. Then, when the sun is fully above the horizon and beaming its
friendly warmth into the earth, the sage hens stroll to the waterhole. That
waterhole can be a key hunk of geography for the sage bird hunter, especially if
he is toting the bow and arrow, for the birds can be intercepted along
the trail and a nice close standing shot is possible.
Some folks reading this can probably down a sage hen in flight. If I ever
do it, I am going to mount the bird, save the arrow, enshrine the bow in a
glass case and give myself a tall trophy, There is little chance that this will ever
happen, however. The bird is a strong flier, but he prefers to walk. And when
I get one perambulating through the brush, I'm pretty happy about it.
Knowing the birds like that early morning drink, it is wise to stay around that
waterhole located before the hunt – the pond that had the big bird tracks
around it — and look.
Here it comes again. I know people get tired of my praising binoculars, but they
work and I want other hunters to have success, so I always suggest the glass.
(No, I do not own a binocular company.) From any swell in the earth
that can serve as a vantage point, I will search all around the waterhole for the
incoming birds. The territory I cover optically is large, as far as I can see.
Should the birds be spotted, I try to head them off. A stationary bowman is
not going to frighten the sage grouse. But move too much, and the
whole covey is liable to burst into the air and away. In the early part of the
season, an archer need not be all that careful, and I have walked up to first-
day birds as if they were semi—tame. Two days later, the same flocks are
rising from cover a hundred, two hundred yards out. They normally lift
straight up, and a really good archer should be able to nail a bird at that
point, when it is sort of stopped in space, as it were, before leveling out.
They are not the world's fastest flier, but neither are they slow. And once
the full head of steam is up and they are really in flight, an archer is going
to have to be Howard Hill good in order to slip an arrow through one.
I actually did — and this should be in Ripley 's Believe It Or Not — take one bird
out of the air. But I would hardly claim it as a great shot. The big male
was just coming up and preparing to level out and it was about ninety per—
cent luck that I let go of the arrow just at that precise moment. In fact, luck
was probably ninety—nine percent responsible.
If the birds do jump from under-foot and wing out over the flats, I always watch
them as carefully as possible. Not to be a broken record, but the
glass can come in very handy again. I don't always tote the specs, but when
I have them along, I never regret it, for the landing site of the bird can be
picked out. And this is the key — pick out some object near the landing site
so that you arrive at the right place. I have watched a covey land, and then
had a tough time finding the exact place because I forgot to pick out a
mark to guide me.
The birds are usually not exactly where they came down, but the archer
should get to the spot as rapidly as possible and then scout around slowly.
Another trick to keep in mind is to search the ground when the flock
takes off, be it the first jump or the second, for often a few stragglers are
behind and these can be nailed as they walk off.
After getting water, food is next on the list, and food to the sage hen is,
not surprisingly, sage. They love the
leaves and blossoms. This is high-energy food, by the way, and in some
places elk, moose and deer, as well as the ever-present antelope of the sage-
brush plains, would be hurt badly by the depletion or removal of sagebrush,
especially when the dead of Winter has set in. After looking around the
waterhole, if no luck is granted me, I'll shovel off and pace out the sagebrush.
This means a leisurely stroll, not a high speed chase. The birds feed slowly, too,
and a patient archer can stroll right into the middle of a covey and take his pick
of the big ones.
If the birds are on the spooky side, it is not rare to have to stalk them
with great care. Sage hens have all of the normal attributes of the avian
world — they are none too bright, but they can see like, well, like birds ~
hawks, owls and the like, and they can hear well, too. But they will often let a
hunter approach closely, if he goes slowly and if they have not been
chased over the landscape by too many people.
The big thing is seeing the hens, for they have the finest camouflage any
creature could ask for — neutral gray coloring. Around sage, they blend
right in, and even in greenery they are none to easy to see unless they move.
Naturally, when a whole flock stands out on an open hillside, they can be
sighted, but I have found a large covey, upward of forty birds, right on
the flats. They should have stood out like a cocktail gown on a heavyweight
boxer, but I did not spot the crowd of birds until one moved.
The archer who plans for sage hens should, I feel, tote along the same bow
that he would use for big game. Why? Well, certainly not for the power.
These soft—feathered birds are not very hard to put down, and my experience
with a broadhead is to have the bird flop over as if struck by a rifle. But by
using the big-game bow, a good thing happens — practice for big game is
assured. The hunter has a chance to get in some shooting at game, under
outdoor conditions, pulling the weight he will pull in the field.
I use my standard hunting bow set at its standard draw weight for my
sage grouse hunting. And I have used many kinds of arrows. I have no preference here,
as long as the arrow shoots in the bow. I do insist upon a humane, razor-sharp
broadhead, however. Again, let the hunter choose his own. I have had good luck
with the Wasp using three blades. To the best of my knowledge, these
are the states that have sage grouse, but I don't think all of them are open
to hunting every year. They are: Montana, Wyoming, Colorado, Idaho, Utah, Nevada,
Oregon, Washington, Nebraska, North Dakota and South Dakota.
The reader should write a note to the state of his choice and see if there will be a season,
when it will run, the limits and so forth. At least a heavy fee license is not required, nor is
a special drawing. A bird license can run about fifty bucks nowadays.
Some people enjoy camping out for sage hens, as they would for big game,
I am in this rank. I love it. The weather, as already expounded upon, is generally good;
not always, but usually.And it is fun to come home and eat the birds around the campfire, sharing with family and fellow hunters. In my opinion, sage grouse that are no good to eat
are rare. I have never had one I did not like. I have never fed one to any person who didn't
say he or she enjoyed it. But part of the eatin' is in the preparin', and the best T-bone
steak ill-treated is only so much foul—tasting protein.
The first step toward assuring a good tasting bird is to dress it right away. I carry a
canteen of water when I remember to. And a little clean rag goes along, too. I
draw the birds, saving the edible inner parts, from which I sometimes make a
gravy. The drawn birds are rinsed in the body cavity with the water, and
then both cavity and hands can be dried with the clean cloth.
At home, using a boning knife, I strip the meat away from all of the
breast area, leaving the drumsticks and wings as they are. All of the meat is
soaked for two to three hours in a mixture of milk and eggs, beaten well, to
which has been added garlic salt and onion salt, pepper and paprika. Just
enough sauce is made to make contact with the meat. And in a bowl of meat,
about a half bowl of liquid can be added, the meat turned often so that it
soaks thoroughly. Some people put in a tad of fresh oregano to the sauce, a
tad being somewhere between a smidgen and a pinch, about a sixteenth of a
teaspoon, I suppose. Next the meat is dropped into plain
clean flour, breaded and fried in half margarine, half pure lard, hot enough
to cook all the way through, but not so hot that the breading is burned.
That's it. Good eating!
Sage hens are a lot of fun to hunt, and a wonderful excuse for getting
into the outdoors in early Fall. Some states offer big-game archery seasons
during the sage hen hunting time, and this makes for double pleasure. A
quick check with the game departments in question will bring the facts
to the shooter. And since the birds frequent sage country, easy to walk in, hard to get
lost in, an out-of-stater stands a good chance of finding his quarry without
having a lot of prior knowledge of the area. A bowhunter can do worse. <—<<
Archived By
www.Archerytalk.com
All Rights Reserved